Most over-rated, over-hyped car of the year: Tesla Roadster, Chevrolet Camaro
Tesla Roadster: consumer reviews | manufacturer's link
Does anyone really want a Tesla Roadster? Sure George Clooney picked one up for some Hollywood environmentalist credibility, but seriously, does anyone want an ugly Lotus Elise with 1000 laptop batteries jam packed in back? While the Tesla generates some startling raw performance numbers, it is actually the anti-EV. It is utterly impractical, over priced and most certainly does not define our automotive future. It should have stayed a technology incubator for the Tesla Model S which shows much more promise as a useful car. For $100K, give me a real Elise and a Prius. I'll spend the remainder on solar panels for my loft.
Differentiating characteristics: protracted launch hype, boardroom drama, price
Chevrolet Camaro: consumer reviews | manufacturer's link
Why have we selected the 2010 Camaro as "most over-rated"? Well, it isn't necessarily because the Camaro is a lackluster product. Aside from an interior which falls well short of the Mustang in both quality and aesthetics, the Camaro's exterior design is muscular and attractive, and the base direct injection 3.6 liter V6 puts out an extremely impressive 304 horsepower while still getting 26 mpg on the freeway.
But when you hype a product up as much as GM did with their 2+ year Camaro tease campaign, after a while, the hype goes stale and the public moves on. So we vote the Camaro "most over-rated" not necessarily because the car itself is disappointing, but because GM's marketing strategy is disappointing. No matter how awesome, incredible or how much of a "game-changer" the Camaro might be, GM marketing executives killed the potential of the Camaro by teasing too much before delivering the goods. Yet another lesson for GM to learn.
Differentiating characteristics: pre-launch hype slowly became a dud, disappointing interior design
Best Muscle Car: Ford Mustang GT, Dodge Challenger R/T
Ford Mustang: consumer reviews | manufacturer's link
As Ford's website says, "Smoke 'em if ya got 'em." With the introduction of this year's Camaro, the retro-muscle car competitive set is finally complete. In the segment there are choices for every demographic wanting to re-live simpler times of cruising and the stoplight grand prix.
Re-introduced in 1995, the original retro-muscle car still gets it done by sticking to basics and honing them to a fine art. The competition may have more displacement and sophisticated rear suspensions, but as a car for every day fun and the occasional burnout, the Mustang GT continues to deliver the right blend of muscle, style, practicality and price.
The 2010 facelift brings styling details that add just the right amount of sophistication to the muscular design. The suspension has been re-tuned for more responsive handling without any ride compromise and an extra 15 ponies have been corralled into the 4.6 litre V8. All in all, the Mustang has something for everyone looking for a bit of muscle in their daily life.
Differentiating characteristics: styling, relative practicality, fun factor for the money.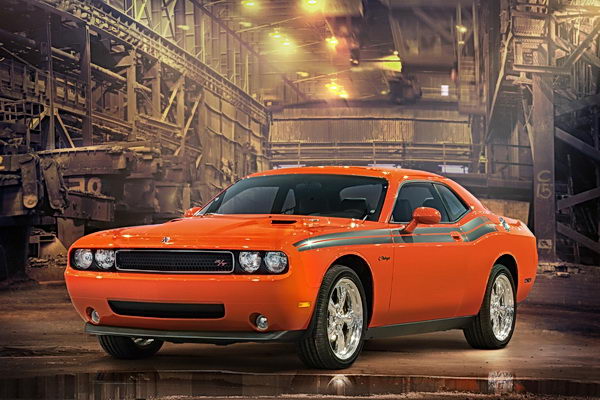 Dodge Challenger: consumer reviews | manufacturer's link
The Dodge Challenger was introduced for 2008 as a limited-edition, high-performance SRT8 model aimed squarely at muscle-car enthusiasts. Powering the 2009 Dodge Challenger R/T is a 5.7-liter HEMI V-8 engine producing 370 horsepower with a five-speed automatic (375 hp with the six-speed manual transmission). The HEMI V8 belts out 398 lb-ft of torque (404 lb-ft with manual), and the Challenger R/T can do 0-60 in under six seconds.
With its bold nose and strong bodylines, there's no mistaking a Challenger for any other car. Furthermore, people of all ages like the car's look, not just old geezers who remember the original from 1970. The 2009 edition is thoroughly modern and manages to exude a bold presence even in the base SE trim level. With added graphics, rear spoilers, and larger wheels and tires, the more performance-oriented R/T and SRT8 editions look even tougher.
Differentiating characteristics: evocative styling, balanced ride and handling, manual transmission available on V-8s, acceleration of SRT8
Related posts: