Best No-Limit Car: Aston Martin Vantage
Aston Martin Vantage: consumer reviews | manufacturer's link
CarReview's dream car doesn't have a prancing horse on the hood, doesn't go 200 mph and doesn't look like a space ship. Supercars are a thrilling bunch, but they have practical limits and do their best work prowling the strip, in car shows or on a race track.
When thinking of our no-limit car we imagined a car to suit a no-limit lifestyle. Sure, driving the Nürburgring is one such fantasy, but what about a trip through the wine country to dine at The French Laundry? How about a dream drive along Highway 1 to Pebble Beach for a round of golf? Consider reenacting James Bond's run through the Swiss Alps. Our no-limit car does not run from the track to show and back.
With this in mind the Aston Martin Vantage became a natural choice. Considered by many to be the most beautiful car in production, its understated elegance and perfect proportions are backed up by a melodious 4.7 liter V8 with 420 hp and an option for a 520 hp V12 if 0-60 in less than 5 seconds isn't quite enough no-limit.
The Aston is not designed to battle supercars, but it will certainly test your driving abilities and then carry you to your next no-limit destination in effortless GT luxury.
Differentiating characteristics: gorgeous, plenty fast, elegant details
Most HP for the money: 2010 Mazdaspeed 3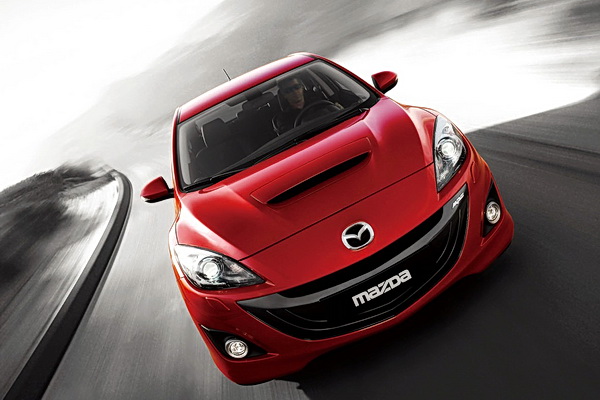 Mazdaspeed3: consumer reviews | manufacturer's link
Before you launch your calculators, let it be known that CarReview can do the math and we know that the Camaro SS with the 427 hp engine offers more horsepower for the dollar. This category is actually, 'Most Regularly Usable Horsepower for Your Money.' That title just seemed a bit awkward.
Redesigned for 2010, practically the only part of the 'Speed 3 that was carried over was the 263 hp 2.3 liter direct injection turbo engine. With subtle refinements to the ECU and transmission, the new model is better able to take full advantage of the 280 lb ft of torque spread across an accessible midrange. This is one quick car. As important, you can see out of it, put people and things inside and drive comfortably across country; all at a third less than the Camaro's MSRP.
The other trick up the Mazda's sleeve is dramatically sharpened handling. In fact, this was the focus of the redesign. The new car now begs to be driven with enthusiasm whereas the previous version almost overwhelmed with power. For the money, the 2010 Mazdaspeed3 is simply the quickest machine for your daily A to B trips.
Differentiating characteristics: powerful anytime/anywhere engine, utility, usefully sharp everyday handling
Related posts: