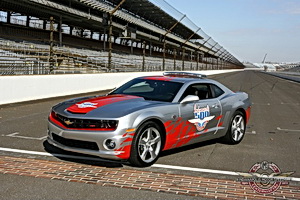 Hot off it's duties pacing the field at the Daytona 500, Chevy's highly anticipated 2010 Camaro will be pacing this years Indianapolis 500. Duties will start in early May, culminating with the 500 mile race itself on Memorial Day Sunday, the 24th. The revelation was made by the Indianapolis Motor Speedway during a press conference that included past winners Johnny Rutherford, Al Unser Jr. and Eddie Cheever Jr. It wasn't specified who would be driving the pace car this year during the race, but any of those three would be OK chauffeurs, having a total of six 500 wins between them.
Naturally, the Indy 500 pace car Camaro will have a garish paint job, and no doubt this, or some version of it, will be offered as a dealer installed sticker kit on the limited run Camaros sure to follow. No, that's not official, but Chevy always does this, so it would be pretty safe to assume this time around. In addition to the Indy-specific paint job, the Camaro pace car will also get a roof-mounted light bar, and a special pace car lighting system. Essentially that's color-keyed strobe lights where the turn signals used to be. Upgrade to the brakes will probably happen, but other than that, it should be pretty much a stock 2010 Camaro SS.
Pace car collectors, start your checkbooks!
Source: Edmunds
Related posts: