Best Hybrid Car: 2010 Toyota Prius, 2010 Ford Fusion Hybrid
Toyota Prius: consumer reviews | manufacturer's link
Hollywood didn't pick this one for us; the Toyota Prius wins on merit. Once you see and drive the redesigned 2010 model, the whole hybrid concept comes into focus as more than extreme engineering experiments for the Green contingent. CarReview's recent Hybrid Buyer's Guide describes some of the recent innovations in hybrids that have made them viable options without the compromises that plagued previous generations. The 2010 Prius embraces the best of these ideas and innovations. As a spacious, purpose-built, full hybrid priced for everyday sedan buyers it makes sense as primary around town transportation. It doesn't look, drive or feel weird anymore. The Prius won't be on any enthusiast's short list, but it is the EPA's mileage champ and no matter what pundits might say about whether it will save the planet, using a Prius means you'll spend a lot less on gasoline because of sophisticated engineering that sets it apart from the competition.
Differentiating characteristics: sophisticated design and drivetrain, practical packaging, price
Ford Fusion Hybrid: consumer reviews | manufacturer's link
Combining a highly efficient hybrid power train with top-notch standard and optional cabin tech, the 2010 Ford Fusion Hybrid is both a great tech car and a great value. The beauty is how the Ford Fusion Hybrid manages class-leading fuel efficiency without making too many performance sacrifices. The Ford Sync technology package is top notch and the Sony premium audio system is a great-sounding system at a great value. Configurable SmartGauge instrument cluster is a good tool for learning to drive more efficiently.
Differentiating characteristics: more powerful AND more fuel-efficient, SYNC audio/calling interface, improved interior quality and quietness, solid build quality
Best Hybrid Crossover/SUV: 2010 Ford Escape Hybrid, 2010 Lexus RX 450h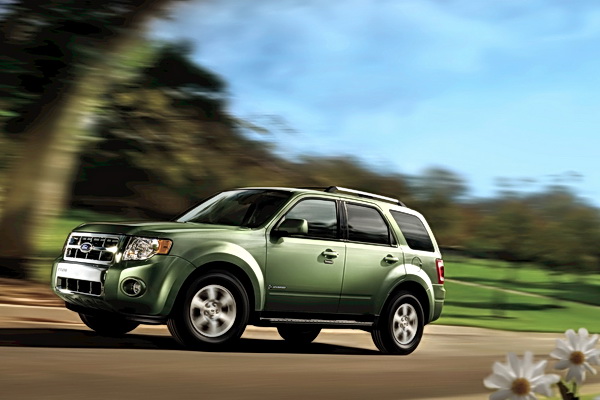 Ford Escape Hybrid: consumer reviews | manufacturer's link
The Ford Escape Hybrid is five years old and while there are now more technically sophisticated competitors on the block, the Escape still best captures the essence of what a good hybrid SUV should be. It is practical with good fuel economy and few compromises. Furthermore, Ford has consistently updated the Escape with useful feature upgrades and refinements. Its fuel economy is significantly better than its gasoline counterparts and with a 9 second 0-60 time and well damped handling overall performance is surprisingly good. While the hybrid premium within the model line is a bit steep, the Escape remains a strong value in the segment. Today hybrids are about efficiency and practicality. The Escape continues to carry those virtues in ways others can't.
Differentiating characteristics: mature drivetrain and design, utility, price
Lexus RX hybrid: consumer reviews | manufacturer's link
For 2010, Lexus has redesigned its RX hybrid crossover and changed its moniker from 400h to 450h, marking the SUV's second generation. Lexus has refined one of its best-selling vehicles by updating the technology and adding a few needed elements to keep it fresh and modern. The RX hybrid is perfect for the iPhone-loving city-stomper.
Beneath the hood, the 2010 Lexus RX 450h is completely different. Instead of a conventional V-6 engine, there's a 3.5-liter V-6 coupled to Toyota's Hybrid Synergy Drive, which includes two separate motors (a third on all-wheel-drive versions); a continuously variable transmission instead of a six-speed automatic; and a hefty battery pack under the second-row seat. The combination of gas and electric power, Lexus says, gives the RX 450h fuel economy of 28 mpg city, 26 mpg highway, about 10 percent better than the last RX hybrid.
Differentiating characteristics: smooth, controlled ride, new Remote Touch controller has cutting-edge feel, big boost to EPA city fuel-economy numbers
Related posts: