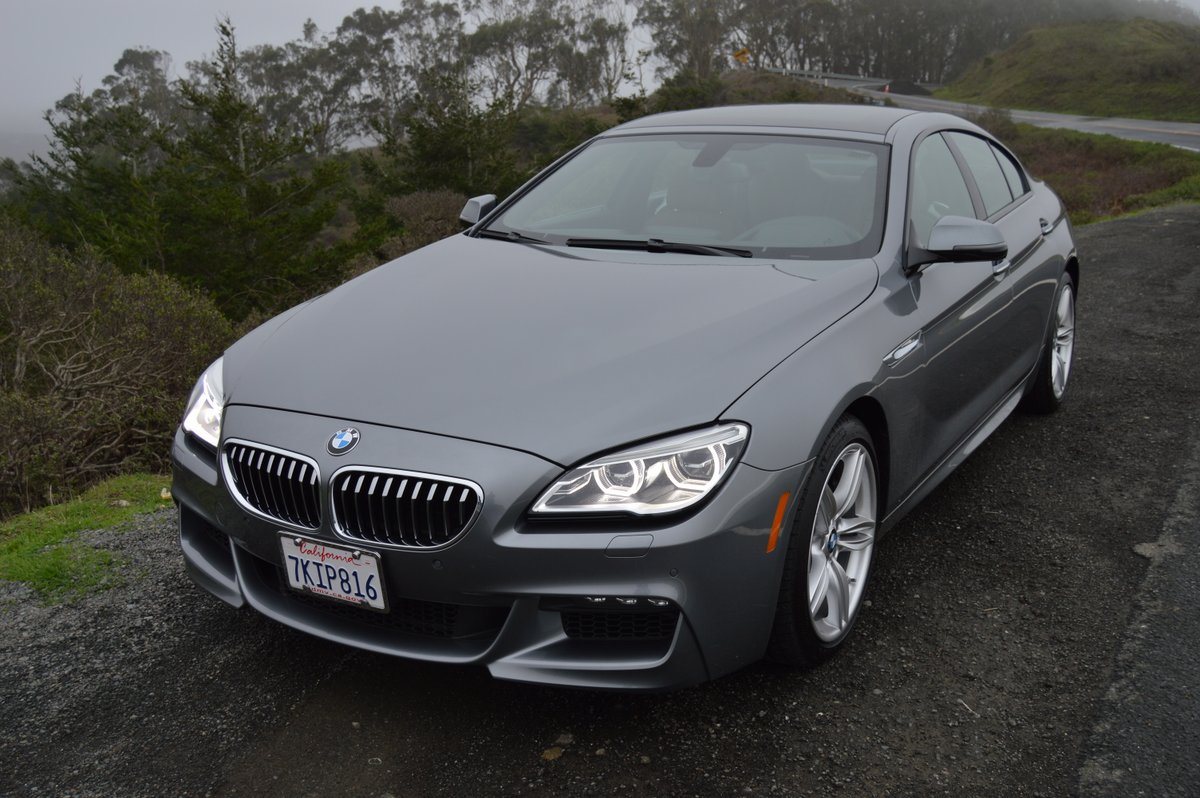 By David Colman
The 6 lost two front teeth this year. Not because it's growing up, and certainly not because it fell on its face. Rather, Dingolfing dentists extracted one chrome incisor from each twin kidney grill in order to simplify the Gran Coupe's gorgeous grin. Then, to complete the makeover, they embedded a six pack of eyeballs into a new front splitter. These fog lights, grouped three to a side, brighten the face of the 6 as well as the road ahead. In addition to cosmetic tweaks, the 6 Series has grown in iconic stature because BMW has chosen it to defend the company's racing reputation in IMSA's wickedly competitive GT Le Mans class. At this year's Rolex 24 at Daytona, a spectacularly decorated M6 GTLM celebrated the company's 100th year by placing 5th out of 11 class entries in its maiden outing.
Although the 640i Gran Coupe resides at the other end of the performance spectrum from the M6 GTLM, the DNA of both cars is virtually identical. As a result, even this least powerful 6 Series model is an outstanding high performance ambassador for BMW. At present, the 640i has yet to be fitted with the latest B58 turbo six found in the new 3 Series. The Gran Coupe still utilizes the outgoing N55 engine, since BMW has yet to complete the engine swap for all model ranges. Having recently driven the new 3 powered by the new 6, and the new 6 propelled by the old 6, I can say that the difference between the two engines is negligible from the driver's seat. Output figures bear out this conclusion. In 640i tune, the N55 turbo 6 produces 315hp and 330 lb.-ft. of torque compared to the B58′s 320hp and 330 lb.-ft. of torque.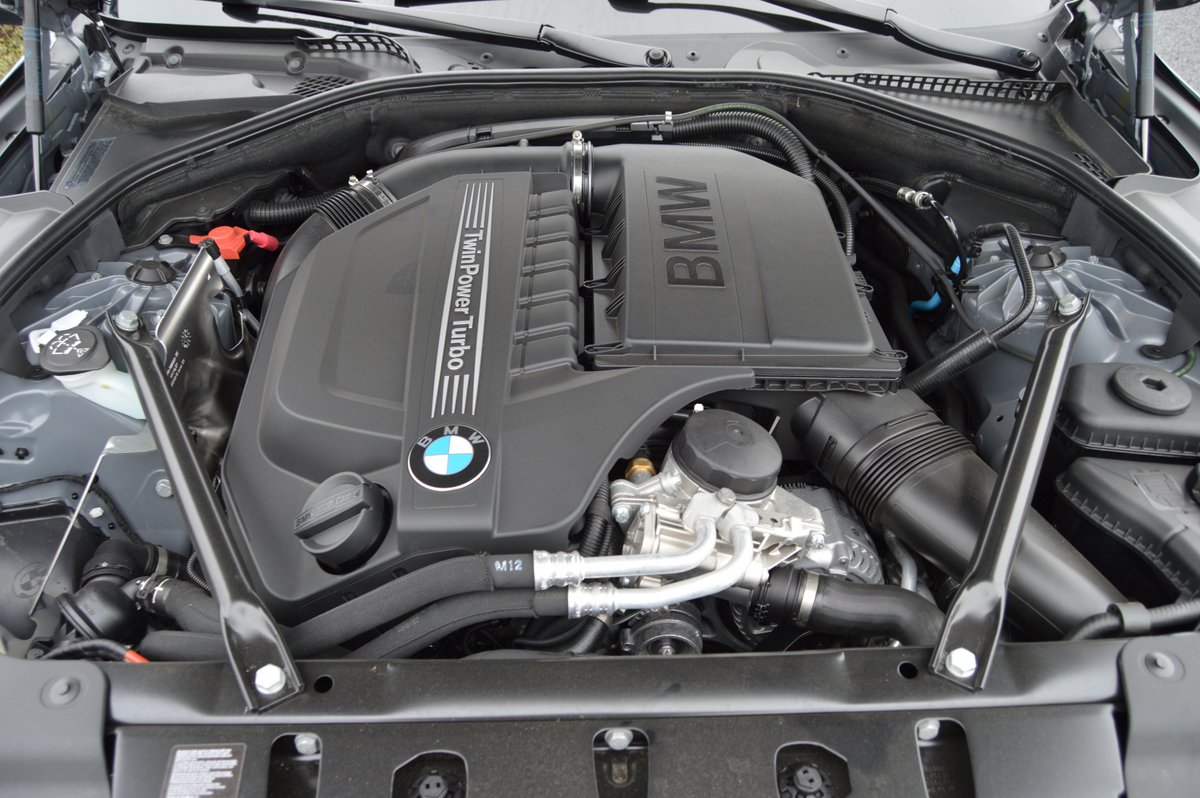 What has not changed about the 640i is its exquisite level of refinement. Think of this BMW in human terms. Its elegant but sinewy patina reminds you of Helen Mirren as Queen Elizabeth. Its elegant insouciance brings to mind Pierce Brosnan's James Bond. Its effortless all court athleticism bears comparison to John McEnroe's tennis game. But unlike McEnbrat, the 6 powered 6 never talks back. In a solid week of driving, there wasn't a single command this beauty refused to comply with.
It rained heavily during most of that week, so xDrive proved the perfect adjunct to the Gran Coupe's build sheet. At no time could I provoke it to lose its composure on rain slicked back roads. Even when I prodded the throttle hard in the middle of a tight, wet turn, the 640i ignored my indiscretion and just kept digging. Frankly, this resolute behavior surprised me because past experience with the Michelin Primacy HP tires BMW utilized for this Gran Coupe led me to expect middling performance.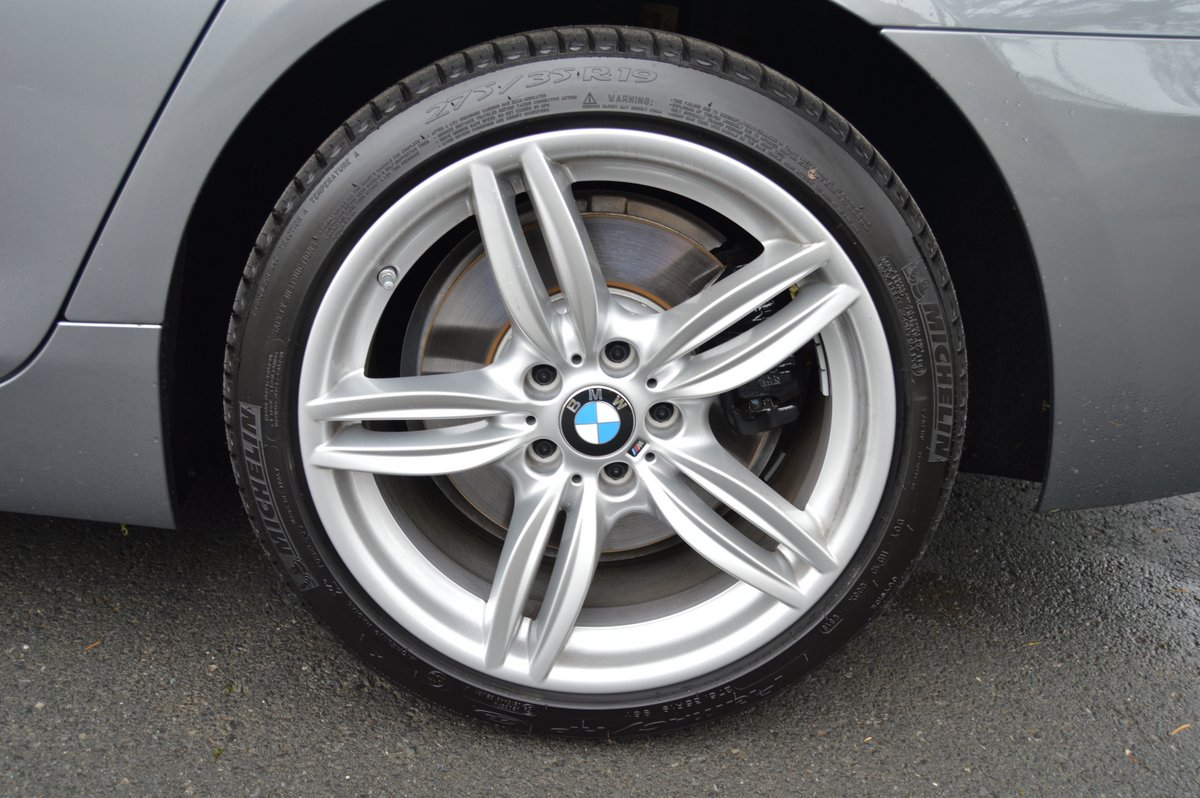 Standard 19 inch double spoke alloys carry radials measuring 245/40R19 front and 275/35R19 rear. To give you an idea how far off the high performance mark these tires are, their tread wear (TW) rating is 240, with a traction rating of A. That compares to a TW rating of 80 and a traction rating of AA for Michelin's own Pilot Sport Cup tires in a similar 19 inch diameter. Previous track experience with Primacy HP tires on Toyota's FRS and Subaru's BRZ convinced me these Michelins degraded the otherwise fine handling of both cars. But in this run-flat BMW application, the Primacy HP proved to be king of the road in both wet and dry conditions. Nary a slip, nor a squeak.
The straight six in the Gran Coupe constitutes the entry level model. In this strata of the market, you climb a steep stairway to reach even that plateau. Financially speaking, base price isn't base at all, at $82,500. When you're said and done with the package premiums ($5,300 for the M Sport Edition, and $450 for the Cold Weather Package), the test coupe carries a total suggested retail price of $89,445, not including tax and tip. However, this amount is all you really need to spend for an optimal Gran Coupe. Yes, if you're a fuel swilling swell, you can bump yourself up to the completely unnecessary 445hp 4.4 liter V8 650i xDrive for an extra $9,000. Or how about choosing the even more unnecessary 600hp Alpina B6 AWD for an additional $35,000? But you don't need to spend a penny more than our test car's $89,445 to enjoy first class rapid transit of the highest order. And besides, tradition dictates that a proper 6 Series should be powered by a proper 6. After all, the first E24 6 Series CS depended on the perfectly adequate M30 six-cylinder engine it borrowed from the 5 Series back in 1976.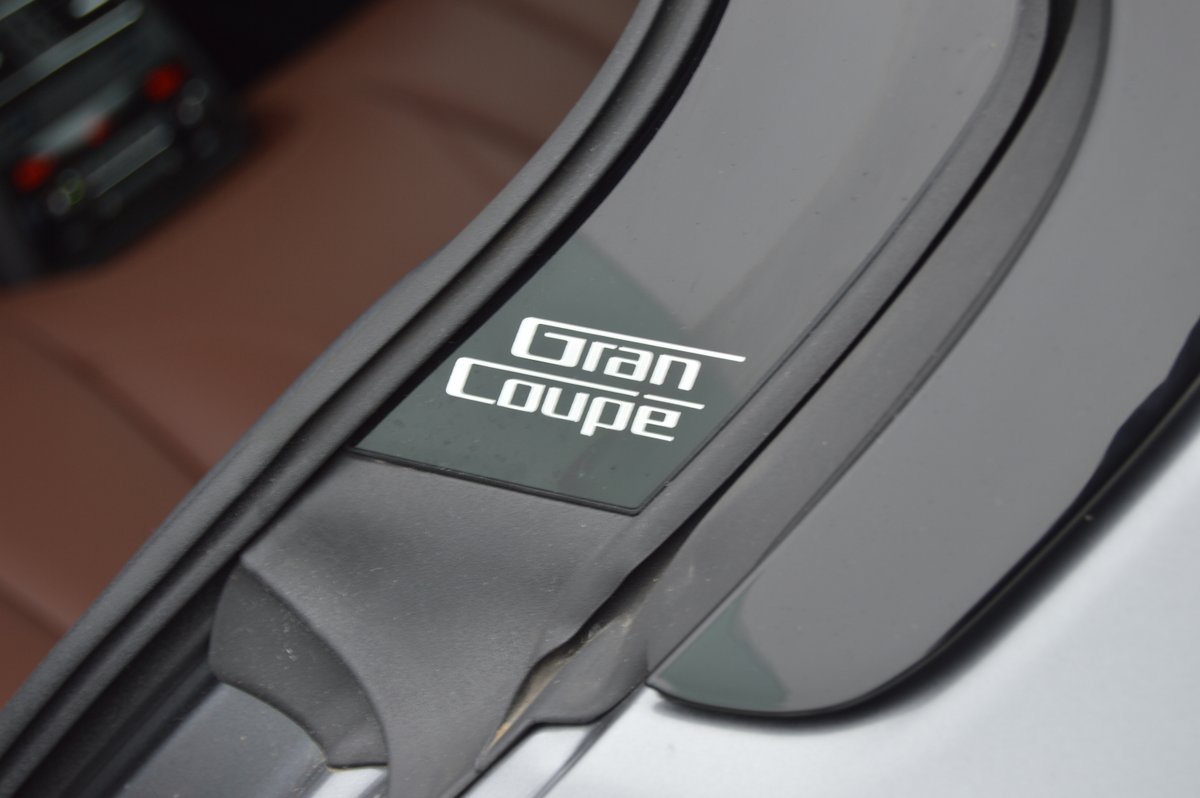 Of course, the prototype Gran Coupe, which debuted on the New York Auto Show in 2009 didn't have a turbo six under the hood. Nor did it have a thumping V8, or xDrive for that matter. In fact, it didn't have any engine under the hood at all. Rather, the first Gran Coupe – which met with rave reviews from the public – was a 100 percent electric powered dummy mock-up of the real thing. Substantial storage batteries provided just enough impetus to shift it from delivery truck to exhibit hall and back. A specially trained assistant would lift the roundel badge on the trunk, insert a massive electrical hook up cable, and walk behind the Gran Coupe, directing its movements via radio controlled servo motors. In other words, the first demo Gran Coupe was a full size R/C car.
Although the production version isn't quite as green as that prototype, it is substantially quicker. In fact, with 8 well chosen gear sets to harness its power, the 640i sprints from 0 to 60mph in just 5.4 seconds and covers the quarter mile in 14.1 seconds at 96.5 mph (Motortrend.com). That kind of pop requires reasonably quick reactions from an attentive operator. No more umbilical cord now, no laggardly servo motors. If injudicious throttle application is your thing, the 6 cylinder Gran Coupe will get you in trouble with the law, if not the laws of physics, real fast. I lost count of the number of times I looked down at the speedo, stupefied by its unexpected reading of 80 mph. This body shell of the 6 is so streamlined that it eliminates wind noise as an index of speed.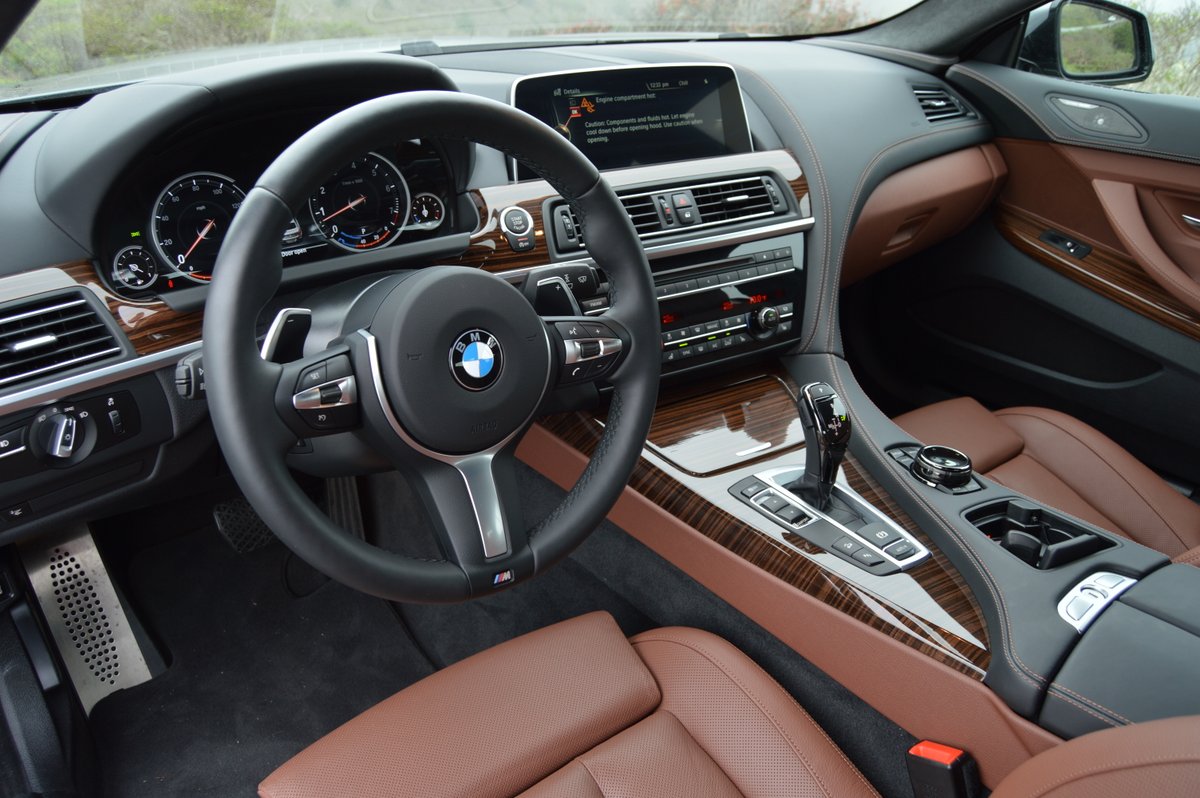 The anechoic interior is largely responsible for this sense of ethereal levitation. Let's start with deliciously rich looking Cinnamon Brown Dakota Leather seats. Toast them with the standard three stage front seat heaters and your cushy Cinnabon muffin platform will lull you into lethargy. The Cold Weather Package adds heaters for the rear seats, plus a warmer for the steering wheel rim. I loved the fact that the rim heater remains activated as long as you want, since it lacks an auto-off timer. It also heats the entire rim rather than selected segments of it, so feel free to change your grip and stay hot. The front seats offer so many different adjustments – from thigh support to shoulder blade grip – that if you can't get comfortable here, you won't be comfortable anywhere. By contrast, the rear seats, while pleasing, lack any adjustments. Once you clamber through the small rear door and back your butt into place, you're locked into a Singapore Sling designed for short trip comfort rather than long distance travel. Granted, there's ample legroom since the Gran Coupe's wheelbase is 4.5 inches longer than that of the standard Coupe. But the Gran Coupe's sweeping roofline, though it stands 0.9″ taller than the standard Coupe, still restricts rear seat headroom to passengers no taller than 5'8″. And the lack of headliner grab rails means you'll be free to flounder when the driver gooses the throttle in a turn. All in all, this Coupe is a bit more Gran up front than out back.
However, a couple of mitigating factors do improve your state of mind when ensconced in the rear. One is the standard Moonroof. Although this dark tinted monolith does not actually slide open, it does provide a swath of comforting light when the interior shade is retracted. Secondly, the rear windows slide all the way into the doors for a welcome and unobstructed rush of outside air. Finally, all three backlights are fitted with electrically operated privacy screens, with individual controls for each mounted on both rear arm rests. The screens are inexplicably part of the M Sport Package. Perhaps famous M Style race drivers require anonymity for past sins. Additionally, a floor mounted ventilation unit provides twin A/C-Heat outlets for fine tuning climate control. But the bulky unit eats into back seat knee room.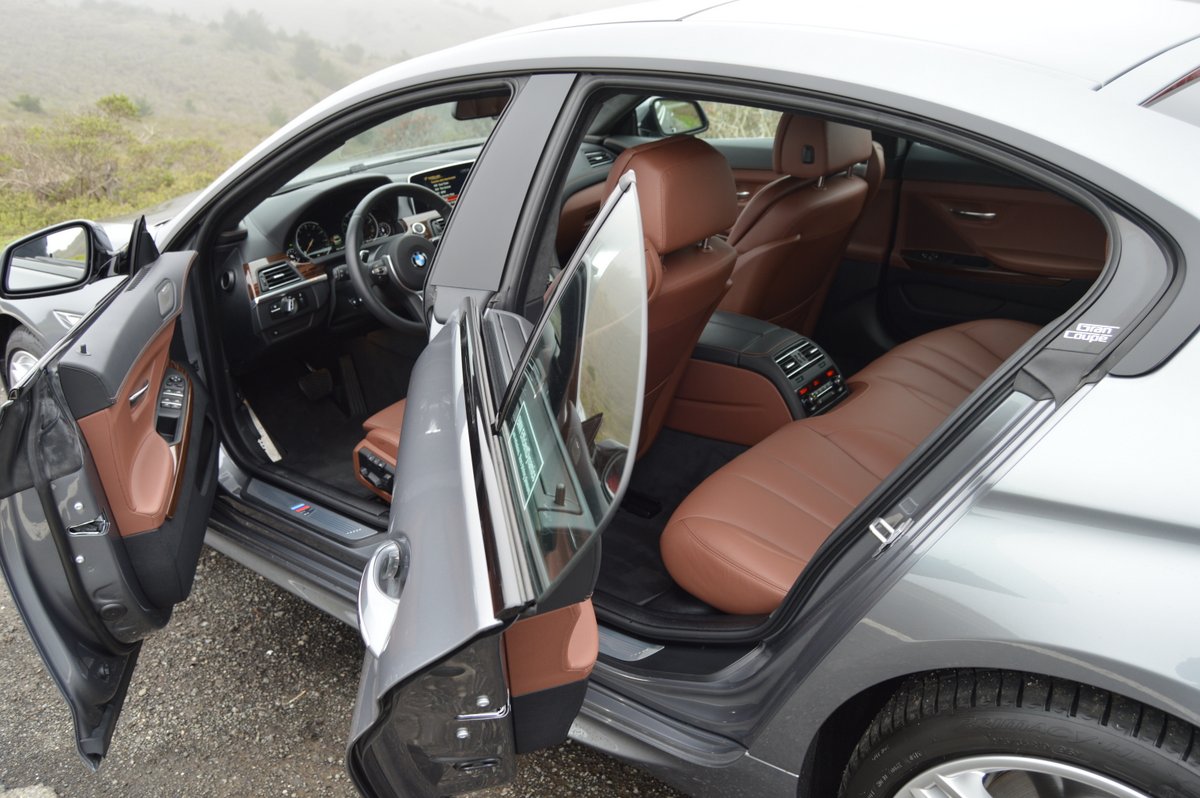 The 640i is an incredibly complicated symphony to orchestrate. Yes, you can just climb in and drive it the way is, in default mode. But the fun of owning this BMW lies in learning about its idiosyncrasies, in deciphering the secret handshakes lurking within the complex matrix of iDrive. For example, the Driving Dynamics program offers such a full range of options (EcoPro/Comfort/Comfort+/Sport/Sport+) that you will be hard pressed to differentiate the subtle differences between gradations. My first inclination was to select Sport+, a choice generated by memory of too many race track days. But after a couple of outings spoiled by turgid steering and punishing ride, it finally dawned on me that maybe Comfort or even Comfort+ would get the job of real world driving done with less drama. Although the Comfort settings aren't quite laid back into suicide knob slouching territory, they do present an attractive alternative to Sport+ for the daily grind. Even when the road unfurls into a ribbon of switchbacks, the Comfort settings work just fine.
Out on the freeway, I even ventured a stint in EcoPro to see what that might be all about. What it primarily does is supplant your useful tachometer with a fairly useless, even comical, circular gauge divided into blue and grey zones. Moderate throttle use plants you in the blue zone. When you need to tromp the throttle, the gauge swings into the grey zone and an icon of a shoe on a pedal flashes in the gauge face. There's also a sacrosanct area marked "Charge" that would lead you to believe the 640i is somehow Hybrid. Rather, EcoPro will decouple the engine and allow you to freewheel in certain situations. This only happened once, very briefly, on a long downhill run with no throttle applied. Even driving normally, without benefit of EcoPro nagging, the Gran Coupe managed a respectable 23 MPG in overall use, and nearly 30 MPG on the freeway. The highway figure benefits from 8th gear's ultra tall ratio and the fact that the 3.0 liter 6 is churning just 1750rpm at 65 mph and 2000rpm at 75 mph.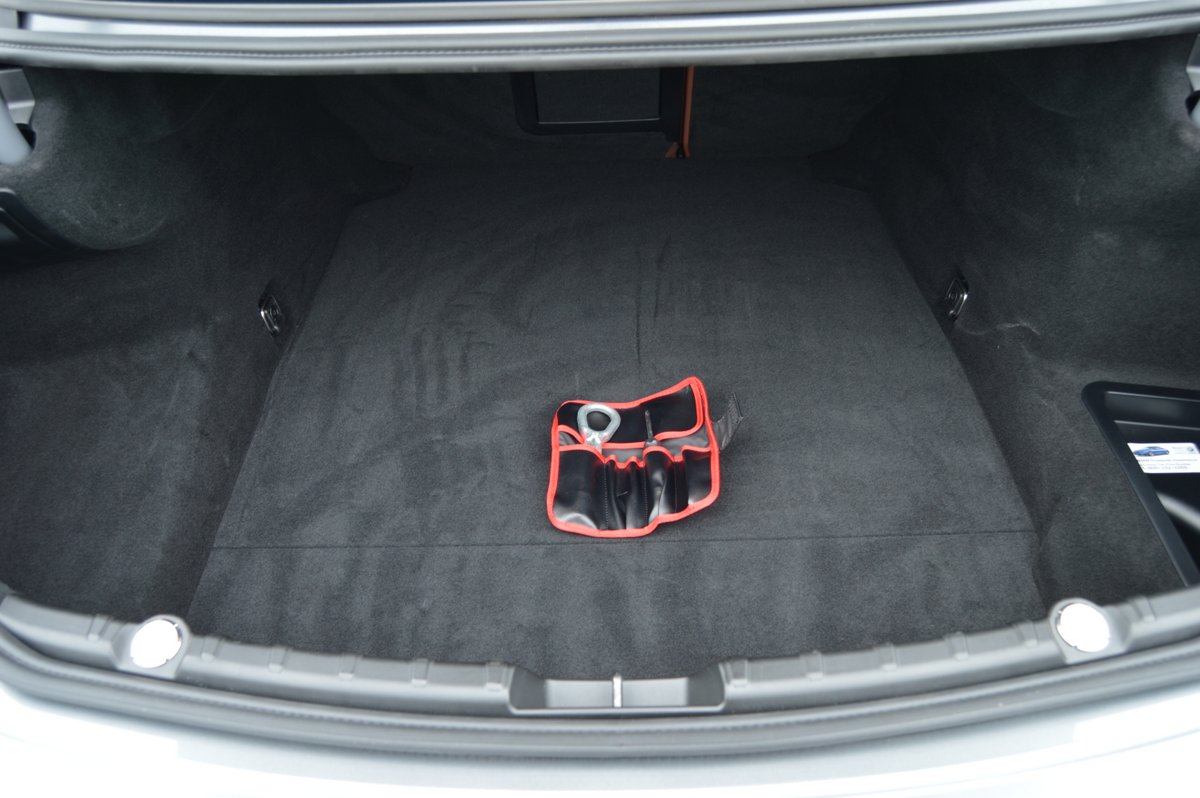 While BMW encourages you to play endlessly with the permutations of chassis and instrumentation set up, there are certain things they don't want you to know about at all. Like the location of the battery. The manual demurs in this regard, suggesting you visit your local dealership for battery matters beyond jump starting (remote engine bay terminals are thoughtfully provided for that purpose). A little digging in the Gran Coupe's vast 18 cubic foot trunk revealed a massive battery installation, complete with international orange wiring leads, beneath the trunk's removable floor board. While you may be successful in locating this source of energy, good luck trying to remove it. The inside rear trunk panel, which overlaps the battery and partially obscures it from view, appears to require specialized knowledge for removal. Thus battery extrication and replacement is problematic. It's not surprising that BMW only provides the Gran Coupe with the same two tools found in the half as expensive X1: a screwdriver and a tow hook. It must be said that the 640i's tools at least come packaged in a snappy looking black fabric pouch with red trim. There are a number of unoccupied slots in this roll.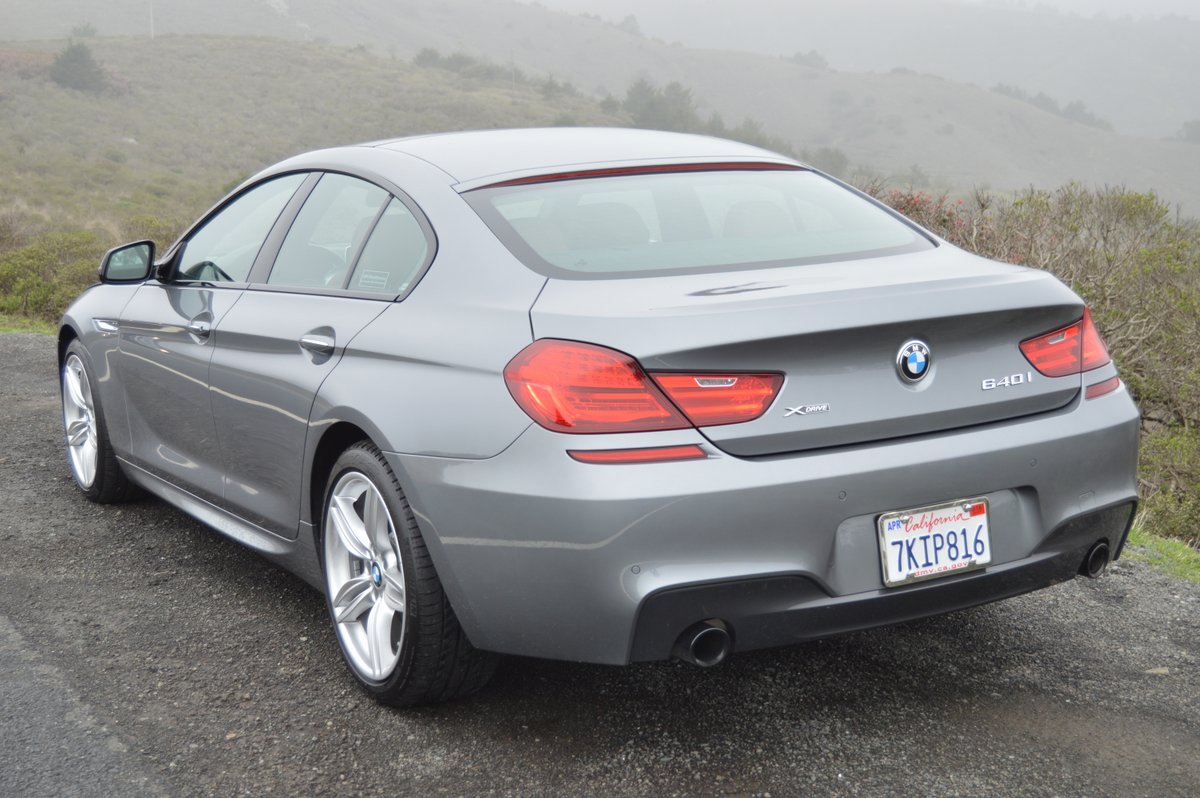 Converting a two door coupe to a four door Gran Coupe could have proved to be a mission fraught with pitfalls. Stretching the length of the existing 6 Series by 4.4 inches while raising its roof by nearly an inch promised to disrupt proportions disastrously. But BMW's design team managed the task with aplomb, reinventing the 6 with a stiletto profile that looks even better proportioned than the Coupe. If you have any doubt about the success of the finished product, look no further than the sales figures racked up by the Gran Coupe in 2015. BMW sold a total of 8,150 6 Series variants all told last year. The Gran Coupe accounted for a whopping 5,400, or 66 percent of those transactions. The remainder fell to the convertible with 1,950 sales and the two door coupe with just 800 sales. In the brave new world of German four door coupes, neither Porsche's big butted Panamera nor Audi's pricey A7 offer substantive competition to BMW's comparably affordable Gran Coupe. The fact that BMW is willing to test this car's mettle on the race track against full blooded two seat sports cars like Ferrari's 488 GTE, Corvette's C7R and Porsche's 911 RSR speaks volumes about their confidence in the consummate adaptability of the 6 Series platform.
Related posts: