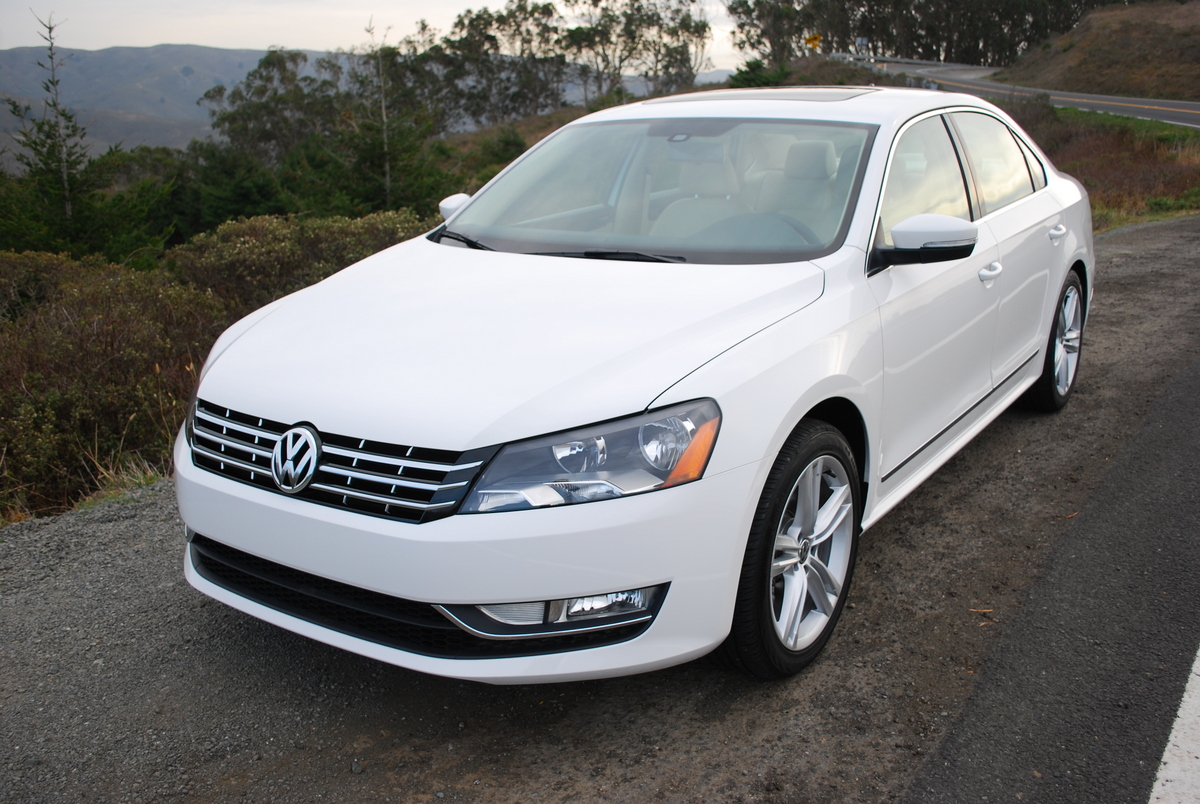 By David Colman
Hypes: Flourish-Free Styling, Beckoning Interior, 15.9 Cubic Foot Trunk
Gripes: Slow To Defrost, No Rear Wiper
Psst. Hey, buddy, want buy a German sports sedan? How about a German sports sedan that's built in Chattanooga, Tennessee? With a Mexican engine and a Japanese transmission, no less. Regardless of where the components are sourced or assembled, one drive in this latest iteration of VW's spacious family hauler will send you a singular message: this is a German sports sedan of the first order. Its handling is superb, its fit and finish impeccable, and its breeding long and distinguished.
For 2014, the SEL model I tested is currently the only Passat equipped with the new 4 cylinder turbo. VW also offers a 3.6 liter, 280hp V6 as an option on the SEL. The turbo motor makes 170hp from 1.8 liters and replaces last year's 170hp inline 5. The turbo laso makes 7 more lb.-ft. of torque than the I-5 (184 vs. 177), and returns better mileage (28 MPG) than the I-5 as well. Thanks to the extra torque, the latest Passat feels livelier than its forerunner when you jump on the accelerator. A 6-speed automatic gearbox takes good care of torque management, with a sport override feature available to allow specific gear choices as needed. Gear selection is then digitally displayed in the central information panel between the speedometer and tachometer.
The SEL treatment includes standard 18 inch alloy rims which mount 235/45R18 Continental Sport Contact rubber. This generous footprint produces neutral behavior no matter how hard you press this VW in corners. Despite the fact that this is a front-wheel-drive (FWD) sedan with 60 percent of its of 3,450 curb weight pounds allotted to the front wheels, the Passat never understeers. In fact, it's hard to tell that the layout is FWD, which is a high compliment indeed to the refinement of the suspension. Standard SEL handling-related features include an electronic differential lock (EDL) which synchronizes wheel speed from side to side, Anti-slip Regulation (ASR), which limits wheel spin, and Electronic Stability Control (ESC) which corrects driver error in extremis. The cornering limits limits allowed by ESC are high enough to permit you to have some sporting fun with your Passat.
Done up in "Candy White" with a "Cornsilk Beige" interior, the starkly handsome sedan comes off looking a bit like Tom Wolfe in a white pinstriped suit: dandy but inarguably handsome. Its fit and finish exceed what you've come to expect in a $30,000 automobile. VW has effectively banished the word cheap as a descriptor of this product. Once you slide into those comfy biscuit colored seats, activate their three stage cushion heaters, and finger the Fender Premium Audio for your favorite SiriusXM band, you're excused if you confuse the Passat with something substantially pricier, like say a BMW 3 or an Audi A4. Not until you check the bottom line of the window sticker do you realize that this VW's price range stops well south of where the others start.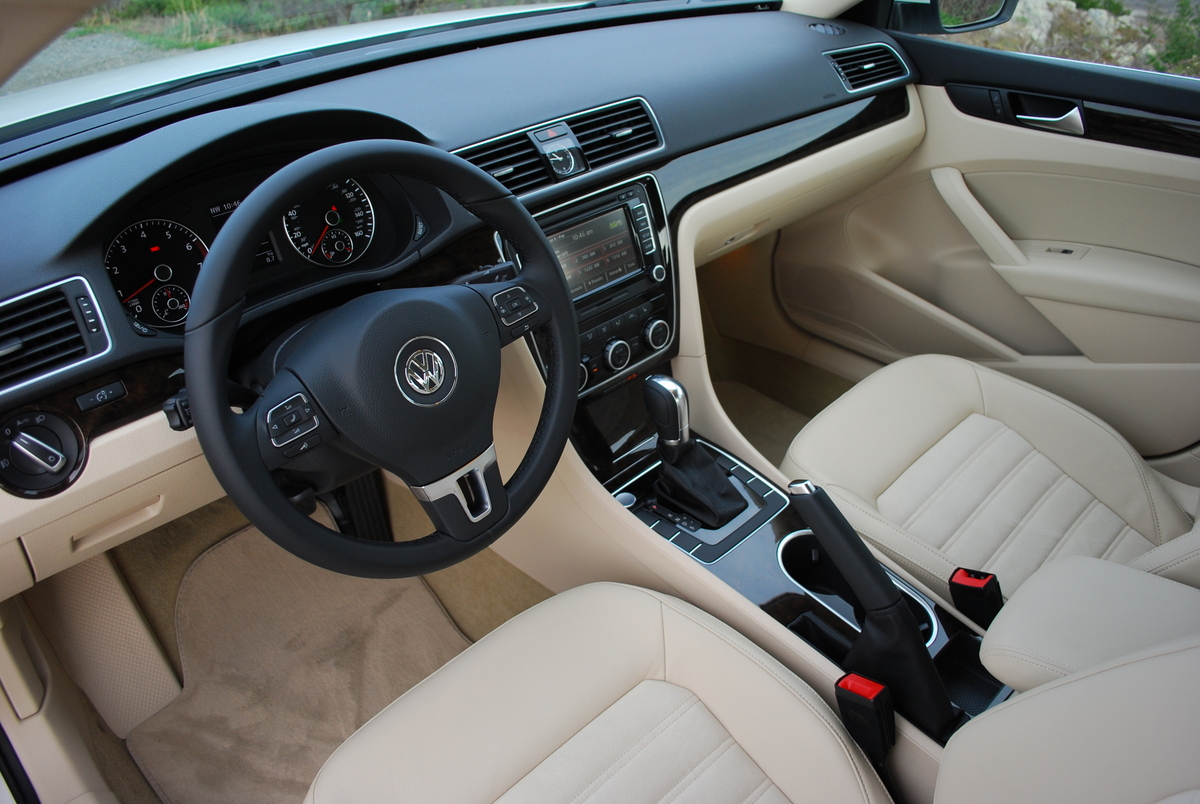 Clearly, in a world where parts for the same car are sourced from locations as disparate as Mexico, Japan and the USA, it's the overall vision of design that counts. VW calls this supervisorial role the "Power of German Engineering." From the moment you operate the chunky control stalks of the Passat, you know you're driving a German car. The multi-function steering wheel is fat rimmed, leather swathed, and responsive to the most minute change of direction. VW has adapted electronically controlled power steering in lieu of hydraulics for 2014, and if anything, the feedback at the wheel is even more informative than before. Such subtle touches make the Passat SEL more satisfying to drive than anything else in its price range, and indeed many competitors well beyond that range.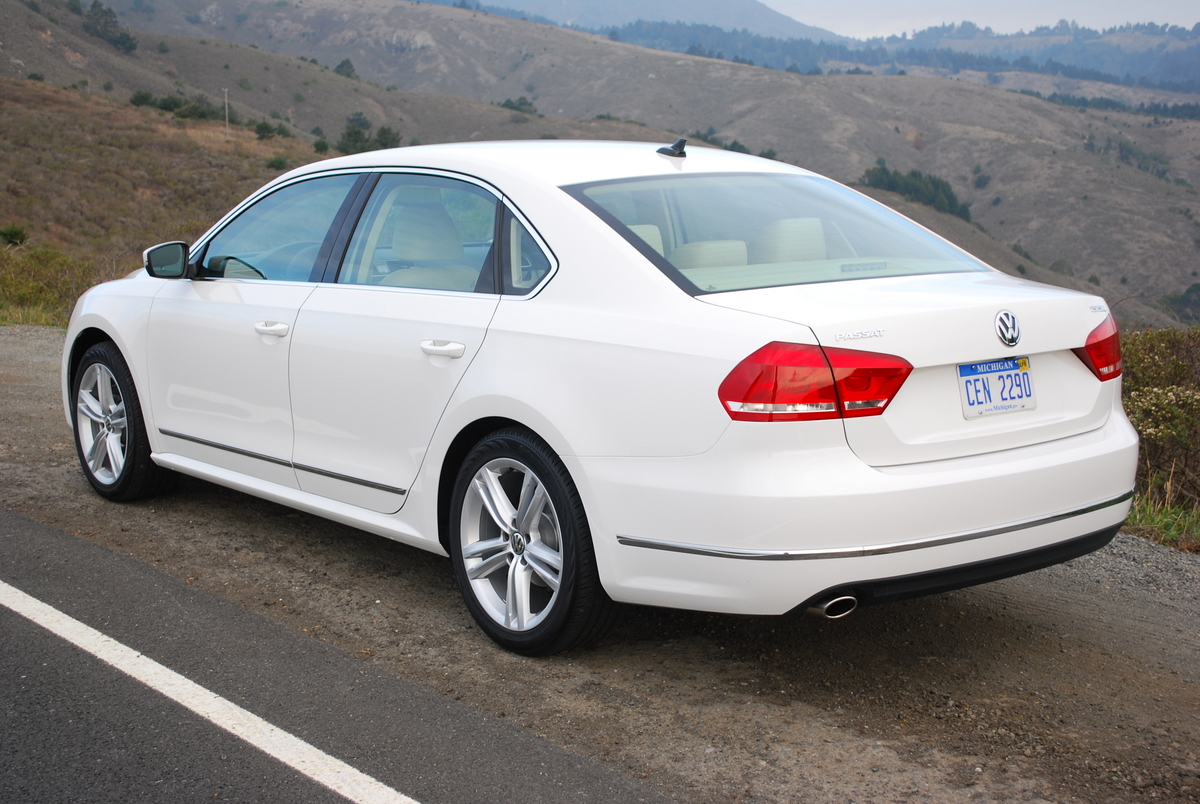 2014 Volkswagen Passat SEL Premium
Engine: 1.8 Liter Inline 4, turbocharged
Horsepower: 170hp
Torque: 184 lb.-ft.
Fuel Consumption: 24 MPG City/34 MPG Highway
Price as Tested: $31,715
Star Rating: 9 out of 10 Stars
Related posts: