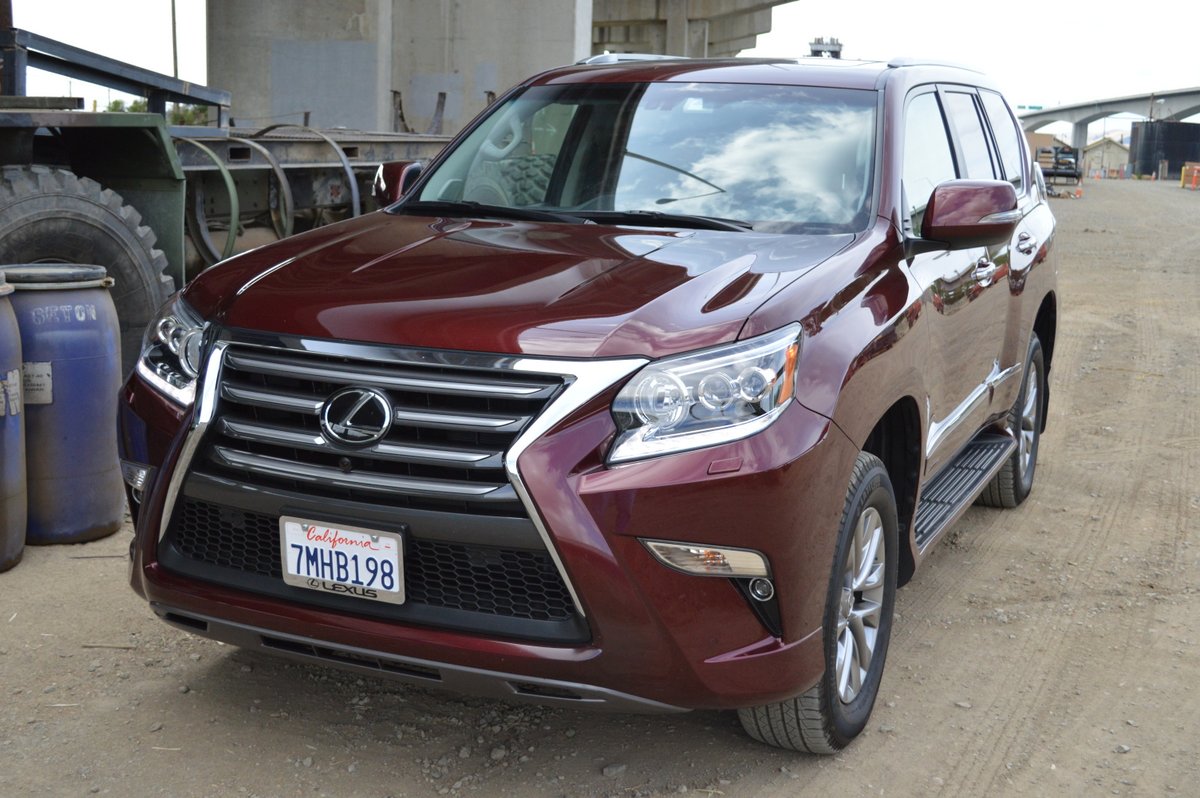 By David Colman
Hypes: Go Anywhere Brute
Gripes: Touchscreen Complexity
The base price of the GX460 is $61,515. The optioned price of our test GX totaled $67,825, an increase of 10 percent over base list. If you are considering purchase of this fine Lexus work horse, do yourself a financial favor and opt for the basic package. That way you'll save $1,970 for an unnecessary dual screen rear seat entertainment system. Instead, give the kids a book or a magazine and tell them to turn on the reading lights (provided free by Lexus). Or better yet, open the free, included "Power tilt/slide moonroof" for more reading light.
Secondly, save yourself $4,340 for the "Driver Support Package" which burdens the GX460 with a raft of unneeded "safety" features that seem to have become required today by our nanny state. The first is "Pre-Collision System with Driver Attention Monitor." If you are so inattentive to road conditions that you need a "Driver Attention Monitor" to keep you focused on the task of driving, maybe you should let someone else handle the wheel, or else stay home. Likewise, this package provides "Lane Departure Alert," a feat of oversight that once required a glance in the mirror or a turn of the head, but now apparently demands an annoying sequence of flashing lights and buzzers to keep you from bumping into your neighbor in the adjacent lane.
Finally, the package installs "Dynamic Radar Cruise Control" which demands more of your attention to override its proclivity to think for itself than you would have to expend if you modulated speed the old fashioned way via the accelerator pedal. About the only worthwhile contribution of the "Driver Support Package" is the inclusion of a Mark Levinson Audio System" and you can definitely do without its extra amperage to save yourself five grand.
It's mystifying why new vehicles need to be festooned with such technological overkill. The GX460 can certainly stand on its own four contact patches without resorting to safety gimmicks. It's a solid product that performs its multiple tasks – long distance driving, stout material haulage, 7 person transport, outback bashing – just fine without resorting to any "Driver Support" upgrades. This mid-range Lexus, based on Toyota's corporate 4Runner platform, is a beefy bruiser of a cruiser, and a genuine candidate for off-road exploration. It's full time 4 wheel drive is much more sophisticated than the kind of system you might find in a crossover SUV. This one's got a Torsen Limited Slip center differential featuring electronic lockup. Anyone who's challenged rough terrain knows that a locking center differential is essential to maintaining traction in adverse conditions. Lexus makes sure to equip the GX with Mud and Snow rated tires (265/60R18 Michelin Latitude Tour) so you can depend on them for adhesion in inclement weather or off-road dirt.
Along those same lines, the standard GX460 includes automatic self-leveling rear air suspension, so feel free to pack the hold with up to 7 passengers. The two aft most travelers make do with pop-up occasional seats that fold flush into the floor of the storage area when not in use. The cabin here is well designed, airy and elegant, with nice luxury touches you would expect from Lexus like a Mahogany steering wheel rim and shift knob. A particularly unexpected treat is the full tool kit neatly stored inside the cargo rear door.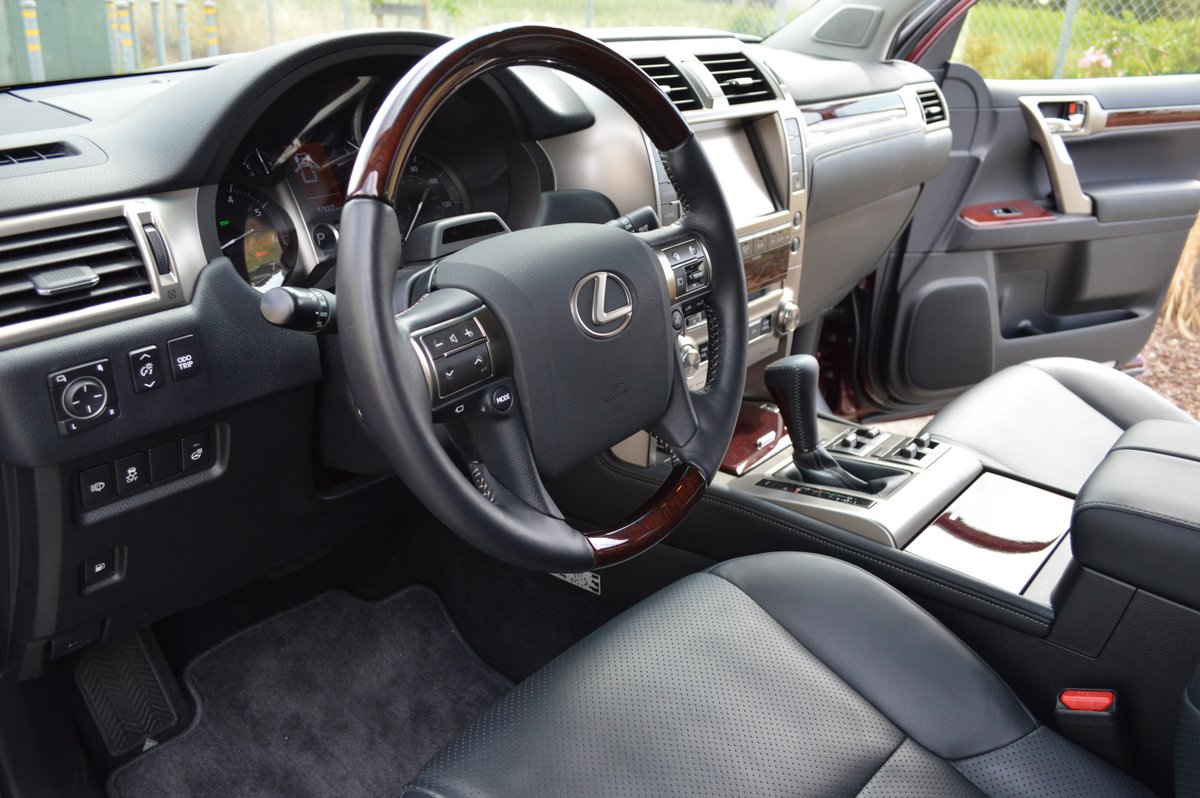 A centrally dash-mounted 8 inch touchscreen is easy to read, but sometimes annoying to use. For example, in order to regulate fan speed, you need to press the "Climate" button on the dash, then avert your eyes to the touchscreen where you will find a bar graph for fan speed. You then need to regulate the speed of the fan by manipulating the bar graph up or down. This whole sequence is so ridiculously complicated that it perhaps explains why you might need the "Driver Attention Monitor" to keep you from crashing while you fiddle with the touchscreen. I can remember when adjusting fan speed was simply a matter of twirling a dial.
A hefty 4.6 liter V8 powers the GX460 through a fine and precise 6-speed automatic transmission. Even though the GX weighs in at 5,170 pounds, its performance is sprightly enough to meet all fast lane needs while still scoring 17 MPG in combined city and highway driving. While 301hp won't provide sprinter acceleration, 329lb.-ft. of torque will grant you sufficient grunt to tow a 6,500 pound trailer.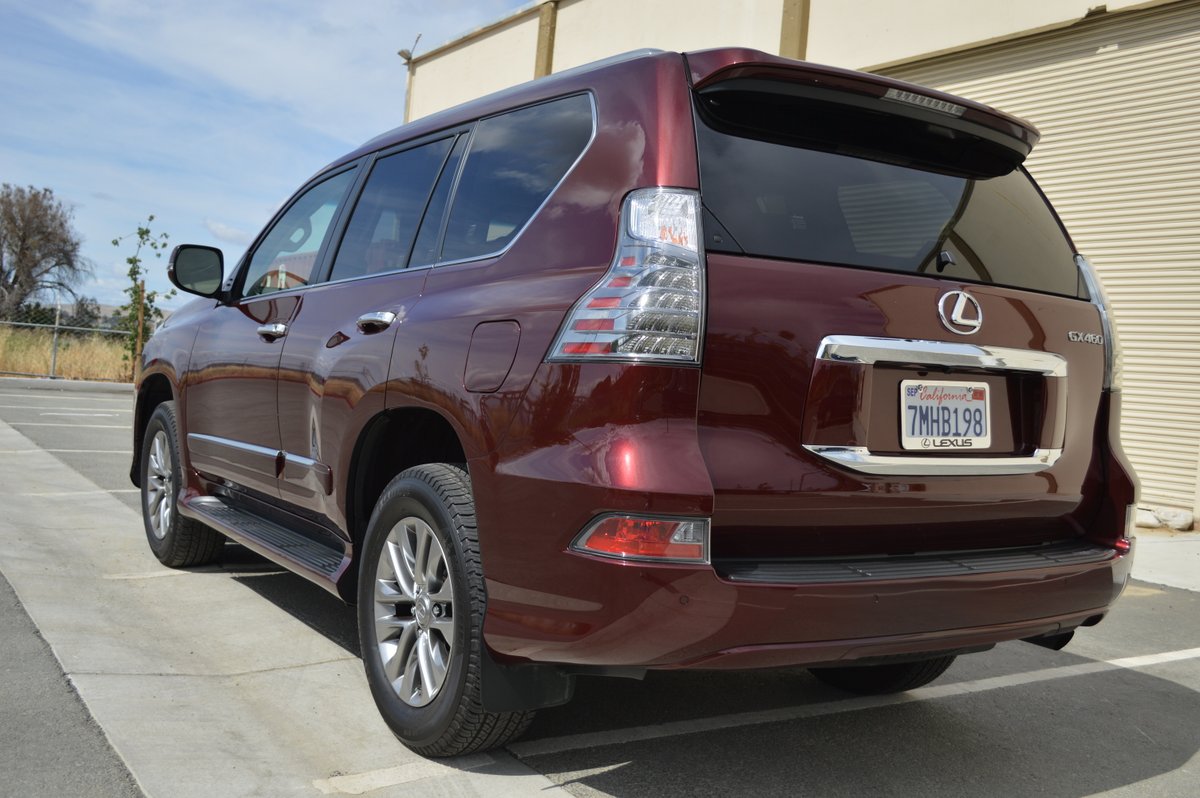 2016 Lexus GX460 Luxury
Engine: 4.6 liter V8, 32 valves, DOHC, VVT-i
Horsepower: 301hp
Torque: 329lb.-ft.
Fuel Consumption: 15 MPG City/20 MPG Highway
Price as Tested: $68,765
Star Rating: 8.5 out of 10 Stars
Related posts: