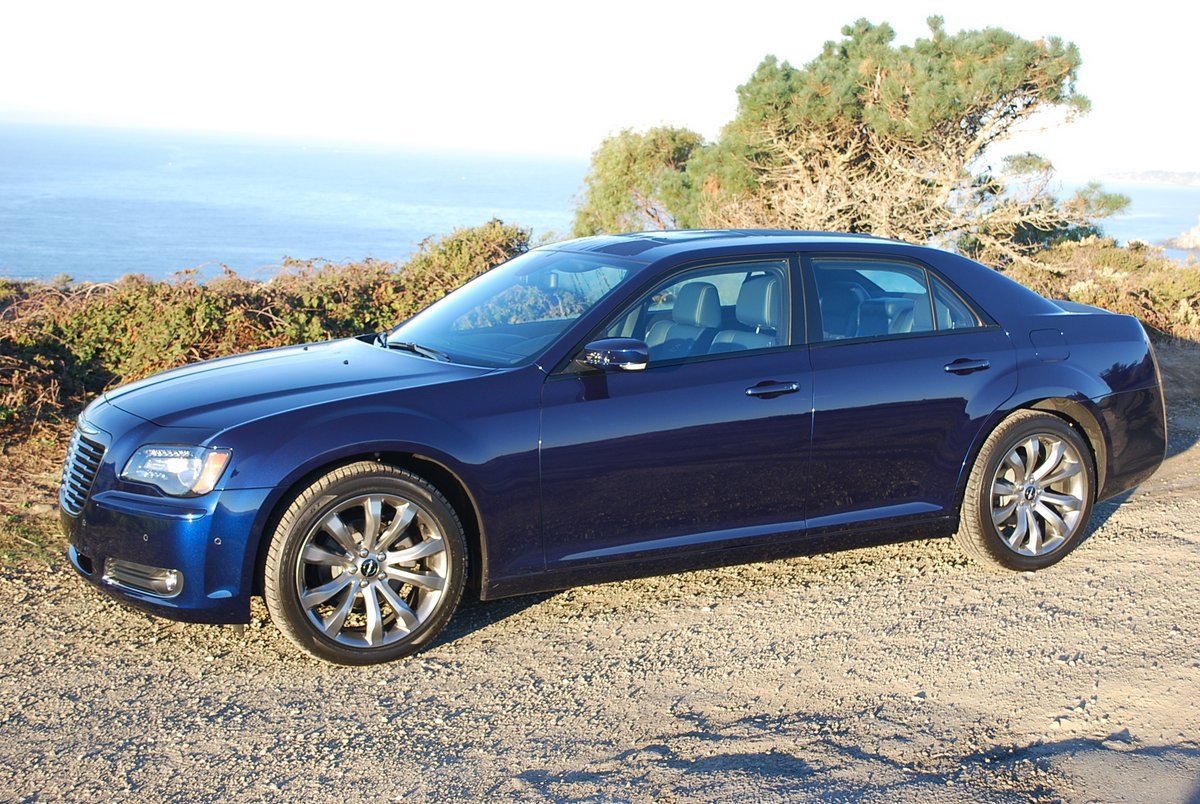 By David Colman
Hypes: Perfect Ride/Handling Compromise, Value Pricing
Gripes: Overstuffed Front Chairs
Chrysler offers more varieties of its 300 sedan than Baskin Robbins sells flavors of ice cream. Our test car this week, the 300S, stands tall as a best buy in the 300 model range. It offers excellent performance and handling with enough luxury amenities to make you wonder how Chrysler can build it for a base price of just $34,395. Of course, this wouldn't be a press test car without a substantial list of options, so add $1,995 for Customer Preferred Package 22G (Blind Spot Detection, Park Sense, Adaptive Speed Control, Forward Collision Warning). Tack on another $895 for Bi-Xenon HID Headlamps, $1,595 for the Dual Pane Panoramic Sunroof, and $995 for an infotainment system that features Garmin Navigation. So you're out the door price swiftly rises to $40,870. Is the 300S still a best buy at that elevated figure? You bet it is.
Among the varietals of 300, the 300S offers the best compromise between economy and performance. It utilizes the fuel efficient 3.6 liter V6 to achieve a reputable 31MPG on the highway. Yet this engine, in its elevated "S" stage of tune, is sophisticated enough to produce 300hp and 264 lb.-ft. of torque. That's 8hp and 4 lb.-ft. more than the base 300′s V6. Chrysler couples this S engine to its new 8-speed automatic gearbox, so you have a huge range of gear ratios to select for every application. Need more than 300hp? If so, opt for either the 5.7 liter HEMI (363hp) or the monster 6.4 liter HEMI (470hp). Either of those optional V-8s are available in the 300S, but neither of them use the slick new 8-speed "Autostick" transmission. Rather, both make do with a 5-speed automatic, and both will barely break 20MPG in highway cruising.
Besides the up-rated motor, the following improvements set the S apart from other 300 models: performance tires, sport mode, fog lamps, premium sound system, power seats, passenger lumbar adjustment, keyless start, universal garage door opener, remote engine start, security system and back-up camera. You will also discover discrete "300S" identifiers on the trunk lid and the front seat headrests. The most obvious clue to S identity resides in the wheel wells, where handsome, rugged looking 8×20 inch "Black Aluminum" wheels support beefy Firestone Firehawk GT radials measuring 245/45R20 at all corners. These alloys are actually finished in a dark vapor chrome that demands use of mild soap and water and soft cloth ONLY for cleaning. In concert with the S's "4- wheel independent touring suspension," this big Chrysler combines adept handling with a relaxed ride that comes close to achieving the ideal compromise between two disparate goals. The Firehawk tires, an unusual choice for an OEM application, play a significant role in adding traction while calming the ride. The other factor playing into the performance equation is the "Sport Mode" feature of the S model, which firms up the damping of the electronically adjustable shock absorbers while also resetting shift points for maximum acceleration. To select Sport Mode, simply pull the floor-mounted Autostick lever back into its rear most "S" slot. The gearbox will then remain locked in whatever gear you select.
The luxuriant cabin of the 300S is enhanced by the panoramic sunroof. Because the beltline of the 300 is relatively high, the side windows are necessarily short. This might lead to a touch of claustrophobia were it not for the huge overhead light source provided by the double pane roof. The elegantly understated detailing of the 300′s interior will exceed your expectations for a car in this price range. Chrysler's selection of seat material, headliner fabric, and dashboard covering all blend harmoniously to form a comfort zone that you will always look forward to enjoying. Although I found the front seats to be a bit overstuffed, the driving controls are so well placed in relation to the leather rimmed steering wheel that everything falls readily to hand. Particularly appreciated are the stubby flaps just behind the wheel rim that allow you to control transmission gear choice manually. With 8 nicely spaced ratios from which to choose, you will never be at a loss for the proper gear.
The 300S is the perfect sedan choice for someone who relishes fast but efficient transportation for 4 adults. While the S's V6 will never match the torque nor head snapping performance of the optional HEMI V8s, you won't find yourself making fuel stops nearly as often either. Chrysler advertising touts the 300 as being "Imported – from Detroit." In fact, it would be more accurate to say that the 300S is "Imported from Canada," where it is assembled (Brampton, Ontario) from an engine made in the USA and a transmission constructed in Mexico. Despite that, the 300S is as American as you can get. Brawny motor, luxo-cabin trappings, startling styling, and domestic pricing. This one is an all around winner.
2014 Chrysler 300S
Engine: 3.6 liter V6, 24 Valves with VVT
Horsepower: 300hp
Torque: 264 lb.-ft.
Fuel Consumption: 19 MPG City/31 MPG Highway
Price as Tested: $40,870
Star Rating: 9 out of 10 Stars
Related posts: