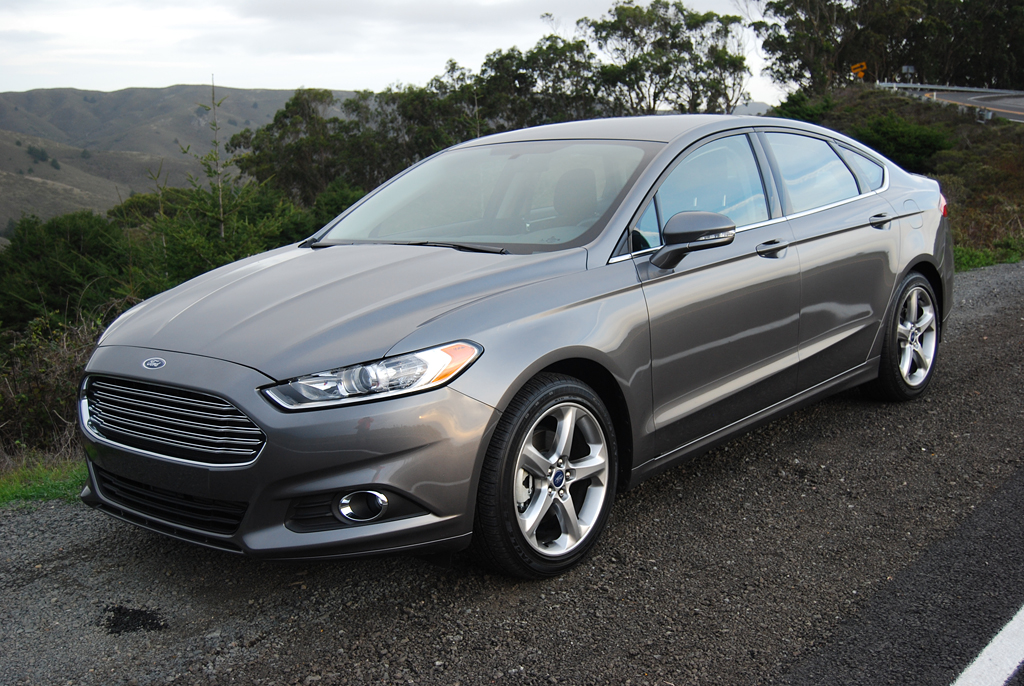 By David Colman
Hypes: Remarkable Handling, First Rate Fit and Finish
Gripes: Tiny Info Screen, No Visual HVAC Temp Confirmation
Park the 2013 Fusion next to Ford's previous model of the same name and you will instantly see that everything has changed but the name. The previous model was so chrome-clad, clumsily styled and ponderous looking that it makes the new Fusion look like Botticelli's Venus on the Half Shell. Your first impression of the 2013 Fusion's comparative grace, balance and purpose is not deceiving. This car will be a game changer for Ford because it not only matches but improves upon the competition from Honda (Accord), Toyota (Camry) and Nissan (Altima).
And for family types who seek a little enjoyment from the art of driving, Ford caters to your specific need by selling a manual transmission version of the Fusion. Try buying one of those at your Honda, Toyota or Nissan store.
Let the celebration begin at the Fusion's as-delivered price of $26,040, which should provoke a case of reverse sticker shock. The base price of the SE is $23,700, with a $1,510 bump for Equipment group 204A (Appearance Package, 18 inch Painted Sports Wheels, Rear Spoiler), and $295 for a Reverse Sensing System (with dashboard camera display). What really made this car a champ is the availability of the 6-speed manual gearbox, with its perfectly weighted shift mechanism, silky clutch engagement, and ideally suited gear ratios. Although the Fusion's small displacement (1.6 liter),turbocharged inline four produces just 178hp, the slick gearbox allows you to provide a gear set as demand dictates. No waiting for the lethargic up and downshifts of an automatic, which would seep the lifeblood out of this edgy EcoBoost motor.
The 18 inch optional rims notch the sedan into a performance class on a par with BMW 3 Series road burners. Tire fitment for these rims is generous, with Goodyear Eagle LS2 tires measuring 235/45R18 at each corner. Late one night, clear weather and traffic free road conditions conspired to provide the ideal opportunity to test the Fusion's handling. This sedan is remarkably composed when pushed close to the limit. Ford has dialed understeer out of the SE's handling portfolio. Turn-in is crisp and precise, and power is sufficient for really quick motoring without oversteer. The Goodyears, which don't look particularly aggressive in the tread pattern department, never issued a single squeal. Ford has really managed to sort the twisty road performance of this unassuming family car.
The interior is a pleasure to behold. The exceptionally clean looking black cloth seats benefit from red stitching across their 7 cushion, and 9 backrest pleats. Two different shades of metallic burnishing adorn the interior accents. The center stack and door pulls are done in matte aluminum, while the door panel and glovebox trim strips are matte platinum. The basket weave beige headliner looks expensive, and Ford has even seen fit to equip it with 4 hand grabs which are cushioned to retract noiselessly when you let go of them.
Large water bottle holders make the sizeable door pockets really useful, the glove box offers 2 expansive shelves, and even the rear seat is fully equipped, with adequate leg and headroom, and a drop down cupholder/armrest. A final touch exhibits just how far this company has come in terms of design: the keypad which allows you to unlock your car from the outside – formerly a fixed and ugly device – is now seamlessly integrated into the B-pillar as a lit unit which disappears from view after you shut the driver's door.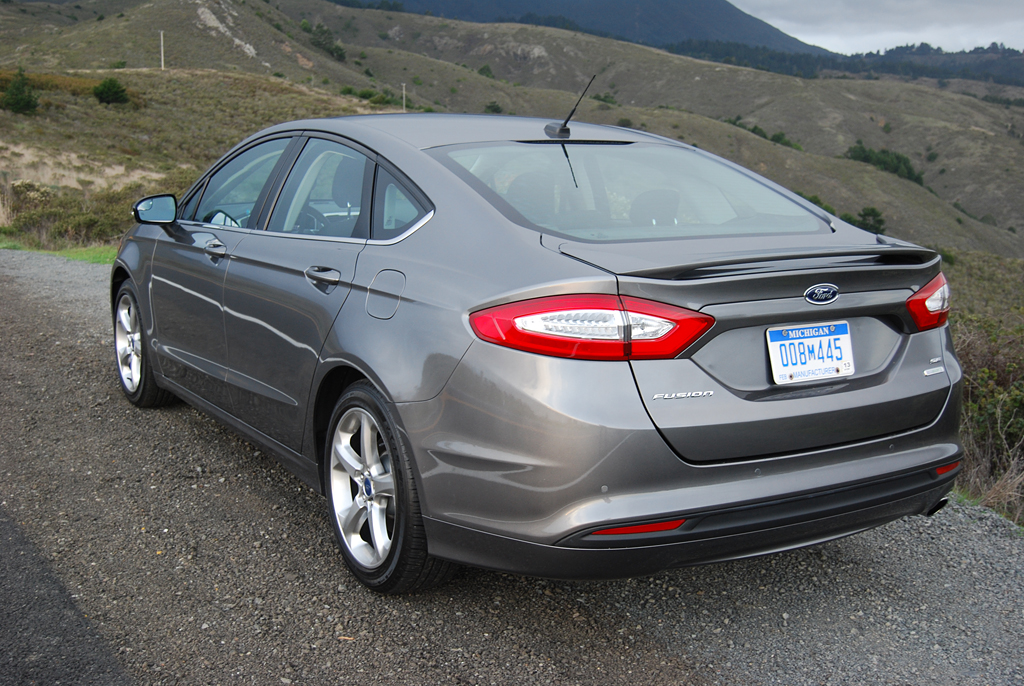 If there's any confusion about the Fusion it's in the engine choice department. Those of you opting for maximum scat will want to consider the 2.0 liter EcoBoost option which provides 188hp. There's also a non-turbo 2.5 liter version good for 175hp. But with highway fuel consumption 37MPG, it's hard to beat the 1.6 liter engine, especially when it's tied to that superb manual 6-speed transmission.
2013 Ford Fusion SE
Engine: 1.6 Liter Inline 4, Turbocharged, Direct Injection
Horsepower: 178hp @5,700rpm
Torque: 184 lb.-ft. @2,500rpm
Fuel Consumption: 25 MPG City/37 MPG Highway
Price as Tested: $26,040
Star Rating: 9 out of 10 Stars
Related posts: