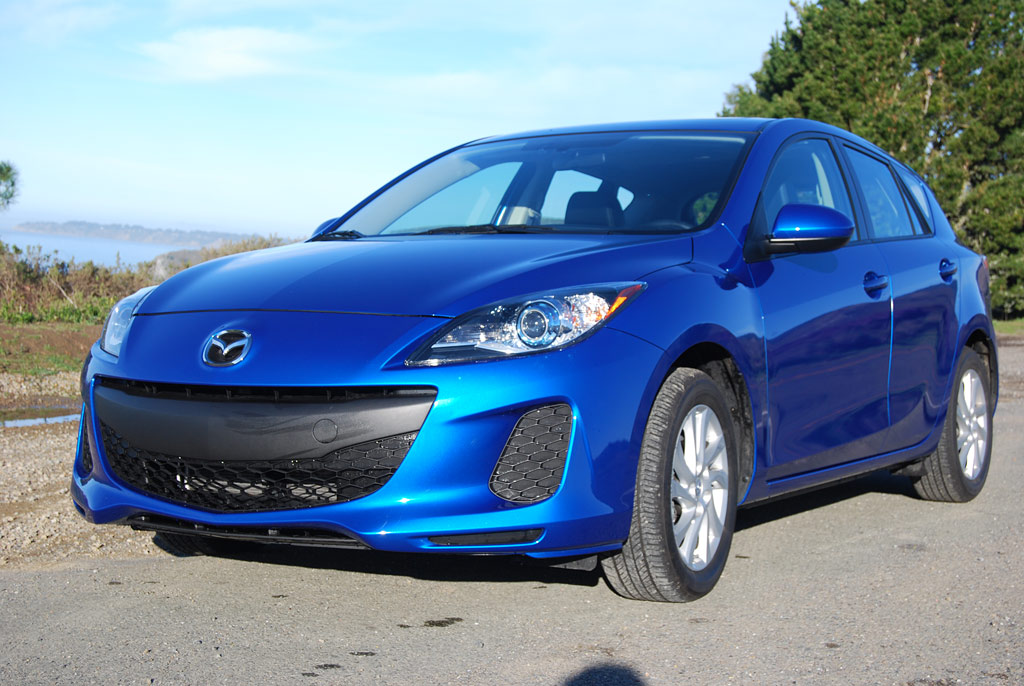 By David Colman
For: Efficient engine, Loaded with expensive interior features
Against: Zoom-Zoom free zone
Mazda bills itself as the "Zoom-Zoom" car company, with such tag lines as "Always the soul of a sports car" and "At Mazda, we believe if it's not worth driving it's not worth buying." The company's biggest selling model, the Mazda3, in the newly available Skyactiv form we tested, leaves plenty more room for zoom. If this hatchback hides the soul of a sports car, its location is a mystery.
Granted, Mazda offers the Mazdaspeed3 for dedicated sporting enthusiasts. This delightful pocket rocket boasts 263hp from its turbocharged 2.3 liter engine. But what about the 155hp engine in our test Mazda3? On paper, the new SKYACTIV-G formula looks good, with super high compression ratio (12:1), 4 into 2 into 1 exhaust, and special anti-knock design measures. But the 2 liter, four cylinder engine simply doesn't produce enough urge to make this Mazda fun to drive. Is it worth sacrificing performance for stupendous mileage? The SKYACTIV engine returns 28 MPG in city driving, and 39 MPG on the highway, but it does so at the cost of indifferent straight line performance. Step on the throttle in any of the 6 gears provided and the Mazda3 responds with a disconcerting lack of action. If acceleration is important, order your 3 with an available 2.5 liter, 167hp engine, or opt for the Mazdaspeed3.
For those of you unconcerned by such shortfalls in advertising promise, the Mazda3 5 Door GT is an otherwise pleasant excursion into practical motoring. You can carry 5 adults in the airy and spacious cabin. The two up front find themselves lounging in comfort unheard of in this price class. Both front seats have 5 position rheostats for heating, and both are finished in glove leather. The driver's seat features 8-way power adjustment, and the leather wrapped steering wheel telescopes and pivots through a full range of travel. The Grand Touring package also includes a small Navigation screen, a 265 watt Bose Surroundsound system, and Bluetooth phone connection. For a car costing just $22,800, the amenity li st is surprisingly well padded and complete.
From a space utilization standpoint, the Mazda3 can function as a mini pickup truck if you fold the 60/40 split rear seatbacks flat, and load bulky items through the sizeable rear cargo door. Loading passengers is eased as well, thanks to four full size doors, and enough wiggle room inside the car's 103.9 inch wheelbase to allocate sprawling legroom front and rear. If you opt for the 4 door sedan over the 5 door hatchback, you get an extra 3.5 inches of overall length, but wheelbase remains the same on both models.
It's hard to devine Mazda's race track heritage from the hatchback's handling traits. Understeer is pronounced, the body tends to pitch noticeably on tight curves, and the tread compound of the Bridsgestone Turanza R400 tires (205/55R16) is designed for high mileage and fuel economy rather than adhesion. If you're interested in pumping up the handling profile, select the optional 205/50R17 tires and wheels, which will reduce sidewall flex and increase tread bite.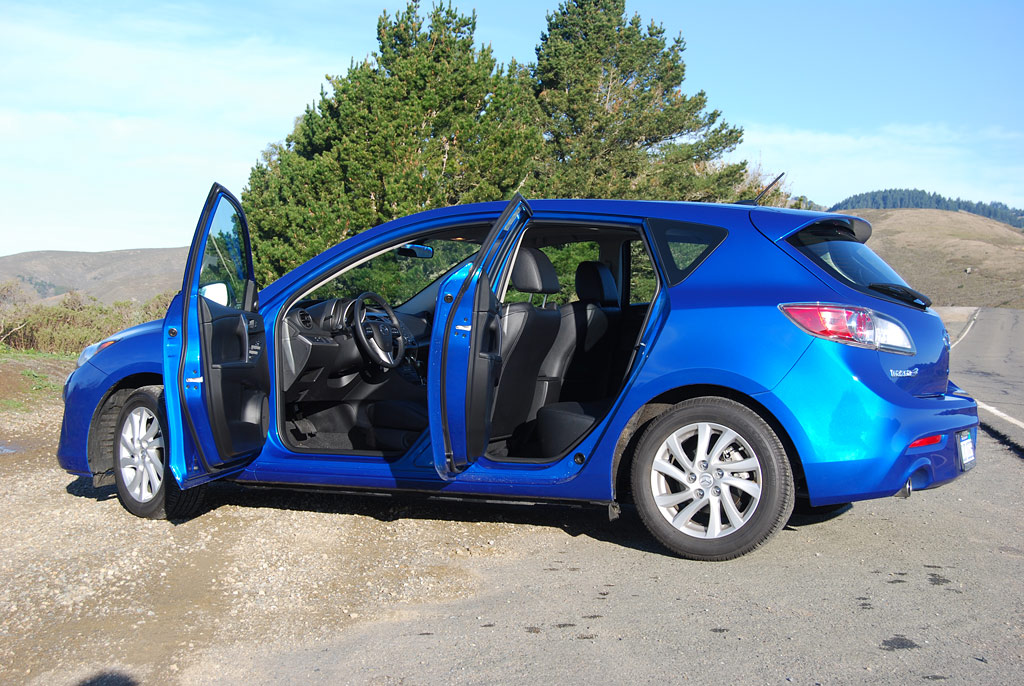 Over the least 7 years, Mazda has sold more than 3 million Mazda3s. The reason for this continued sales success is the availability of a model for every niche, at a price point that defies credibility. In the $22,000 range, most manufacturers are offering their most basic models without enhancements of any kind. To find a car in this class that standardizes such features as heated seats, navigation, Bluetooth and Bose acoustics seems like a far fetched dream. If you're not a performance freak, you'll find plenty else to love in the Mazda3 5 Door.
2012 Mazda 5 Door Grand Touring SKYACTIV
Engine: 2.0 liter direct injection inline 4 with SKYACTIV-G Technology
Horsepower: 155 at 6,000rpm
Torque: 148 lb.-ft. at 4,100rpm
Fuel Consumption: 28 MPG City/39 MPG Highway
Price as Tested: $24,995
Star Rating: 7.5 out of 10 Stars
Related posts: