By David Colman
Hypes: More Space, More Pace, Interior Upgrade
Gripes: Difficult Rear Seat Access
Until now, the base model Mini Cooper rang a death knell for fast driving. Its 1.6 liter four's measly 131hp and 114 pounds of torque never unlocked the potential of the little car's fabulous chassis. So when a base 2014 Mini Cooper arrived in my driveway, I wasn't exactly planning a week of street racing with it – especially when I looked inside and saw that a power sapping automatic gearbox replaced the Mini's always rewarding 6 speed manual. However, on my first stint behind the chubby, small diameter steering wheel, I realized something significantly different had transformed the performance of this base model from slug to swan.
In a subtle but near total revamp of Mini, the new third generation base model grows dimensionally in all departments except engine displacement. For example, length increases by 4.5 inches to 171.1 inches, width grows by 1.7 inches, height by 0.3 inches and weight by 140 pounds to 2,675 lbs. But the base model's engine loses a cylinder and gains a turbo. Its 1.3 liter, 134hp, 162lb.-ft., 3 cylinder turbo makes more power (+15) and torque (+48!) than the larger 1.6 liter four it replaces. Not only that, it gets better mileage as well – 29 MPG City/41 MPG Highway ( versus 29/37). The improvement is instantly obvious to anyone who has spent time rowing a base model Mini through the gears trying to extract even modest acceleration.
The turbo 3 is really lively, even conjoined to an automatic 6-speed transmission ($1,250 extra). This transmission offers a manual shift gate which allows you to maximize engine boost. In over-boost condition, the turbo ups torque output to 169lb.-ft. Although the automatic transmission Mini seems like the perfect candidate for paddle shifts, they are not standard issue, so you need to slap the floor stick fore and aft to swap gears. And though you might manually select a gear – say second – to hold until further notice, the transmission will override your selection and up-shift automatically to 3rd due to rpm increase.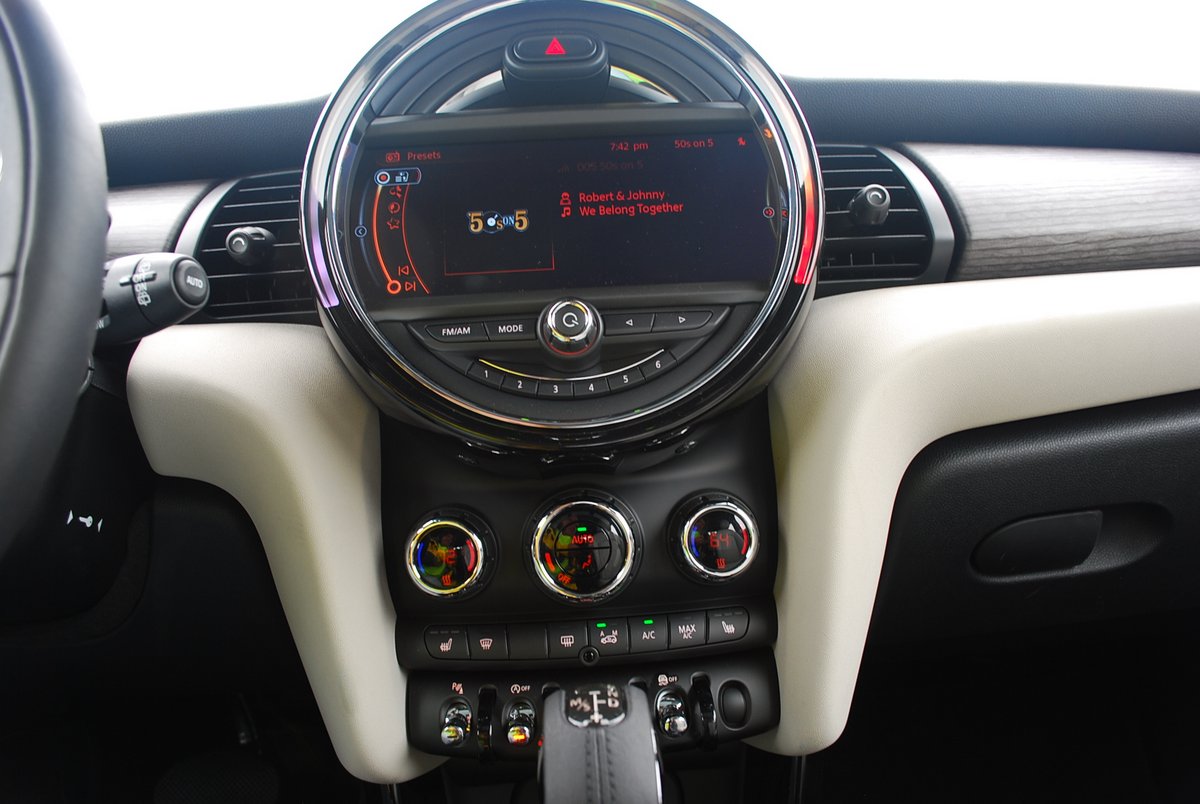 You will never notice the increased size or heft of the latest Mini unless you try to park it in a very tight space. In the greater scheme of things, this is still a very small sedan, with a turning circle of just 35 feet. The electrically assisted power steering is micrometer precise, and the all-season, run flat Pirelli P7 tires (205/45R17) inhibit squeal and pitch in turns thanks to their extremely short sidewalls. They're mounted on appropriately named "Tentacle Spoke" alloys which give you the unparalleled opportunity to clean 20 spokes at each corner when you wash your Mini. These wheels comprise part of the $1,500 Sport Package, which also includes Sport Seats, LED Headlights, and white turn signal lenses. The new seats are a sensational improvement over anything Mini has offered before. They conform themselves to your body shape so thoroughly that you'll never want to exit them at destination. When upholstered in the $1,750 "Leather Lounge Satellite Grey" finish of our test car, they look as sumptuous as they feel. Their contrasting cord piping is an elegant touch. Another optional nicety is the $350 extra "Cottonwood" dash treatment, which mimics the striated look of recycled barn lumber, and complements the Satellite Grey seats exceptionally well. In all, the new Mini boats a number of interior refinements that elevate it from steerage status to business class. In particular, the oversize central instrument face, which formerly housed a comically huge speedometer, has been rededicated to a number of useful functions including radio selection and navigation graphics. As a navigation screen, its 8.8 inch size is particularly welcome. The chrome ring which surrounds this central screen contains a series of LED bulbs that throb blue when you cool the interior or red when you dial up heat. It's Mini-only insouciance at its best.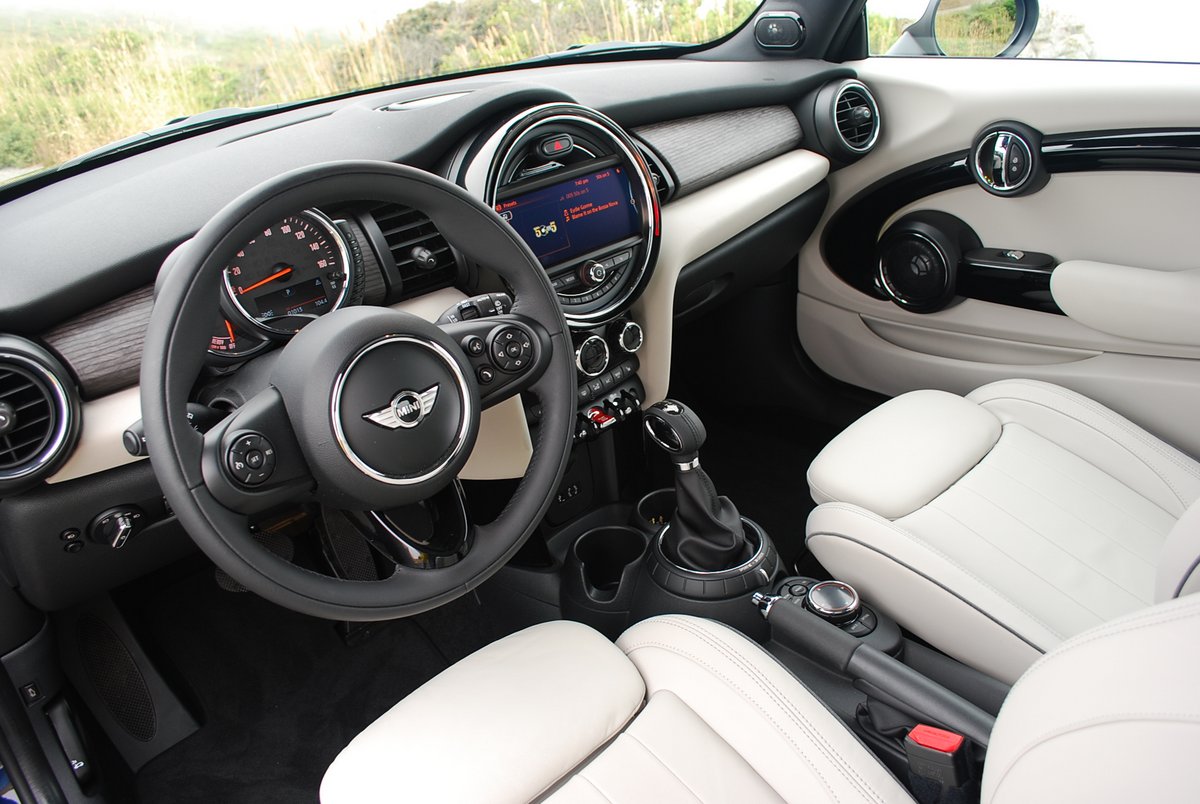 While you may rue the fact that Mini has grown dimensionally since its inception, you won't regret the extra 8 cubic feet of interior cabin space the new model offers, or the 3 cubic feet of storage it also provides. Of course, accessing the increased acreage is problematic because, thanks to door/seat interference, you can barely slide your hand behind the front seat to tilt it forward for rear area access. At the very rear, Mini thoughtfully provides an under trunk floor storage bin which will keep 3 supermarket bags upright for the ride home. That is, as long as you don't dial up the "Sport" setting on your Mini. If you do that, the big screen graphics read "Let's Motor Hard!" and the pictograph shows your Mini as a combo go-kart/rocket ship. Follow that prompt and you'll scatter those groceries all over the place.
2014 Mini Cooper Hardtop
Engine: 1.3 liter inline 3, turbocharged
Horsepower: 134hp
Torque: 162lb.-ft.
Fuel Consumption: 29 MPG City/41 MPG Highway
Price as Tested: $33,095
Star Rating: 9.5 out of 10 Stars
×

0272014 Mini Cooper Hardtop
Related posts: