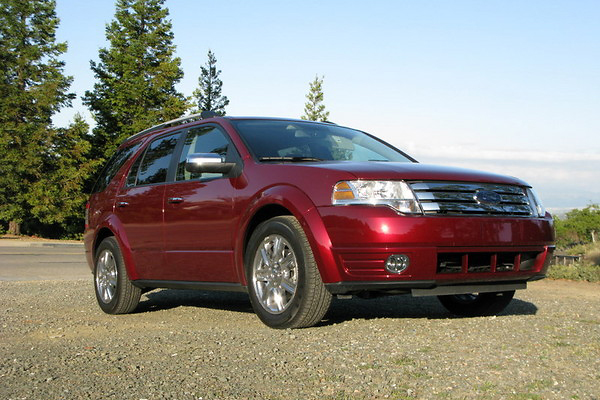 Blings:
Smooth and powerful V6 powerplant

Supple ride quality combined with above-average handling abilities

Excellent interior design and construction

Very good steering wheel and dashboard controls in terms of ergonomics and quality

Microsoft SYNC

Third row seats are comfortable and easy to access.

Third row seats fold down flat and disappear into the floor area

Rear passenger center console is big and convenient

2nd row passenger heated seats is a nice touch

Sound system and integrated DVD system works very well

Very quiet interior

Instructions for folding down the seats are printed right on the seats
Dings:
Top of the dashboard is hard plastic and not up to par at this price level

Chrome wheels look cheap

Exterior styling is bland and uninspired.

Material for the back of the third row seats should be a more robust material than the carpet offered.
Ruling:
This is one of the finest US cars we've driven. Crossover, XUV, SAV,or whatever you want to call it, this is a fine automobile. Its form is adapted to the active family lifestyle and it works. It seems like cars are finally maturing as the Taurus X just transports the family in comfort through all the activities through all weather conditions. We've driven minivans, SUVs, wagons and trucks. This form of vehicle crosses all borders and works very well.
Introduction:
Woah, where did this car come from? The Taurus has a crossover model that looks like the old Ford Freestyle? And in the line-up is a Taurus sedan which looks like the Ford Five Hundred? I think some models were shuffled around the Ford line up and then we have a fully redesigned Ford Freestyle now known as the Ford Taurus X.
It is a crossover vehicle that crosses the lines between station wagon, SUV, and minivan. It attempts to deliver a vehicle that will fit the active family lifestyle. Read on and discover if it succeeds in this worthy endeavor.
Driving Impressions:
The highlight of the driving experience is the robust engine. This V6 pulls just like a V8 with it's 263 HP motor. Aside from the horsepower, the motor packs a torque-rich low end punch that can launch this vehicle from 0-60 in 7.7 seconds. With this kind of power, accelerating and merging is an easy task the motor pulls the car effortlessly and downshifts smoothly when needed.
Comfort is a joy. It drives much like a Honda Odyssey smoothing out bumps, humps and any road imperfections. A pleasant surprise is how quietness of the interior cabin. With all the windows up, the interior is a cocoon where one can appreciate the satellite radio, the DVD movies or the screaming kids in the back.
Handling is very adequate. It drives like a car so it easily out handles most SUVs and minivans out there. Steering is excellent with good feel and not too much play or slop. It's easy to keep the car straight and the car feels responsive steering into corners.
At the end of the day, the driving quality is where this car excels. This automobile has similar qualities to the Ford Explorer but the driving experience of the Ford Taurus X is superior to the Explorer, most SUVs, and minivans.
Interior
The interior is a surprise once again. It is attractive and functional. The seats are comfortable and there is ample storage all around. Where a lot of U.S. cars have shoddy instrumentation and controls, the Ford Taurus X does quite well. The turn signal lever is robust and has good action to it. The steering wheel controls are well laid out and have a good feel to them.
The rear seats fold down easily and we appreciate the directions printed right on the seats. It's not the most intuitive system but after a couple of times, it's quite easy to manipulate.
Taurus X seats up to seven people. Cargo capacity is generous, with a 15 cubic-foot space behind the third row, 47 cubic feet behind the second row with the third-row seats folded, and 86 cubic feet with all the seats folded down, according to EPA measurements. The power lift gate is a convenient feature and makes opening and closing the big rear door a non-issue.
The stereo is excellent, especially with the Sirius® Satellite radio option. An auxiliary plug for iPods and other MP3 players comes standard and is located inside the center console. The Microsoft SYNC system offers integration with all Bluetooth®-enabled phones and music players, including iPods, via electronic and USB 2.0 connections.
We tried the Microsoft SYNC system and it is impressive. First we plugged in our iPod using the standard iPod USB cable. It worked like a charm and we were able to access the iPod music instantly with full integration of playlist and artist information. The USB port charges the iPod so we could leave it inside the center console without ever having to worry about turning it off or running out of batteries.
We also tried the voice command system and that worked better than other voice-activated systems. We were able to control the navigation and the stereo with our voice commands. And the best part is we never had to open the manual. We just pressed some buttons and the system prompted us with directions and available options.
We were not so impressed by hard plastic of the top dashboard. This is a downgrade compared to the rest of the interior. Finally, there are a few plastic pieces that don't align perfectly, like the sunglass holder on the roof.
Styling
Styling is handsome and functional but uninspired. The Taurus has clean lines but has a generic look to it and thus lacks an identity. It could really use some design elements or defining lines that can be reinforced throughout the Ford line-up.
Value
It's not cheap but it seems like a good value. For what this car does and the level of luxury it affords, it can hold its own against many $30k SUVs and minivans.
The 2008 Ford Taurus X comes in three trims and each offers all-wheel-drive versions: SEL ($27,030); Eddie Bauer ($29,770); Limited ($30,750). Expect to pay an extra $1,850 if you want the AWD versions.
Who Should Buy It?
Minivan, SUV, station wagon owners should all consider the Ford Taurus X. It blends all the good qualities of those vehicles and presents it in a pretty attractive, very functional automobile.
Conclusion
This car fits. It crosses over many auto boundaries and many lifestyles while solving the age-old issue finding the right type of transportation very well.
If you liked the Ford Freestyle, you will adore the Taurus X. If you haven't heard of this car, seek out this gem.
| | | | | | | | |
| --- | --- | --- | --- | --- | --- | --- | --- |
| | Build | Interior | Performance | Handling | Styling | Value | Overall |
| Rating | 4.5 | 4.5 | 5.0 | 4.0 | 4.5 | 4.0 | 4.5/A- |

MODEL TESTED:
Ford Taurus X Limited AWD ($32,600).

OPTIONS AS TESTED:
power liftgate ($475), auxiliary HVAC system ($650), DVD entertainment system ($995), DVD navigation system ($1995), Sirius® satellite radio equipment ($195) includes six-month subscription.
ENGINE TYPE: DOHC 24-valve V-6, aluminum block and heads, port fuel injection
Displacement: 213 cu in, 3496cc
Power (SAE net): 263 bhp @ 6250 rpm
Torque (SAE net): 249 lb-ft @ 4500 rpm
TRANSMISSION: 6-speed automatic
DIMENSIONS:
Wheelbase: 112.9 in Length: 200.3 in Width: 74.9 in Height: 67.6 in
Curb weight: 4216 lb
---
>> Do you have an opinion of the Taurus X? Submit your review of an 2008 Ford Taurus X or read what others have to say at CarReview.com
>> See all of the 2008 Ford Taurus X photos in our photo gallery
>> www.ford.com – official website for Ford cars, trucks, and SUVs
Related posts: