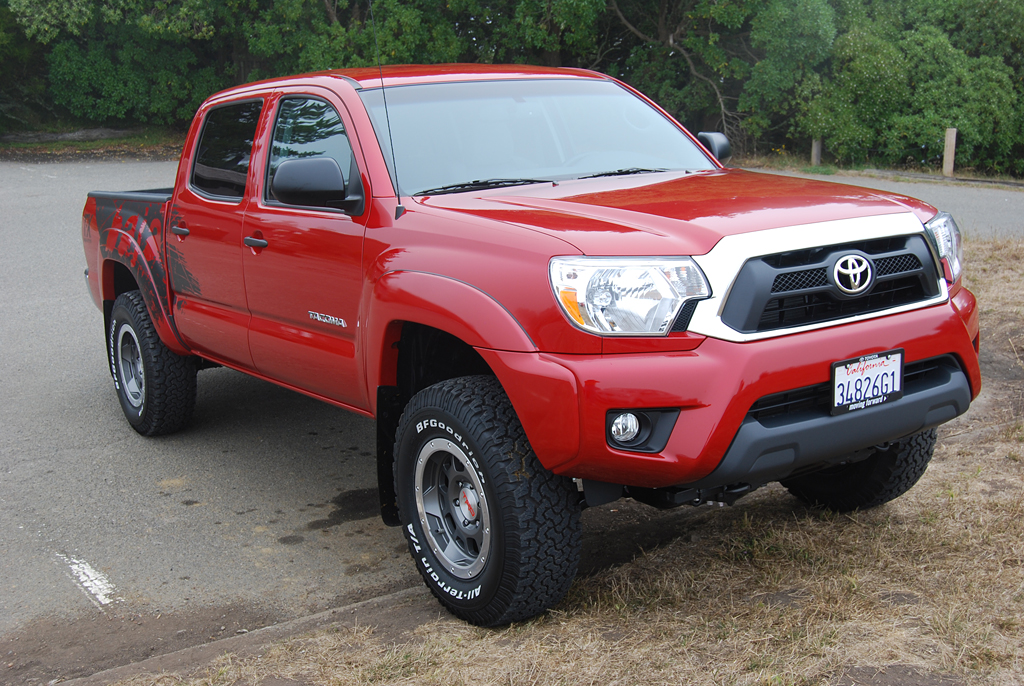 By David Colman
Hypes: Prodigious Off-Roader, Stylish, Made in USA
Gripes: TRD Exhaust Noise, Annoying Cruise Control
Sometimes it takes an old school truck like this Tacoma to reaffirm that the simple virtues are best. Take the key to the Tacoma, for example. It's small, light weight, and unpretentious looking. And you actually need to insert it into a slot on the steering column and twist it clockwise to start the Tacoma. After testing an endless stream of keyless entry vehicles with starter buttons instead of key receptacles, I found the Tacoma's throwback system such a delight that it made me wonder why manufacturers ever gave up on it.
The rest of this Tacoma follows suit. It has a full-size spare, for example, mounted under the bed for easy access in case of emergency. Because its side windows lack the auto-up feature so common today, you can actually place that plane of glass exactly where you want it without fighting a computer system for control. It has no paddle shifts attached to the steering wheel, but the sturdy floor-console mounted shift lever features sharp detents for each gear. The front seats aren't 14-way adjustable, but they're still more comfortable than you would expect given their simple manual controls for backrest angle and fore/aft positioning.
This back-to-basics brand of practicality extends to the pickup bed, which features "heavy duty all weather flooring," a $50 option. The interior sports $165 worth of "all weather mats and door sills" which look utilitarian enough to cope with the muddiest boots in sloppy weather. On the right rear wall of the truck bed is a 3-pronged 115 volt receptacle with spring actuated, self-closing cover. This nifty device allows you to plug in any electric device, affording 400 watts of output while the truck is idling, or 100 watts when underway.
In addition to all these simple virtues, the Tacoma, is a supremely competent off-road burner when equipped with the TRD TX Baja Series Package ($5,015) and the TRD Off-Road Series Package ($3,555). While these additions are admittedly pricey, they convert the Tacoma from Homely Depot status, to adventure assault weapon. TRD, Toyota's in-house racing arm, has fitted the rear axle with a pair of highly evolved 50mm Bilstein shock absorbers boasting remote reservoirs for hydraulic fluid. One-piece 66mm Bilstein shocks snub the front suspension. TRD fits 16" x 7" beadlock style wheels at each corner, with massively tall 265/70R16 BF Goodrich All-Terrain T/A tires capable of high grip levels both on and off pavement. The Off-Road Baja Package adds essential components for safer off-road transit, like an electronically controlled locking rear differential, an engine skid plate, front tow hook, and special programming for the vehicle stability control (VSC) program which includes hill descent control.
We had a chance to sample the Baja Tacoma on freeway jaunts, backroad trips, and off-road climbs and descents. On the open highway, the truck's ride is harsh, but predictable. The TRD exhaust becomes aggravating whenever you toe into the V6' ample power band. The cruise control has a penchant for doing this on its own whenever a slight incline incurs a downshift. On backroads, the sizeable tire contact patches and ultra-stiff suspension keep the Tacoma precisely on the path you've designated. The steering is accurate, but the brakes feel a bit mushy at the end of pedal travel. Where the Baja Tacoma really excels is off-road. We had a chance to spend an afternoon traversing the packed gravel roads surrounding Sonoma Raceway, and in this environment the truck truly excels. With 4 adults aboard, the Tacoma sailed uphill and crawled downnhill while affording all occupants dramatic vistas through the sizeable front and side windows.
If you buy a Baja Tacoma, you'll enjoy the ride to off-road vehicle parks like Hollister and Pismo Beach almost as much as the thrill of the wilderness driving after you arrive.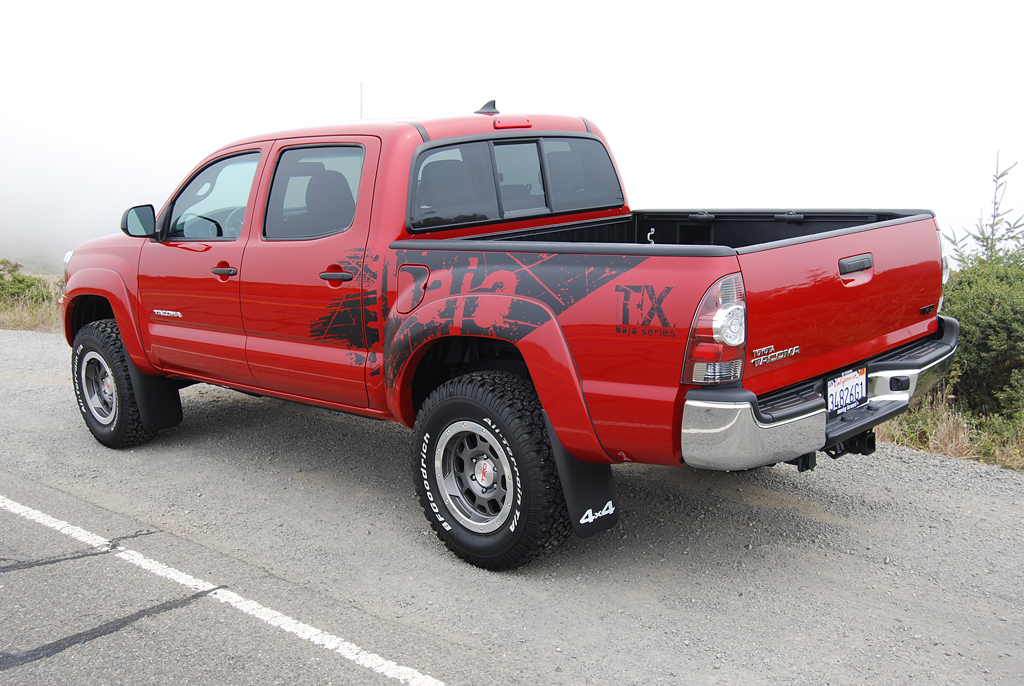 2012 Toyota Tacoma Double Cab 4×4
Engine: 4.0 liter DOHC 24-Valve V-6
Horsepower: 236hp
Torque: 266 lb.-ft.
Fuel Consumption: 16 MPG City/21 MPG Highway
Price as Tested: $39,150
Star Rating: 9 out of 10 Stars
Related posts: