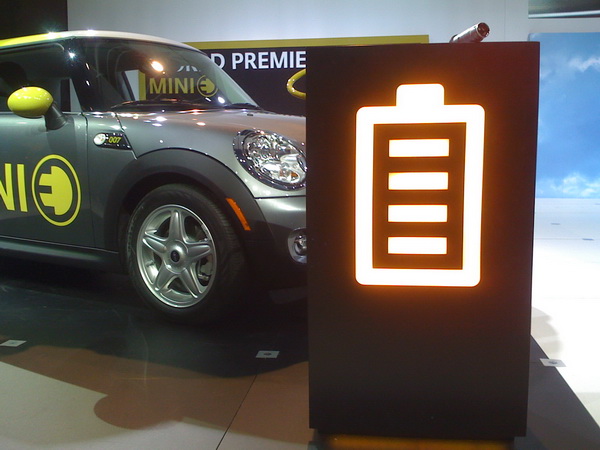 By Adrienne Gruben
BMW unveiled the MINI E yesterday at the Los Angeles Auto Show's press day, realizing BMW's long hope of an electric car on the road. You remember BMW's electric concept car pacing the 1972 Olympic Marathon runners. Ok I don't either, but a German born American won that year. Was this his "KITT" from Knight Rider? The Germans love Knight Rider.
BMW CEO Dr. Norbert Reithofer spoke with actual glee about the 500 Mini E's becoming available for an $850/mo, 1 year lease to Southern Californians and New Yorkers by year's end. And like on American Idol, the audience will control the outcome. Reithofer asked the crowd, "What kind of infrastructure do we need? The important feedback will help us in preparing for production." And he means it. "This is not just a car to roll out from one event to another. The MINI E belongs on the road."
So how long will it stay on the road before it's a pain in the rear? If you have an electrician (NOT your brother-in-law again) come over and install a 220 volt wall box outlet-your oven requires 220 volts-the MINI E's 35 kWh Lithium Ion battery can go for 156 miles on a 2 hour charge. And if you get stuck at Grandma's house in the country, there's an 110 volt plug-in to get you back home-ten hours later. Plenty of time to fraternize with Grandma's hot neighbor. Or watch Lawrence Welk show reruns.
So why now? Hoping for another German born Marathon winner? Sales of regular MINIs went up 30% in the US this year, which may have given BMW confidence for the go-ahead. And for those whose MINI Coopers are their binky, Reithofer added, "The MINI E has gone through the same rigorous development process as a regular MINI."
When it came time to give up the goods, Reithofer announced, "Such a special car needs a special guest!" Even the most cynical journalists' eyes widened. I thought, "David Hasselhoff?" And then he said, "L.A. Deputy Mayor Janelle Erickson!" Um, who? Over confused clapping, Erickson said, "The MINI E fits into the Mayor's commitment to being the biggest green city in the nation." There's that word again. It's not that green is bad – it's complicated. Especially if you get your MINI E's electricity from a coal source. You're just passing your high emissions buck to someone else.
When Reithofer readied the MINI E for Erickson to drive through the crowd, things got awkward. In trying to maneuver the cumbersome orange charge cord, he looked like a magician pulling a never-ending piece of string out of a hat. He joked, "As a mechanical engineer, I'm unable to do such a thing." Finally with the battery partially charged, Erickson took off. Reithofer asked, "Ladies and Gentlemen, Can you hear anything?" A big car manufacturer's attorney leaned over to me and said, "I can't hear anything because my hearing aid's on the fritz." But it was quiet. And like a magician's assistant, Erickson reappeared to big cheers.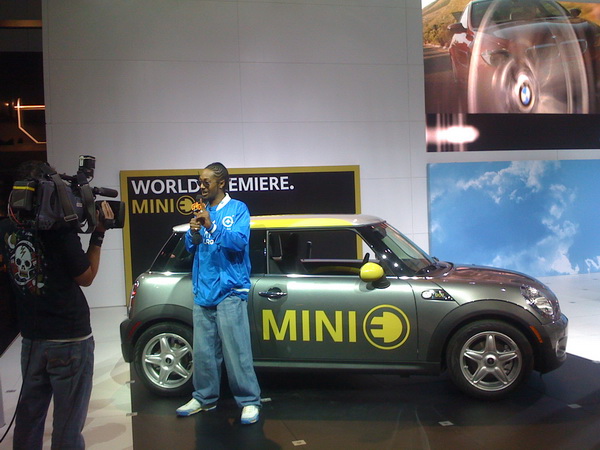 So, the basics? The car is powered by a 150 kilowatt electric motor. It goes from 0-60 in 8.5 seconds and continues until reaching 95MPH-plenty of time for the brain to catch up. It meets US/European safety standards. The power shuts off if the "bonnet" opens while driving.
Differences from the regular MINI: no back seat due to battery storage, the grey color and a few dashboard features-namely the electric power gauge. Oh and that giant, yellow E on the top of the car-and on the hood, next to the right taillight, over the outlet cover. The next tattoo sensation? Reithofer closed with, "This is the beginning of a new era. Klaus (Draeger) and myself..we are definitely on the right track."
Speaking of track, I test drove the MINI E today. Having never driven an electric car, (I know, right?) I invited one of the German fellas dressed in black to join me as backup. When Daniel, a 6ft tall Ryan Phillipe look-alike stepped up, I begrudgingly accepted. Whatever it takes to make the article better. I immediately noticed that they kept MINI's minimal dashboard aesthetic and its signature giant speedometer in the center. But right before we took off, I became the tiresome guy who's like, "Is it on? I can't hear a thing!"
A few things to note: you aren't accidentally braking when you take your foot off the pedal – that's deceleration from the regenerative braking; and do not try to go from 0-60 with one hand on the wheel and one around your Starbucks – unless you want to hear Daniel exclaim, "OH SHIT HAPPENS!". After getting used to it, driving this car was a blast. With its 204 horsepower engine, and instantaneous throttle response, I felt like a regular MINIo Andretti.
Related posts: