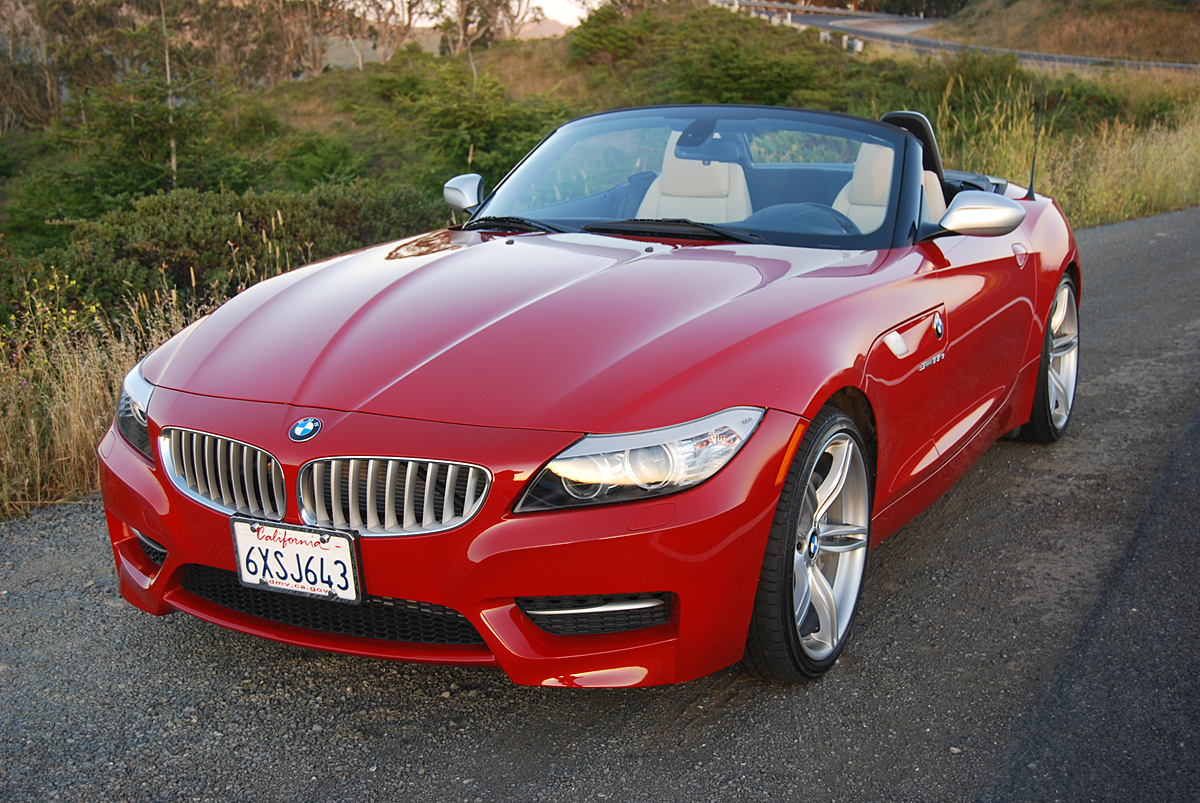 By David Colman
Hypes: "is" is German For Mega-Mover, Trick Folding Hardtop
Gripes: Tiny Rear Windows Don't Auto-Erect When Top Is Raised
Bob Lutz, the storied car executive who helped remake Chrysler and GM, originally worked at BMW. Back in 1970, BMW wanted to change the way they named vehicles. Instead of the incredibly complicated system proposed by his boss, Lutz and his staff came up with the simplified "3 Series/5 Series/7 Series" nomenclature that survives to this day. Unfortunately, that clarity seems to have deserted BMW in the case of this fine sports roadster.
What we have here is the 4th iteration of BMW's 2 seat sports car, hence Z4. So far, so good, but the appended "sDrive35is" muddies that clarity. Rear-wheel-drive BMW's fitted with sporting accoutrements like special seats and aerokit styling qualify for "sDrive" status. Although you might assume that the "35is" designation describes a 3.5 liter motor, what you in fact get here is a 3.0 liter inline 6, with sport calibrated fuel injection (hence,"is" for injected sport). But the "is" tag doesn't tell you that this Bimmer is also twin turbocharged. Time to bring back Bob Lutz.
Nameplate mysteries aside, this is one great sports car, built in Regensburg, Germany with traditional Bavarian craftsmanship. The cockpit is tight but accommodating. Flip-out door pockets and a narrow fenced shelf behind the seats ease oddment storage. In order to retain drink bottles between the seats, you need to flip up the lid of the shallow central storage bin, which is a bit inconvenient. The power sports seats, upholstered in glove soft, fancifully named "Canberra Beige Kansas Leather," will treat you with the adulation you expect from your Barcalounger. Although the chunky "M" emblazoned steering wheel is equipped with sizeable paddle shifts, it lacks the nice perforated leather hand grips that distinguish "M" wheels in the X1 and X3. Still, there's no mistaking the stripped purposefulness of this Z4's décor. Simulated silver carbon surfaces on the dash face and door panels relieve the tedium of the matte black plastic dash top.
The interior's sporting promise is signed, sealed and delivered by the Z4's exceptional performance envelope. The keystone element is the seamless torque curve of the twin turbo 6, which maximizes intelligent intake and exhaust valve behavior through steplessly variable timing called "Double-VANOS." Remember that "is" designator? In "is" trim, output of BMW's 3.0 liter turbo 6 jumps from 300hp to 335hp, while torque peaks at 332 lb.-ft. (versus 300 lb.-ft. for the base 6). Coupled to a standard 7-speed double-clutch transmission, the traditional BMW straight 6 is never lacking for an appropriate gear ratio. You can leave the transmission in "D" range and forget about swapping cogs while the gearbox does all your work for you. On a 40 mile jaunt from Mill Valley to Point Reyes Station, I did just that, and found tackling the challenging road to be much more relaxing than if I had manually selected gears for each curve. Premium grade Bridgestone RE 050A tires (225/35R19 front, 255/30R19 rear) mounted on optional twin spoke alloys (a bargain at $1,200) made negotiating the twisties even more pleasurable. Of course, if you do choose to play racer, then the paddle shifters will make your trip even more swift and precise.
You can drop or erect the folding hardtop roof of the Z4 at speeds up to 35mph. This bit of latitude makes feasible open air motoring at the drop of a hat. And wind protection inside the seat-heated cabin is so good you won't even need that hat. For complete mummification, BMW even provides a trunk-stored windblocker to snap into place behind your head. The trunk itself is reasonably large when the hardtop is up, but shrinks to a tiny slot-accessed bin when you drop the roof. If you pack according to the constraints of this tiny bin, you'll never be caught out by storage woes on an overnight trip.
The Z4 iDrive35is is an attractive package. Visually, it's flame-surfaced looks are appealingly different from anything else on the road. Its engine, gearbox, and suspension uphold the premise of those good looks. If you can stay away from the extensive, expensive option list, the Z4's base price of $64,200 is more than reasonable for such a Bavarian built bomber.
2013 BMW Z4 sDrive35is
Engine: 3.0 Liter Inline 6, twin turbocharged Double-VANOShp
Horsepower: 335 hp
Torque: 332 lb.-ft.
Fuel Consumption: 17 MPG City/24 MPG Highway
Price as Tested: $69,745
Star Rating: 9 out of 10 Stars
Related posts: