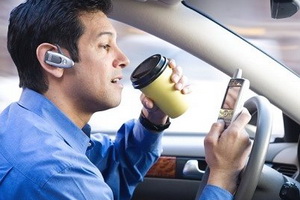 The Dangers of Distracted Driving
Ok, the last time I actually did it was last week, but after reading the latest, I'd have to be a complete idiot to continue texting while on the road. And while I like to think of myself as too punk to sign up for Oprah's anti-texting, "No Phone Zone," campaign (now boasting 167, 078 participants), I am committing to one person, frequent CarReview poster and master cyclist Derek, to knock it off.
Now, texting is not the only "distracted driving" issue facing drivers, however it is the more buttony of the "distracted driving" hot-button issues, so let's go there first.  According to such-and-such study, in 2008, 500,000 people were injured and 6,000 were killed by distracted drivers, and some argue that texting is the most dangerous. Whether that is true or not, the "from bonehead to dead" factor is high here, and people are pissed: 20 states are now enacting some type of legislation banning drivers from texting, and there are rumblings that Congress might take the whole thing Federal.
This is good news for people who don't want to die because some dude needed to tell his fantasy hockey league to "Suck it!" because a goalie in Winnipeg lost a testicle, and while this is a little cynical, it's a rating gimme for lawmakers jumping to create "Keep our kids safe!" legislation. But since we are being cynical, let's stay there for a bit.
A study released yesterday said that, and let me just quote someone else's headline, "Most people can't talk on a cellphone and drive safely, study finds." In this study–on actual people, not little lab gerbils driving Kia Souls – 97.5 percent of the folks who were asked to perform a series of memorization and math exercises while using cell phones – INCLUDING HANDS-FREE ONES -  increased their braking time by 20%, or saw a decrease in their overall driving performance that mimicked that of drunk drivers. And you, the one there thinking that you are in that 2.5% of "super-taskers", you're not. Put it this way: are you SURE you turned off the coffee maker this morning. So where's the cynicism?
Lawmakers seem a weeeeee bit more reluctant to rush towards creating laws against driving while talking on the phone, especially hands-free devices. Even lawmakers in California, which is the "And so goes the nation," state seem to go "la, la, la, I can't hear you," regarding the hands-free issue – probably because the perception would go from "He cares about the kids!" to "He's Mao Tse-tung !" – if anyone knew who Mao was. They'd probably just be like, "The Government is so up my ass." Just troll for reader comments after articles on the issue. Some genius wrote, "So wut, now I can't turn to talk to my frend in the passnjer seet?" To that I say, "Frends don't let frends rite reader commints."
What's also dubious is that alcohol related fatalities dropped significantly between the 80′s and 90′s, but there has been little movement between 1992 and now. Twice as many folks were killed in 2007 by drunk drivers – 1/3 of all traffic fatalities that year – than by texters in 2008. An independent report blamed not only the reduced level of spending on things like checkpoints and other prevention measures, but also drunk driving's loss of its buttony-ness in the hot-button issue game.
So while no one will disagree that death is  bad – it seems like it's even worse if the cause of death is trendy, like, say, having been mentioned on Oprah, or better yet, those little Kia gerbils.
---
MORE CAMPAIGNS ON THE INTERNET DEDICATED TO STOPPING DISTRACTED DRIVING

Oprah's No Phone Zone – Oprah's campaign to end distracted driving. Need we say more?
Autoweek – Sign the petition and pledge to end distracted driving, links to more information and sites dedicated to end distracted driving.
U.S. Department of Transportation Campaign Against Distracted Driving - Department of Transportation's leading effort to prevent distracted driving. The message is simple – Put it down!
Governor's State Highway Safety Association – The States' Voice on Highway Safety. State legislatures have responded to the growing concern over cell phone use and texting while driving by passing laws that ban handheld cell phone use or texting.
National Safety Council – "Understanding the Distracted Brain" white paper, Cell phone crash estimate fact sheet, and more information about distracted driving.
Related posts: