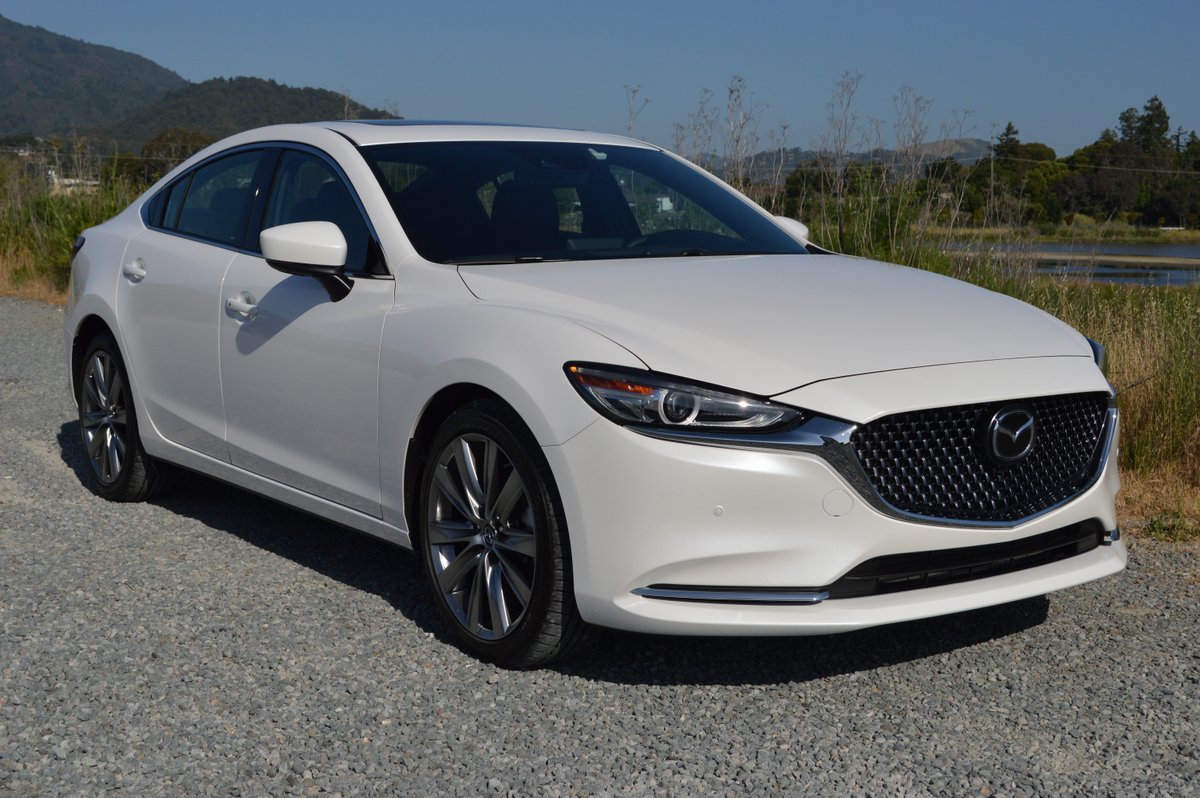 Hypes: Great New Turbo Motor, Lustrous Interior Finish
Gripes: Heavy Hood Lift
When a car-knowledgeable friend climbed into the cockpit of the latest Mazda6, his hands instinctively went to the Deep Chestnut Nappa Leather dashboard. After a prolonged stroke of the abundant leather that covers the tactile surfaces of Mazda's top-line "Signature" edition, he observed, "This is something special. Most car makers pay very little attention to the interior, but it's the place where you spend almost all of your time, isn't it?" I thought about the wisdom of that statement and replied, "So true. How much time do you actually spend looking at your car's grill?" Yet it's really the grill, or the headlight cluster or the side creases that get all the design attention and generate most of the media acclaim.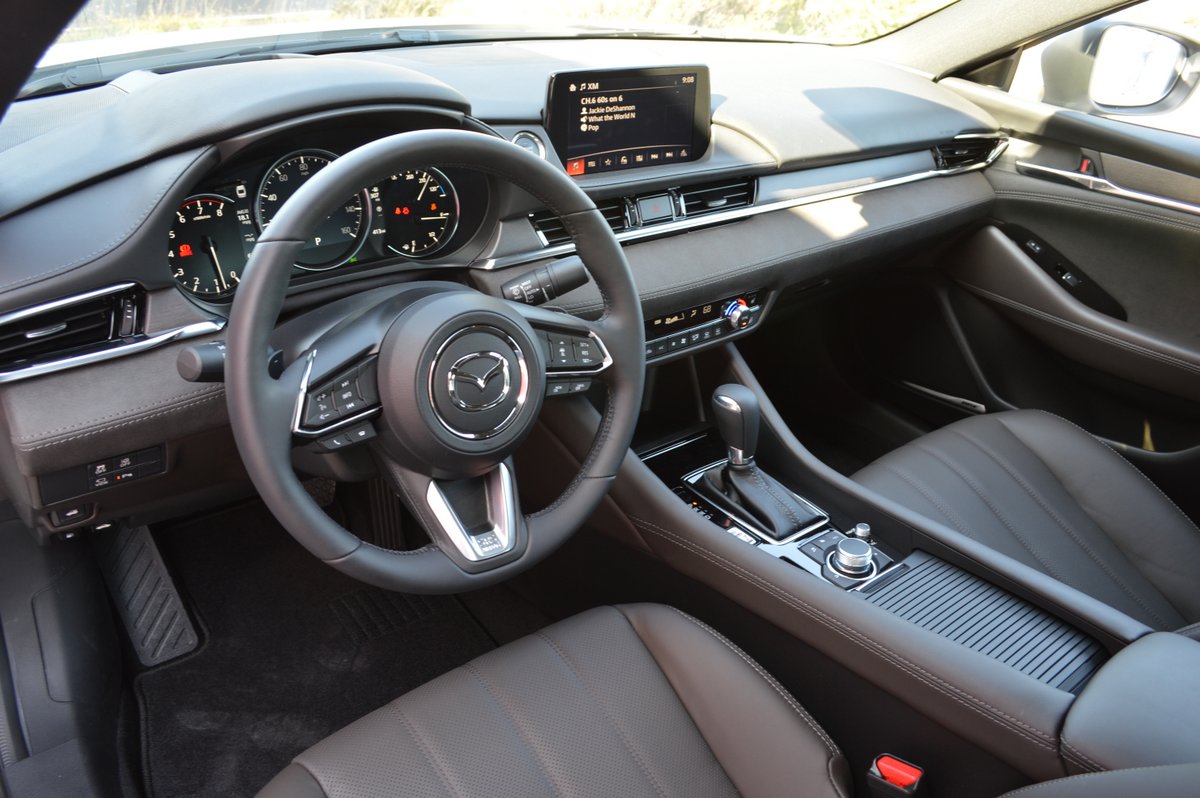 But at Mazda, especially with the Signature line, things are a bit different. Mazda focuses on making the interior significantly better than the competition. Take that expanse of yummy cinnamon leather, for example. It's not only pleasing to the eye, but pleasant to the touch – a genuinely unexpected attribute in a $34,750 sedan occupying a price point that hardly qualifies it as a luxury ride. Yet the Mazda6 is surprisingly luxurious – in spite of its bargain price.
All 5 seats are trimmed in Nappa Leather, and 4 of them include 3 stage heating elements. Sen wood inserts, which look like reclaimed barn wood, enliven the dash and door panels.. Both front chairs also provide seat ventilation. The driver's seat includes 8 way adjustability, lumbar support, plus 2 slots of position memory. The front buckets are well bolstered. Although rear seat legroom is somewhat limited due to the sedan's tidy 111 inch wheelbase, 3 can ride without complaint in back. The car's 15 cubic foot trunk is spacious enough to stow overnight travel gear for 5, and contains a space saver spare.
Although sedans seem to have fallen out of favor these days, it's refreshing to operate a passenger transport device that is not fitted with stilts like an SUV. The Mazda6 stands only 57 inches off the ground, so its response to driver input is light years better than any comparably sized SUV. Mazda widens that handling bonus by equipping the Signature 6 with a rather sticky set of high performance radials – 225/45R19 Falken Ziex Z001 tires mounted on understated but handsome 19 inch alloy rims.
But the big news here lies under the hood. Before 2018, Mazda6 drivers had to make do with a decent but unexciting power source – 184hp from a normally aspirated 2.5 liter inline 4. But 2018 brings a Skyactive 227hp turbocharged engine which really lights the wick on this sedan. Given the Mazda6′s low center of gravity, explosive new powerplant (310lb.-ft. of torque!), and sticky (Treadwear Rating 360) Falken rubber, you can really lay into the throttle of this combo on a backroad. Since it only tips the scale at a welterweight 3,185 pounds, the turbo Mazda6 enjoys an excellent power-to-weight ratio of 14lbs. per horsepower. The preponderance of torque surges into play at very low rpm. With 6 well spaced ratios in the automatic transmission, and a pair of steering wheel adjacent paddles to select the gear you need, the Signature 6 is much more than a leather and wood comfort cubicle. Just slip the Drive Mode control into "Sport" and you will quickly discover that this sedan is a serious back road tool for the enthusiast driver.
For low profile owners, the best part of the deal is that there are virtually no external clues to this car's sprint potency. No wings, no spoilers, no air dams, no racing stripes – no nothing. Which isn't to say that even finished in vanilla (or as Mazda calls it, "Snowflake White Pearl Metallic"), this is far from a plain wrapper vanilla sedan. The side view, for example, reflects highly refined designer chops, with three separate accent creases dividing the surface into a reflection pool of gracefulness. Delicate headlight enclosures soften the gape of the half crescent gunmetal grill that has become a Mazda trademark across the car and SUV line. Although the sweeping roofline rapidly diminishes to a sleek vanishing point, rear vision from the driver's seat remains excellent. So good, in fact, that you rarely need resort to the rear cross traffic alert image when backing up. Of course, the top Signature edition comes with a full complement of safety measures, including lane keep assist, lane departure warning, and four external cameras which can be called upon to give you a combined overhead/frontal picture on the 8.5″ color touchscreen while you are traveling at speed.
If you can forego the storage convenience and image allure of an SUV, then this Mazda6 makes a great transportation alternative. It's fast, handsome, and smashingly well fitted inside – where you'll spend most of your ownership time.
2018 Mazda 6 Signature
Engine: 2.5 liter inline 4, Skyactive-G turbocharged
Horsepower: 227hp
Torque: 310lb.-ft.
Fuel Consumption: 23MPG City/31MPG Highway
Price as Tested: $36,040
Star Rating: 9 out of 10 Stars
Related posts: