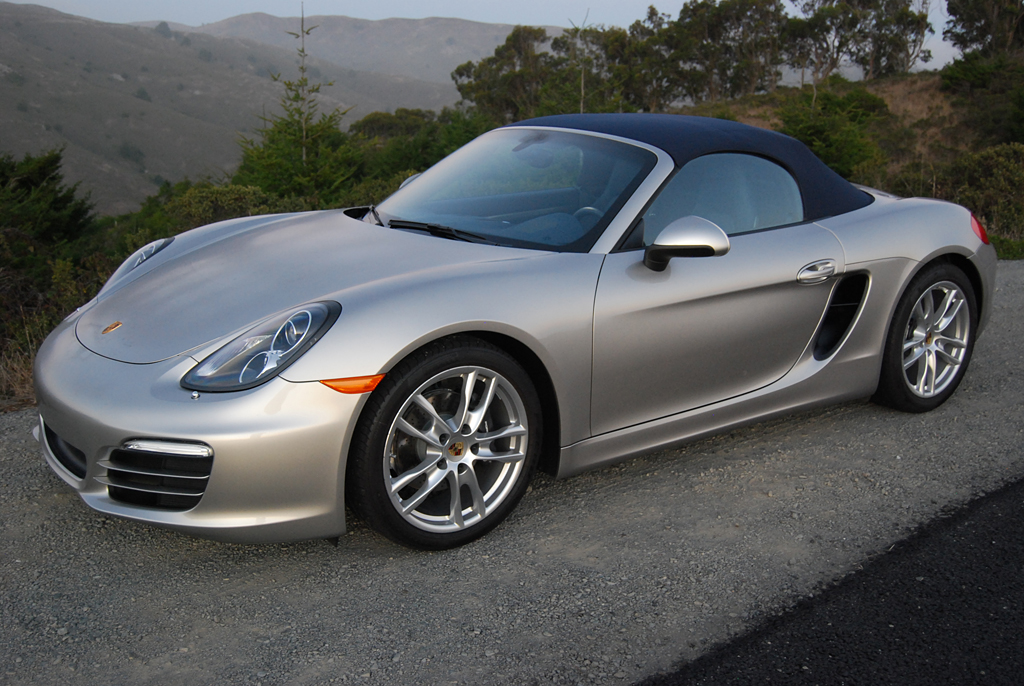 By David Colman
Hypes: Best 2 Seater You Can Buy
Gripes: Poor Rear Vision With Top Up
Up Front Disclaimer: there's a 1998 Porsche Boxster in my garage. Because it's fitted with a factory hardtop, the soft top almost never goes down. During the week I spent with this latest Boxster, the soft top hardly ever went up. In its day, my '98 Boxster was a great sports car, but it doesn't hold a candle to the Porsche that goes by that name today. Because the 2013 Boxster is the best sports car on the market you can buy right now. And given its base price of $49,500, it's also a sensational deal.
It's unlikely you'll find a new Boxster for $49,500 unless you order one that way from your dealer. Porsche offers so many options to customize this car that your head will spin just trying to make sense of them all. The options on our test Boxster added $15,735 to the car's sticker, and there's not a single one in the bunch that you'd want to eliminate, because they're all worth the extra money. Start with the $2,385 Leather Interior in Yachting Blue. This is a bargain when you consider that not only the seats, but the entire sweep of the dash, from windshield to console, is covered with pennant blue leather set off by deviated color stitching. This pale blue, combined with matching blue cloth roof, sets off the $710 Platinum Silver Metallic paint like a heavenly duet. The silver glows with a golden sheen that energizes the expanse of blue.
My '98 Boxster has a thin-rimmed, 4-spoke steering wheel set on a fixed column, providing a take-it-or-leave-it steering position. The newest Boxster offers electric positioning for reach and height of the wheel. The 3-spoke "Multifunction" wheel itself is perfectly configured for ease of grasp. It features knurled knobs on the left spoke for sound system volume control, and on the right spoke for multifunction readouts which appear in the right instrument face. You can scroll through a bevy of information, including tire pressure, trip details (including mileage to empty), oil and water temps plus oil pressure, and radio settings. Best of all, you can turn that right gauge face into a navigational map if you have ordered the $3,860 Infotainment Package.
The fabric roof drops or raises in just 5 seconds, which is about what it takes the Boxster to sprint from 0 to 60mph. The handling of this mid-engine roadster is impeccable. Porsche fits 8 inch wide front, and 9 inch wide rear alloy wheels as standard. These 18 inch diameter wheels can be upgraded to 19 inch diameter Boxster S wheels for an additional charge of $1,560. Our test Boxster enjoyed this improvement. It charged through corners on its 235/40ZR19 front and 265/35ZR19 rear Pirelli P Zero tires with an effortlessness that defied the laws of physics. You'll want to option your Boxster with the $1,790 PASM (Porsche Active Suspension Management) which places a pair of buttons on the central transmission tunnel, one to stiffen the shocks for a more sporting ride, the other to quicken the response of your throttle pedal.
It should not go unnoticed that Porsche has managed to green the Boxster by equipping it with an automatic idle shut-off feature that turns the engine off after a few seconds of waiting at a red light. This new program saves fuel and engine wear, as well as cutting smog output. The Boxster scores 24 MPG overall, with a high of 30MPG on highway runs. The Auto Start Stop system, which you can turn off at will, is so slick you hardly ever notice it in action. This is in distinct contrast to a similar system on a 3 Series BMW which gyrated the whole car every time it sprang into action.
Our test Boxster sported a 6-speed manual gearbox which is absolutely state of the art for ease of use, precision, and clutch engagement point feedback. Although you can equip your Boxster with a 7-speed semi automatic PDK transmission, the 6-speed is so fine that it burnishes the ownership experience to a shinier luster than the Platinum Silver Metallic paint.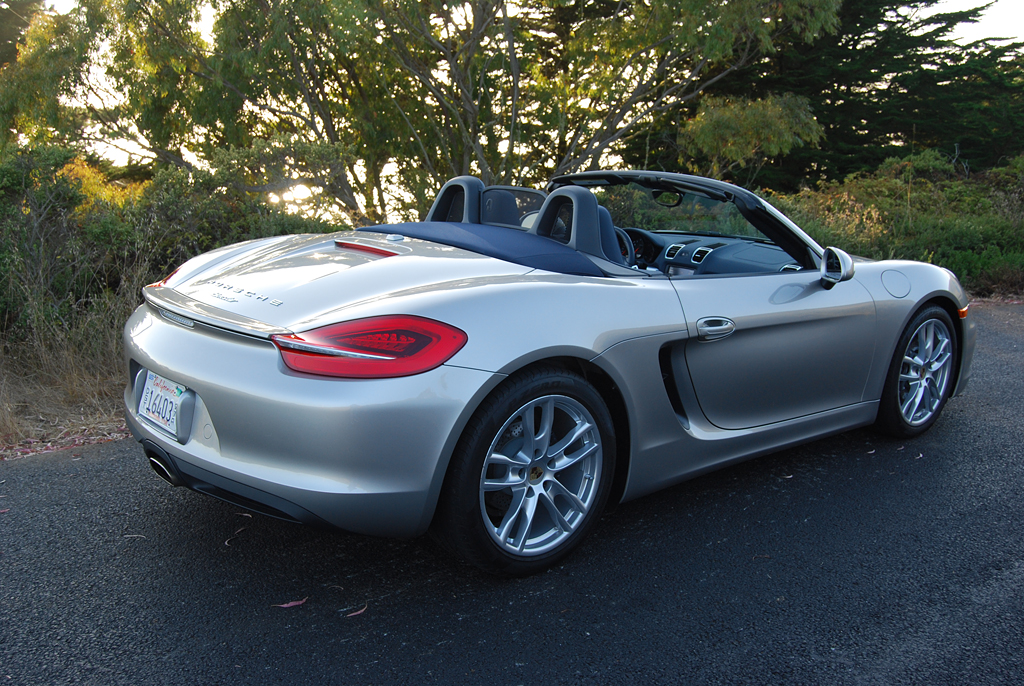 2013 Porsche Boxster
Engine: 2.7 liter opposed 6, DOHC, 24 Valves
Horsepower: 265hp
Torque: 206 lb.-ft.
Fuel Consumption: 24 MPG City/30 MPG Highway
Price as Tested: $66,185
Star Rating: 10 out of 10 Stars
Related posts: