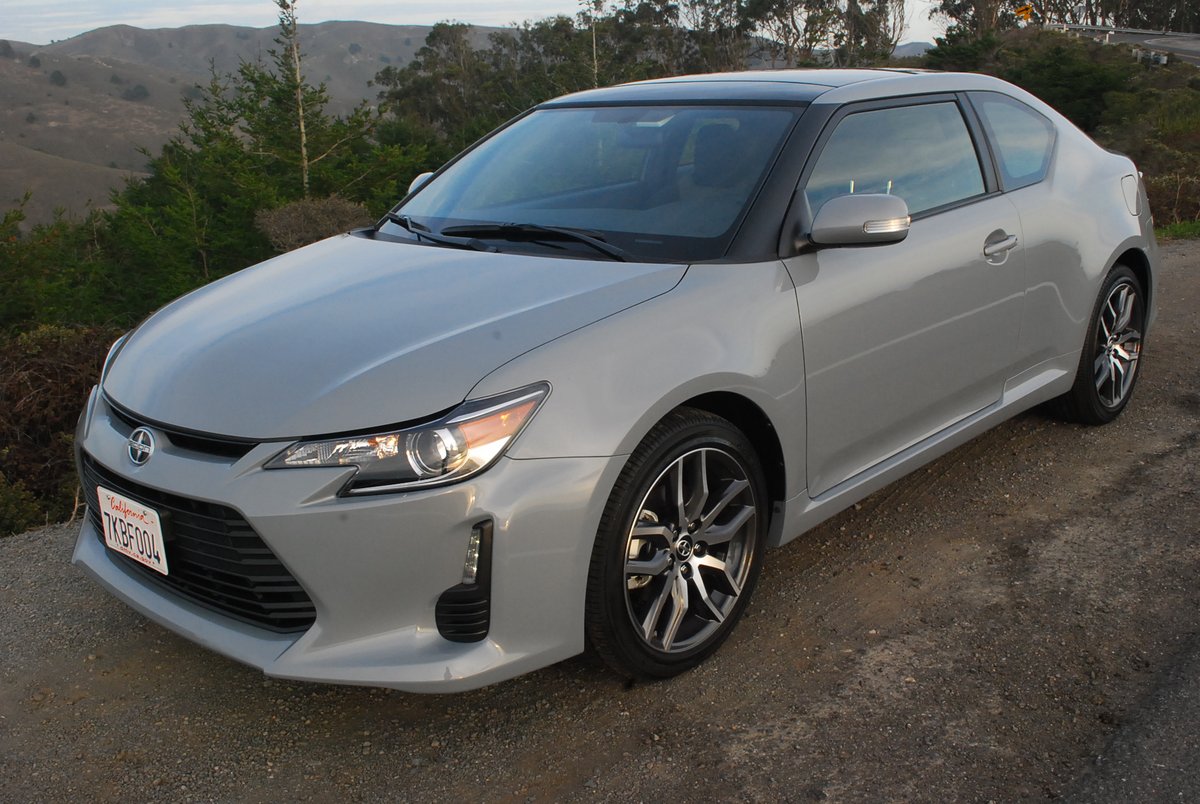 By David Colman
Hypes: Serious Drivers Car
Gripes: Poor Rear Quarter Sightlines
When it comes to torque, Scion's vaunted FR-S sports car, with 151lb.-ft., takes a distant back seat to its less celebrated, but punchier brother, the tC coupe, with 172lb.-ft. That's because the FR-S makes do with Subaru's anemic 2.0 liter flat four, while the tC offers a much healthier 2.5 liter in-line four mounted sideways in the engine bay.
Our test tC coupled that willing engine to a beautifully calibrated 6-speed manual transmission, with gearing splits designed to extract maximum performance without sacrificing gas mileage. This shift it yourself combination returns 31MPG in highway driving.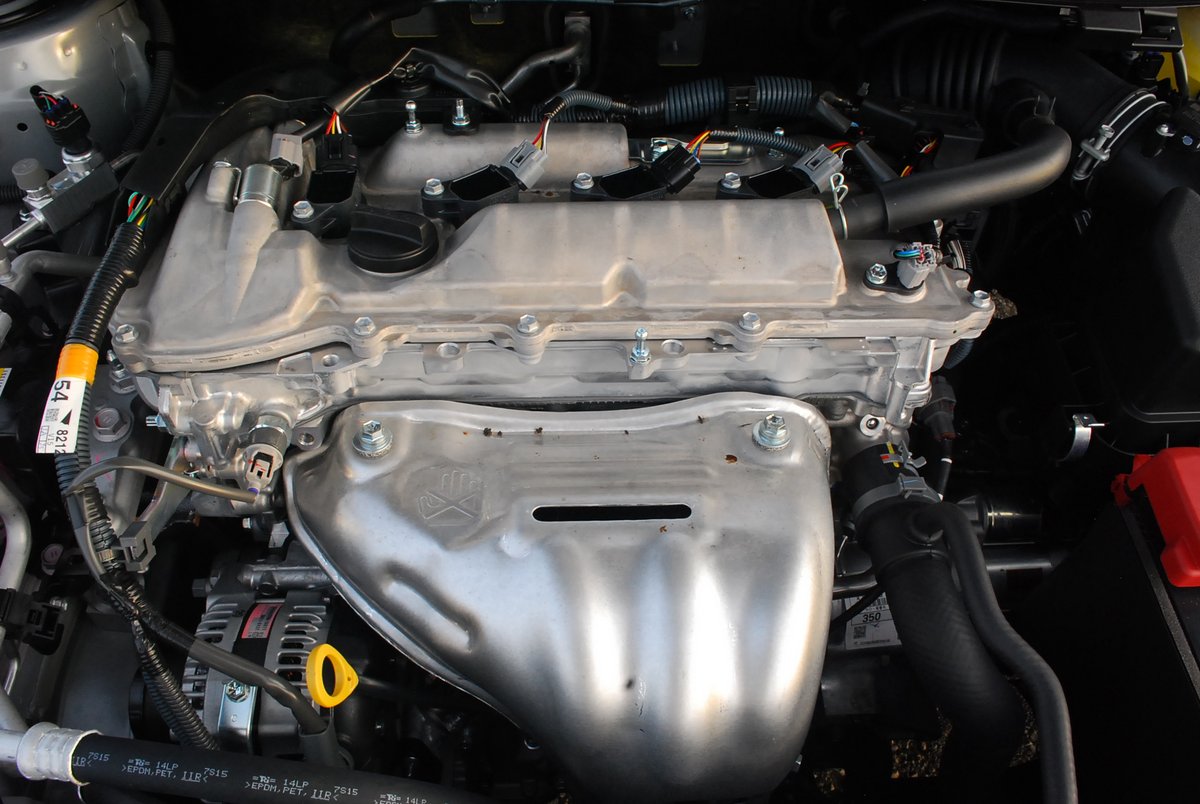 In an era when most manufacturers have chosen to cover their engine bays with boring black plastic modesty shields, Scion gets high marks for letting it all hang out for you to see. Here, the basic components are on clear view, with the intoxicating sparkle of aluminum flashing everywhere. The dashboard layout is also clear, concise and handsome. A pair of oversize aluminum rings draw your attention to adjacent 8000rpm tachometer and 140mph speedometer nacelles. Matching aluminum door pulls are new for 2016. In the center of the dash sits a new, larger 7 inch touch screen with an updated Gracenote database. Unfortunately, the former CD receptacle has disappeared to make room for the upsized display panel. Scion has also seen fit to eliminate XM satellite radio from the option list, so you'll have to make do with standard HD radio choices, or supply your own tunes from a remote device or available Aha.
The tC's rear seats are a bear to access. The all enveloping front chairs must be slid and folded, which is no easy exercise. You must then wiggle your way arrears, where you will discover that comfort is good, though the same can't be said for visibility. An open sunroof panel helps ward off claustrophobia. Another saving grace is the fact that the rear seat backs can be tilted for adjustment. The same lack of vision that affects back seat passengers also impinges on front seat occupants. The chunky C pillar occludes rear quarter vision, so safe reversing maneuvers are difficult.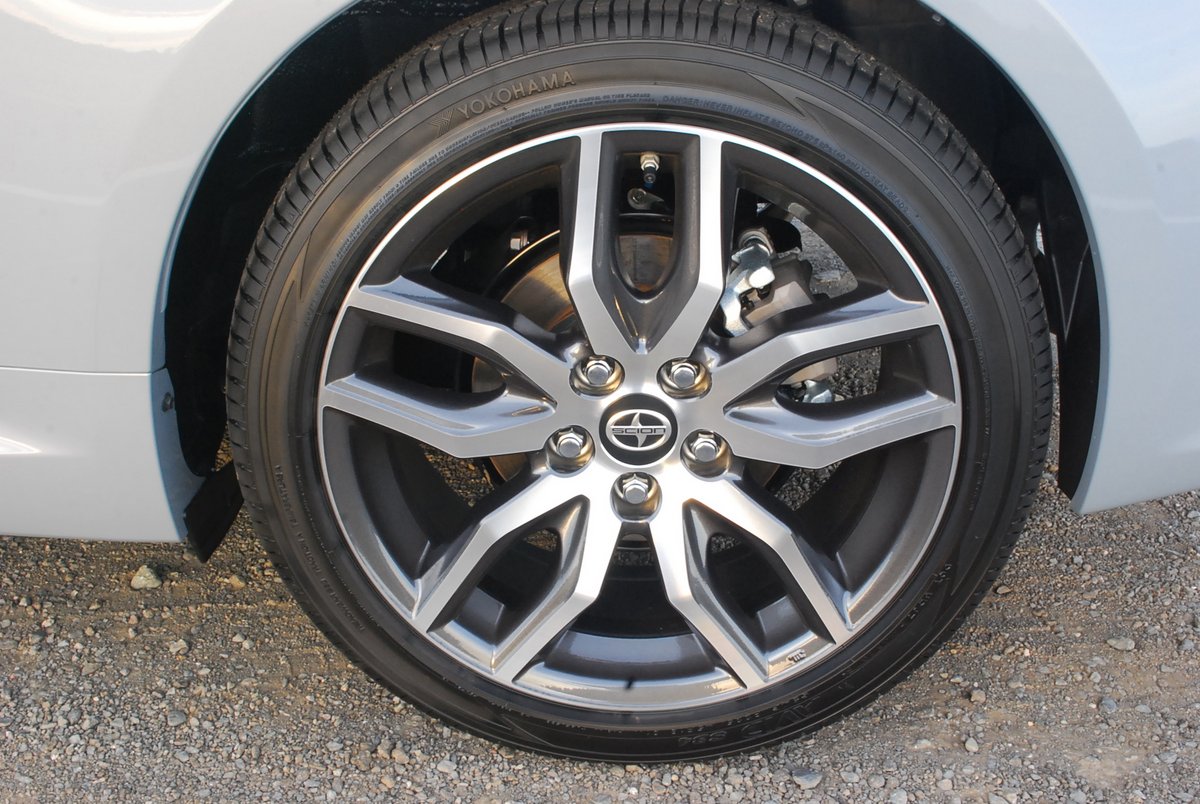 The tC is really fun to drive. Scion has equipped it with no nonsense, performance oriented suspension that does little to mask road irregularities but pays big dividends in precision handling and high level road holding. In that effort, the 225/45R18 Yokohama Avid S34 radials prove their merit every time you twist the tC into a turn. Completing the delightful driving picture is the fat rimmed, flat bottom steering wheel that assists guidance with excellent feedback. Clutch release is light and accurate, and the stubby knob atop the shift lever assists every up-change and downshift.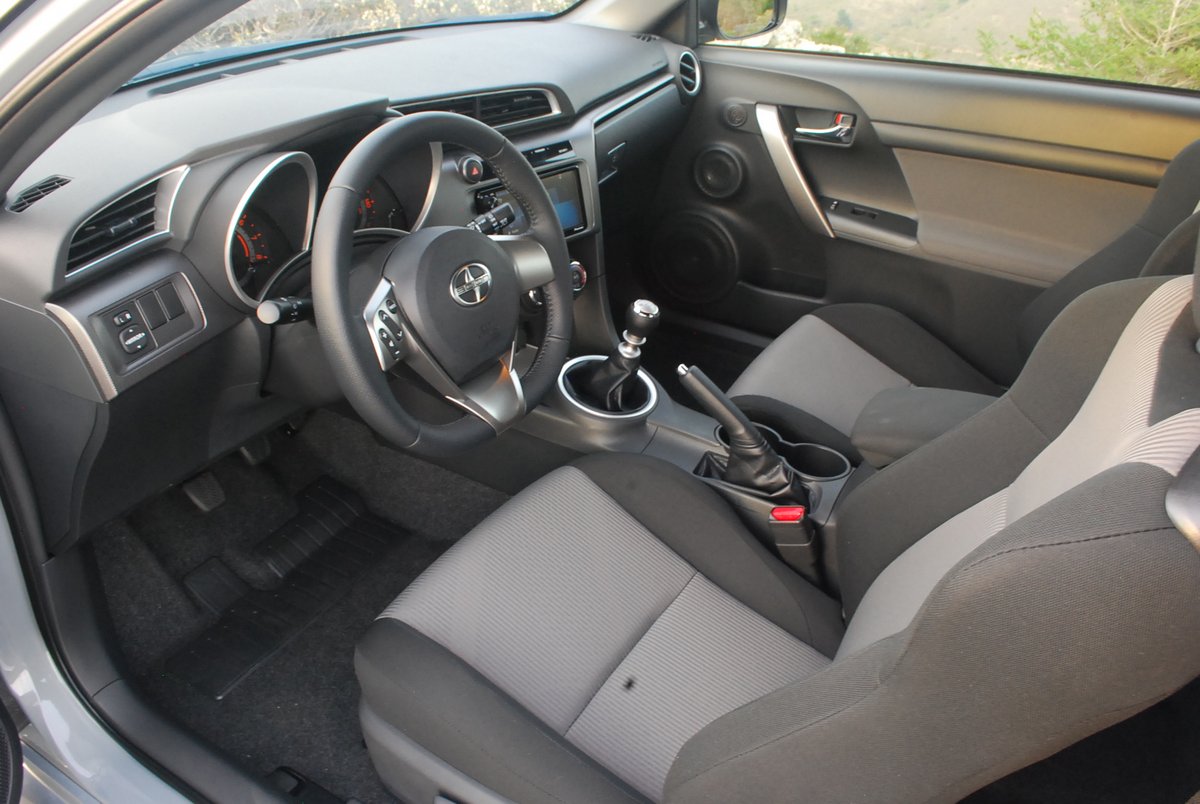 Scion has done a bang-up job with the tC's grey flannel suit interior. The charcoal bolstered seats feature grey and black pinstriped inserts that look so buttoned down they will appeal to senior buyers as well as tasteful millenials. Compounding the harmonious look for 2016 is a striking hammered aluminum dash panel which matches the seat design and feels cool to the touch. Engineering genius is also evident in the use of three gigantic knobs for climate control located beneath the display screen. With irrefutable logic, the left knob controls ventilation position, the center one fan speed, and the right hand temperature and A/C. The design is a thing of beauty in an age when so many manufacturers divert your attention from driving, forcing you to figure out cockeyed digital displays.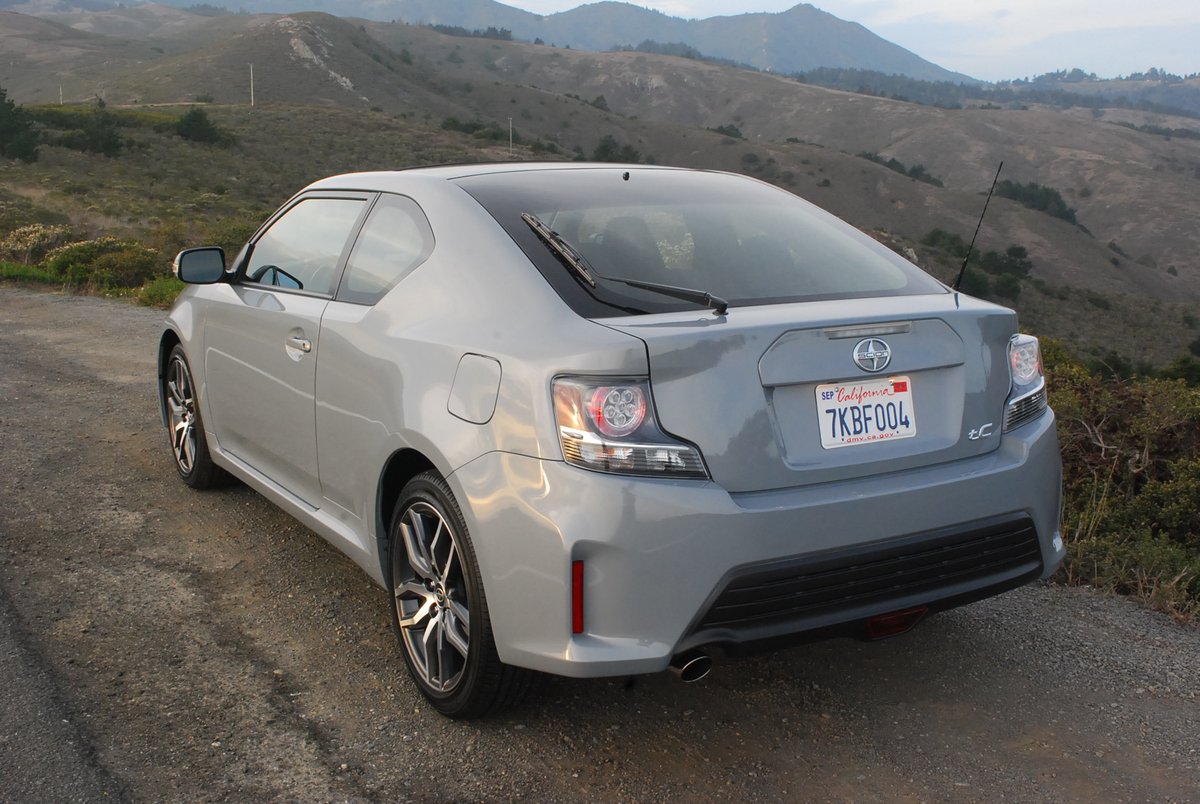 At just $20,000, the latest iteration of the tC is a real keeper. Not only is it affordable in terms of purchase price and fuel economy, but it is exceptionally entertaining to drive. This is a rare combination in today's marketplace, and one that highly recommends this Scion to your attention.
2016 Scion tC
Engine: 2.5 liter inline 4
Horsepower: 179hp
Torque: 172lb.-ft.
Fuel Consumption: 23MPG City/31 MPG Highway
Price as Tested: $20,000 (estimated)
Star Rating: 9.5 out of 10 Stars
Related posts: