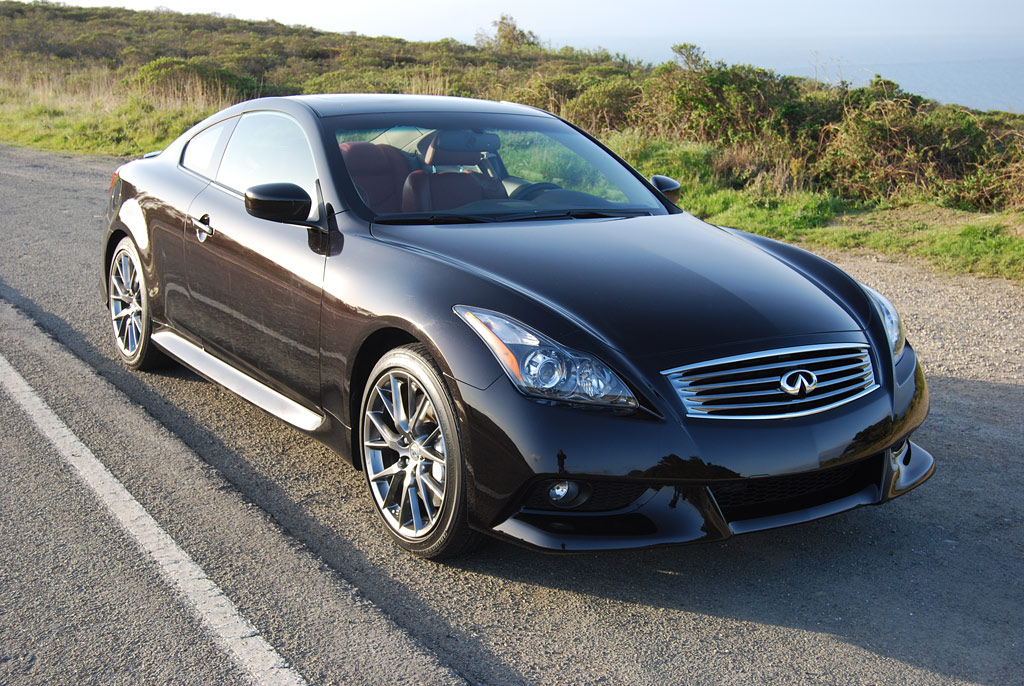 By David Colman
For: Agile, Quick, Understated
Against: Harsh Ride, Tight Cabin, Shoulder Belt Difficult to Access
In order to keep pace with the high performance niche market created by BMW (M brand) and Mercedes-Benz (AMG brand), Infiniti introduced their own line of tweaked models (IPL brand) last year. IPL is shorthand for Infiniti Performance Line, and like its competitors from M and AMG, IPL means more power, better handling, and more driving fun. It also means more expensive. While you can buy a base Infiniti G37 Coupe for $37,150, the IPL G Coupe will run you $51,250.
But if you're interested in agile handling, quick acceleration, and a distinctively mature appearance, the IPL is the perfect velvet hammer. Although it will seat 4 in a pinch, the Coupe is really a two seater with overdraft protection. The rear seat entry drill becomes tiresome after one try thanks to small doors, fat front seats, and shoulder harness entanglements. But the G makes up for its inhospitable back seat by paying extra special attention to the lucky twosome occupying the front seats. These overstuffed, richly upholstered thrones feature 12 modes of adjustment for the driver and 8 for the passenger. If all that rearrangement proves insufficient, there's also a manual thigh extender on the driver's side to help prop your legs on long freeway runs.
The cabin is finished with an understated elegance that bespeaks genteel sportsman rather than boy racer. Perforated leather graces the seating and backrest surfaces at all 4 positions, saddle-style stitching on seat seams and steering wheel makes a positive visual impression, while muted matte aluminum "Silk Obi" panels dress the doors, grab rails and dash surfaces. A clarion Bose audio system, integrated with a hard-drive navigation unit completes the living room accommodation.
Despite the subdued elegance of its refined cabin, the IPL Coupe is really a thinly disguised boy racer at heart. In fact it is virtually indistinguishable from its corporate clone, the Nissan 370ZX Nismo. In order to bring the base G37 Coupe up to Nismo ZX parity, Infiniti provides a lengthy list of mechanical upgrades to hone performance. Under the hood of this front engine, rear-wheel-drive platform lies an "IPL-tuned" 3.7 liter V6 producing 348hp and 276 lb.-ft. of torque. That output falls just 2hp short of matching the Nismo's 350hp. The punchy V6, which features variable valve timing, couples to a 7-speed automatic transmission which feeds power to the rear wheels through a standard Viscous Limited Slip Differential. The gearbox can be left to shift for itself, or slotted into Drive Sport mode, which leaves manual control up to the driver. A pair of oversized, genuine magnesium shift paddles bracket the steering wheel, and remain stationary while the wheels turns. Their dependable orientation insures that you never lose track of paddle position. The cherry on top is rev-matching: Infiniti's mechanism blips the throttle on each downshift to guarantee jerk-free transitions to lower gears.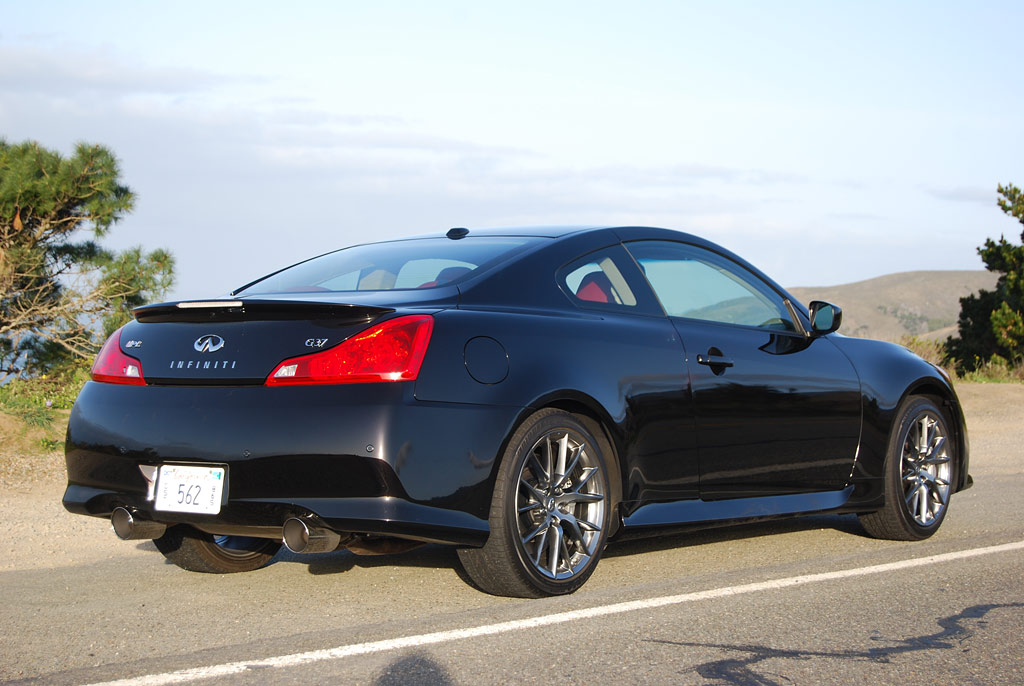 The IPL-tuned suspension is equally racy, with stiff spring and sway bar rates insuring precise compliance with road surface deviations. Somewhat harsh ride quality is the price you pay for taut handling. Bridgestone's best RE 050A radials (225/45R19 front, 245/45R19 rear), mounted on stealthy 14 spoke graphite alloys, complete the IPL upgrade. With all that rubber and suspension resilience, you really have to work long and hard to get the G Coupe unstuck in the corners.
In the greater scheme of things, the IPL G Coupe is a business person's express, like the old Jensen Interceptor, ideal for someone who does a lot of driving and welcomes the challenge of attacking the open road. If you want the boy racer trophy version, then buy a Nissan 370 ZX Nismo. If you're after a grown-up's hot rod, the IPL G is the Coupe for you.
2012 Infiniti IPL G Coupe
Engine: 3.7 liter DOHC 24-valve V6 with VVEL
Horsepower: 348hp
Torque: 276 lb.-ft.
Fuel Consumption: 19 MPG City/27 MPG Highway
Price as Tested: $52,345
Star Rating: 8 out of 10 Stars
Related posts: