By David Colman
Hypes: Best Looking Corolla Yet, Well Equipped Technologically
Gripes: Underpowered, Cranky CVT
The Corolla doesn't get a lot of love from car enthusiasts. Just recently, Toyota introduced a "Special Edition" of the model to commemorate the fact that 2016 marks the 50th year of production. The resultant product features 4 wheel disc brakes, shiny ebony alloy wheels, color-keyed, heated rearview mirrors, and red and aluminum trimmed interior bits that complement the car's "Absolutely Red" exterior color. Even the black and silver seats receive special red seam welts and double rows of red stitching. But Automobile magazine was not impressed, observing, "The Special Edition model is meant to look more aggressive, which means it should be mildly more intimidating than a three-legged toothless dachshund." Now there's a conclusion that would make even Rodney Dangerfield cringe with anxiety.
Honestly, the Special Edition Corolla we drove for a week hardly merits that kind of demerit. With a base price of $22,320 and an out-the door ticket of $23,520, the SE Corolla represents affordable housing for the road. Since Toyota has vowed to build just 8,000 SE models for 2016, there's even a faint whiff of collectability to the package. Name me another limited edition econobox – for under 25 grand – offering a chance to retain significant value in the (very) long term. On top of those four wheel disc brakes, you even get paddle shifts next to the steering wheel, plus a "Sport Drive Mode" setting for "powerful acceleration and driving in mountainous regions" as the Owner's Manual points out.
However, the Corolla's 1.8 liter engine, bereft of turbo or supercharging, doles out a measly 140hp and 126lb.-ft. of torque. So you can play those paddles for all your worth, but they won't provoke the Corolla into anything approximating the "powerful acceleration" promised by Sport Drive Mode. In fact we couldn't detect any difference in performance with Sport Drive Mode engaged or disengaged. The issue here is not so much the output of the 2ZR-FAE engine, but the handicap imposed on its performance by the Continuously Variable Transmission. In addition to its propensity to drone loudly when called upon for acceleration, the CVT drive mechanism provides absolutely glacial pick-up from a dead stop.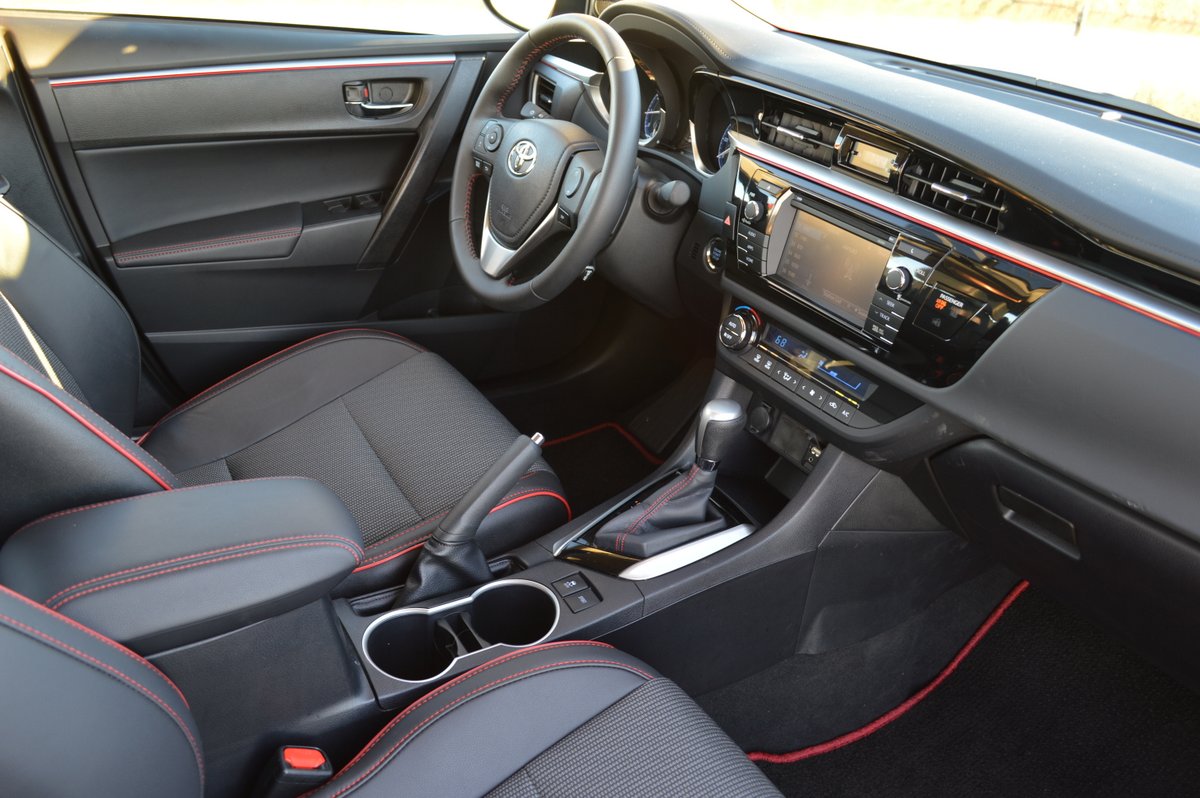 If you're not frothing at the bit for a sports sedan, the Corolla SE does a respectable job of providing reliable transportation without drama. The interior is well thought out, especially if you add the $1,200 optional "EE" package. Music lovers will welcome this addition which provides an AM/FM CD player, 6 speakers, and a USB 2.0 port with iPod connectivity. Your investment also supplies a navigation system and Entune app suite, all of which will help to take your mind off the fact that a 35 year old VW Beetle just smoked you off the line at the last stop light. In a bright daytime cockpit, the instrument panel cover reflects the interior, making it impossible to read the instrument faces. Conversely, at night, the blue backlighting of the instrument dials is not only soothing but graphically clear.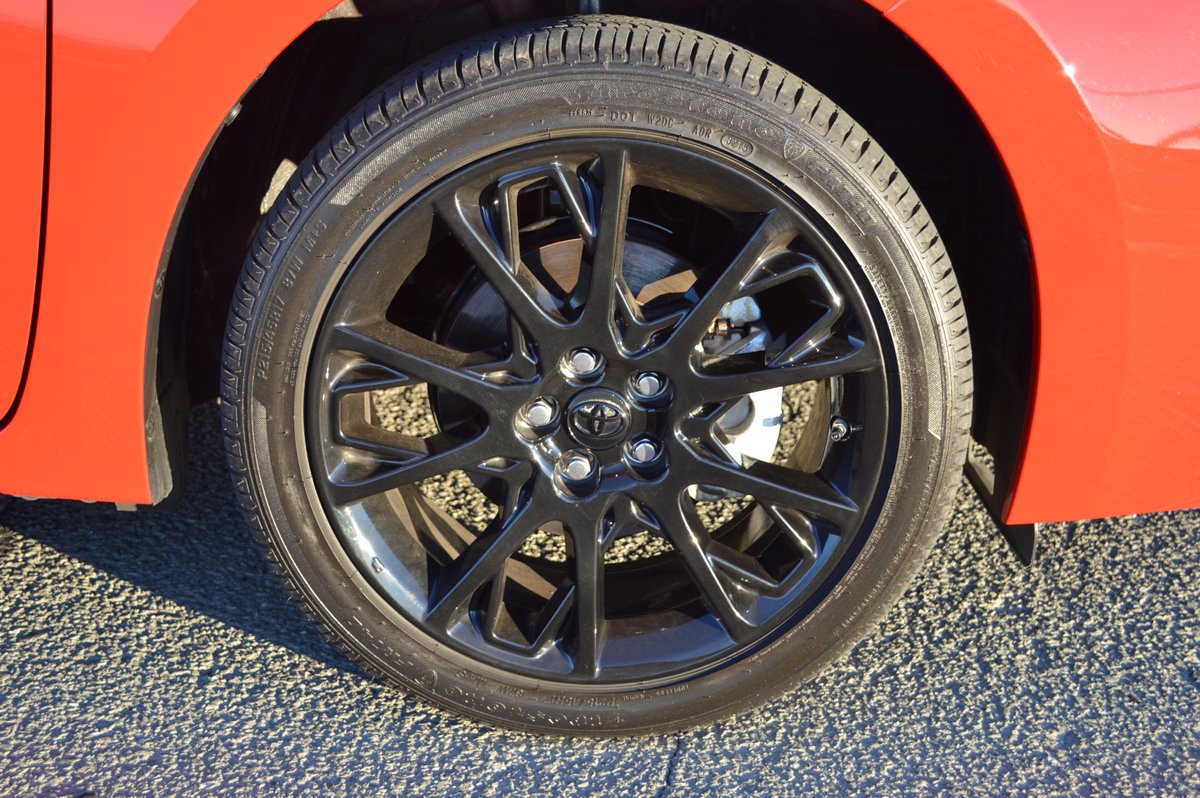 Handling of the SE Corolla is effective. Tenacious Firestone F740 all-season tires measuring 215/45R17 provide more cornering grip than you're likely to need in daily driving. As Consumer Reports puts it, "handling is lackluster but very secure." Translated into vehicle dynamics, security means the Corolla is designed to understeer when pushed through a turn. This front wheel drive sub-compact follows your steering wheel commands obediently until the front Firestones begin to lose grip. The rear end never threatens to slew sideways. This is the kind of predictable handling behavior Toyota counts on to save you from losing control in the middle of a turn.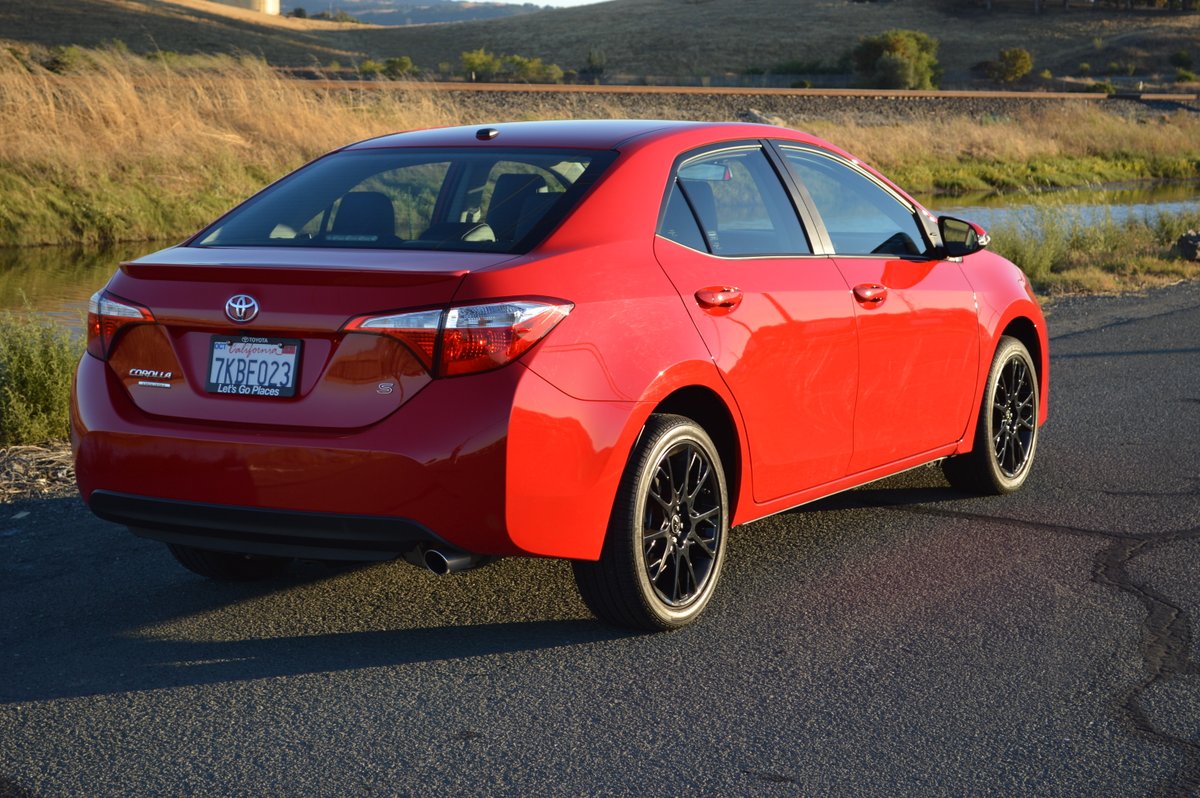 In 2013, the Corolla became the best-selling car of all time, and 2016 will see more than 43 million sold since inception in 1966. There's no arguing with that kind of success. If you want a Special Edition Corolla to commemorate the model's popularity, then order your 2016 SE in Black Cherry, an exterior color available only on the 2016 Corolla SE.
2016 Toyota Corolla Special Edition
Engine: 6.2 Liter V8 ECOTEC3
Horsepower: 140hp
Torque: 126lb.-ft.
Fuel Consumption: 29 MPG City/37 MPG Highway
Price as Tested: $23,520
Star Rating: 8 out of 10 Stars
Related posts: