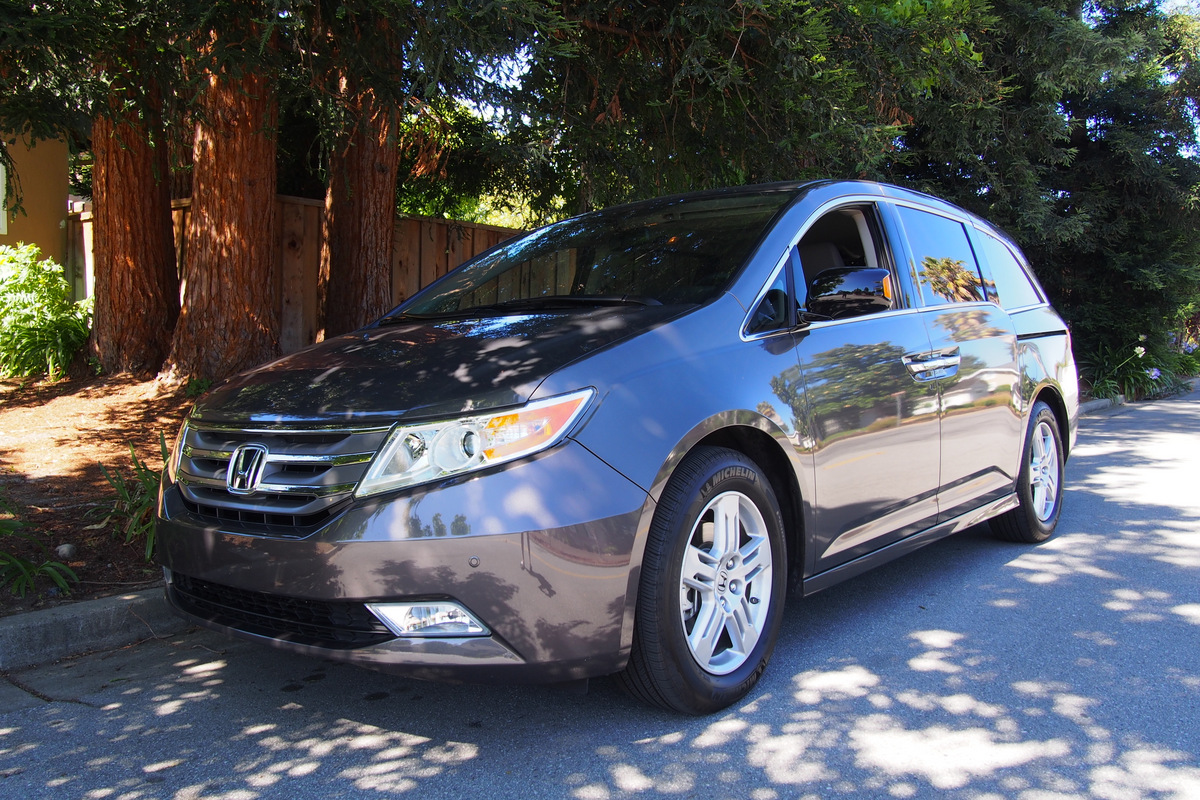 Description
The Honda Odyssey is a the latest in a series of minivans from Honda. The Odyssey has changed with the times as it has grown bigger and bigger and then it toned down to be lower and sleeker. It grew in abilities but then it toned down and became easier to drive and live with. The electronics have aged quite a bit as it is not up to par with the latest integrated navigation screens from Europe and Korea. But the driving experience still remains as one of the most comfortable, responsive and easy to drive in its class.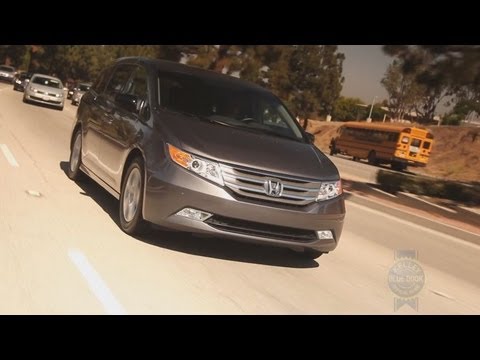 Video: Review by Kelley Blue Book
Pros:
Massive, highly usable interior
Seating for up to eight
Quick acceleration
Exceptional driving comfort
Cons:
Lower than expected fuel economy
Polarizing body design
Price
Odyssey Touring Elite ($43,675) is a Touring model with blind-spot warning system, HID headlamps, and a dual-input 16.2-inch widescreen rear entertainment system linked to a 650-watt, 12-speaker 5.1 surround sound system.
What's New
Backup camera, Bluetooth handsfree, 8-inch information display and USB input now standard on base LX model.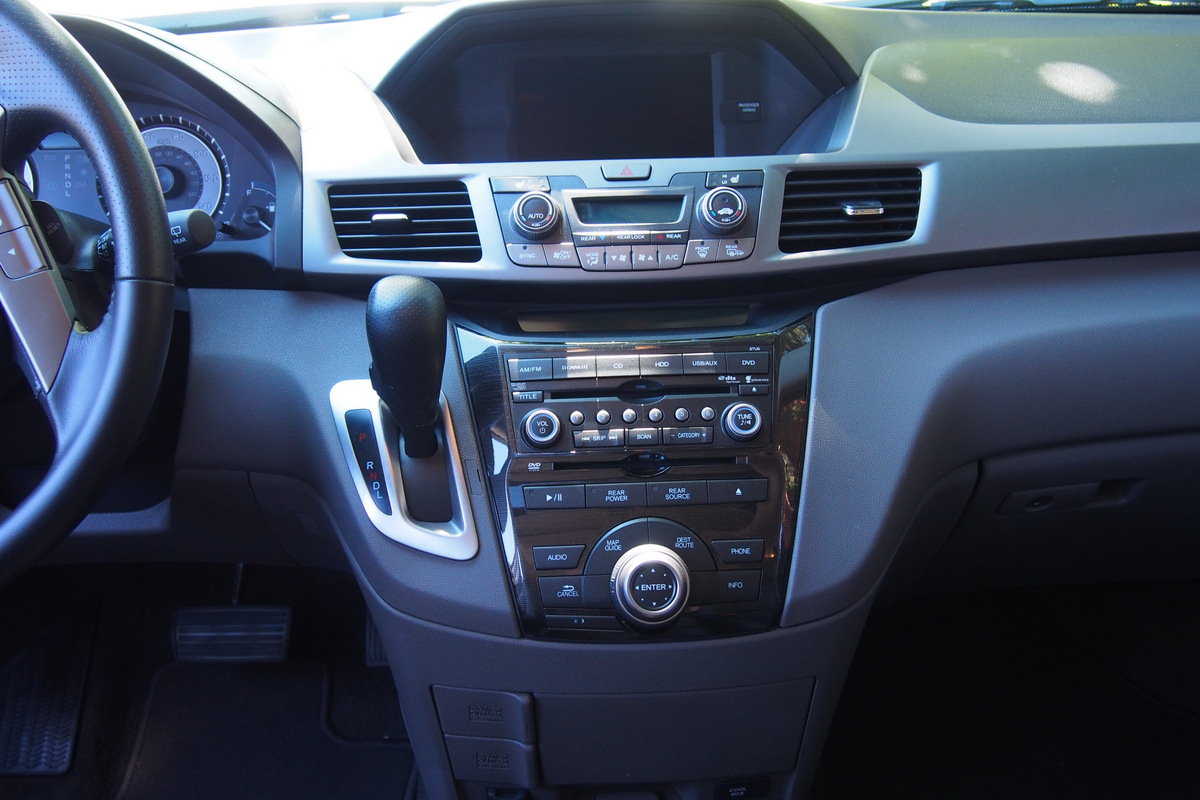 Although the 2013 Honda Odyssey arrives mostly unchanged from the previous model year, the popular minivan has come a long way from the 5-door hatchback that first hit the market in 1995. Instead of sliding doors like a regular minivan, that first Odyssey had front-hinged doors that opened like the doors on a sedan. It wasn't until the 1999 introduction of the second generation model that the Odyssey got the traditional minivan sliding doors.
Honda launched the current, fourth-generation Odyssey in 2010 with updated body lines and a new overall design. What was once a banal body with a flat window line was transformed into a more bulbous and modern-looking family hauler. Although some have applauded Honda for taking a design risk with the new Odyssey, others have derided the current model's looks.
The 2013 Odyssey is available in LX, EX, EX-L (which has available rear entertainment system or navigation options), Touring and Touring Elite versions. The LX includes new standard features like Bluetooth handsfree, a backup camera, an 8-inch information display and a USB input. The rest of the lineup is unchanged. The 2013 Odyssey starts at $28,575 and tops out at $43,925.
Comfort & Utility
The Odyssey's interior and features are much like those of nearly every other minivan on the market. The most notable difference between the Odyssey and its competitors is its interior build quality. The seats, dash, storage compartments and trim in the Odyssey are all surprisingly well constructed. Every surface in the Odyssey looks and feels sturdy.
The interior of the 2013 Odyssey is cavernous, with 172.6 cu-ft of total passenger volume and 148.5 cu-ft of cargo volume behind the front seats. With comfortable and flexible seating configurations, numerous storage bins and pockets and up to 15 beverage holders, the Odyssey is ready for whatever a family can ask of it.
The third row, which Honda calls a Magic Seat, is 60/40 split folding and enables the Odyssey to quickly and easily adapt between passenger and cargo hauling. It can accommodate three passengers and still provide 38.4 cu-ft of cargo volume behind the seats, or it can fold completely flat into the floor, creating 93.1 cu-ft of cargo volume behind the second row. Maximizing the Odyssey's cargo space requires removing the second-row seats. Total interior volume, with passenger and cargo volume combined, measures 210.0 cu-ft.
Technology
The 2013 Odyssey is available with most every modern technological treat a customer could desire from a minivan. The Odyssey can be optioned with satellite navigation, a rear-seat DVD screen that folds down from the headliner and a "cool box" for chilling drinks.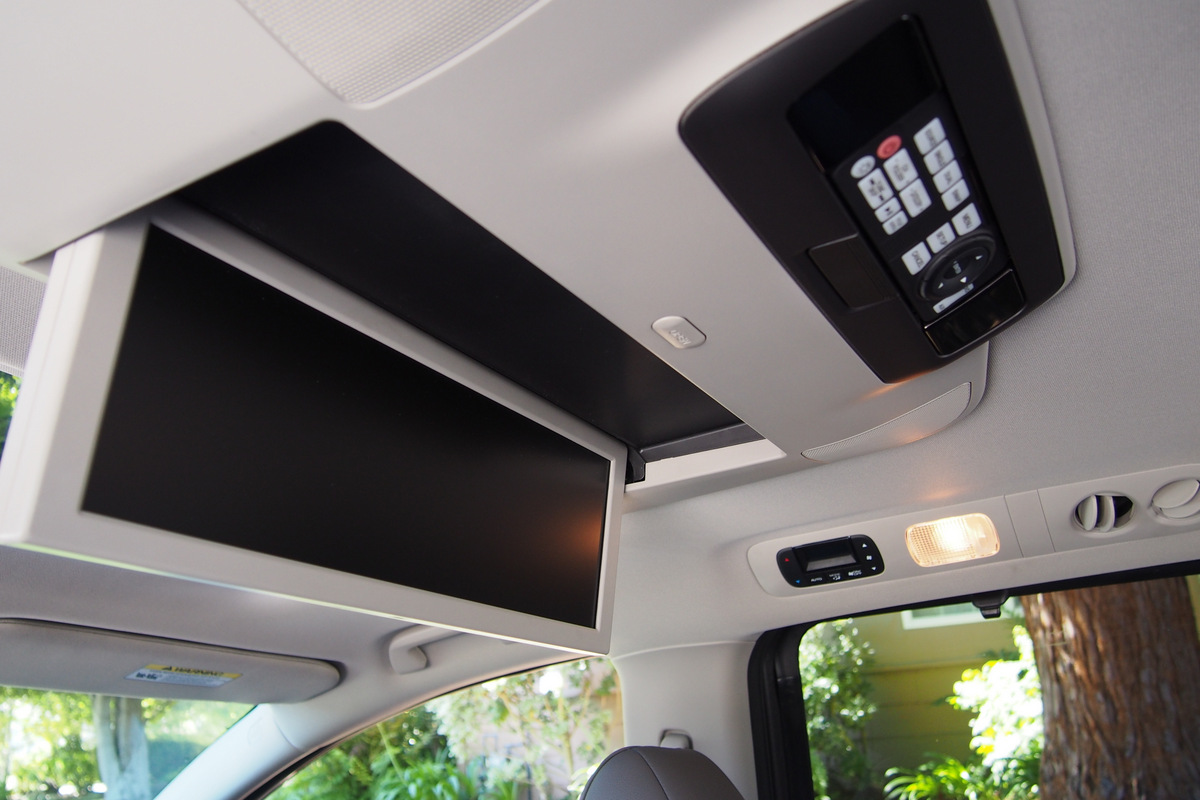 All models now include an improved multi-information display with on-screen custom programming of functions like interior lighting and door locking, Bluetooth handsfree, USB inputs and a backup camera.
Performance & Fuel Economy
The Odyssey is powered by a a 3.5-liter V6 that makes 248 horsepower and 250 lb-ft of torque, and there are two transmission choices. On the LX, EX and EX-L, Honda offers a 5-speed automatic transmission. On the Touring and Touring Elite models, the Odyssey is fitted with a 6-speed automatic transmission.
The EPA estimates the Odyssey LX's fuel economy at 18 mpg in the city and 27 mpg on the highway. The Odyssey Touring, thanks to its 6-speed automatic transmission, does slightly better at 19 mpg city/28 mpg hwy.
Safety
The 2013 Odyssey features dual-stage, multiple-threshold front, side curtain and dual-chamber front and side airbags with Honda's passenger-side occupant position detection system. A vehicle stability assist system, active front-seat head restraints and pedestrian injury mitigation are all standard. So is Honda's Advanced Compatibility Engineering body structure. It helps the Odyssey better absorb collision energy, especially in a front-end crash. That structure is now in its second generation in the Odyssey.
Driving Impressions
Many people promise themselves they'll never own a minivan. But for millions of Americans, family life necessitates owning one. Should they climb behind the wheel of the Odyssey, they'll be pleasantly surprised by its excellent driving characteristics. Most impressive is the power output from the 3.5-liter V6.
When a driver puts his or her foot to the floor in the Odyssey, it doesn't rocket forward in a jerk of power. Instead, it builds like a force of nature beneath the driver, sending the vehicle smoothly forward across the landscape. Power delivery is linear, intense and quite satisfying.
During hard off-the-line acceleration, the Odyssey does suffer from some front-wheel slippage. But that is to be expected from a 248-hp 3.5-liter V6 engine wedged into the front end of a big family vehicle.
Unfortunately, the fuel mileage we observed wasn't as good as advertised. We suspect it will take a soft-footed, Zen-like driver to get close to the Environmental Protection Agency (EPA)'s fuel economy estimates.
Other Cars to Consider
Toyota Sienna: Starting at $26,435, the base Sienna L is one of the cheapest minivans on the market. But it doesn't beat the Odyssey by much. For 2013, the base 4-cylinder engine is discontinued, replaced by a standard V6. The Sienna can be equipped with all-wheel drive for those who need extra traction for winter weather or slippery roads.
Chrysler Town & Country: Starting at $29,995, the Town & Country is an old favorite among minivan buyers–with an emphasis on old; the Town & Country hasn't been updated since 2007.
Nissan Quest: Starting at $25,990, the Quest comes standard with a 260-hp 3.5-liter V6 mated to a continuously variable transmission. We think the Quest is far and away the best competitor for the Odyssey, with comparable power, efficiency, utility and technology.
Bottom Line
We think even the base 2013 Honda Odyssey is fantastic at $28,575. But budget allowing, we'd definitely upgrade to the Odyssey Touring for $41,180. The Touring includes satellite navigation, rear entertainment and the 6-speed transmission. The 6-speed automatic makes the Odyssey not only more fuel-efficient but also more enjoyable to drive.

Related posts: