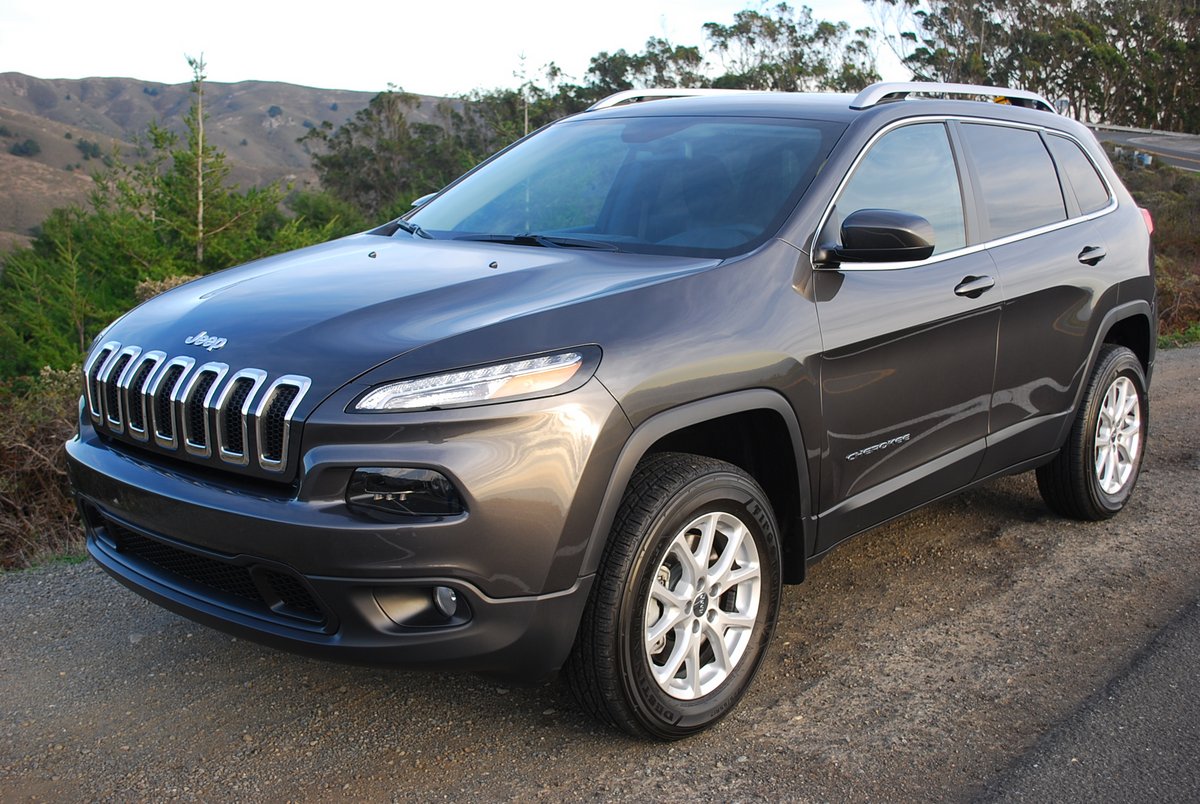 By David Colman
Hypes: Spacious, Off-Road Ready
Gripes: Could Use a (Grand Cherokee)V8 and Brighter Headlights
Jeep has an engaging way of reminding you of the company's storied past. For example, the lower spoke of the Latitude's fat rimmed steering wheel is inscribed with the notation "Since 1941." The granite colored fabric covering the seats looks more serviceable than luxurious. The khaki pouch containing the owner's manual might have once served as a bag for your canteen. The heritage on display is so convincing you almost expect to find a jerry can buried in the recesses of the trunk.
But this Jeep earns its stripes with more than just idle allusions. This is a real, heavy duty, off-road capable 4×4, as distinguished from those light duty all-wheel-drive interlopers so many manufacturers try to pawn off these days as trailblazers. Your first clue that you could tackle the Rubicon trail with the Latitude is the fat knob on the center console reading "4WD LOW" which allows you to creep over otherwise impassable terrain. Yes, this bargain priced $31,020 Cherokee not only offers 4WD Low for tricky travel under 25mph, but also a mechanical locking rear differential (which Jeep calls "E-Locker") to navigate especially treacherous passages slower than 15mph. This golden promise of traction comes to you for just $995, if you order Customer Preferred Package 27J. Included in the benefits are a 9-speed automatic gearbox with Jeep Active Drive II, Hill Descent Control, and Off-Road Suspension.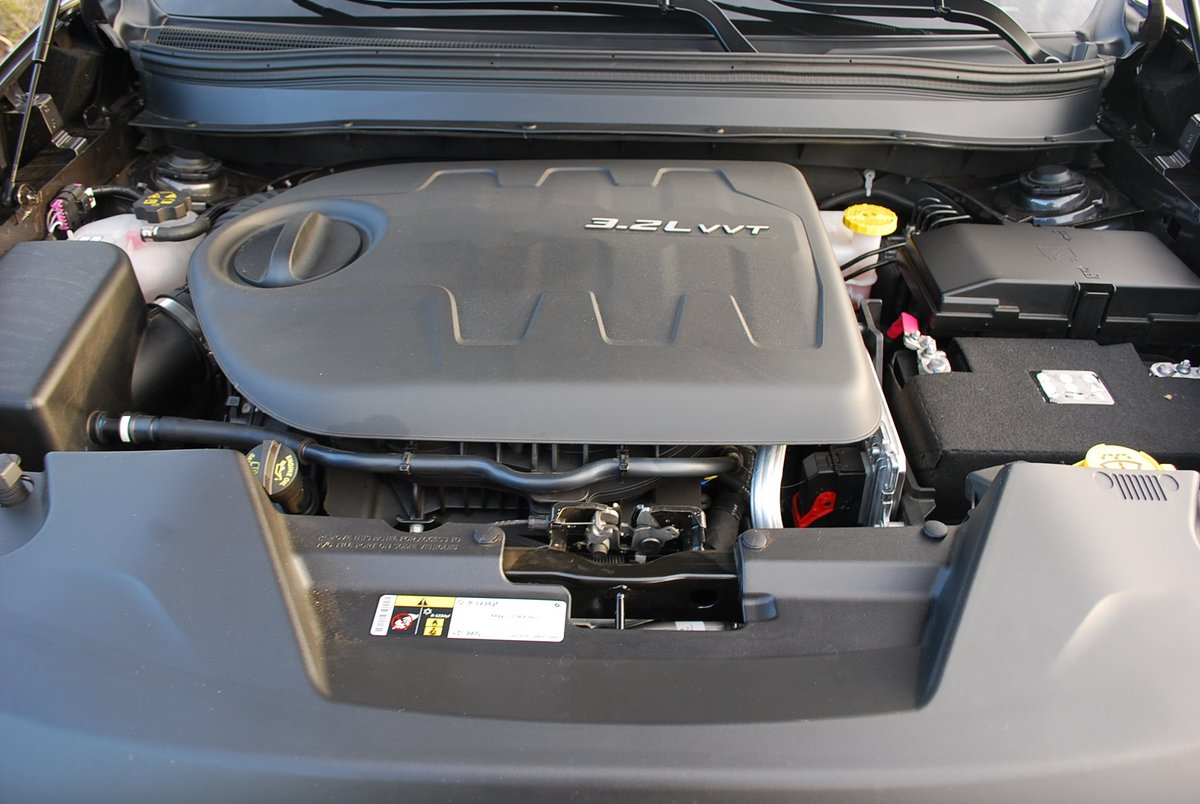 Power for our test Cherokee came from a 3.2 liter V6 more notable for its highway gas economy (26 MPG) than its sheer horsepower (271hp). The 9 speed transmission does an admirable job of maximizing power produced by the 24 valve engine. The 3.25:1 rear axle ratio strikes a decent compromise between acceleration potential and acceptable cruising mileage. The floor-mounted shift allows you to override gear selection at any time, and quite frankly, there are times when the V6 needs a little extra prodding from a lower gear to complete passing maneuvers. Otherwise, you will discover that if you just leave this gearbox in "Drive," a considerable lag occurs between the time you floor the accelerator and when the engine actually responds.
The Latitude is perfectly configured for long distance freeway jaunts. There is absolutely no wind noise or road intrusion inside the cockpit at speeds over 70mph. This quietude is surprising in view of the Jeep's off-road suspension underpinnings, so you can probably thank the Firestone Destination tires (225/65R17)for contributing to the silence. If you order the optional Trailer Tow Package, this Jeep will pull 4,500 pounds; or 2,000 pounds without the special fittings. Trailer Sway Damping is a standard Cherokee feature.
On twisting back roads, Latitude is not quite so happy as it is on the freeway. Here, its frontal weight bias causes it to plow into turns, requiring you to crank an extra 20 degrees of lock into the steering wheel, just I thought I was done with the exercise. This tendency became especially demanding in heavy rain, which caused the front Firestones to drift even further from my anticipated trajectory. The "Bi-Function Halogen Projector Headlamps" sound more proficient than they are. Actual night time performance was marginal.
Although the interior of the Latitude is mostly monochromatic, it's done with an understated panache that makes you appreciate Jeep's good taste. The seats, though manually controlled, are quite supportive and handsomely done, with white stitched black side bolsters, and grey cloth inserts that defy sliding. The oatmeal headliner brightens the expansive interior substantially, and brushed aluminum graces the door pulls. Matte titanium colored bezels outline the instrument binnacle, centrally mounted 5 inch touch screen, and air vents. The compartment between the front seats is commodious; you can optionally equip its upper level with a wireless phone charging pad, but be sure not to lay your key fob on it. The floor in the trunk area is hinged at the rear. Lift it, and you find a large hidden set of four shallow storage bins. Remove the bin partition for access to the space saver spare and jack.
Jeep offers a lot of vehicle for the money here. If you are serious about off-roading, or just enjoy the rugged grace this company has been refining since 1941, you need to check out the latest Cherokee Latitude.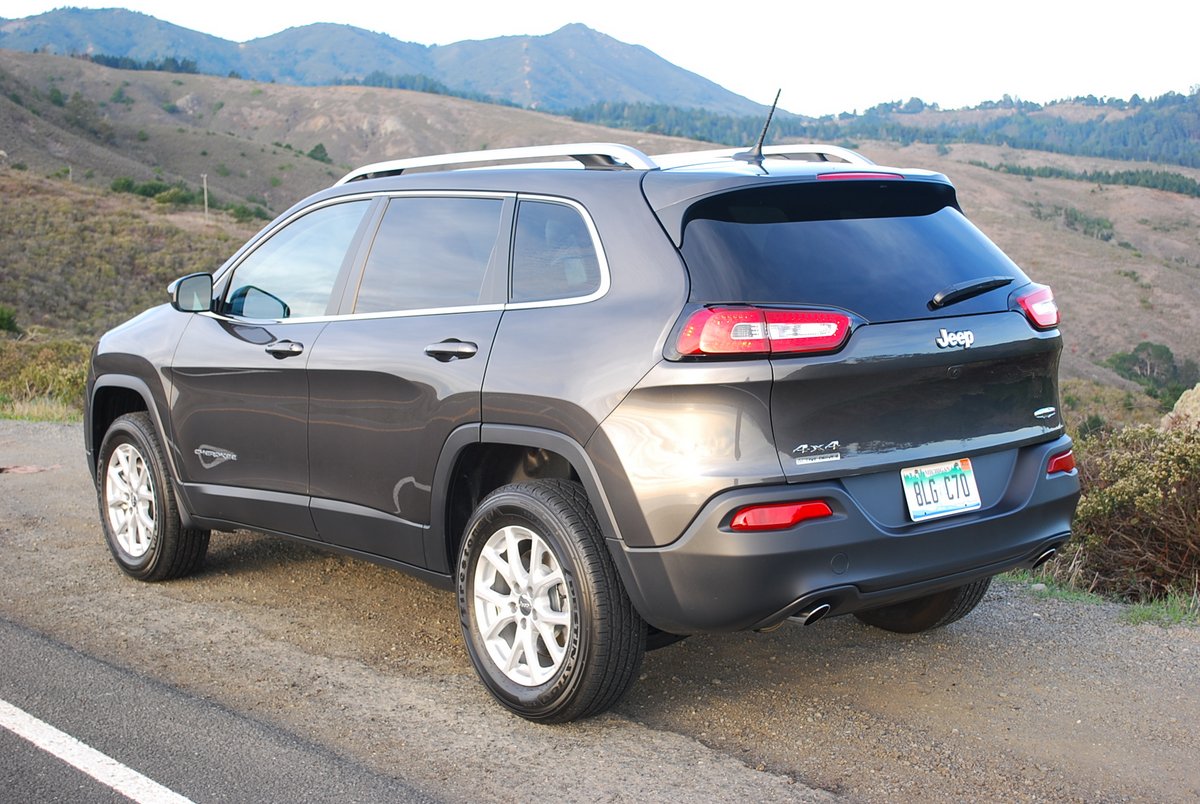 2014 Jeep Cherokee Latitude 4×4
Engine: 3.2 Liter V6 24 Valve with VVT
Horsepower: 271hp
Torque: 239 lb.-ft.
Fuel Consumption: 19 MPG City/26 MPG Highway
Price as Tested: $31,020
Star Rating: 8 out of 10 Stars
Related posts: