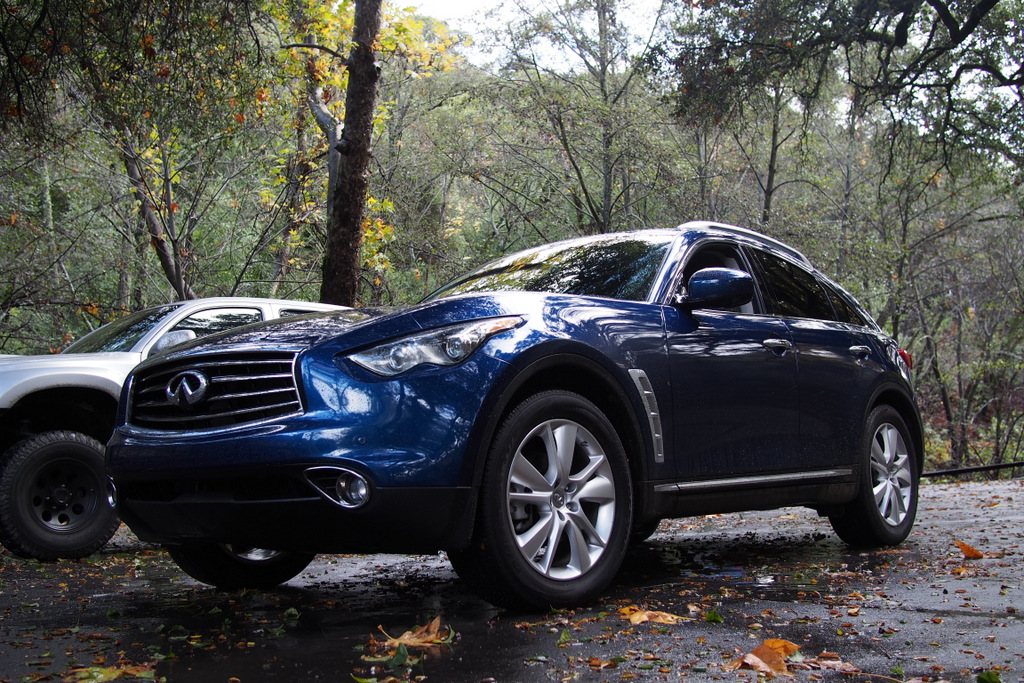 By David Colman
For: Precision Responsiveness, Fiery Acceleration
Against: Choppy ride, Awkward Reach to Rearview Mirror Button
The FX37 is the latest evolution of the FX35, gaining a bit of punch, more fuel economy with little additional cost. It is an enigma however as it is a a very sporty car that is fast and firm like a Z car. Look for the comfort mode and you'll find none. So read on and see if this is the right vehicle for you.
Having just spent the prior week driving a storied sports sedan, I was prepared to be under whelmed by the performance of this tall, rather ungainly looking sports utility.
But beauty is as beauty does, and what the FX37 does best is cover ground fast. Faster, in most instances than that storied sports sedan I thought I'd be missing so much. To the everlasting credit of Infiniti engineers, they have produced a lithe and agile package that belies its looks, its weight and its perceived station in life. If there's a sporting award for SUVs, the FX37 is a clear first place winner.
Its efficient 3.7 liter V6 proves you don't need a V8 to wring top drawer performance from such a sizeable vehicle. Despite the Infiniti's curb weight of 4,156 lb., the 325hp motor is adequate to any acceleration need, and will also tow 3,500 lb. Just floor the throttle, or select the appropriate gear of the 7 available, and the FX flies into action like a Special Forces commando truck. Although you can also order a 390hp V8 version of the FX designated FX50, you'll sacrifice the decent (17/24 MPG) gas mileage of the V6 for the voracious appetite (14/20 MPG) of the 5.0 liter V8. Thanks to the responsiveness of the V6, the V8 is more motor than you need.
The engine's stellar power band, silken transmission, and perpetual all-wheel-drive wouldn't be worth much without suspension to match, but the underpinnings of the FX offer sportscar alacrity at the cost of ride comfort. Unlike so many SUVs that depend on live rear axles inherited from truck architecture, the crossover FX features multi-link independent suspension front and rear. Ground hogging 10-spoke, 21 inch graphite alloys, which measure 9.5 inches in width, mount 265/45R21 Bridgestone Dueler H/L 400 tires. This jumbo rubber combines with the race-bred suspension to keep the FX firmly planted in even the most testing series of corners. Steering feedback is reassuringly accurate, and the stiff chassis structure never heels over, even in the sharpest turns. But this exemplary sportscar handling comes at the price of a stiff, unyielding ride that is harsh over pavement imperfections. The rear seat, which is perched directly over the rear axle, suffers notably from this drawback. Even on smooth freeway slabs, I had eyeball jiggling difficulty focusing on printed matter when seated in back.
The front compartment, however, is a different story. Here, ride quality is quite acceptable, thanks to lavishly overstuffed leather seats that feature 10-way adjustment for the driver and 8-way adjustment for the passenger. Both front seats are heated. Heating and cooling vents for the aft compartment make life back there more tolerable.
Infiniti packs an enormous amount of technology into the standard FX. You do not need to pay extra to acquire: Navigation, XM satellite radio, an 11 speaker Bose Premium Sound System, or Bluetooth Hands-Free Phone System with Streaming Audio. Even photo monitoring of outside front, side and back areas is standard thanks to the "AroundView" Monitor which produces a sonar display on the Navigation screen. The FX37 is one of the most fully equipped vehicles you can buy, and to prove the point, our $53,400 test model did not include a single, optional extra. That's sort of an Olympic accolade for any test review car or truck, which are generally loaded with expensive options, and it really speaks to the value inherent of the base model FX37. If you need an SUV that handles like a Corvette, then this Infiniti is the one to chose.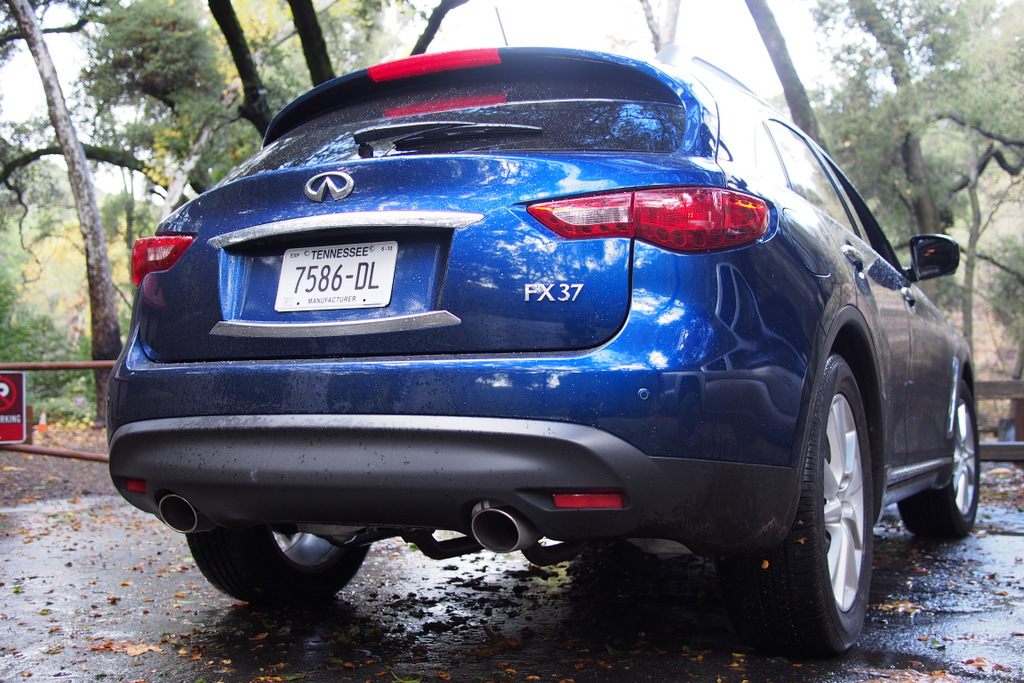 2012 Infiniti FX37 AWD
Engine: 3.7 liter DOHC, 24 Valve V6
Horsepower: 325hp
Torque: 267 lb.-ft.
Acceleraton: 0-60 in 5.59 seconds
Fuel Consumption: 17 MPG City/ 24 MPG Highway
Price as Tested: $53,400
Star Rating: 9.5 out of 10 Stars
Related posts: