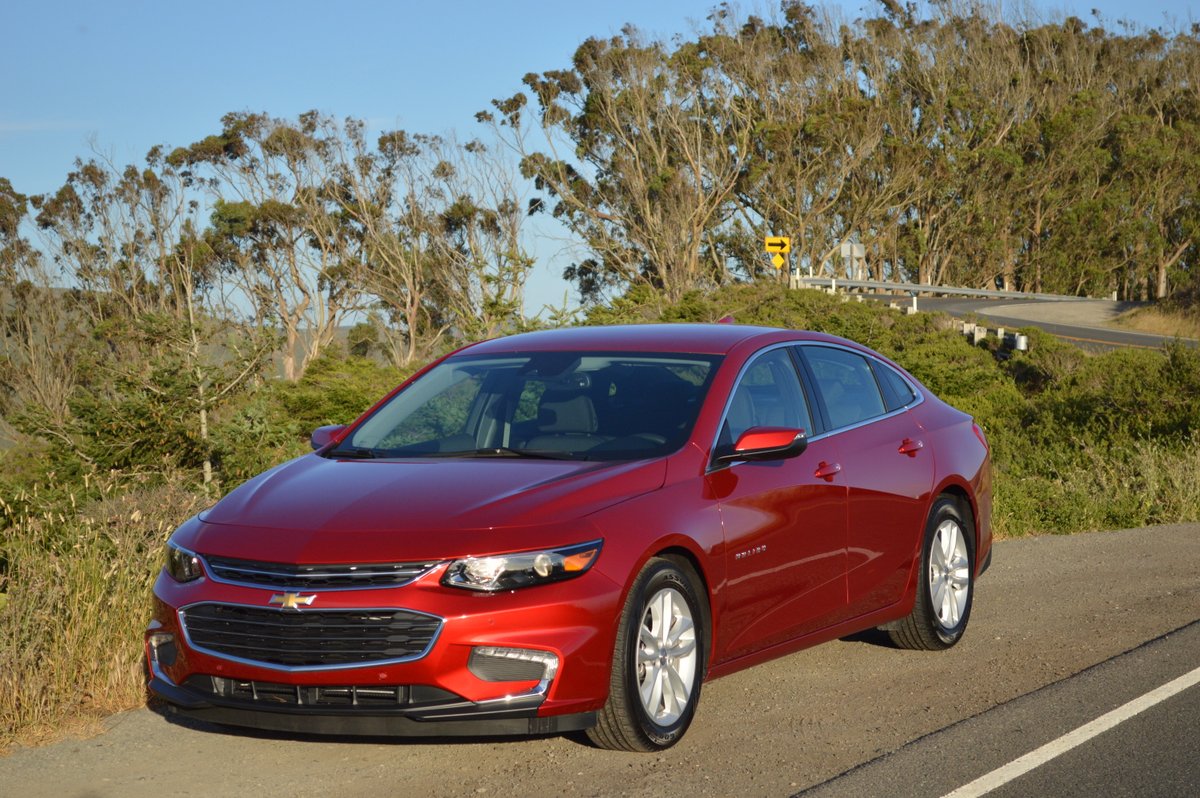 By David Colman
Hypes: Spacious, Handsome, Fuel Efficient
Gripes: Small Trunk, Strange Dash Cladding
In 2015, the Malibu placed 6th out of 6 like sized sedans in a Motor Trend magazine comparison test. Clearly, the old Malibu had outlived its useful product life cycle, and Chevy duly replaced it with a whole new car this year. Not a freshening, not a remodel, but a completely new vehicle designed specifically for comfortable long distance travel by plus sized humans. Specifically, the magazine review dinged the previous Malibu for its lackluster engine, cheap interior plastics and cramped rear bench seat. Chevy has admirably addressed all those complaints with the Hybrid we drove. Under the hood lies a very energetic powertrain consisting of a 1.8 liter double overhead cam, inline 4 cylinder gas engine augmented by twin electric motors. Although the combo is only rated at 182hp, the vibrant manner in which the electric propulsion augments the gas motor means you will never be lacking for acceleration. This Hybrid Malibu is really quick in a straight line, with instant spool up quick enough to see you through any passing or merging maneuver.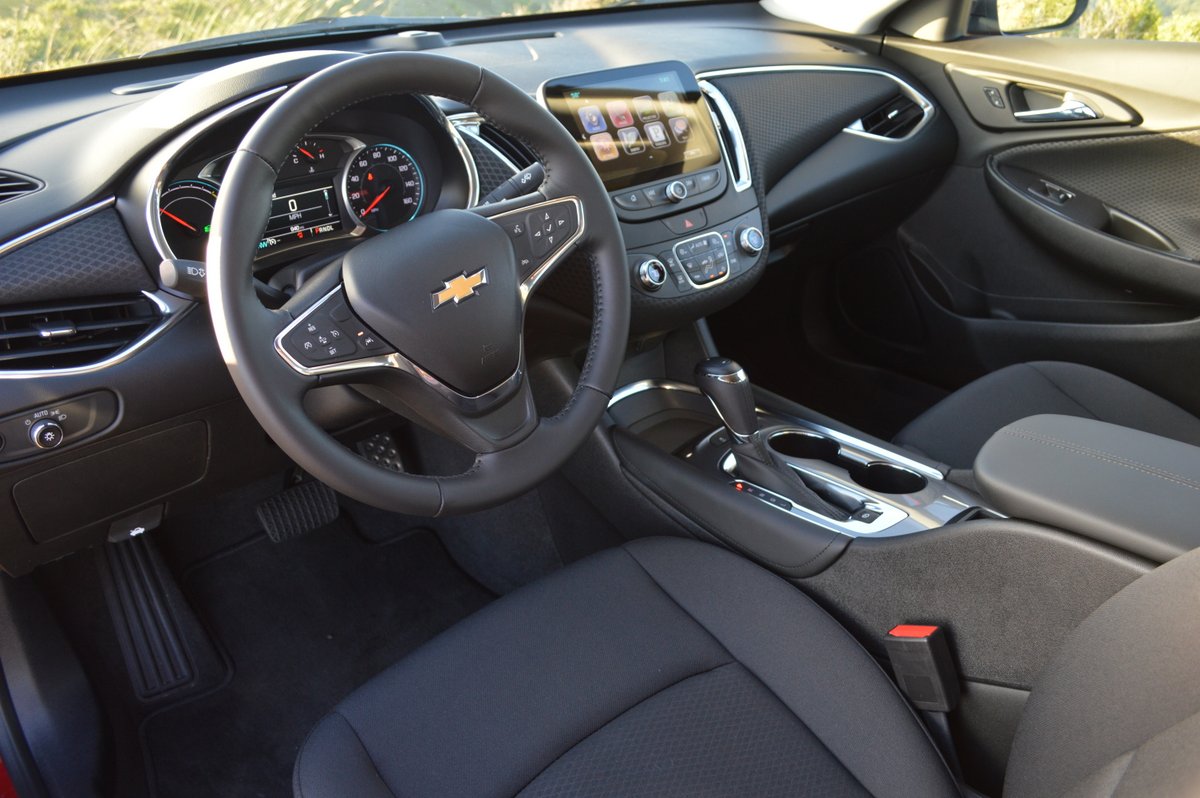 Inside the cabin, the 2016 Malibu has lost the former model's bargain basement array of plastics and fabrics. While it's not quite up to Ritz standards, the Malibu interior is several cuts above Best Western. Check out the steering wheel, for example. If you opt for the $895 "Technology and Convenience Package," Chevy gives you a nice fat leather capped rim to grip. Every possible seam and contour has enough thread or hide to eliminate all sharp edges. The same cannot be said for many cars costing twice as much as the Malibu. The only item of questionable taste is the strange quilted fabric covering the lower sections of the dash. This 3D material looks odd, as if Chevy was trying to replicate a carbon fiber look with cloth. It does not promise to wear well.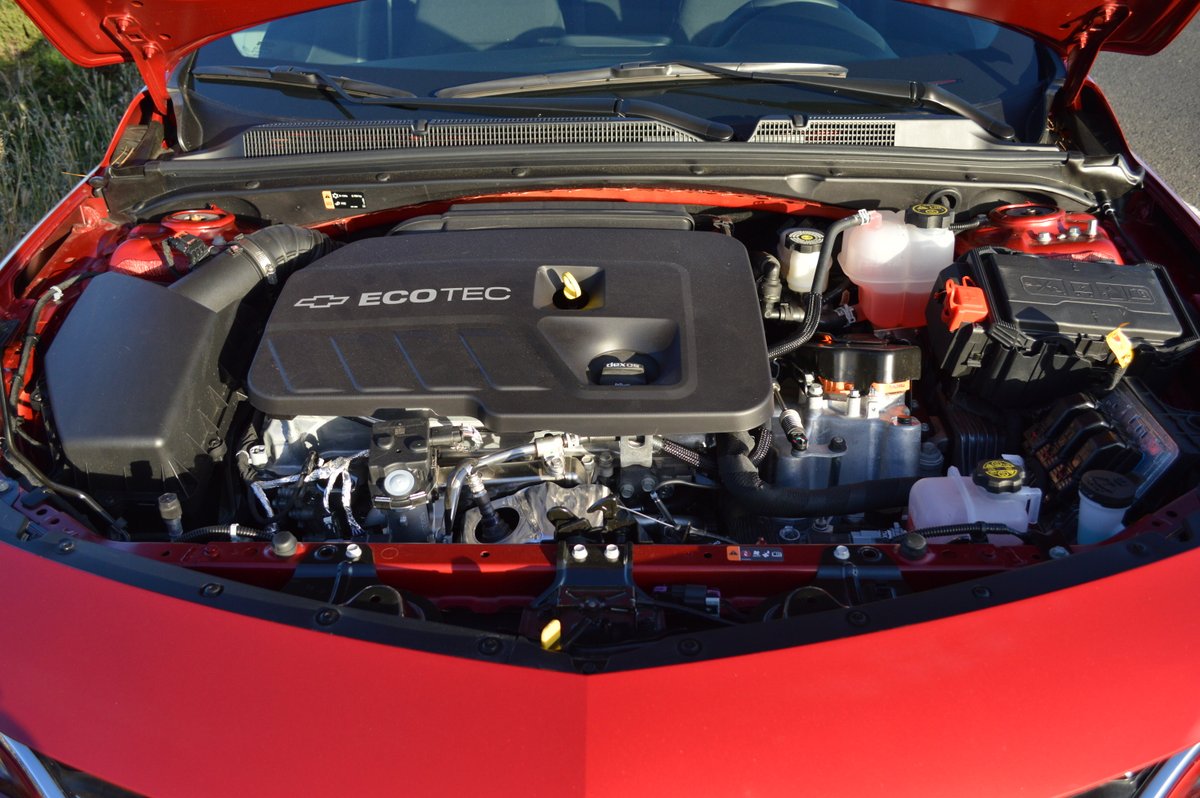 Quibbles about the old Malibu's lack of interior room have been eliminated thanks to a 4.2 inch wheelbase extension, a whopping 11 inch width extension, and just a half inch height rise. Indeed, the new Malibu provides a spacious and airy ride, with limousine like leg room both front and rear. Yet it manages to give you a much bigger cabin while still saving nearly 300 pounds of curb weight over its predecessor. This lightened load partially accounts for the Hybrid's excellent fuel economy, with a highway figure of 47 MPG augmenting a city rating of 46 MPG. The only real downside to the Hybrid driveline is the storage space sacrifice you will need to make to accommodate the battery pack beneath the trunk. Gas only versions of this sedan provide 15.8 cubic feet while the Hybrid makes do with just 11.6.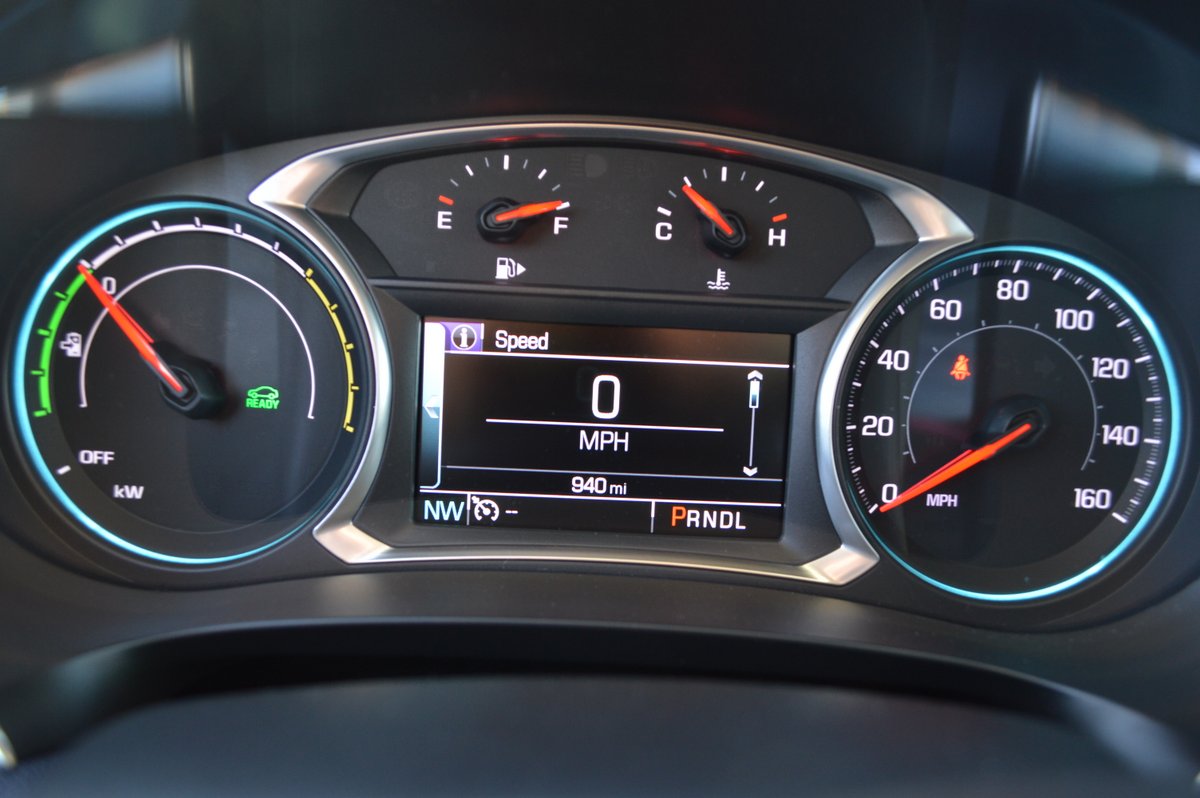 Since self driving cars have yet to arrive, it was a bit off putting to discover that this Malibu has been implanted with self driving notions of its own by Chevrolet. If you pay $1,195 extra for the "Driver Confidence Package" you'll discover that your Malibu has a mind of its own. This propensity for automated decision making first revealed itself when I sprinted onto an empty stretch of freeway and immediately made for the number 1 (fast) lane. Each time I crossed a lane boundary – and there were 3 of them – the Hybrid resisted my steering direction to the left and instead corrected the front wheels back to the right. As I was later to discover, Chevrolet programmed this obnoxious behavior into the Malibu's optional package under the rubric of "Lane Keep Assist" ( LKA). Each time you fail to signal a lane change, the steering wheel will jerk itself back in the opposite direction of your intended path of travel. Thankfully, we discovered a delete button for LKA near the hub of the steering wheel's left spoke, and from then on eliminated the nuisance. But be forewarned, the invasion of the mind snatchers is on the way.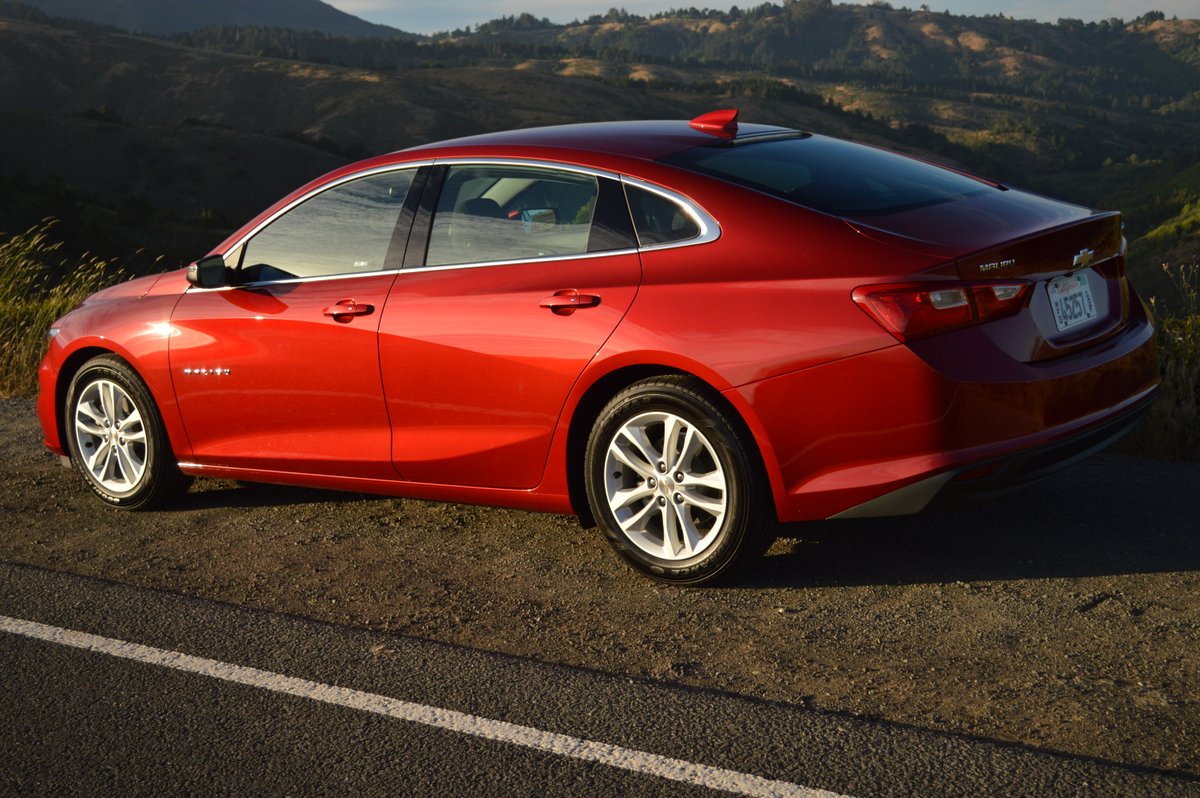 All in all, Chevy has done a very workmanlike job in their remake of the aging Malibu. the new sedan looks really good, especially when given the optional $395 Crystal Red Tintcoat of our test sample. Clearly, draftsmen in what used to be called the Art and Color department of GM have refined the exterior surfaces of the Malibu to conduct wind without disturbance. This is a remarkably quiet and aerodynamically clean product that will remind you of its air management efficiency by endearingly infrequent visits to the gas pump.
2016 Chevrolet Malibu Hybrid
Engine: 1.8 liter DOHC inline 4 with twin electric motors
Horsepower: 182hp
Torque: N/A
Fuel Consumption: 46 MPG City/47 MPG Highway
Price as Tested: $31,130
Star Rating: 8.5 out of 10 Stars
Related posts: