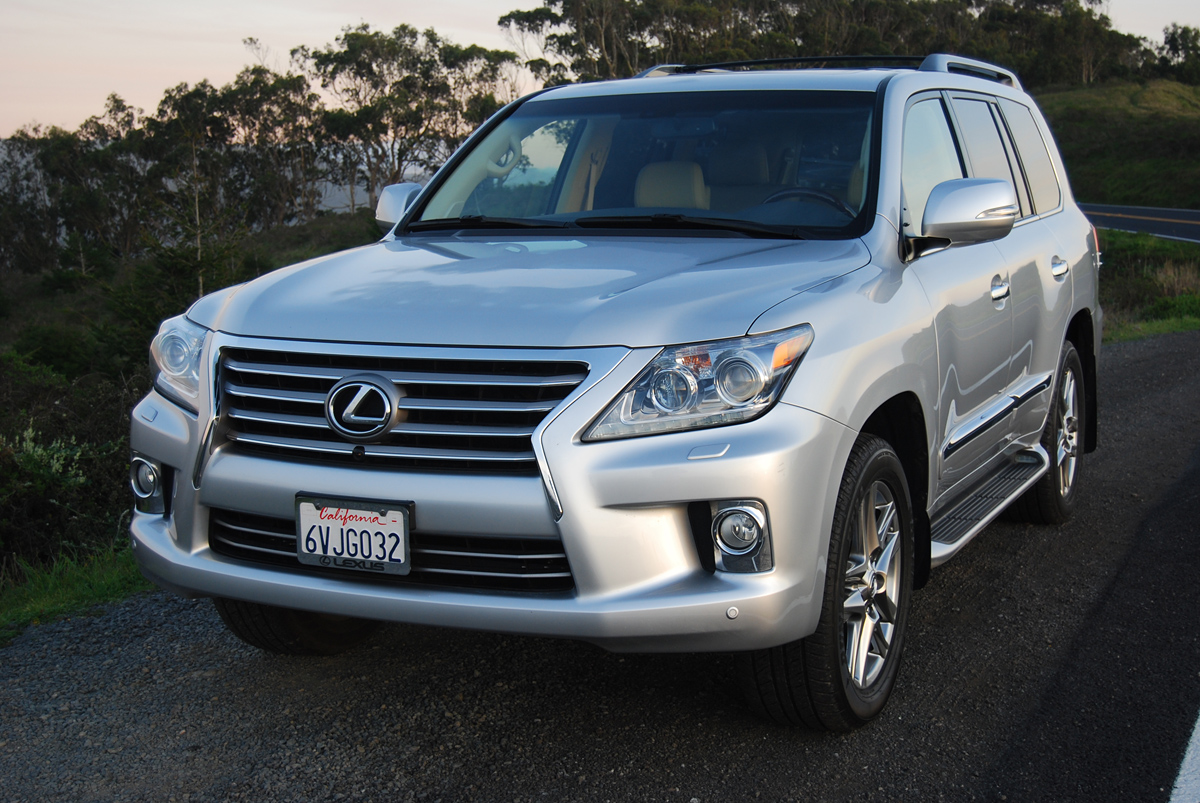 By David Colman
Hypes: Land Cruiser Bone Structure, Off Road Diaper Kit
Gripes: Could Use More Ponies, Front Seat Backs Too Flat
If you use your X-Ray eyes to see through the voluptuous body cladding and semi-aniline leather of this Lexus LX570, you will recognize the eternally fine bone structure of Toyota's iconic Land Cruiser. Nothing brought this point home to me more clearly than when I parked the Lexus next to a nicely restored mid-70s Land Cruiser for an eyeball comparison. I figured there would be substantial size differences between the 2013 Lexus and its 40 year old ancestor. Wrong. In every dimension, from height to width to length, the brand new Lexus is almost identically proportioned to the 70's Land Cruiser. Even the ride height looks the same, despite the fact that the vintage Toyota rides on 15 inch rims versus the new 20 inch wheels of the LX570.
But one look inside the old Land Cruiser forever disabused me of the notion that the Toyota is too intimately related to the Lexus. In the 70s, off-roaders like the Land Cruiser were designed to be working vehicles, equipped with shiny vinyl bench seats that look like they came from the garden department at Thrifty. That kind of bare bones trim would be unthinkable in the $88,670 Lexus. Inside, you enjoy eye-popping opulence that starts with a swath of leather and real wood covering nearly every visible surface on all 8 passenger seats.
Our test LX570 upped the ante with an optional Luxury Package ($1,510) that adds contrasting stitching, wood-trimmed door switch plates and rear console cover, heated and ventilated first and second row seats, a cool box in the bin between the front seats, plus a heated wood and leather steering wheel. The cool box was especially nice for keeping lunch leftovers from spoiling during an extended afternoon drive. The steering wheel heater is nice on cold mornings, but its effect is limited to the leather grips rather than the whole wheel rim.
A check of the specification sheet reveals that this Lexus produces 383hp and 403 lb.-ft. of torque. Normally, those figures would insure splendid acceleration, but when you factor in the daunting 3 ton curb weight of the LX570, its fireball performance dims somewhat. To be sure, this Lexus will never have a problem zipping past slower traffic in two-lane passing situations, but it will never be confused with ultra performance SUVs like Porsche's Cayenne Turbo or BMW's X-5M. The LX 570's curb weight and thirsty V-8 restrict economy to just 14 MPG, and the 32 valve engine requires Premium fuel as well.
Lexus' 2013 upgrade to 5-spoke "liquid graphite finish" 20 inch diameter rims pays off in improved adhesion from gigantic Dunlop P2A Grandtrek tires (285/50R20), which provide a jounce-free ride while maintaining equanimity under cornering duress. Full time all-wheel-drive is just the iceberg's tip in the LX570's extensive terrain conquering vocabulary. Standard features include a 2-speed transfer case, Torsen limited slip differential, Adaptive Variable Suspension (AVS), Active Height Control (AHC), plus front and rear stabilizer bars. The Active Height Control simplifies entry and exit to the tall Lexus by directing the vehicle to kneel to its lowest setting to ease ingress and egress. The braking system is intimately involved in off road antics, offering a multi-terrain anti-lock system that oversees hill descents. Lexus extends that speed monitoring to Crawl Control with Turn Assist that enables even novice off-roaders to tackle the outback with assurance.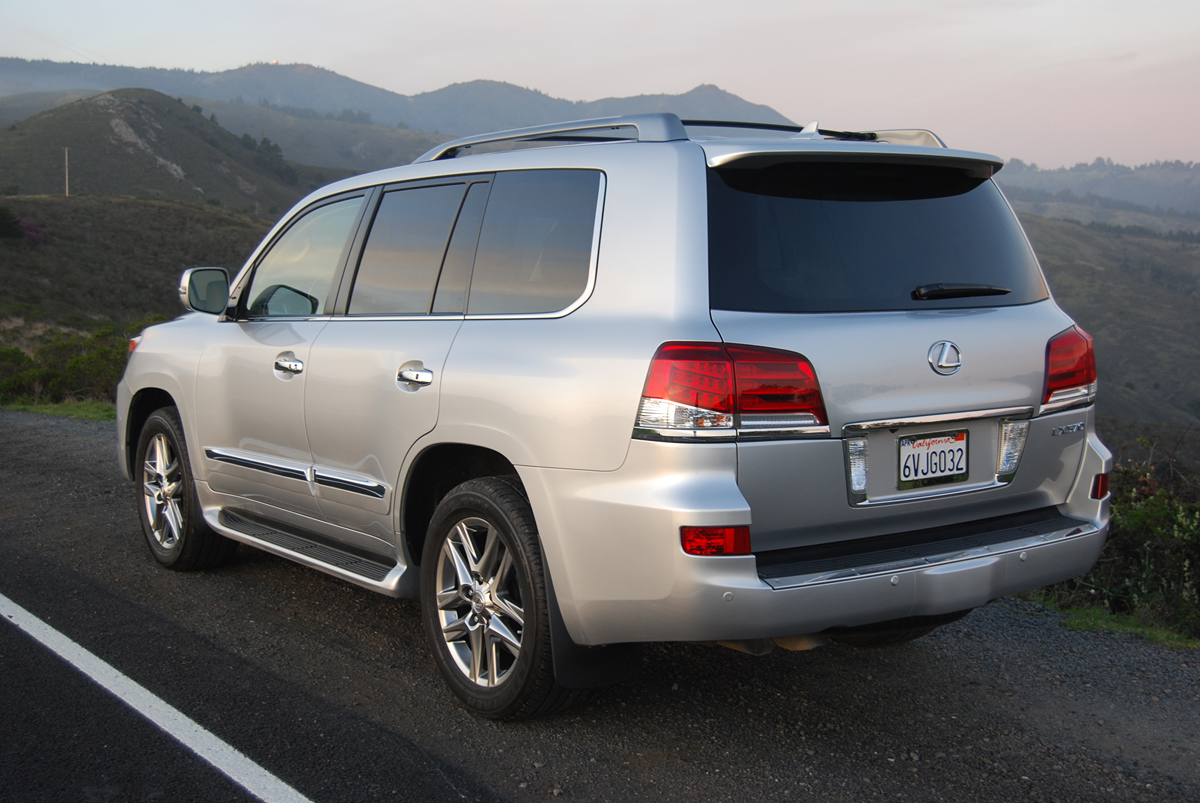 All in all, the LX570 is the consummate package for blazing trails through snow, rain or dirt. Yet it tackles those intimidating obstacles with a flair and flourish worthy of James Bond turned out in a tuxedo.
2013 Lexus LX570
Engine: 5.7 Liter V-8, DOHC, 32 Valve with VVT-I
Horsepower: 383hp
Torque: 403 lb.-ft.
Fuel Consumption: 12 MPG CITY/17 MPG Highway
Price as Tested: $88,670
Star Rating: 9 out of 10 Stars
Related posts: