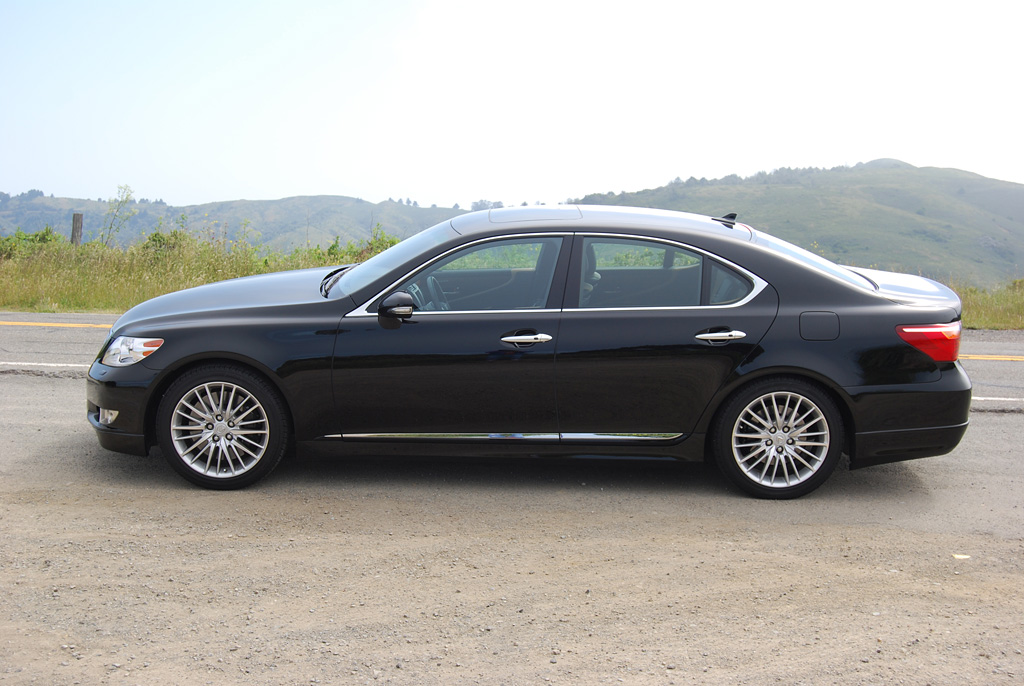 By David Colman
For: Ultra Luxe and Comfy Dreamboat
Against: Ridiculous VDIM limits
For 2012, Lexus has introduced a special Sports Package for its flagship sedan, the LS460. The $6,185 Sport Package contains such worthy performance items as Brembo brakes, 19 inch forged alloy rims with 245/45R19 Dunlop Sport Maxx 101 tires, and Sports-Tuned Suspension. In addition, sports oriented front seats feature more lateral support than those of any prior LS. The upgrades in this option group extend to the tasteful matte burl ash wood trim which adorns the center console, stick shift and door panels. Special grill and exterior trim, plus a sport steering wheel fitted with paddle shifts, complete the package. While these features do not instantly convert the LS 460 into an AMG Benz or M spec BMW, they do go a long way to making this Lexus much more fun to drive. But to extract the performance this car is capable of providing, you must first learn the secret handshake that will let you open Pandora's box.
The Owner's Manual for this car is 836 pages long. About half way through it (page 306), you'll find out that Lexus prefers that you operate your LS with the full assistance of VDIM, or Vehicle Dynamics Integrated Management which "provides integrated control of the ABS, brake assist, TRAC (Traction Control), VSC (Vehicle Stability Control), hill-start assist control, and EPS (Electric Power Steering)," because VDIM "Maintains vehicle stability when swerving on slippery road surfaces by controlling the brakes and engine output, and steering assist." In fact, what it does is inhibit your control of the LS460 on any road surface, not just slippery ones, by intervening consistently to slow the vehicle from what it judges to be dangerous speeds. On a curvy road, you'll find yourself in a constant battle with VDIM for control of the LS, with warning beeps supplied to alert you to its intervention. VDIM-induced loss of engine power and unexpected braking are incompatible with brisk back road motoring.
But now for that secret handshake, with explanation buried on page 308 of the manual: "Disabling TRAC and VSC." Thankfully, Lexus does allow you to deactivate both Traction Control and Vehicle Stability Control by pressing the console-mounted "Off" button for 3 seconds. You can only do this while the car is stopped, and the gearbox is locked in "Park." This simple step transforms the Sport Package LS from a gelding to a stallion. Suddenly you're driving the Lexus version of a NASCAR stocker. The LS 460's 380hp V8 will be more than happy to hook up those Dunlops and lay about 50 feet of rubber in first gear. Unimpeded by TRAC and VSC, the big sedan gleefully hustles from corner to corner like the buttoned down decathlete it really is.
And yet, fun as it might be, such aberrant behavior is not really what this car is all about. Rather the LS460 is sweeter than a freshly picked ear of sugar 'n butter corn. The 8-speed transmission wafts you effortlessly from gear to gear with a turbine-like softness. Yet should the mood strike, you can slot that sweet Sequential Automatic Transmission into its Manual gate, and paddle your way from gear to gear without taking your hands off the sport steering wheel.
Like the drive train, the cabin furnishings are sweet and neat, with superb tailoring evident on the seat and dash seams. Lower seat cushion heating and ventilation adds to the splendor, courtesy of the $2,035 Comfort Package, which also brings heated rear seats, power door and trunk closers, plus a power rear sunshade. All these niceties combine to make you forget that this Jekyll/Hyde sedan will set you back $76,979. But when you're gliding down the Freeway, with the suspension system set to "Comfort," the 19 speaker Mark Levinson stereo ($2,080) whispering sweet nothings, and the big V8 piffling along at 1,500rpm in 8th gear, you'll know you made the right financial choice.
2012 Lexus LS460
Engine: 4.6 liter DOHC, 32 Valve V8
Horsepower: 380hp
Torque: 367 lb.-ft.
Fuel Consumption: 16 MPG City/24 MPG Highway
Price as Tested: $76,979
Star Rating: 8.5 out of 10 Stars
Related posts: