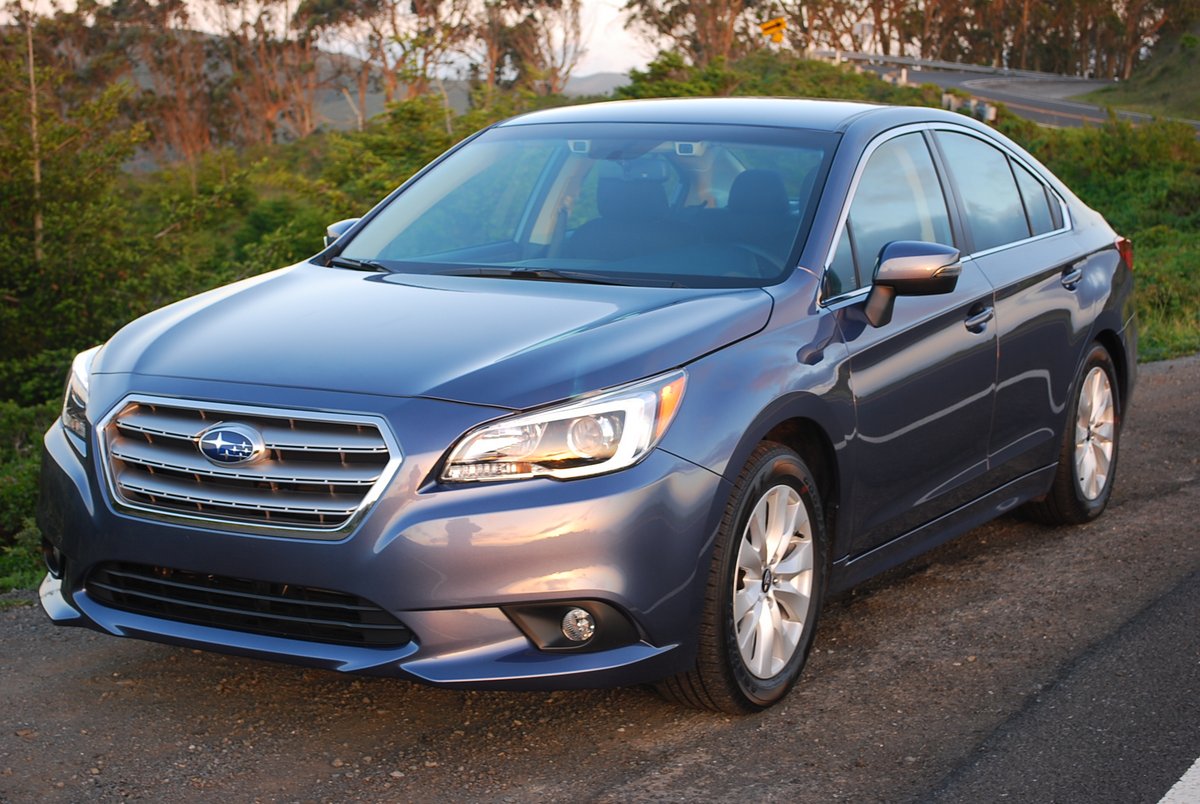 By David Colman
Hypes: Lovely Revamped Looks, Upgraded Interior Touch Zones
Gripes: No Exterior Trunk Release, Erector Set Nuts and Bolts Exposed
Subaru has always been known for its idiosyncratic vehicles, from the humorous Brat mini pickup with seating for 2 in the bed, to the other-worldly SVX coupe with fixed side windows and doors extending well into the roof. As always, Subaru designers put more of a premium on functionality than beauty. This guiding principle left the potent but ugly WRX with more bumps and welts than a rhino's hide. But a new day has dawned at Fuji Heavy Industries, parent of Subaru. The all-new Legacy comes as a stunning and pleasant surprise, the product of what the company calls its "new design language." Since the Legacy currently accounts for just 1 percent of all sales in its market segment, Subaru has been compelled by practicality to rethink the dated architecture of its mid-size sedan. The objective was to incorporate a "coupe-like profile and up-market interior with extensive soft-touch materials used throughout."
The latest, 6th generation Legacy is undeniably handsome, especially in the muted Lapis Blue Metallic shade that graced our $27,480 test model. Although it occupies no more real estate than its predecessor, the new Legacy boats best-in-segment interior volume of 104.6 cubic feet, backed up by a newly enlarged 15 cubic foot trunk. You can easily transport 4 adults plus all their belongings on long trips. Legacy excels at freeway travel, thanks to a revamped platform and suspension aimed at ride comfort. The Goodyear Assurance radials (225/55R17), mounted on 7.5 x 17 inch alloys, contribute their share of supple comfort at the expense of cutting edge handling. All Legacy models utilize Subaru's exceptional all-wheel-drive system, which provides Active Torque Vectoring as a standard feature for the first time.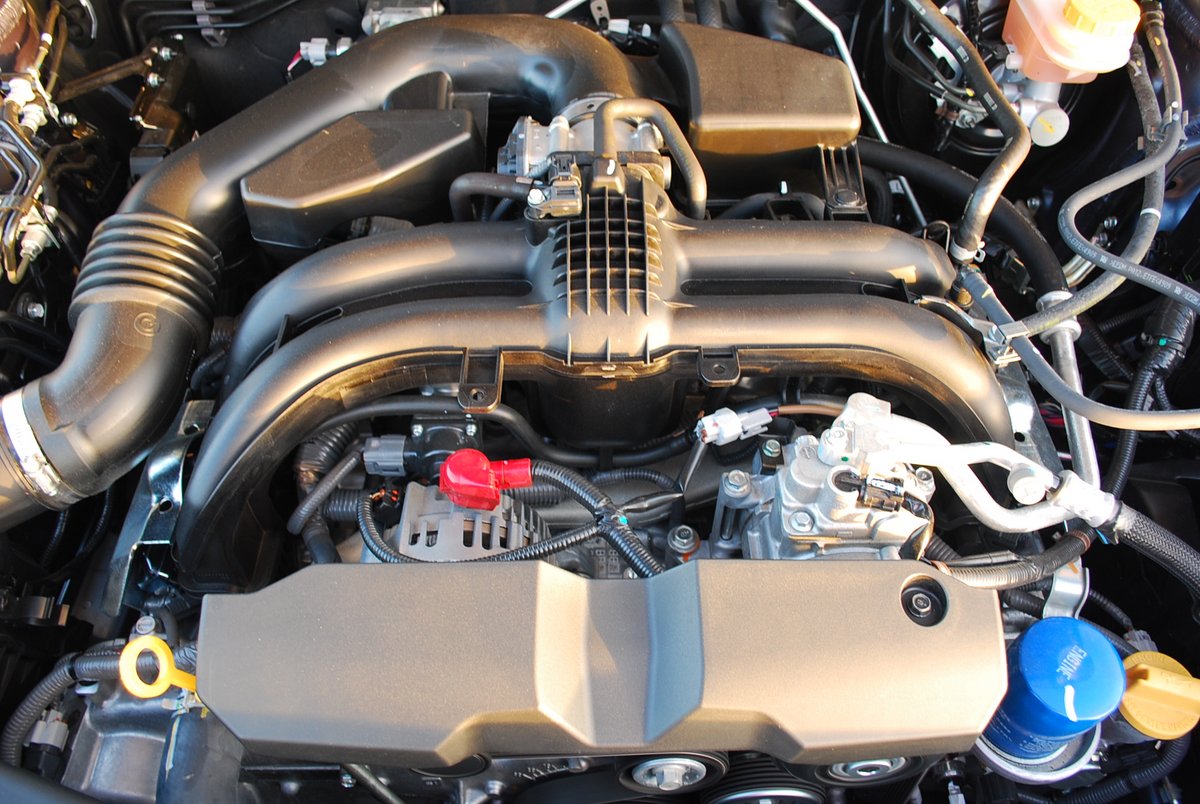 Our test Legacy couples Subaru's CVT transmission to the base model 175hp flat four motor for acceptable performance. Subaru, which pioneered CVT propulsion back in the late 80s with its Justy model, has been improving this mode of transmission for longer than any other manufacturer. The refinement shows in this Legacy application, with a 6-speed system so responsive in manual mode to paddle input that you will be hard pressed to tell the Lineartronic CVT transmission uses variable bands rather than toothed gear sets.
But even the crisp transmission cannot cover the Boxer engine's limited power output in situations that require immediate acceleration. I recommend opting for the available 3.6 liter flat 6, which raises Legacy base price from $23,495 to $29,995. Such a move insures your peace of mind for any passing maneuver on any piece of road.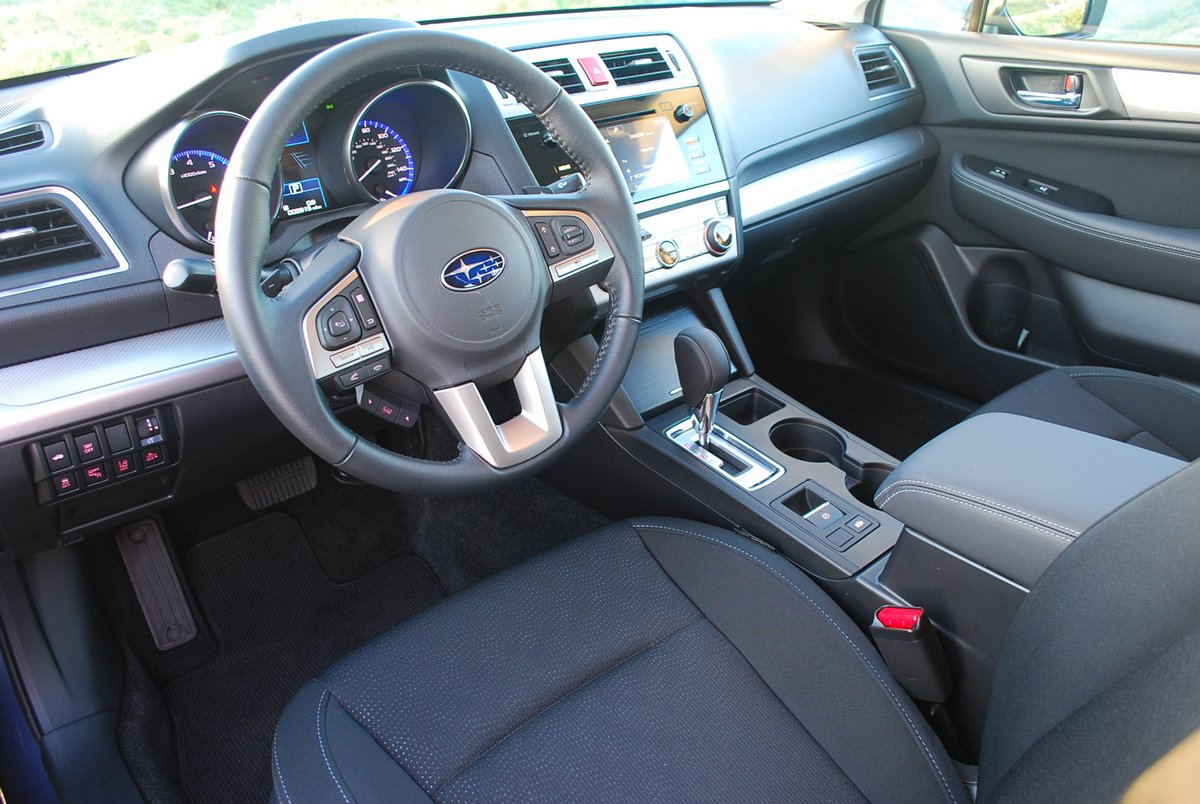 The Legacy's interior is appreciably better than anything previously offered by Subaru in this model. The first thing you notice after climbing in is the compliance of the material covering the shut panel on the door. Instead of hard plastic, this surface is now resilient foam covered with matte vinyl. The cloth seating surfaces feature an interlaced vinyl overlay that looks good and deters wear. The Premium model includes a new 7 inch color touch screen that reads swipe and scrolling commands. This works well when the Legacy is parked, but underway, it's difficult to coordinate your gestures without inadvertently bumping the screen and losing your intended command. Steering wheel mounted controls for audio cover some of the problems by offering volume and station manipulation via secure thumb switches.
Subaru fitted our Legacy with Option package 14, which costs $1,195 and provides Pre-Collision Braking, Adaptive Cruise Control, Blind Spot Detection, Rear Cross Traffic Alert, and Lane Change Assist. Although the Adaptive Cruise Control takes the hassle out of interval maintenance at freeway speed, the Lane Change Assist became annoying rather quickly as it beeps every time you switch lanes without first using your turn signal. This beeper can be deactivated via a panel of switches inconveniently located out of sight near your left knee.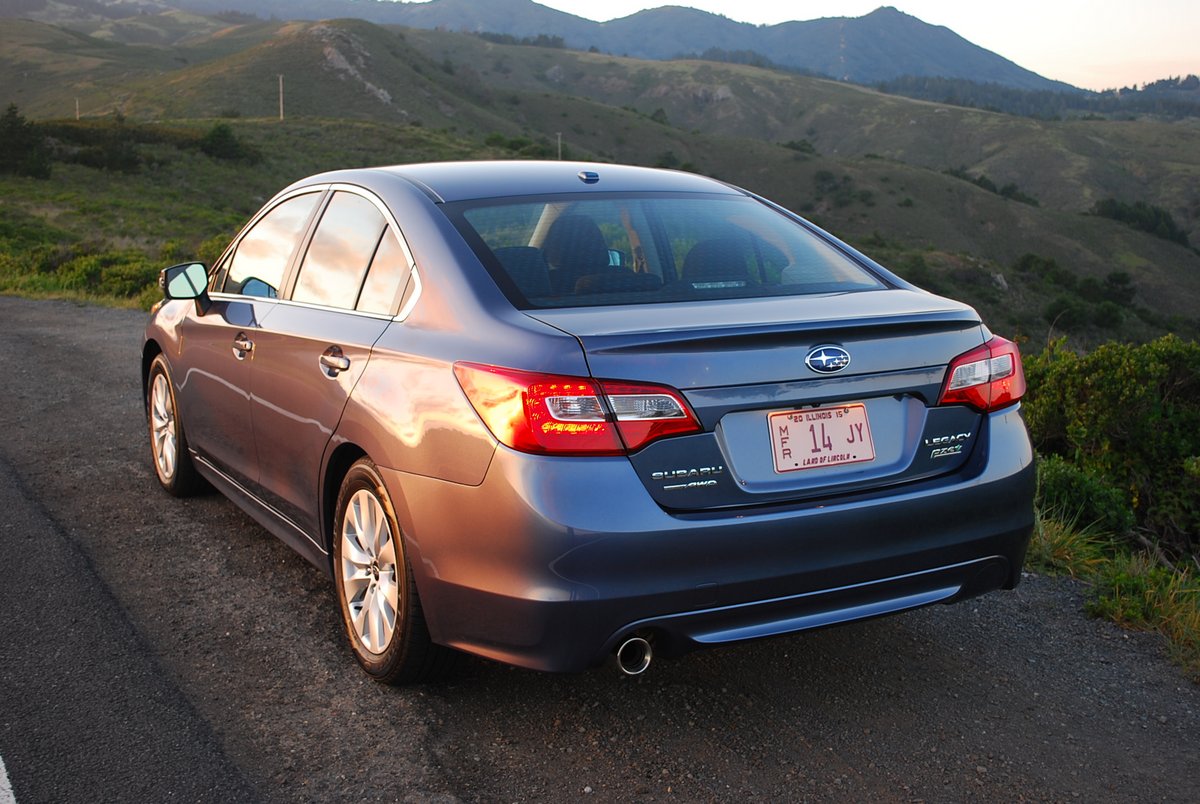 The new Legacy's most prominent claim to fame is not its new found good looks or upgraded interior. What distinguishes this practical family sedan from anything else in its class is its distinguished safety record. The Insurance Institute for Highway Safety recently determined that only 9 models of car have unblemished safety records, with no deaths recorded over an entire year (2011) of operation. the Subaru Legacy was one of those 9.
2015 Subaru Legacy 2.5i Premium
Engine: 2.5 liter DOHC Boxer 4
Horsepower: 175hp
Torque: 174lb.-ft.
Fuel Consumption: 26 MPG City/36 MPG Highway
Price as Tested: $27,480
Star Rating: 8.5 out of 10 Stars
Related posts: