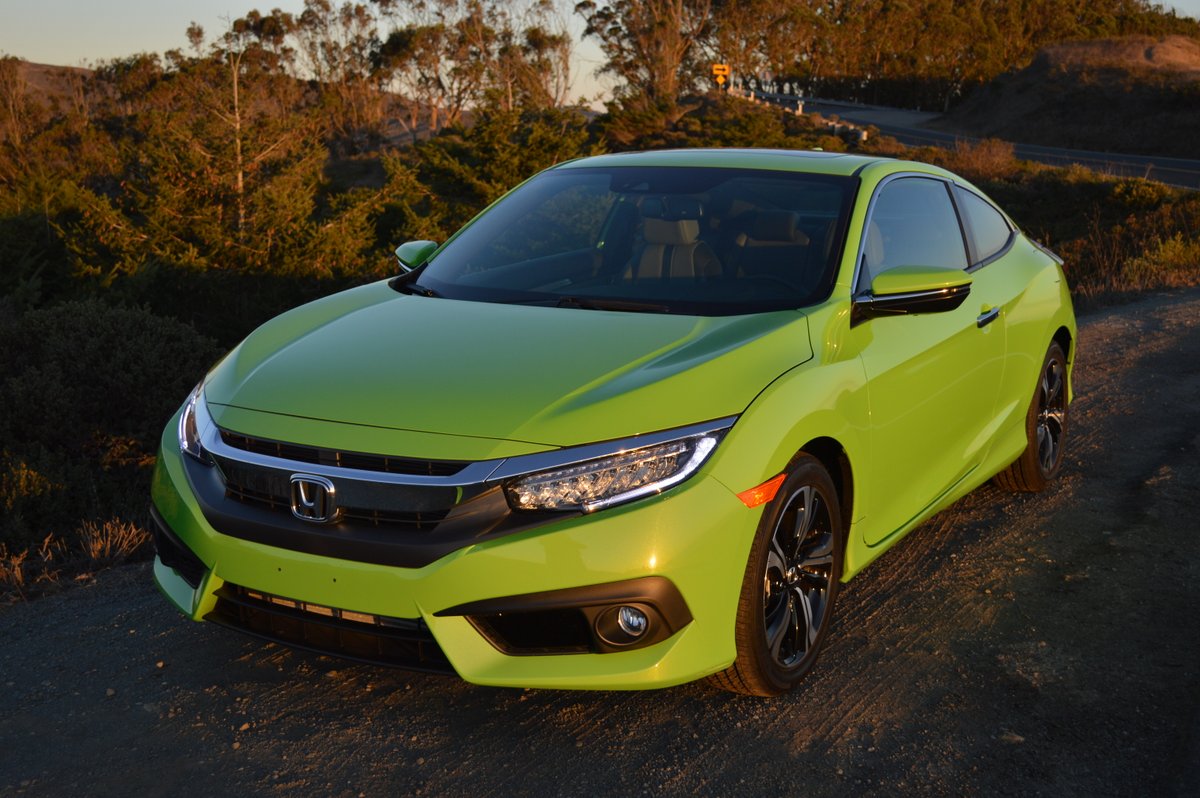 By David Colman
Hypes: Voluptuous Architecture and Blatant Color
Gripes: CVT Buzzkill, Dash Complexity
Thirty years ago, when I bought my own Honda Civic Si, I did so because Honda had made it the poster child for the economy car as sports car. That first generation Si was light, quick on its rims, and a joy to drive. Visually, the latest 2016 Civic Touring looks even racier than the lively hatchback I owned back in 1987. Unfortunately, the racy looks of the latest two-door Civic are deceptive.
The 1.5 liter turbo coupe simply doesn't cut it as a driver's car. It's not that the 174hp engine isn't powerful enough to fulfill acceleration needs. Nor are the 215/50R17 Firestone FT140 tires, mounted on standard 17″ x 7″ alloy rims, incapable of generating decent cornering speed. Rather, the Civic Touring is victimized by its Continuously Variable Transmission (CVT), which detracts from the driving experience in multiple ways. First, it's always noisy, emitting a constant drone that will wear out your eardrums. Secondly, its infinitely variable belt and pulley system causes the CVT to hunt constantly, as it seeks to provide you with the right ratio. It rarely succeeds in doing so. Finally, Honda does not provide paddle shifters. Nor is there a manual gate for your direct oversight of the CVT. The so-called "Sport" setting on the floor-mounted stick does little but amplify noise.
This is really a shame, because the Civic Touring is quite the handsome package. It's especially good looking in Energy Green, an outrageous shade of metallic lime that will help every CHP cruiser identify you instantly when you exceed the speed limit. Despite its streamlined roof, this little coupe boasts an exceptionally spacious and comfortable rear seat area, complete with foot pedal operated front seat slide to allow easy disembarkation for aft passengers. And the Touring is full of such useful features. For example, if you want to keep track of adjacent traffic, push a button on the end of the turn signal stalk and you will be greeted with a video display showing your immediate road neighbors. A camera located in the right hand rear view mirror projects this real time traffic image on the 7 inch dashboard display screen. This display automatically pops up every time you signal a right hand turn. The innovation is a Honda exclusive, one that really helps keep you informed of traffic patterns.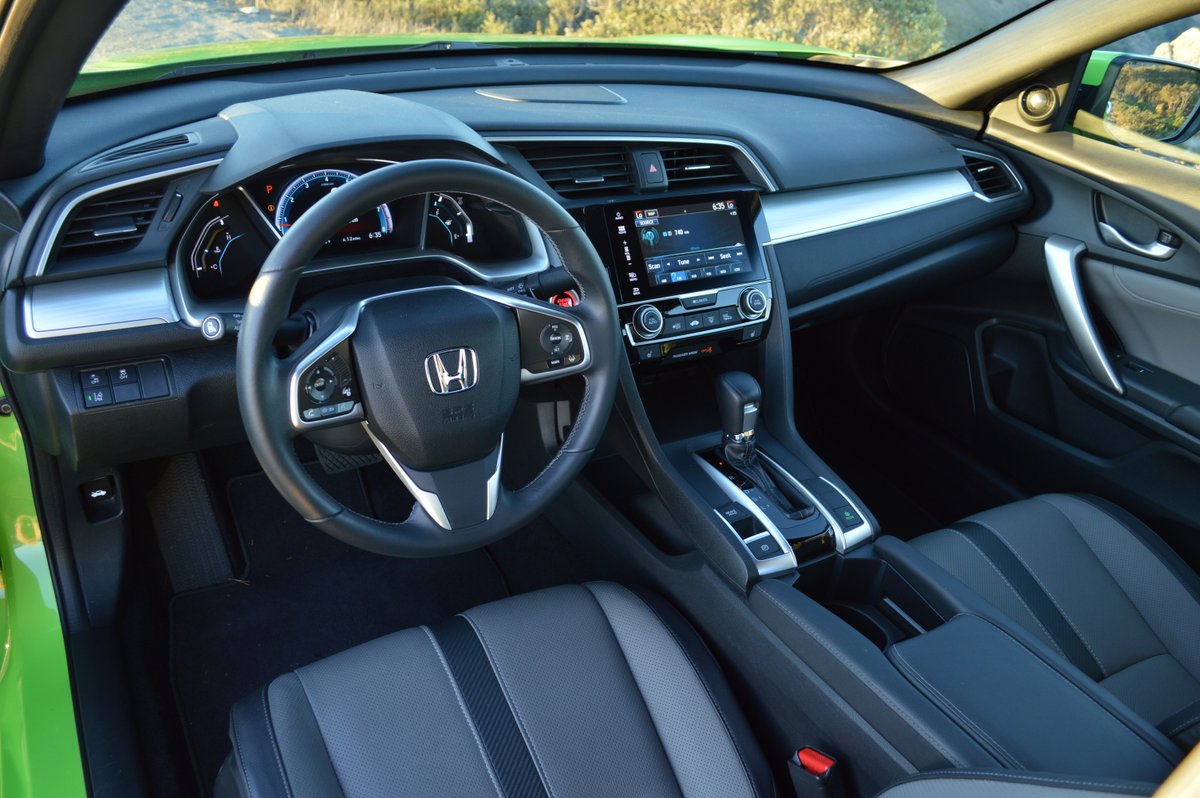 I wish I could generate similar enthusiasm for the rest of the dash layout, but such is not the case. The control center of this Civic looks like it was designed by video gamers enamored of cell phone pull-down menus. For example, in order to accomplish the simplest objectives, such as increasing or decreasing fan speed, you need to press a dash button which then brings up a video screen showing a plus/minus axis. You are then required to scan this pictograph, locate your finger in the correct spot for actuation, and hope that the screen isn't too dirty to decipher the command imparted by your trembling fingertip. On top of all that, you are required to accomplish this mission while travelling at 70mph. How is all this in any way different from texting while driving, which happens to be illegal in most states?
Luckily, Honda does quite a bit better with their suite of safety attributes called the "Honda Sensing Package." This group, which is standard fare on the Touring model, includes Adaptive Cruise Control (ACC) which uses radar and camera info to determine and modify your pre-set speed. The Sensing Package also provides sensors that will avoid accidental forward contact by bringing the car to a halt (Collision Mitigation Braking System). We chose not to test CMBS. However, we did experience Road Departure Mitigation (RDM), which exerts haptic feedback if you allow the Civic to drift away from its intended path of travel. The steering wheel gently tugs you back into what RDM has determined should be your true trajectory. The suite of aids also includes Lane Departure Warning (LDW) and Lane Keeping Assist System (LKAS). I chose to deactivate these crutches because most of the time, they proved more annoying than beneficial.
The Civic Touring is a curious brew of knockout looks and punchy motor tempered by the vagaries of a gearless transmission, and the unnecessary complications of an arcade game dashboard. But true believers in the Honda way will be happy to note that the old Civic Si's irrepressible mojo will be returning to the model line with the addition of a Civic Type R hatchback arriving in 2017.
2016 Honda Civic 1.5T Touring
Engine: 1.5 liter inline 4, Direct Injection DOHC, 16 Valves, Turbocharged
Horsepower: 174hp
Torque: 162lb.-ft.
Fuel Consumption: 31MPG City/41MPG Highway
Price as Tested: $26,960
Star Rating: 7 out of 10 Stars
Related posts: