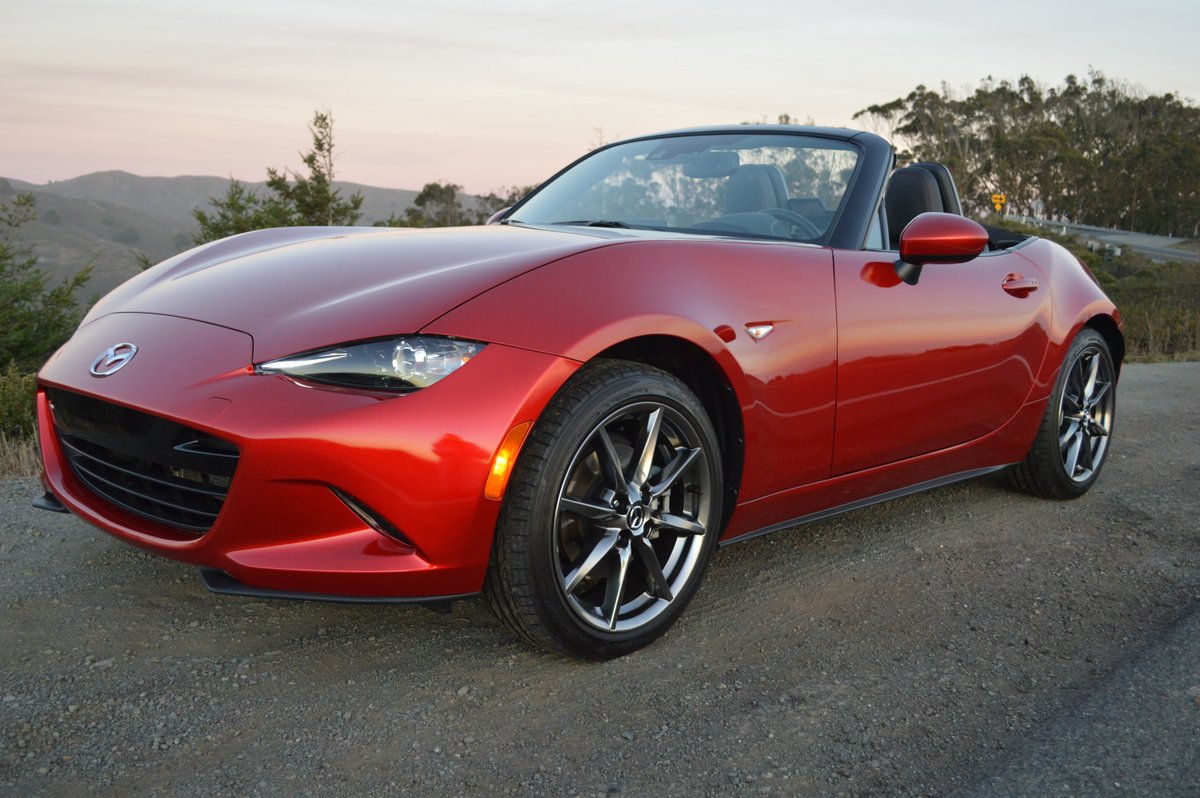 By David Colman
Hypes: Consummate Affordable Sports Car
Gripes: Head Scratching Interior Shortcomings
In the current press-generated blather for self-driving cars, it would seem that Mazda's rallying cry – "Driving Matters" – is singularly out of step with the times. But the fact of the matter is that driving does matter, and for the foreseeable future at least, you- the driver – will still be held responsible for the conduct of your vehicle. Given that unavoidable fact, wouldn't you rather chose a sharp tool for the job than a blunt one? The MX-5 Miata is still without question the sharpest scalpel in any driver's kit bag. Learn to drive a Miata well, and you will instantly become a better driver than you were before. Because this diminutive sports car requires concentration, coordination, and adept manipulation of all control interfaces. If you plan on texting or talking while driving, forget about the MX-5, because it demands a level of involvement that rules out such foolish behavior. In return, it will pay your finesse off in dividends of delight unmatched by anything else you can buy today, regardless of price. The fact that such rich reward is available for just $30,065 makes the MX-5 the best cheap date you can buy period.
Everything about the Miata is straightforward. Its front engine/rear wheel drive layout was once considered the prime solution to the sports car equation. Famous marques like Triumph, MG, and Lotus all built vibrant sports cars to this formula. Although that classic era has long since passed, Mazda alone soldiers on with its affordable, reasonably powerful take on the legendary British design that worked so well back in the 50s and 60s. The MX-5 proves that it continues to excel today. You quickly discover that this Mazda is blissfully devoid of the over-complication plaguing so many vehicles today. There's a 2 liter straight 4 up front making 155hp. Its twin cam motor boasts 16 valves and performs best in the lower rev ranges, where 148lb.-ft. of torque is instantly on call. The spry four-banger connects to a 6-speed manual gearbox offering micrometer precise shifts. You can buy an MX-5 with an optional automatic gearbox with 6 speeds, but why would you want to do that? An immense chunk of Miata joy is attributable to that stubby wand between the seats that distributes power to the rear wheels. Chose the automatic and you're ceding half the fun to a unit that renders you partially useless. If driving matters, go for the stick.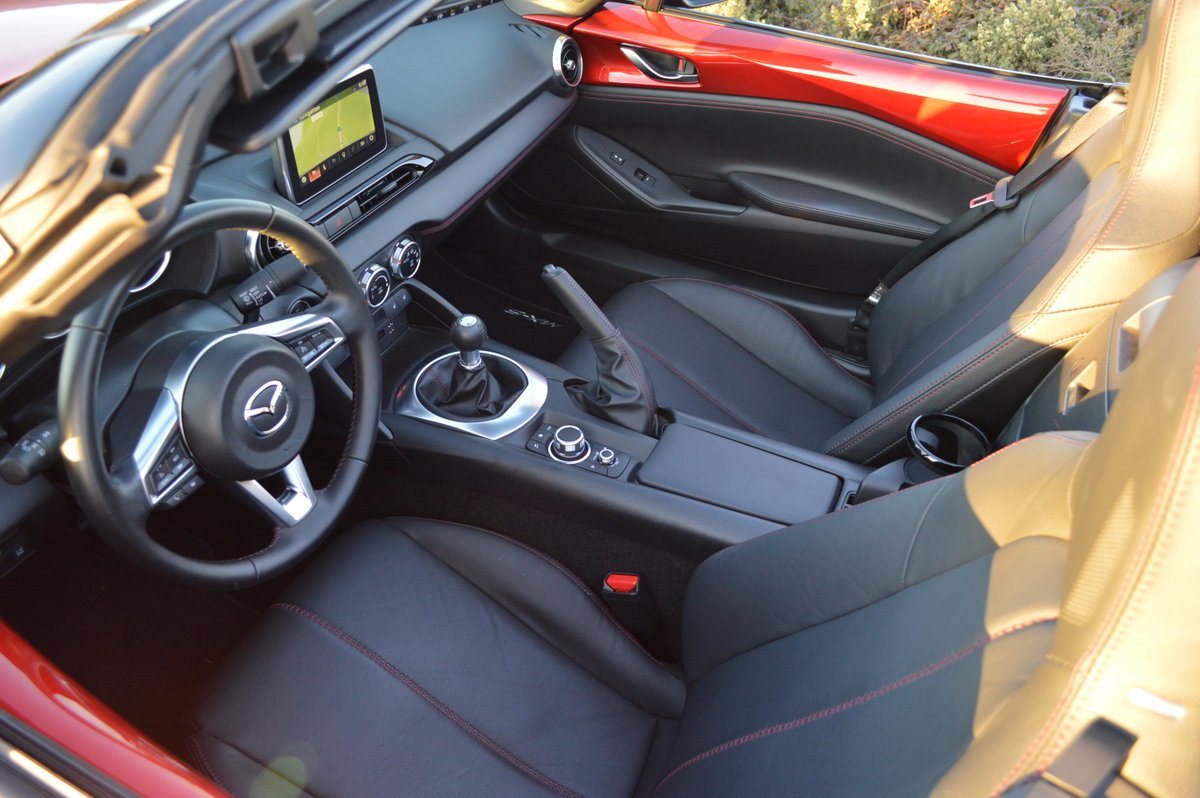 Because this two seater weighs only 2,335lbs. great handling does not require steam roller size wheels and tires. Mazda has supplied even the base model we drove with primo rubber: Bridgestone Potenza S001 tires measuring 205/45R17 mounted on smoked chrome alloys. The precise, fully independent suspension of the MX-5 allows the Bridgestones to develop sustained cornering grip that will have you squealing with glee every time you clip an apex on a back road. Have just one such experience and you will instantly understand why Miata is the most raced car on the planet. Every weekend, hundreds of contests take place with various classes of Miatas. These range from box-stock street cars to heavily modified track stars. No other single make series comes close to duplicating the racing world's allegiance to the Miata.
In the 2017, Mazda will be introducing a retractable fastback hardtop version of the MX-5 that promises to look sleeker than our test model soft top, but also weigh considerably more. When the hardtop is erect, that extra weight will be situated high up in the chassis, resulting in an elevated center of gravity compared to our ragtop. The lightweight fabric roof is so easy to drop and erect with one hand from the driver's seat that there's really no need for a complicated push-button electric powered hardtop. We spent 90% of our week driving the Soul Red ($300 optional color)) rocket with its top dropped.
If there's a bug on the windshield of the Miata, it's the poor ergonomic design of the interior. For example, although Mazda has added a 7 inch color touch screen display to the dash top, such chores as selecting and installing XM radio favorites is unduly complicated and annoying. Likewise, the rotary selector knob for accessing the touchscreen is inexplicably located atop the transmission tunnel, so that every time your right elbow inadvertently touches the selector knob during a shift, the radio changes stations. Finally, there is virtually no cabin storage either in the dash or the doors, so you're faced with an awkward reach to a small cubby located behind and between the two seats. Thus, Mazda seems to have resurrected the niggling quirkiness of the British sports cars in ways best left forgotten.
2016 Mazda MX-5 Miata
Engine: 2.0 liter inline 4, DOHC
Horsepower: 155hp
Torque: 148lb.-ft.
Fuel Consumption: 27MPG City/34 MPG Highway
Price as Tested: $31,330
Star Rating: 9.5 out of 10 Stars
Related posts: