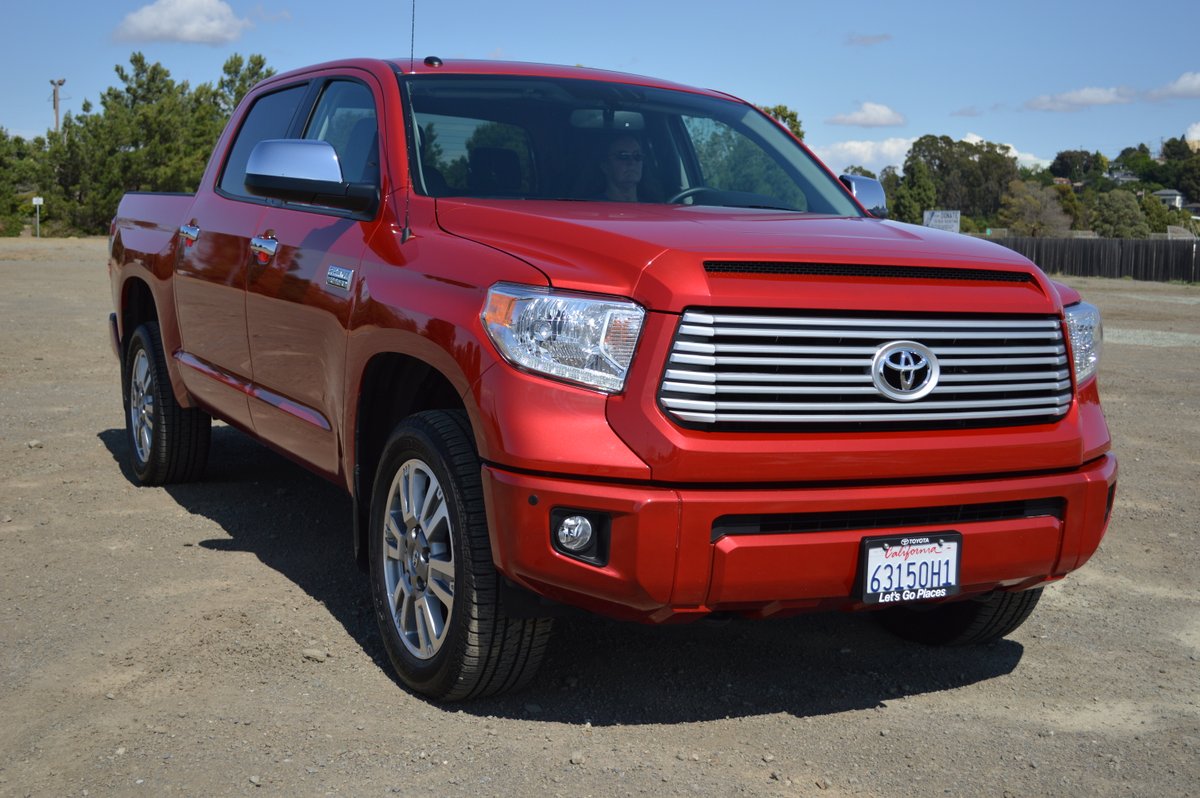 By David Colman
Hypes: Ferocious Demeanor Belies Grocery Getter Usefulness
Gripes: The 38 gallon tank will cost at least $150 to fill
As luck would have it, a sizeable parking slot at Orchard Supply Hardware opened up right next to a new Toyota Tacoma Crew Cab. As I parked my Tundra, I was careful to line up its front bumper with that of the Tacoma. This is a more difficult task than you might suspect since frontal vision from the Tundra's lofty cab makes it virtually impossible to see anything directly in front of you. Nonetheless, when I finished jockeying the big Toyota pickup into position next to its smaller brother, I hopped out to assess relative size of these Toyotas. The Tundra stretched nearly a full bed length beyond the comparatively diminutive Tacoma. For the record, the Tacoma measures 208 inches from stem to stern versus 229 inches for the Tundra. The Tundra also stands 6 inches higher and 5 inches wider. In the case of our test Tundra, its 76 inch height is further extended by installation of 20 inch alloy rims with monster truck sized 275/55R20 Bridgestone Dueler Alenza tires.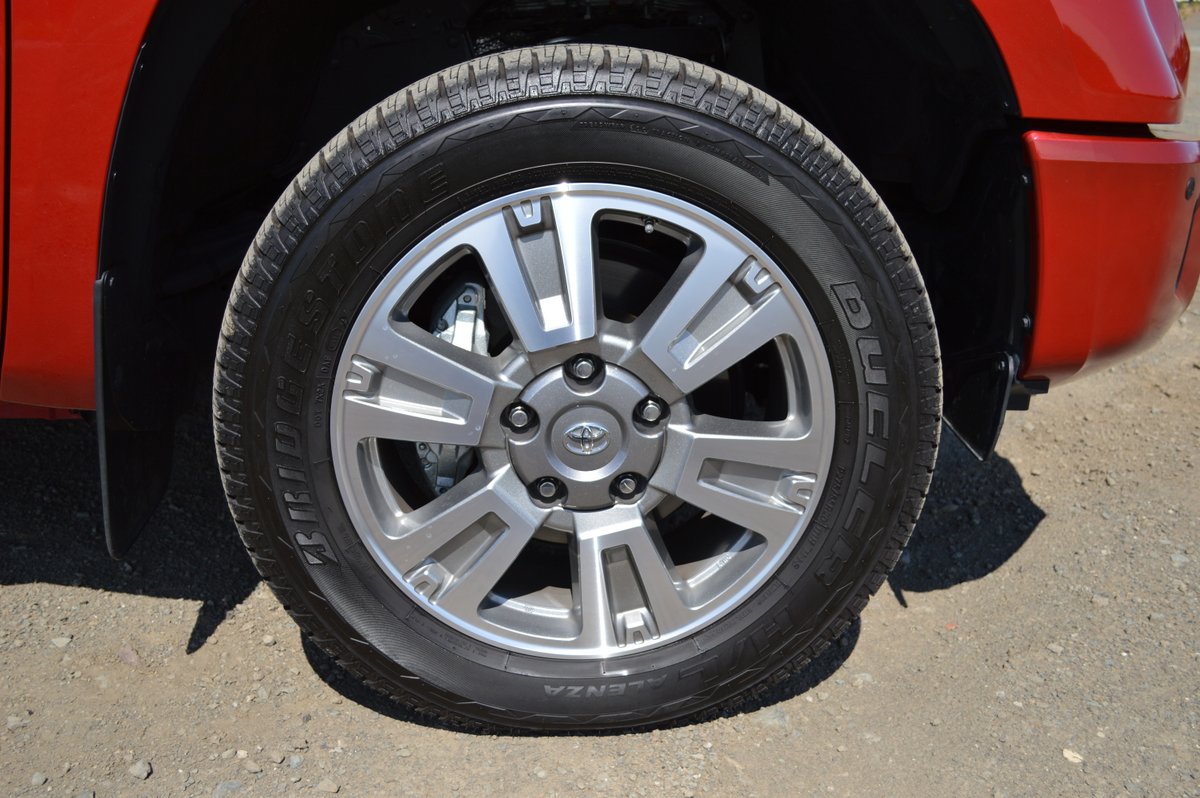 So grab yourself a handful of steering wheel and climb aboard this $50,275 big rig. On the passenger side, Toyota has provided a strategically placed grab handle for hoisting yourself aboard. Ensconced in the nicely furnished cab, your eyes immediately focus on the artful stitching of the diamond patterned dash and door inserts. This nifty needlework, part of the Platinum Package, looks like something you might find in a Bentley or Maserati rather than a Toyota work truck. The interior spread contains lots of such nifty touches. The driver's seat is covered with perforated leather, and offers 12 way power adjustment. The front passenger seat offers 5 way adjustability, and both seats provide heating and cooling of cushions. A vast intra-seat storage bin allows you to bury just about any valuable object for safe travel.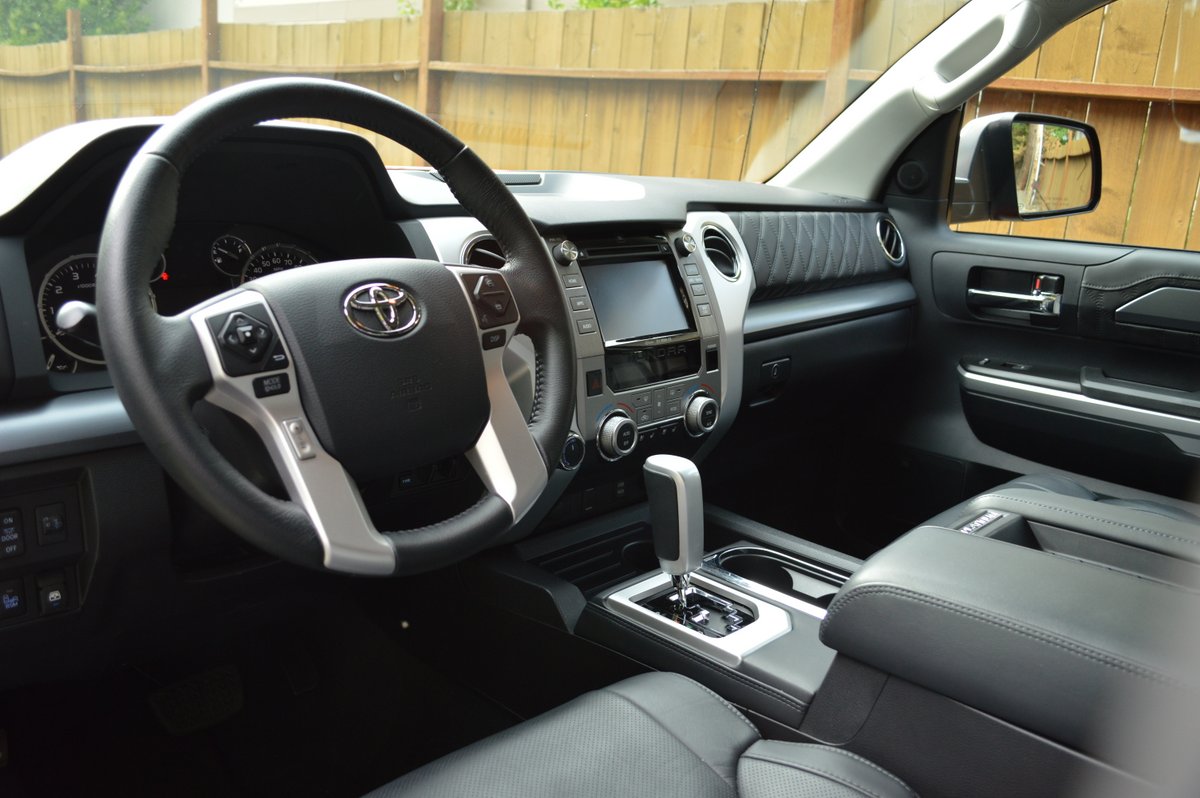 The floor-mounted stalk controlling the 6-speed automatic transmission places a massive shift knob in your right palm. There's never a doubt about which gear you've chosen with this mechanism. It's one of the easiest vehicles to shift thanks to flawless operation of the gear selectors. Actuating the lever is a delightful operation, especially since it also allows you to perform sequential up and down shifts.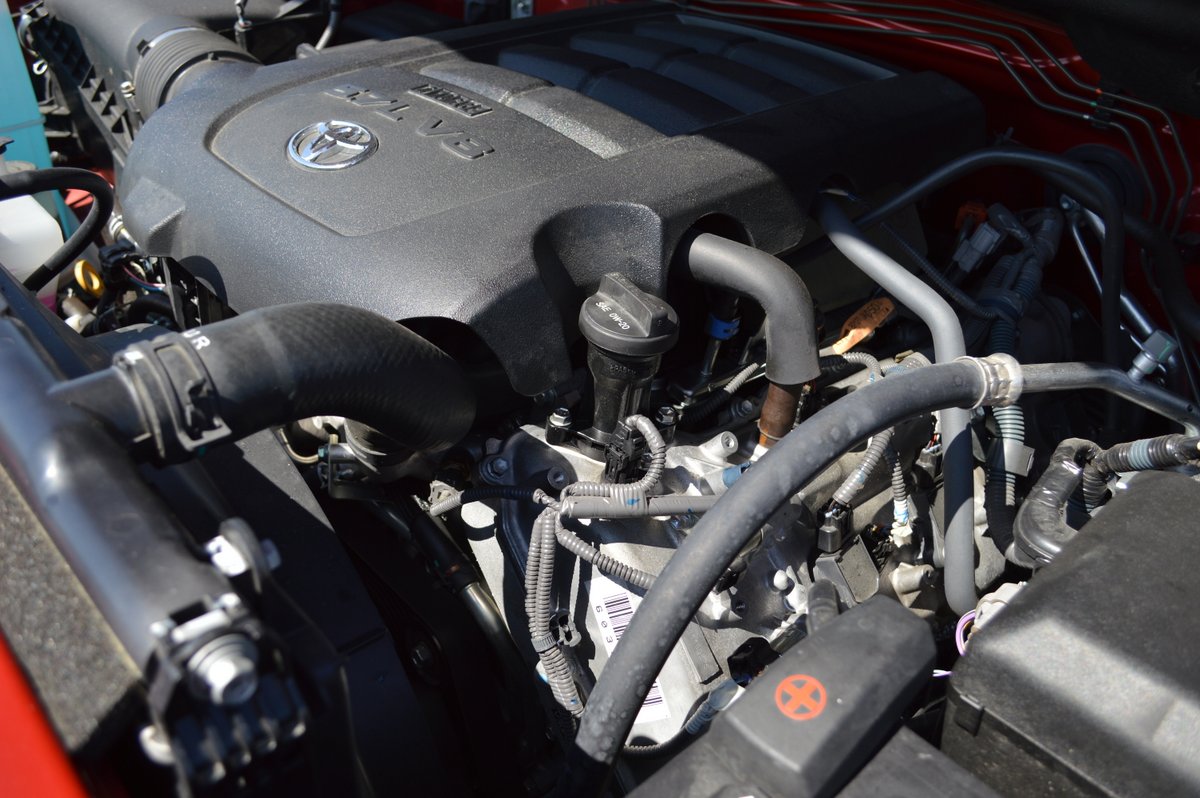 The hefty transmission comprises but one element in a very sophisticated driveline. 4 wheel drive is available either full or part time via a selector located on the dashboard. The Tundra boasts an electronically controlled transfer case and an automatic limited slip unit fitted with a 4.30:1 final drive ratio. That ultra-low ratio insures maximum traction for towing, a task this truck is ideally suited to perform. Toyota installs both an engine and a transmission oil cooler on the Platinum version, plus a factory receiver style tow hitch. You can engage either Tow or Haul mode from a switch on the dash. Electrics are looked after by a heavy duty battery and alternator, and Toyota pre wires trailer hookup with both 7 and 3 pin receptacles mounted on the rear valance above the bumper. But the heart of the whole trailer operation centers on the massively torquey 5.7 liter "I-FORCE" V8, which produces 381hp, and more importantly, 401lb.-ft. of torque, a rating which gives this rig a towing capacity of 9,700 pounds.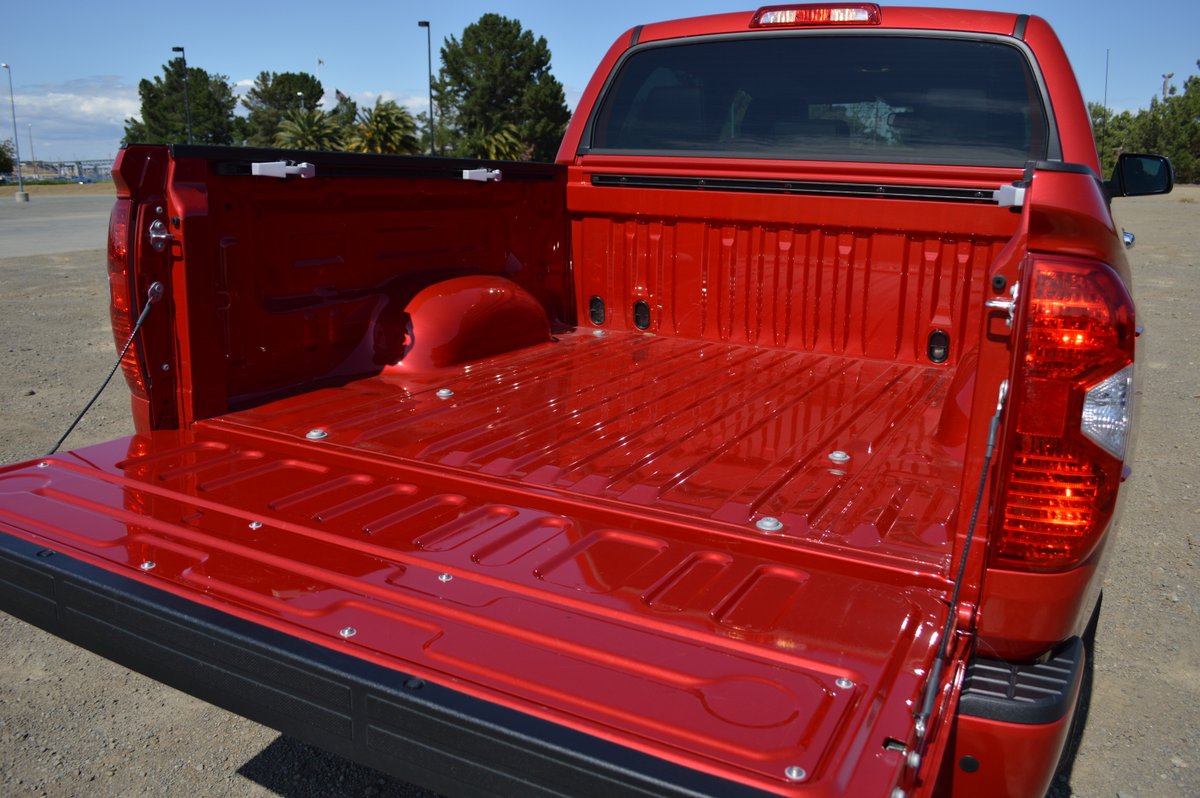 So, yes you can haul an Airstream, a ski boat or a race car with relative ease thanks to all the planning Toyota has done to optimize the Tundra for such a task. But during our week with this truck, we never towed a single thing. In fact, we never even loaded the 5'5″ double-walled bed (with rail caps) with so much as a bicycle. Yet the Tundra was still a delight to operate as a regular daily grocery getter. The spacious Crewmax cab makes you feel like a passenger in an airport limousine. Sightlines in traffic are commanding, and the lofty perch gives you a better sense of road position than any artificial feedback from the Blind Spot Monitors with which this Tundra is equipped. Tundra also offers Rear Cross Traffic Alert as a standard feature, and this information is essential since you can't see what's going on back there from your seat in the cab. The standard rear backup camera will prove very helpful in aligning a trailer hitch. Standard front and rear sonar parking sensors let you put this big bad boy to rest in any parking lot without nudging your neighbor.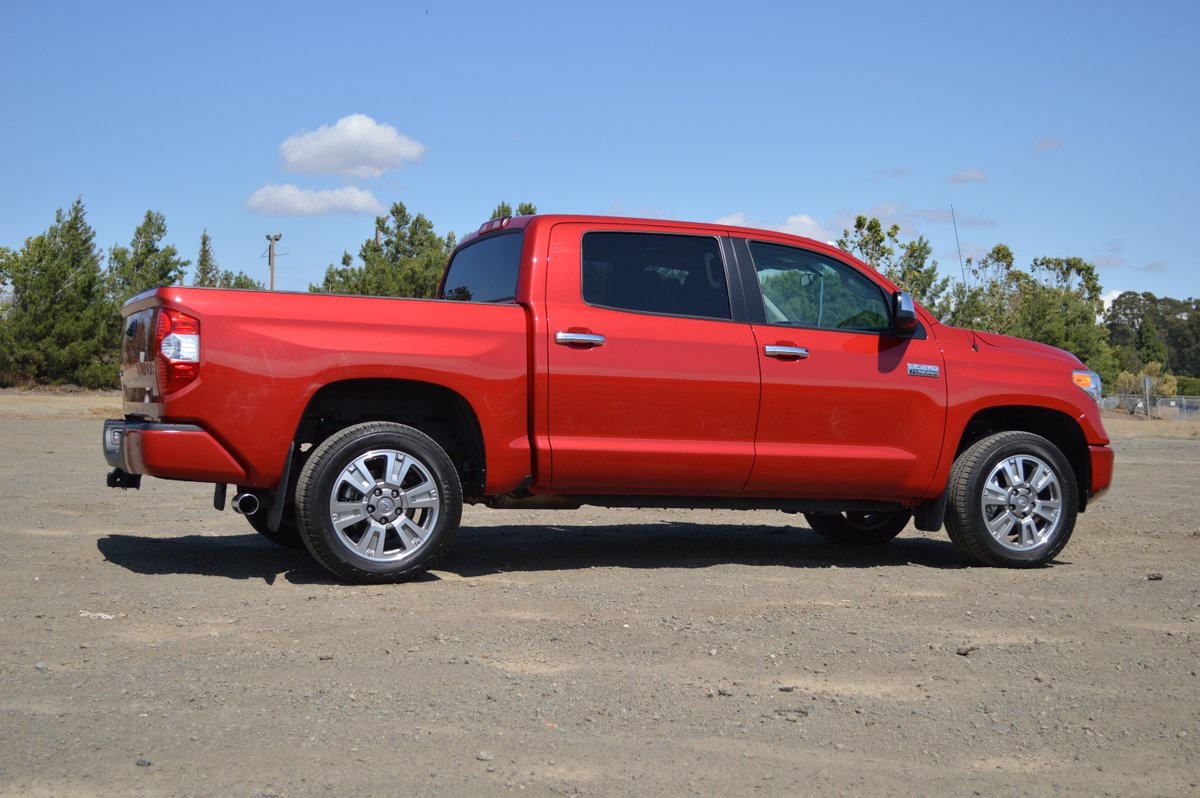 2016 Toyota Tundra 4X4 Platinum Crewmax
Engine: 5.7 liter V8, DOHC 32 valve, with Dual Independent VVT-i
Horsepower: 381hp
Torque: 401lb.-ft.
Fuel Consumption: 13 MPG City/17 MPG Highway
Price as Tested: $50,275
Star Rating: 9 out of 10 Stars
Related posts: