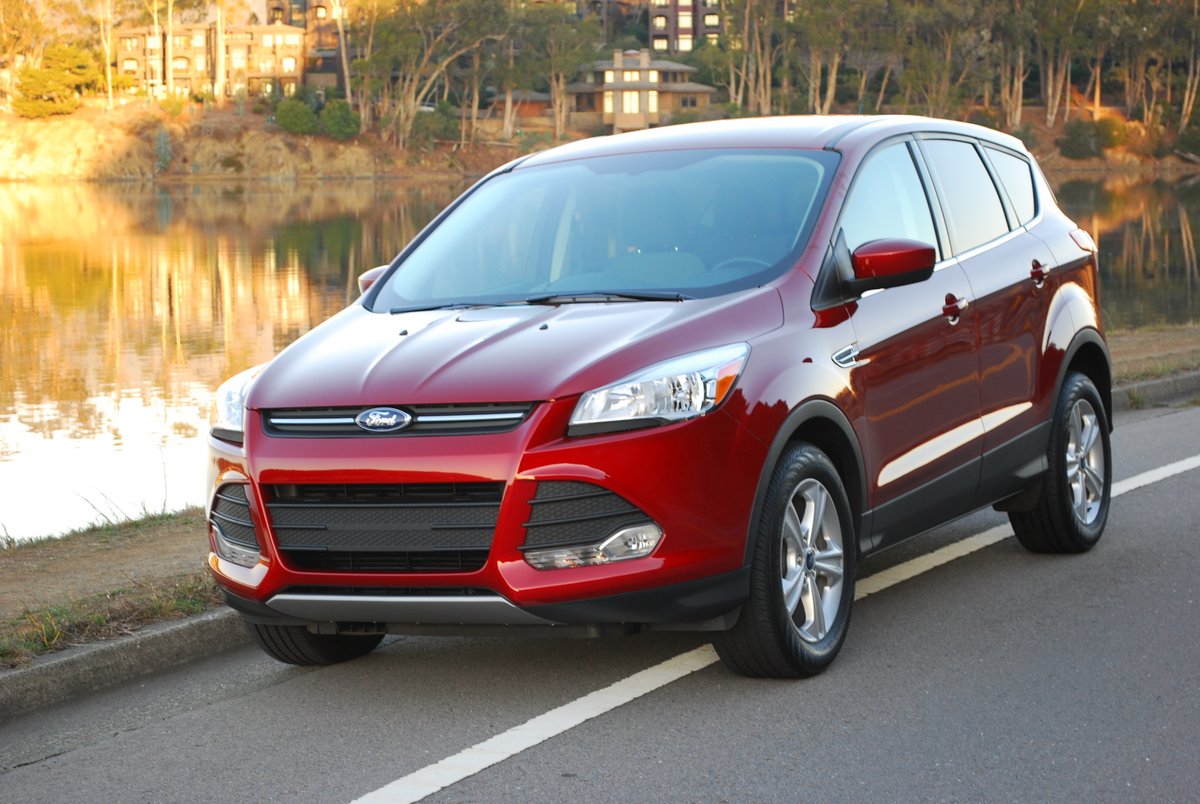 By David Colman
Hypes: Spacious Cargo Hold, Remote Keyless Entry, Precise Handling
Gripes: Tiny Info Screen, Poor Seat Bolstering, Finger Twisting Rear Hatch Handhold
For such a small SUV (106 in. wheelbase, 178 in. length), the Escape scores reassuringly high on safety institute (IIHS) crash tests, with "Good" ratings in the all four categories (frontal offset, side and rear impact and roof strength). From the US government, the Escape rates 5 stars in front and rear seat side crashes, and four stars in all the rest (frontal crash- both sides, and rollover). These ratings are due in large measure to Ford's inclusion of a driver's knee airbag, front seat-side mounted airbags, and a "safety canopy" overhead bag. Adding to the security blanket for 2014 is a rear view camera, now standard on all models. This proves especially helpful when backing up the Escape, because visibility to the rear is not great. All these passive safety measures work in consort with such active safety strengths as responsive handling, respectable acceleration, and pinpoint steering control.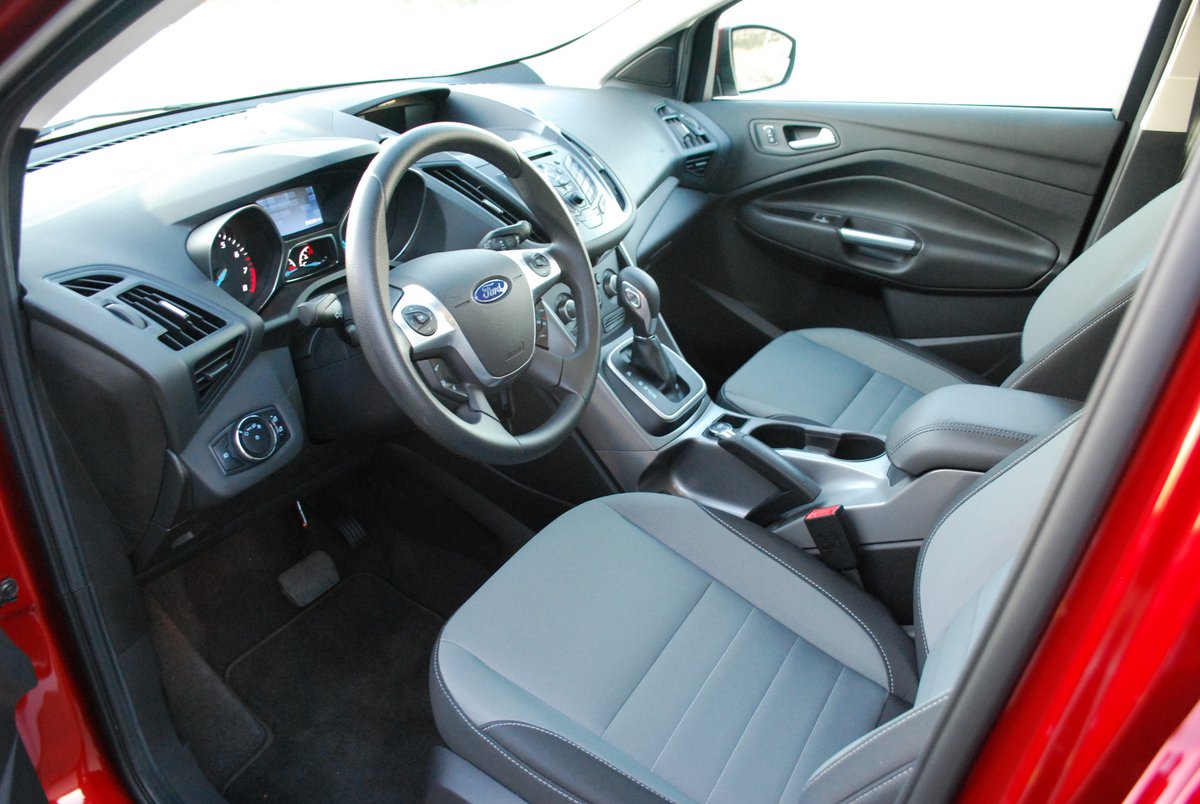 The Escape model line includes 3 engine choices this year: a 2.5 liter 4 (168hp), 1.6 liter turbo 4 (173hp) or 2.0 liter turbo 4 (231hp). Ford's press pool vehicle paired the 1.6 liter turbo 4 with a 6-speed "Selectshift" automatic transmission. The Selectshift moniker is something of a misnomer, as the system depends on a shift lever mounted button to swap gears that is both hard to locate and inefficient in use. Better to supply paddles on the steering wheel, or a tip-stick method for gear choice. The 1.6 liter 4 returns admirable gas mileage figures (23 MPG City, 32 MPG Highway, 26 MPG overall), while still providing enough torque (184 lb.-ft.) to tow 3,500 pounds. In normal part throttle use, this drive train provides quiet, ample power. However, when prodded hard, the little turbo tends to shriek louder than tennis vampire Maria Sharapova.
The Escape handles better than its seats handle you. There's no lack of cornering bite from the Continental Pro Contact tires, which are quite sizeable (235/55R17) for an SUV of such modest proportions (curb weight: 3,675 lbs.). In fact, the abundant cornering power generated by the Escape tends to chuck you off your cushions in the SE's front seats because they have no side bolsters and they are upholstered in grip less charcoal black cloth. The optional leather seats available in the Titanium Escape, are better contoured to counteract this SUV's ability to dislodge you. The interior of the Escape is impressively large. If you flop the split (60/40) rear bench seatbacks forward, you can even slip a full size bike through the rear hatch and lay it flat in the cargo hold. You can equip your Escape with an optional self-opening rear door for 2014 triggered automatically when you kick your foot under the back bumper. Our test SE, unfortunately, was not supplied with this latest automotive parlor trick.
The steering wheel of the Escape is festooned with so many knobs and buttons that it will make your head spin. Not a great idea when you're tasked with concentration on driving. A couple of times, we inadvertently triggered a voice that impatiently awaited commands we were unprepared to issue. The over abundance of minute controls and menu-driven operations is emblematic of Ford's continued reliance on its Microsoft-derived operating system called MyFordTouch. MFT is as baffling as Windows, and much more dangerous to operate in a driving environment than Windows is at your desk. By diverting your attention from driving, MFT's opaque methodology tends to undercut the passive safety measures Ford has incorporated into the Escape's basic architecture.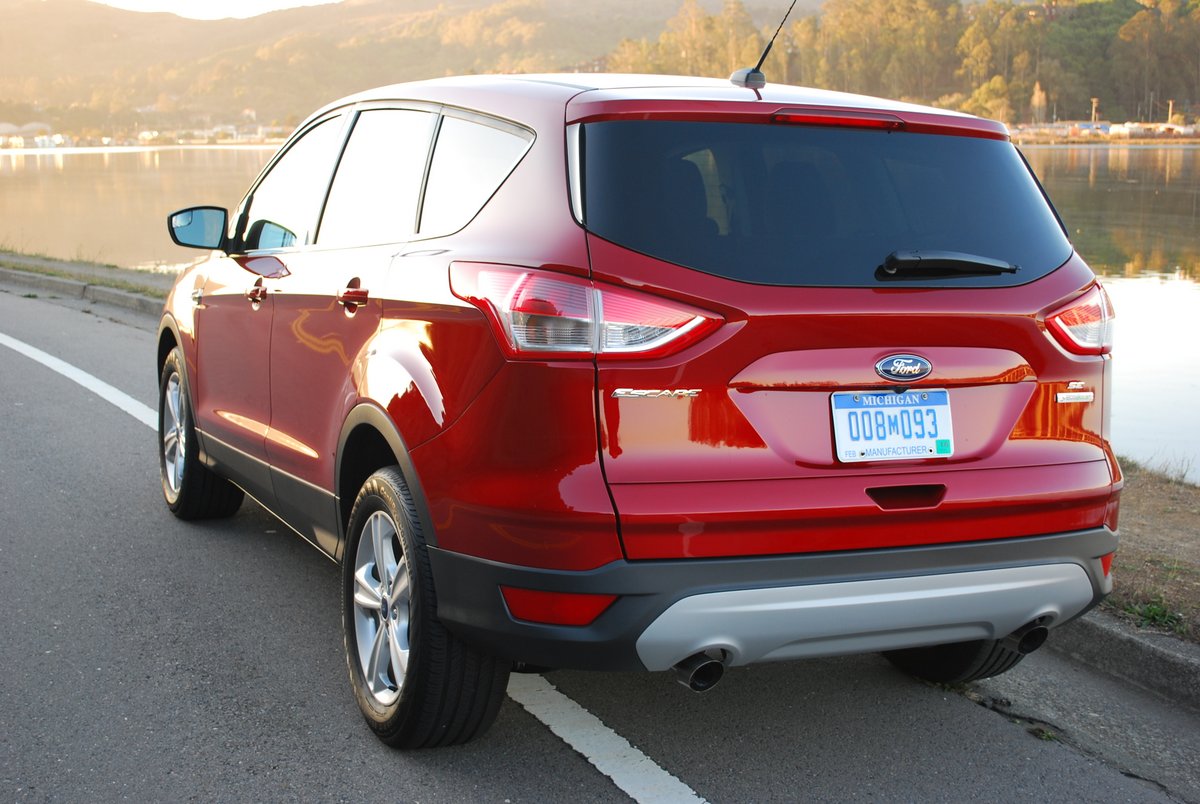 Notwithstanding ergonomic gripes, the front-wheel-drive Escape is a solid, practical mini-SUV offering handling, tow capacity and storage space that belie its humble size and mechanical specification. At a base price of just $25,550, the SE presents the potential buyer with enough virtue to make it a contender in the final round of consideration.
2014 Ford Escape SE FWD
Engine: 1.6 Liter Inline 4, Turbocharged (Ecoboost) with Direct Injection
Horsepower: 173hp
Torque: 184 lb.-ft.
Fuel Consumption: 23 MPG City/32 MPG Highway
Price as Tested: $26,840
Star Rating: 8 out of 10 Stars
Related posts: