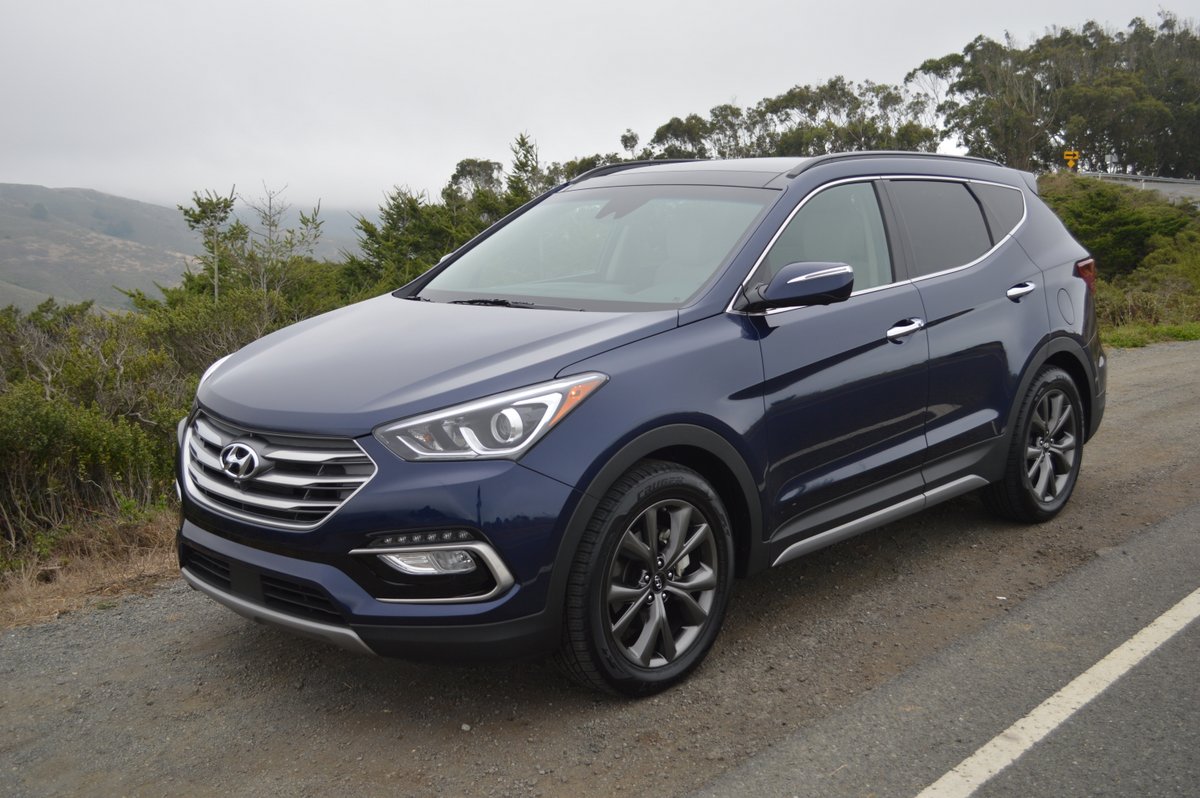 Hypes: Does Everything Well
Gripes: Stickier Tires Would Improve Handling
You have to love an SUV with a list price of $35,650 that carries the notation "Included" 37 times on its window sticker. Unlike many other manufacturers, such inclusionary generosity is par for the course at Hyundai. On a cold and dreary week by the seaside in Northern California, my favorite "included" item was the heater for the front seats and steering wheel. That steering wheel warmer turns itself on each time you re-start the Santa Fe. It's a small detail, but one that a lot of other car companies need to learn: you don't have to reconfigure your car every time you restart it.
Hyundai has quite an assortment of Santa Fe configurations available for 2018. There are two model lines, one with 3 seating rows providing 7 seats (Santa Fe) and one with two rows providing 5 seats (Santa Fe Sport). All 7 seat Santa Fe models use a 290hp V6, while all Sport models use either a base 2.4 liter inline 4 (185hp) or a turbocharged 2.0 liter inline 4 (260hp) fitted to our test Sport. All versions of both models utilize an excellent 6 speed automatic gearbox. Our turbo Sport proved exceptionally lively, with more than enough power to break the front wheels loose under full throttle acceleration from a standing start. If you need All Wheel Drive, the Sport is available with such a system which will tame the front axle wheelspin we experienced. The transmission features a floor mounted select lever which permits individual gear ratio choice and retention. Hyundai calls this very effective control mechanism "Shiftronic" and conjoins it to a Drive Mode selector that also tailors shift points to normal or sport oriented driving styles.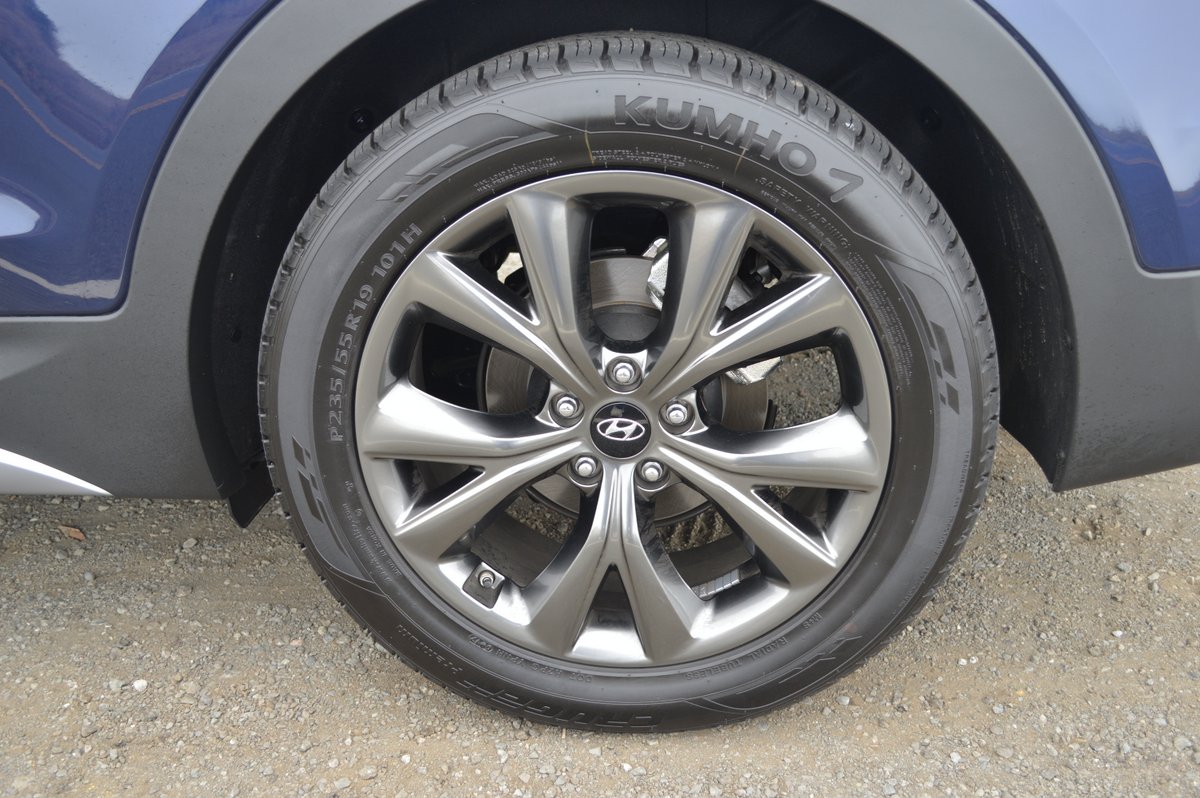 At a curb weight of just 3,760 lb., the 5 seat Sport is significantly lighter than its bigger sibling, the 7 seat Santa Fe (4,210 lb.). This weight reduction contributes to the Sport's solid handling on twisting two lane roads. 235/55R19 mud and snow rated Kumho Crugen radials, mounted on 19 inch alloy rims, with a treadwear rating of 440, yield good but not great traction while maintaining a comfortable ride. The airy cabin offers excellent sight lines to all quarters, and the standard panoramic sunroof exposes both front and rear seat occupants to plenty of sky and fresh air. Hyundai instituted several safety improvements to the Sport for 2017, which resulted in improving its IIHS small overlap crash protection rating from Marginal to Good.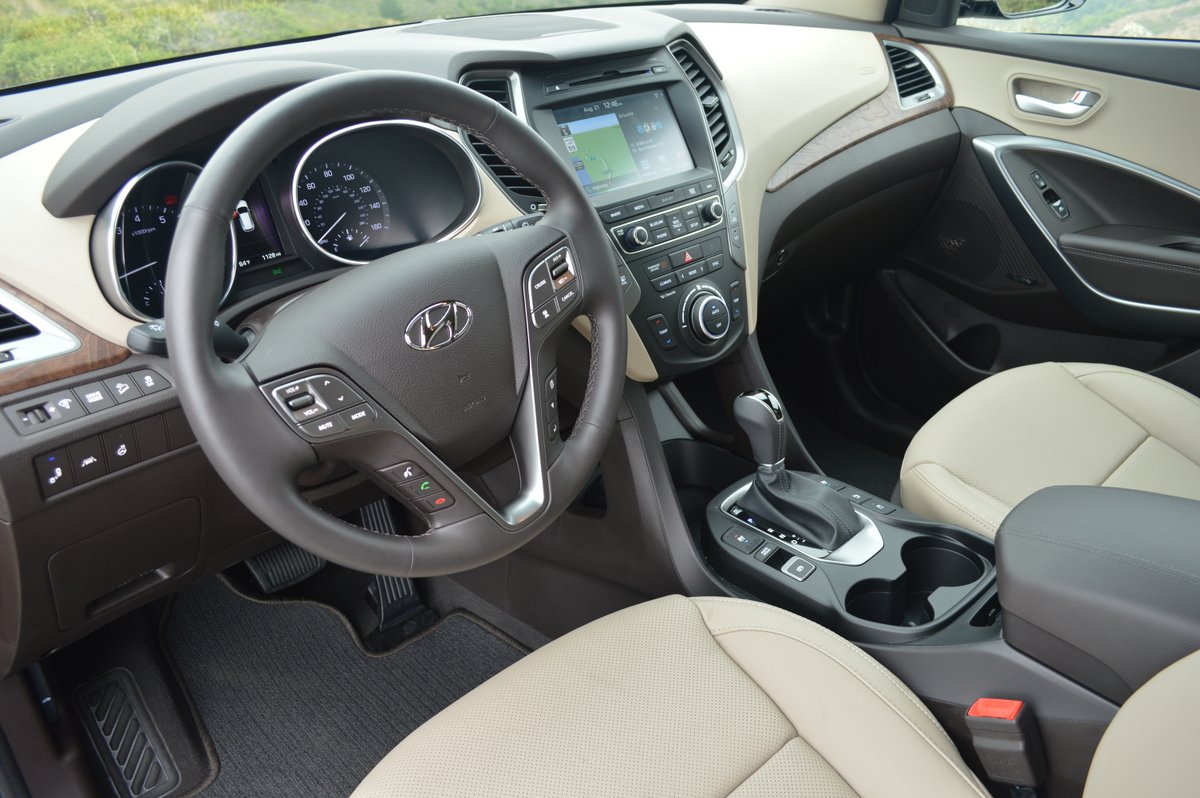 Our test Sport enjoyed further safety augmentation from a $1,600 "Ultimate Tech Package" that provided Smart Cruise Control with Stop/Start, Automatic Emergency Braking with Pedestrian Detection, Lane Departure Warning, Electronic Parking Brake, and swiveling head lights called Dynamic Bending Lights. The Electronic Parking Brake proved easy to use because it was well positioned on the center console between the front seats. The Lane Departure Warning proved more annoying than helpful because it chirped loudly and incessantly even when we were well clear of adjacent traffic.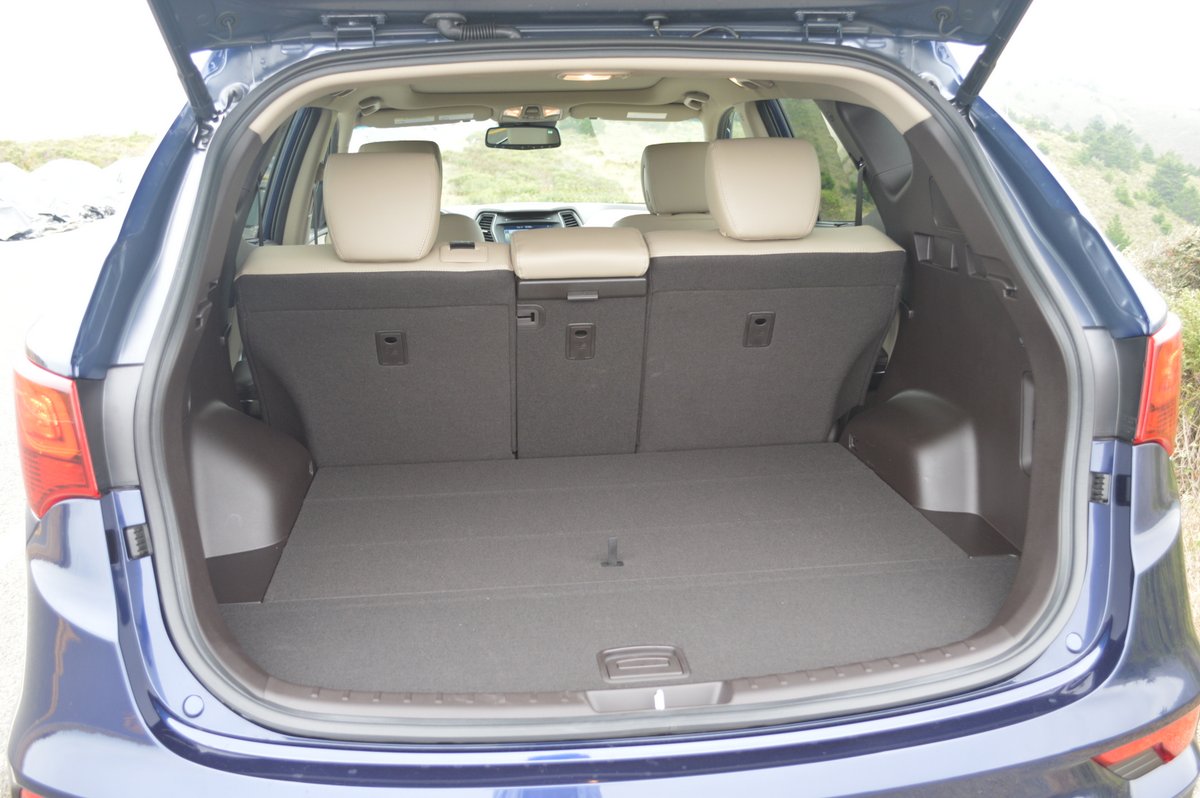 The rear seats split into a 40/20/40 fold pattern. You can drop them flat by lifting a large lever attached to their base, though you may have to slide the front seats forward to clear the back headrests. Doing so opens a vast amount of space for storage, with 35.5 cubic feet of cargo room available with the rear seats dropped. We managed to carry a full size bicycle back there, with plenty of room to spare for 6 bags of grocery goods at the same time. The rear hatch opens with the touch of a button on the remote fob, and shuts with the push of a button located on the edge of the rear liftgate.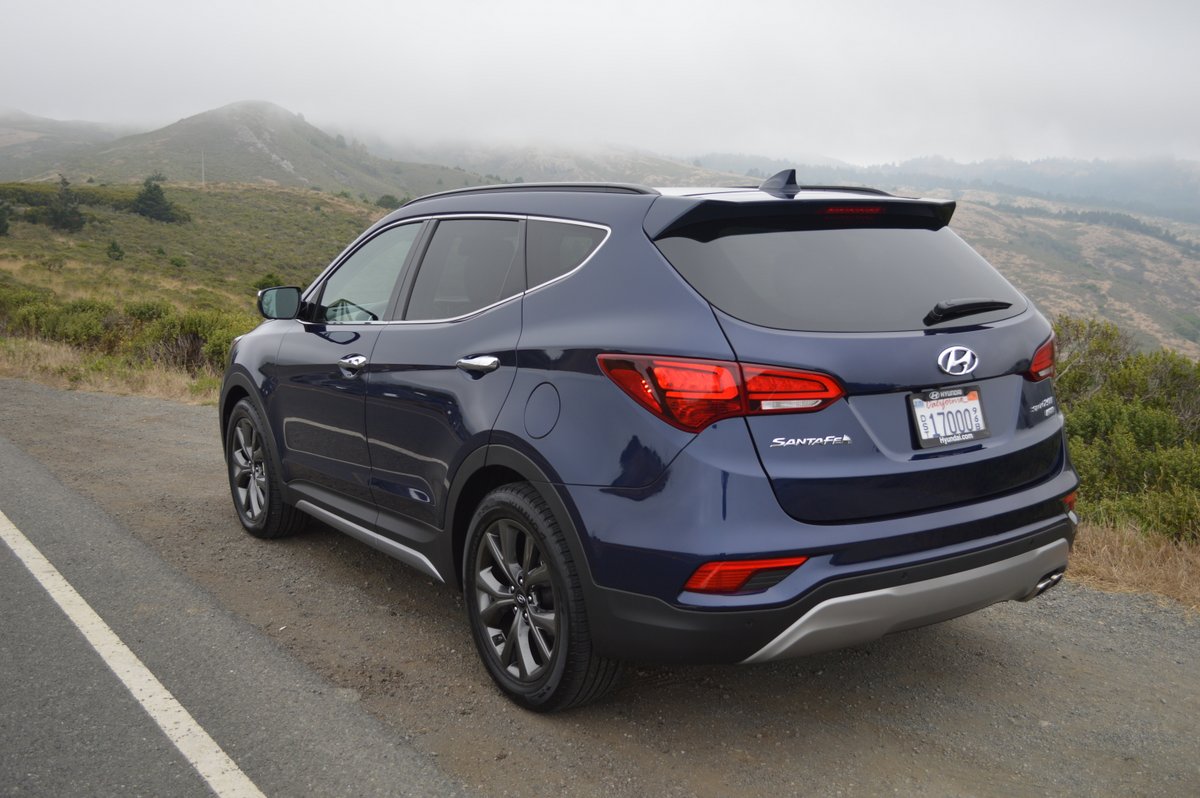 The Hyundai Santa Fe Sport proved itself to be an adept and resourceful companion on a daily basis. It was plenty fast, economical enough, and ingeniously well thought out. All the cabin controls work so well you never have to give their design or placement a second thought. Clearly, the engineers at Hyundai are well versed in making the complexities of the modern SUV convenient, straight forward and intelligible. You really can't ask for a more amenable beast of burden than the latest turbocharged version of the Santa Fe Sport.
2018 Hyundai Santa Fe Sport 2.0T Ultimate FWD
Engine: 2.0 liter inline 4, turbocharged, gasoline direct injection
Horsepower: 240hp @6000rpm
Torque: 260lb.-ft. @1450-3500rpm
Fuel Consumption: 20 MPG City/27 MPG Highway
Price as Tested: $38,325
Star Rating: 9 out of 10 Stars
Related posts: