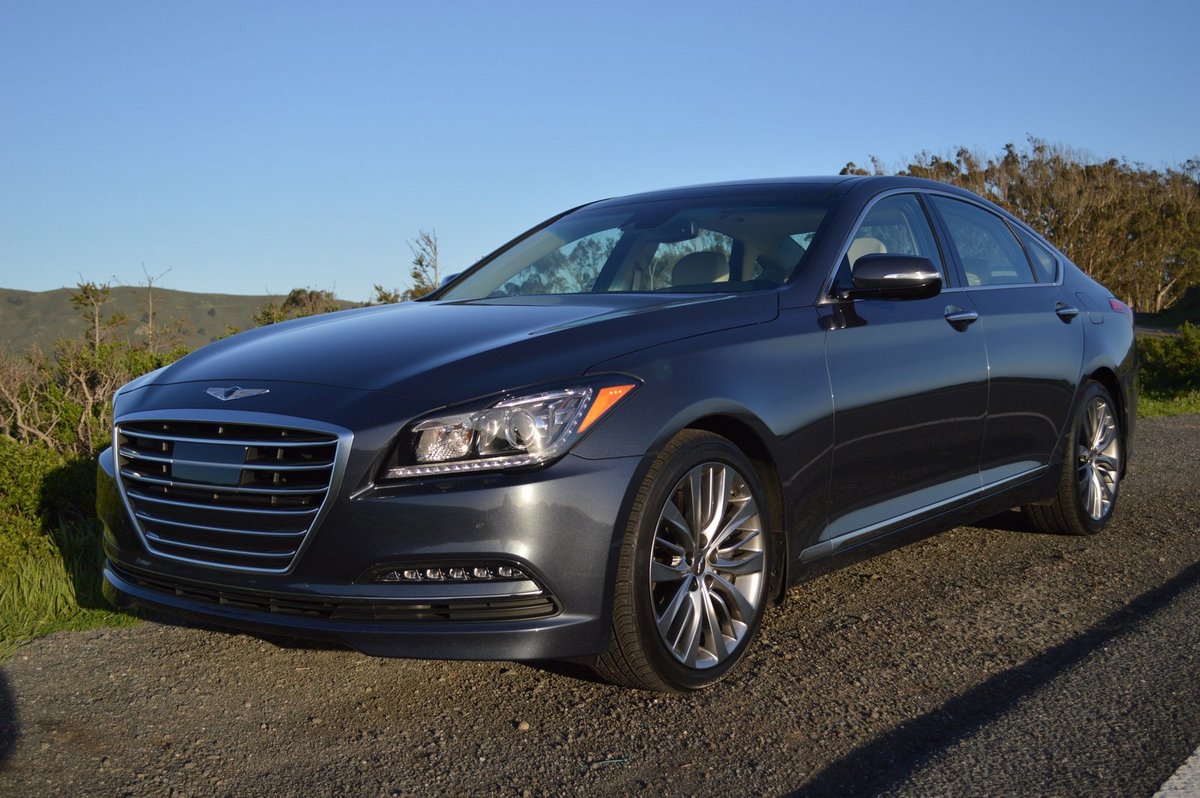 By David Colman
Hypes: Faultless Construction, Lap 'o Luxury
Gripes: Lots of Dash Reflection in Windshield
Genesis. A name of Biblical derivation, generally used to denote birth. In this case, a new model line of cars has been born. Hyundai has appropriated the name Genesis – previously used on a single model of Hyundai – to designate their new line of premium passenger cars. They also appropriated a winged trademark insignia for the brand that is highly reminiscent of Aston Martin's logo. Currently, two Genesis models are available – the large and plush limousine-size G90 and the slightly smaller G80. Although no limo, the G80 is plenty spacious, with a stretched wheelbase of 119 inches, a length of 197 inches, and a width of 74 inches. Those numbers translate into a passenger compartment capable of escorting 5 adults to any destination in spacious luxury.
The keynote here is fit and finish. The moment you climb into the G80, you feel better than you did. Thanks to buttery leather seating surfaces, subdued swaths of matte finished real wood, and lustrous true aluminum, you feel like you've stepped into an exclusive first class travel experience. While you might expect such cosseting in the front row, Genesis has gone to exceptional lengths to make the back seat comfortable. The key here is the sling-like posture of the outboard back seats that encourages you to slide your torso forward and down until maximum comfort is achieved. The key to making this hammock work is the abundant legroom afforded by that 119 inch wheelbase.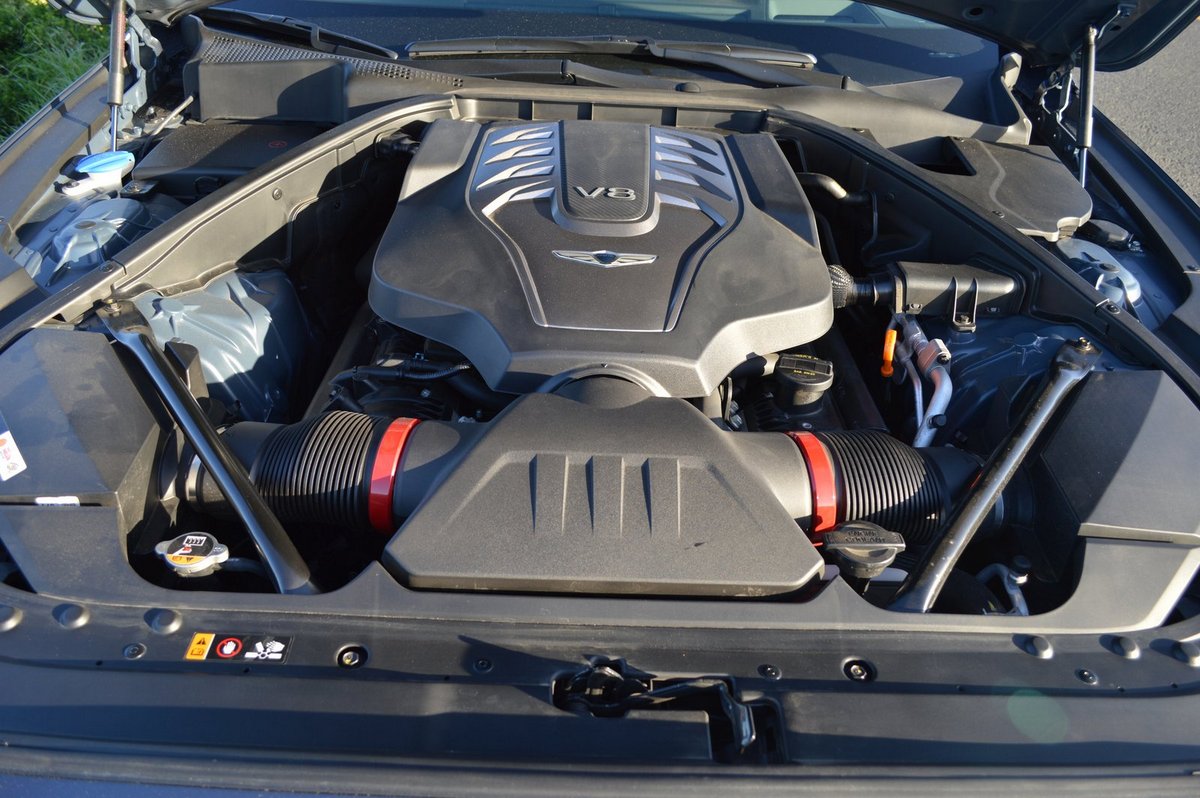 While the G80 never lets you forget that it's big and heavy (4,530lbs.), Hyundai has endowed it with an all-aluminum 5.0 liter V8 with direct injection and variable valve timing, potent enough (420hp) to give the big sedan some real sporting punch. That's because the power-to-weight ratio of 10.7lb/hp is good for 13 second quarter mile runs and 0-60mph sprints in the 5 second range. You can also order the G80 with a twin turbocharged V6 producing 311hp, but if you opt for this combo, the power-to-weight factor jumps the wrong way almost 50 percent – to 14.5lb/hp. Since the V8 returns a surprising 23MPG on the highway, there's really little economic incentive to replace it with the turbo V6.
Part of the reason that this powerful and torquey (383lb.-ft.) V8 can record such acceptable fuel mileage is the Hyundai designed and built 8-speed automatic transmission with manual override (Shiftronic) and nifty aluminum paddle shifters. The transmission works so smoothly through the gears that the G80 produces a seamless stream of jet thrust. If you do decide to harness the output specifically in a particular rpm range, the Shiftronic allows you to hold any gear in force without fear of an unwonted upshift to a higher cog. To complement this do-it-yourself shifting you can toggle the G80′s "Intelligent Drive Mode" (IDM) from "Normal" to "Sport" configuration with a simple switch flip that stiffens the steering and heightens suspension response. "Eco" and "Snow modes are also on offer from IDM. This kind of manual oversight is both surprising and welcome from a car that looks more like a limo than a sports sedan.
Equally ingratiating is the finely tuned array of suspension components, wheel size, and tire contact patch. In "Sport" mode, the big sedan corners flat and hard, with lots of grip generated by its sizeable Continental Pro Contact radials (245/40R19 front/265/35R19 rear) mounted on 8.5 x 19 inch alloy rims, These gun metal rims not only complement the Patagonia Blue Metallic paint of our test G80, but spread a wide and dependable footprint through each and every bend. While I wouldn't say the G80 merits full sports sedan accolades, it will nonetheless surprise you with it athleticism.
If i were commissioned to redo the G80, the first thing on my list would be to eliminate the split-lid storage box between the front seats and equip it with a one-piece top. Next, I would provide privacy screens for the rear seat windows as well as the back light. I would convert the rear seat's large central arm rest into a storage bin, since it's size is wasted on just 2 cup holders. Finally, flip down tray tables for the back seat would increase the limo utility of this plush area.
The transition from Hyundai to Genesis recalls the leap Lexus made from Toyota back in 1990. The G80 is a fully realized luxury sedan with welcome sporting aspirations. At its current list price of $54,550, it is worthy of any prospective BMW or Audi buyer's immediate attention.
2017 Genesis G80 RWD 5.0 Ultimate
Engine: All Aluminum 5.0 Liter V8, DOHC, GDI Dual CVVT
Horsepower: 420hp
Torque: 383lb.-ft.
Fuel Consumption: 15MPG City/23 MPG Highway
Price as Tested: $55,660
Star Rating: 9.5 out of 10 Stars
Related posts: