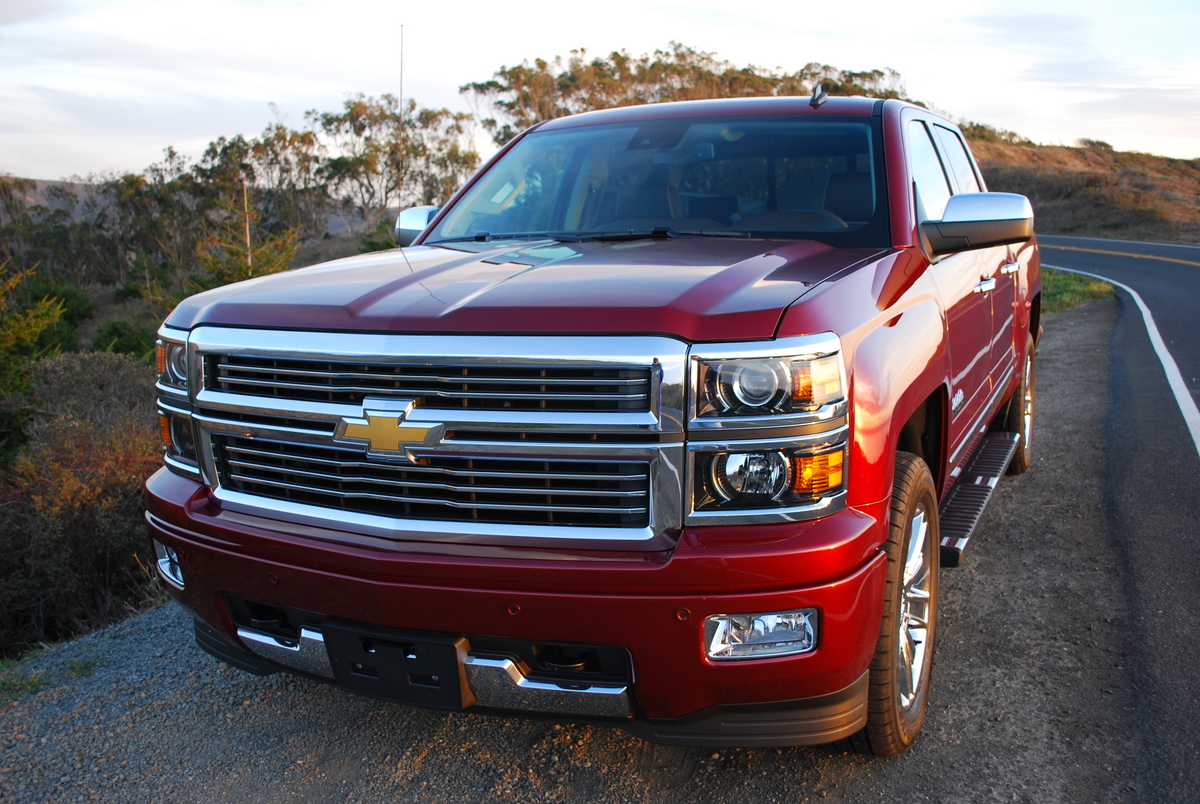 By David Colman
Hypes: Subtle Redo, Off the Chart Interior, Huge HP and Torque
Gripes: Needs Better Contoured Front Seats
Although it may not look all that different from its immediate predecessor, the 2014 Silverado shares virtually nothing with the 2013 Silverado. What it does have in common, however, are styling keynotes that distinguish Chevy pickups from any other brand: horizontally split grill, massive hood bubble, and stacked dual headlights. Design departure for '14 is limited to boxy new fender flares front and rear, sculpted tailgate with handy bumper step indentations, and opening rear cab pass-through window. There's bigger news under that power bulged hood, because Chevy has upgraded all available engines in the 1500 line, using direct fuel injection for added power, and cylinder deactivation for improved mileage ( "Active Fuel Management"). Our Deep Ruby Metallic High Country 4WD, stood a couple of hands higher than an Arabian Stallion. Thanks to its optional 6.2 liter V8 Ecotec ($1,995), this Silverado made as much power as 420 horses. Torque is rated at 460 lb.-ft., with 14 MPG on tap around town, and a laudable 20 MPG on the highway. The 6.2 drives through a 6-speed automatic transmission coupled to a 2 speed transfer case, an auto locking rear differential, and a 3.42:1 rear axle ratio. Standard equipment includes trailer sway control, and a handy shift lever mounted button for optimizing engine/gearbox performance while towing. All these features make the new Silverado an ideal candidate for towing heavy payloads. Chevy rates our test vehicle's trailer capacity at 9,500 lbs. If you opt for the available 3.73:1 rear axle ratio, your tow rating increases to 11,800lbs. but your gas mileage will suffer.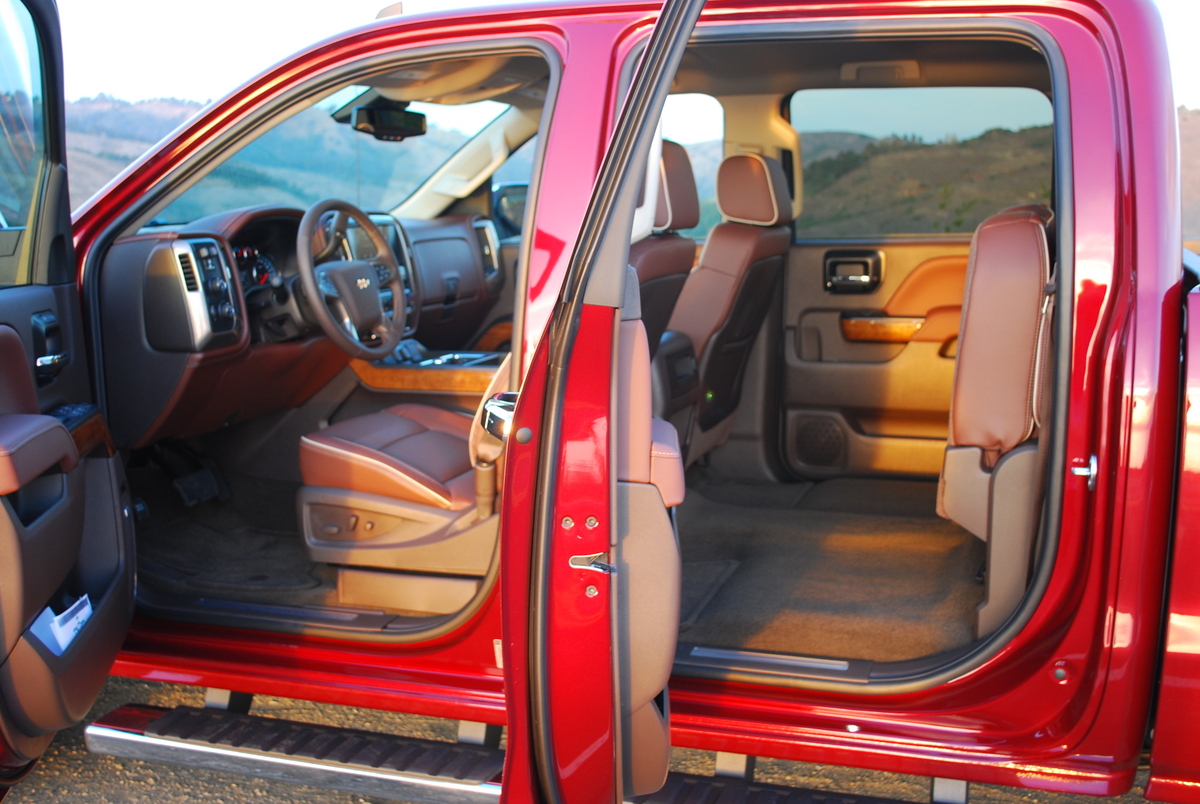 If towing isn't your game, there are still plenty of virtues to appreciate here. Topping the list is the spectacular new High Country Premium Package ($1,345) which finally moves the Silverado's interior into deluxe fantasyland territory previously occupied by Ford (King Ranch), Ram (Laramie Longhorn), and now Toyota (1794). In fact, Chevy's treatment of this wildly popular Western Frontier look is by far the most muted and palatable of those on offer today. Both front and rear seats are trimmed in a baseball glove amber leather with stunning oyster piping. The front seats look so deeply bucketed and inviting that sitting in them is something of a letdown. They would benefit from more side and thigh padding. Standard heating and ventilation partly compensates for lack of support. The High Country trimmings also include mountain logo threshold kick plates and nifty matching embroidery in the seat headrests.
Your $1,345 also buys you a heated steering wheel, and a welcome built-in trailer brake controller. High Country includes a bevy of safety nannies like front and rear park assist, forward collision alert and lane departure warning. With a truck this big and ungainly, it's nice to know where your bow and stern lie since direct sightlines are impeded. If you get too close to an object, Chevy has invented a new method to warn you of impending collision. It's called seat alert because your seat cushion automatically begins to vibrate in the event of proximate danger. This attention getter also warns of an impending forward collision, as well alerting you to traffic on either side. In an impending frontal crash, a series of red warning lights simultaneously flash across the base of the windshield.
Only the Silverado 1500 series receives the makeover for 2014. If you are planning to buy a 2500 or 3500 series Chevy truck, you'll have to wait for 2015 when GM will complete their transition to the new pickup platform. In addition to the lusty 6.2 liter motor in our test vehicle, Chevy also offers a new 4.3 liter V6 (285hp) and a mid-size 5.3 liter V8 (355hp). Despite its somewhat limiting EPA rating of 17MPG overall, the 6.2 liter V8 will make a believer of you the instant you hit the gas pedal to pass slower traffic or tow a major load over the Sierras. This combo is good for 14.6 second quarter mile runs at 96MPH.
Chevy has improved the steering feedback and overall handling of the Silverado by equipping it with low profile Goodyear Eagle LS2 tires (265/55R20) mounted on somewhat garish 10 spoke, 20 inch chrome rims that match the chrome running boards (which are a $700 option). The High Country Silverado handles any assortment of twists and turns with studied aplomb. The only jarring note is the occasional speed bump or mismatched pavement seam that will suddenly rattle you to the core. This one chink in the armor is just about the only sign that you're actually driving a heavy duty truck and not some benign and cultured luxury sedan. That Chevy trucks have come this far is a testament to good engineering and a conviction by GM that you can have your cake and eat it too.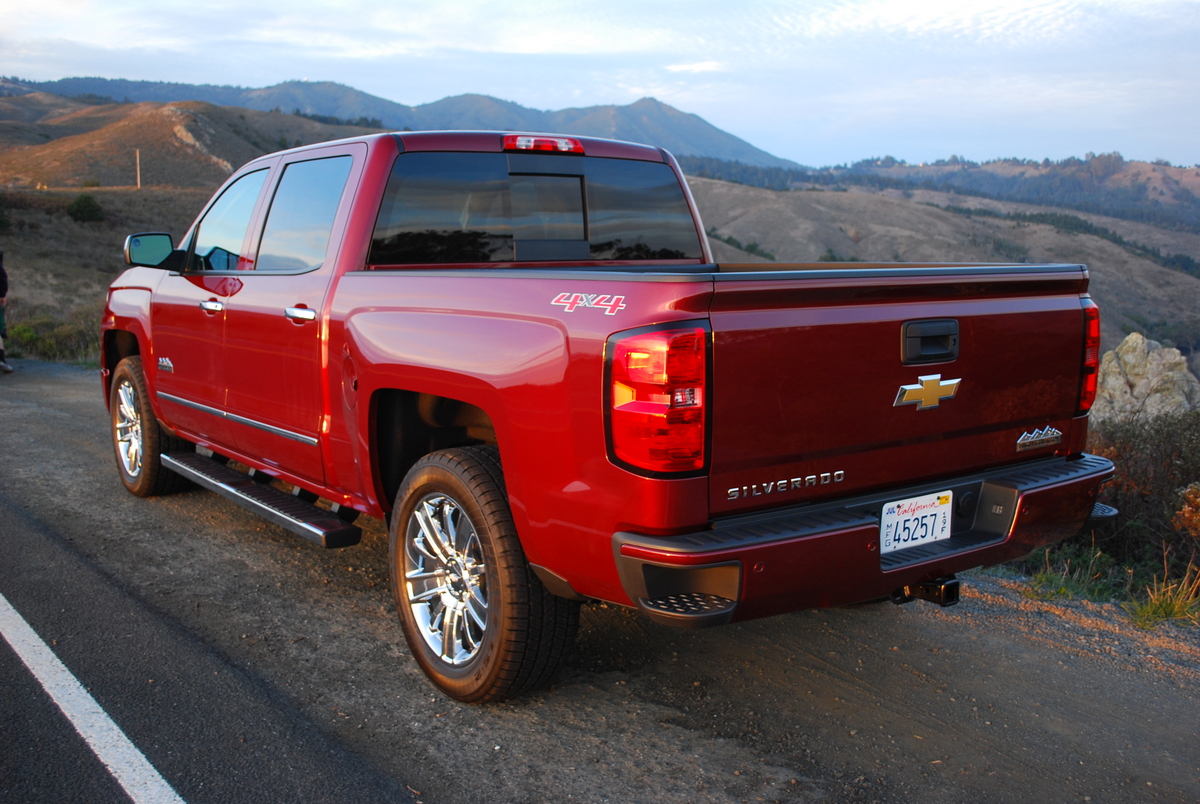 2014 Chevrolet Silverado High Country 4WD Crew
Engine: 6.2 liter V8 with Active Fuel Management
Horsepower: 420hp
Torque: 460lb.-ft.
Fuel Consumption: 14 MPG City/20 MPG Highway
Price as Tested: $52,475
Star Rating: 9 out of 10 Stars
Related posts: