By David Colman
For: Blatantly idiosyncratic appearance, Porsche 911-look alloys
Against: Jerky DSG gearbox, Limited use rear seat
VW has gone to great lengths to distinguish this 21st Century Beetle from its immediate predecessor, the 20th Century New Beetle. The New Beetle hit the market in 1998, and has had a very successful sales run for the past 13 years. Now, the Newest Beetle debuts as a 2012 model available in 2 versions, base (with 2.5 liter, 5 cylinder engine) and Turbo (with 2.0 liter inline turbo 4). Although eventually, 5 and 6 speed manual transmissions will be offered, first deliveries of both models will include the extra cost DSG automatic gearbox. The base model so equipped retails for $24,495, while the Turbo lists for $27,495.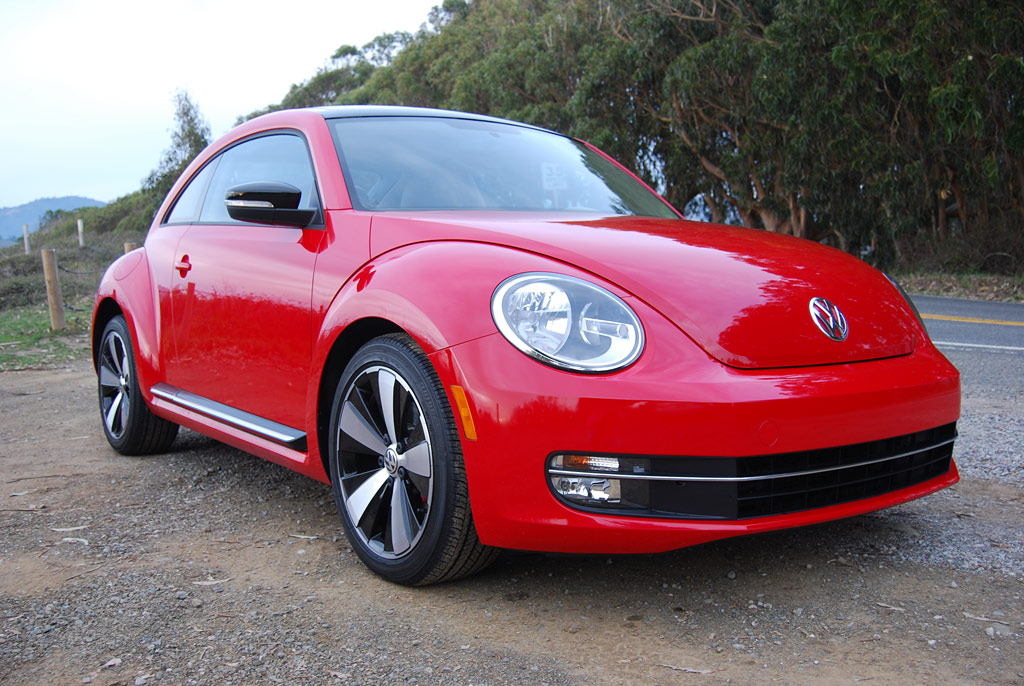 Our test Turbo Beetle also included leather seat coverings, navigation and sunroof, options which boosted delivery price to $29,865. While the loaded, DSG-equipped Beetle is not limited to the one per center crowd, it's hardly the People's Car it once was touted to be. Is a $30,000 Beetle worth the money? On looks alone, it definitely is. This one, especially when finished in red, is an eyeball magnet in a sea of Jelly Bellies. If you don't want attention, do not buy a Turbo Beetle. The latest version looks like a New Beetle that's been flattened by a brick. A couple of years ago, a line of diminutive toy cars called Fat Boyz was popular with the Hot Wheels crowd, and this Turbo looks just like one of those intriguing caricatures. It's been significantly recontoured to the tune of 3.3 inches of extra width, 6 inches of extra length and half an inch less height. Instead of the New Beetle's tiresomely cute 3 arch design, the new Turbo's flapjack proportions look more menacing than cute. The substantial rear wing, flattened roofline, laid back windshield angle, and porky 18 inch alloys make the new Turbo look like something George Barris would have done to the old one.
The VW's 8 inch wide wheels, with their five spoke black exclamation point pattern, mimic the classic look of the Fuchs alloys used by the Porsche 911. Unfortunately, the alloys on the Turbo VW are shod, not with high performance rubber, but middling Bridgestone Turanza R400 wear (235/45R18) which reduces ultimate cornering grip in favor of improved winter adhesion. The DSG 6-speed automatic not only adds extra cost to the bottom line ($1,100), but also saddles you with a transmission that is difficult to live with. Shifts are noticeably jerky, and when set in Sport mode, the gearbox downshifts of its own accord with a nasty snatch. You can partially alleviate the DSG's willfulness by operating it manually via paddles on the steering wheel, or up and downshift prods via the stick on the center console.
The performance of the 2.0 liter turbo is scintillating when the engine is on full boost. Since the Turbo Beetle weighs in at just under 3,000 pounds, the horsepower to weight ratio of 14.9 makes for lively acceleration. But the transition from no boost to full boost is magnified by the DSG's jerkiness, so full launch becomes a real neck snapper.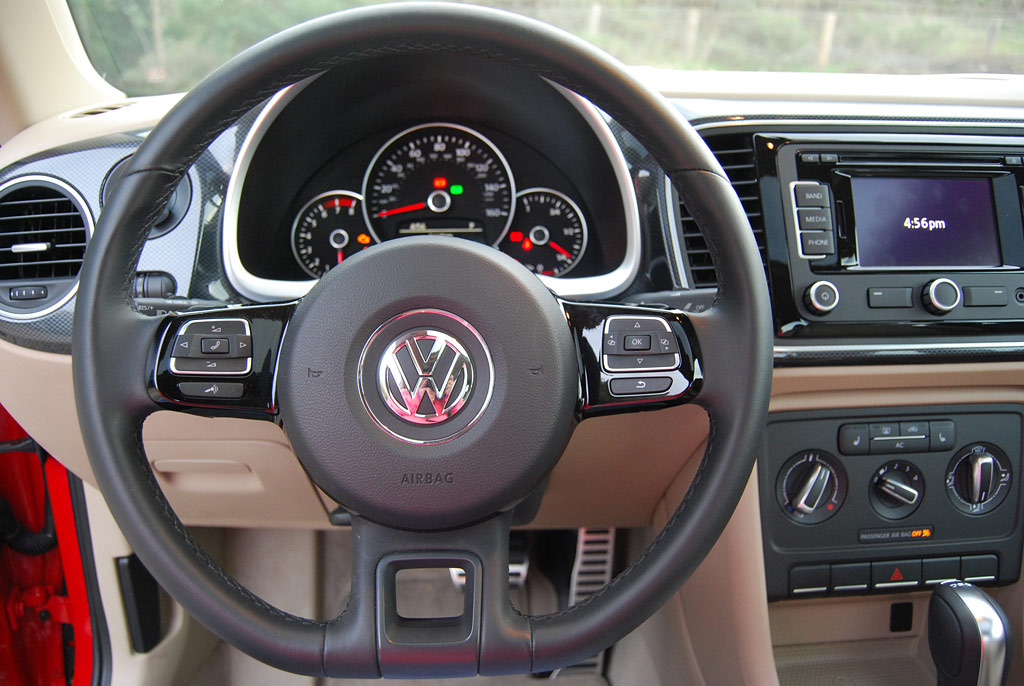 The interior of the latest Beetle is considerably enhanced over previous models. In Turbo form, the dashboard is covered with a faux carbon fiber plastic face plate that looks rich and handsome. Piano black upper door fascias keep the interior style simple. A separate upper glove box – in addition to the normal lower storage bin – is a neat holdover from early Beetle design. The 5 inch screen on the navigation device is a smidge small, but still quite welcome, since this is the first time navigation has ever been offered on any Beetle. The 2 rear seats, with uncomfortably vertical backs, are suitable for short hops by adults, though getting situated back there is an ergonomic problem.
This Newest Beetle still looks defiantly different than anything else on the road. In that sense, it has lost none of its illustrious design luster. But you'll have a better driving experience if you pass on the initial run of DSG cars in favor of the coming manual gearbox models.
2012 Volkswagen Beetle Turbo
Engine: 2.0 Liter in-line 4, 16 valves, turbocharged and intercooled
Horsepower: 200 at 5,100rpm
Torque: 207 lb.-ft. at 1,700rpm
Fuel Consumption: 22 City MPG/30 Highway MPG
Price as Tested: $29,865
Star Rating: 7 out of 10 Stars
Related posts: