By David Colman
Hypes: Hottest Hatch You Can Buy
Gripes: Hard to Access Rear Seat, Flimsy Trunk Cover
In a performance world adrift in a sea of ever wider tires, Volvo's choice of petite 205/50R17 Michelin MXM4 rubber for its top performance hatchback, the R Design C30, seems inexplicable. Choosing such a modest width of 205mm front and rear would appear to hobble this Volvo before it ever gets out of the starting gate. Well, guess what? The handling and responsiveness of the R Design C30 puts most other front engine, front wheel drive hot hatchbacks to shame. Without question, this limited edition (250) Polestar-tweaked Volvo proves that you do not need a huge tire footprint to leave an indelible imprint in your memory bank. Great handling is all about balance, and this diminutive 4 seater has that asset in spades.
Polestar is the factory affiliated tuning department at Volvo, and for this very special model, they've dialed in the suspension of the already competent C30 by stiffening the chassis and firming up the suspension. The Polestar Limited Edition uses 17 inch STYX matte black alloys, and sports R Design front and rear roof spoilers. Handsome exterior cosmetic touches include matte aluminum grill surround and polished 3.5 inch dual exhaust tips. Inside, two-tone leather seating surfaces distinguish this special model, with light gray leather centers contrasting against black side bolsters. "R Design" monikers are embossed into the front headrests, sparkling blue watch dial instrument faces make the gauge cluster pop, and spiffy alloy sport pedals grab your rubber sole. The unique leather and alloy rimmed steering wheel sports an "R Design" badge on its lower rim, and a Polestar Limited Edition numbered plaque graces the dash (ours was 249/250).
On top of all these delectable cosmetic improvements, the best part of the Polestar package lies unseen, beneath the hood. Unlike so many hot hatchbacks in this price range, the C30 boasts an hydraulic hood strut instead of a chintzy manual prop rod. When you lift that sleek hood, you're gazing at a substantially reworked inline 5 cylinder turbo engine, Although sharing the base C30's 2.5 liter displacement, this one boosts horsepower from 227 to 236, and torque from 236 lb.-ft. to 273 lb.-ft. With its undersquare bore/stroke dimension of 83mm x 93mm, the Polestar-tweaked B5254T7 engine is a real torque monster, producing maximum output from throttle tip-in of 1,500rpm all the way to 5,000rpm. Although Volvo supplies 6 perfectly spaced ratios in its delightful manual gearbox, you hardly need more than one of them to keep this little tiger on full boil.
Compared to the hideous, overly complicated interior treatments common to most of today's cars, the design ethos of the Volvo seems to be from another planet. There's a wonderfully simplified center stack here, for example, which stresses utility, with its obvious knob placement for HVAC and radio controls. The symmetrical layout is clear, concise, and diametrically opposed to the ridiculous cell-phone dashboard emulations that have become so popular today. Volvo designers place a premium on safety, which begins with the sensible design of the cockpit. This is one company that will never be faulted for inciting distracted driving. But should you ever lose control of the C30, the safeguards Volvo has included will stand you in good stead. Standard are inflatable curtain side impact bags, front AND rear dual stage bags, and whiplash protection for both front seats.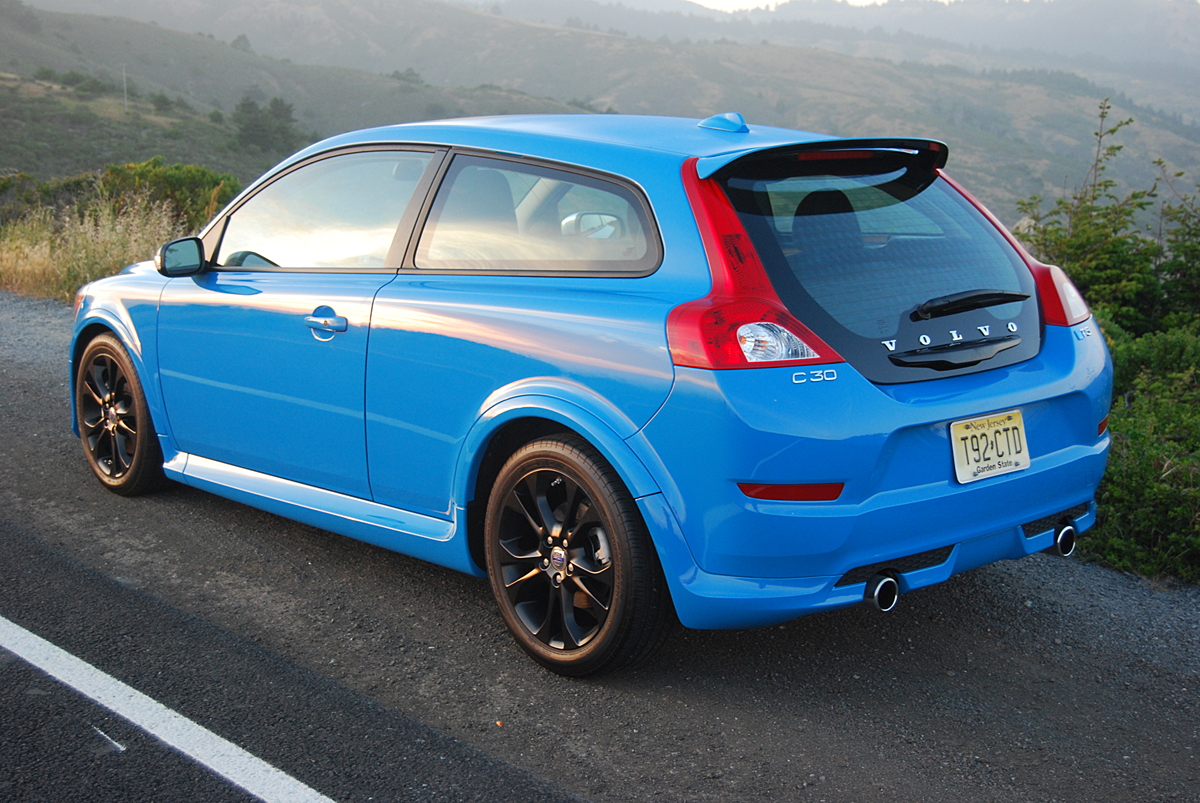 Even with the addition of a $5,000 Platinum package that provides Navigation, Premium sound, SIRIUS radio, Power Moonroof and Dual Xenon headlights, the C30 R Design totals just $35,545. In a world full of Sofa City products, the C30 R is like taking a rejuvenating trip through the spa at IKEA.
2013 Volvo C30 T5 R Design
Engine: 2.5 liter inline 5, Turbocharged with Continuous Variable Valve Timing and Intake
Horsepower: 236 hp
Torque: 273 lb.-ft.
Fuel Consumption: 21 MPG City/29 MPG Highway
Price as Tested: $35,545
Star Rating: 9.5 out of 10 Stars
Related posts: