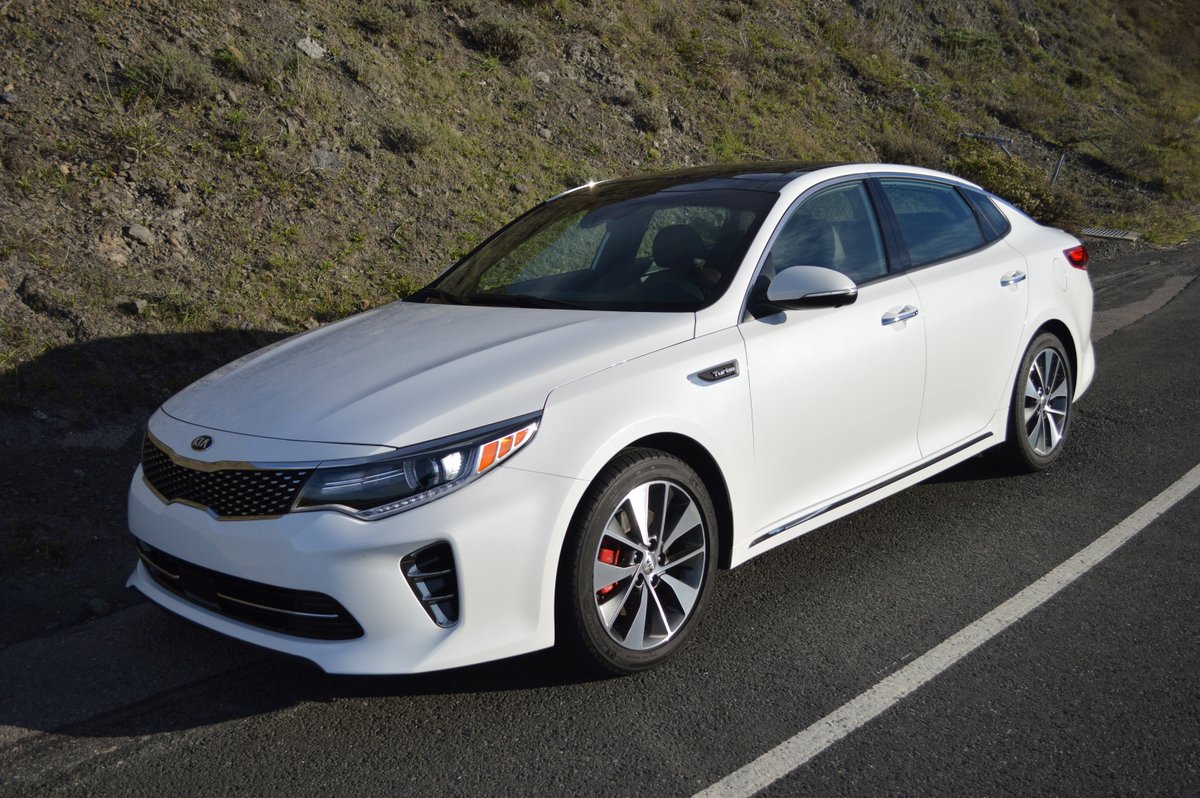 By David Colman
Hypes: Strong Motor, Solid Handling, Unexpected Luxury Cabin
Gripes: Navigation System Anomalies
For a base price of $35,790, this Kia is a bargain.. When you climb into the spacious cabin, the first thing you notice is the diamond boxed seating surfaces, trimmed in soft mocha-hued Nappa Leather. You could be excused for thinking you had mistakenly opened the door to a Maserati or a Bentley rather than a Kia. But make no mistake, the top level Optima SX LTD, completely redone for 2016, is good enough to pass itself off as an expensive European luxury ride.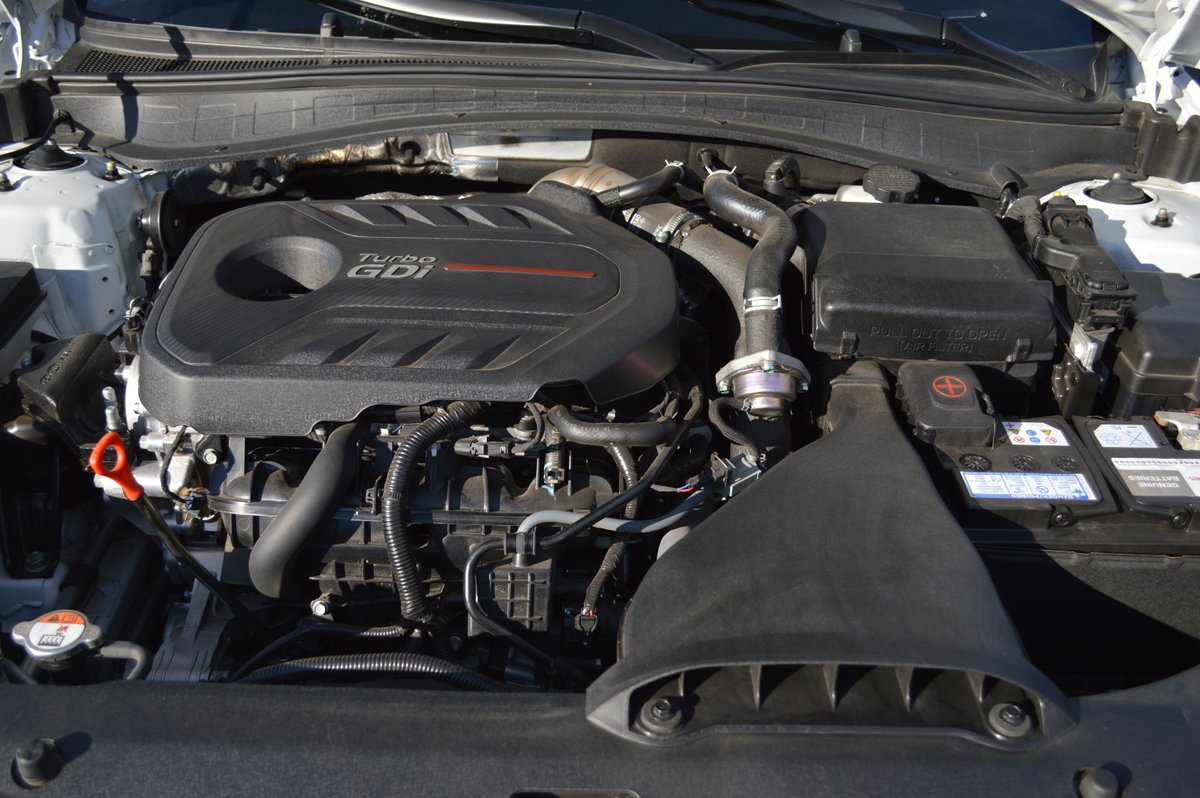 The goodness extends beyond the obvious wow factor of the triangulated seat stitchery. If you opt for an SX LTD Optima, you'll enjoy a very lively turbo inline 4, which utilizes direct fuel injection to slap out 245hp, and 260lb.-ft. of torque. Since this is a front wheel drive car, there's enough power to provoke torque-steer, especially on wet pavement, All that zoom feeds through a sweet 6-speed automatic gearbox equipped with paddle shifts. The SX rides on standard 18 inch alloy rims shod with aggressively all season Michelin MXM4 rubber (235/45R18). Sport oriented suspension tuning helps provide taut responsiveness to steering input.
Thanks to its willing yet efficient turbo engine (25MPG overall) this Optima is a lot of fun to drive. On the freeway, the SX is quiet and well snubbed, but still compliant enough to remain comfortable over distressed pavement. Both front seats are heated and offer full electric positioning control. The driver's seat even includes a pair of memory buttons which retain pre-arranged mirror and seat positions. There are few interior clues to the bargain nature of the Optima. The only obvious one is the clumsy manual adjustment collar for steering wheel reach and tilt.
The standard included Navigation System displays its maps on a sizeable 8 inch screen. But the mechanics of destination programming caused concern. When we attempted to enter the destination "Ferry Point" in Alameda, CA, the system repeatedly failed to recognize the address. It wasn't until we abbreviated "Point" as "Pt." that the Kia divulged the needed information. One wonders whether it would be able to understand the word "Street," or require use of the abbreviation "St." to find a street address.
Programming glitches aside, the Optima offers an otherwise commendable slate of electronic entertainment and safety wonders. The audio system by Harman Kardon produces "QLS Premium Surround Sound" with enough vibrato to awake the dead. You even get to play with 200 plus channels of SIRIUSXM for your first 3 months of ownership for free. Also standard is the complete nanny package, which includes Front Collision Warning System, Rear Cross Traffic Alert, Blind Spot Detection, and Lane Departure Warning System. With all of these obnoxious warning systems chiming in on a regular basis, you'll be free to pay more attention to your text messaging and incoming phone calls. Just don't make the mistake of believing that this car will take care of driving itself. An unpleasant bout with Advanced Smart Cruise Control (ASCC) convinced us that this particular system isn't quite ready for prime time use. On a heavy traffic run up 101 from San Rafael to Petaluma, the Optima's ASCC had us continuously slowing and thrusting with speed pre-set to 65mph. After 15 minutes of this behavior, we switched off ASCC, choosing instead to do things the old fashioned way – with foot and throttle pedal. In spite of its armament of nannies, the Optima SX remains a primo ride, since almost every nanny voice can be manually defeated before you start a trip. The only one that proved useful in all events was Rear Cross Traffic Alert, which also projects a rearward view on the 8 inch screen when Reverse gear is engaged.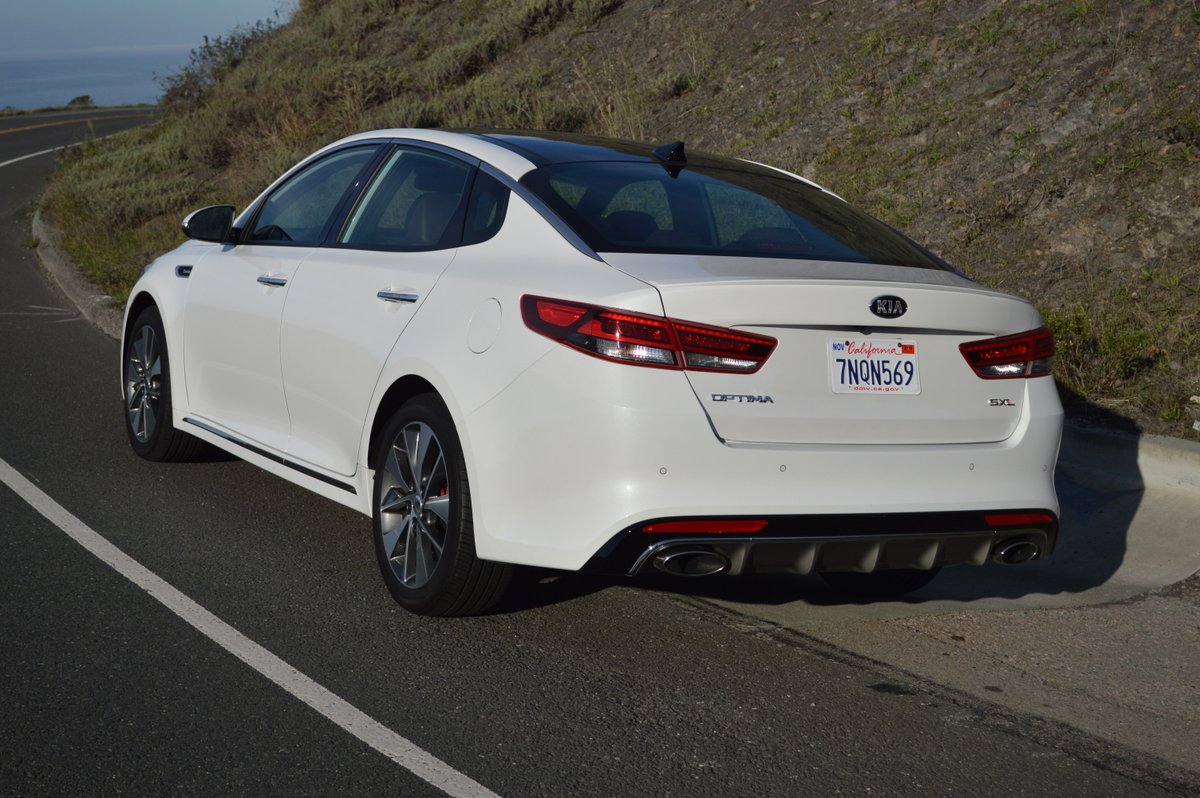 Despite front wheel drive, this turbo Optima is almost as much fun to drive as a small BMW. It's got the grunt and the handling to satisfy your urge for sport without forcing you to pay the stiff entry price demanded by its German equivalent.
2016 Kia Optima SX LTD
Engine: 2.0 liter turbocharged inline 4 with direct injection
Horsepower: 245hp
Torque: 260lb.-ft.
Fuel Consumption: 22MPG City/32 MPG Highway
Price as Tested: $36,615
Star Rating: 9.5 out of 10 Stars
Related posts: