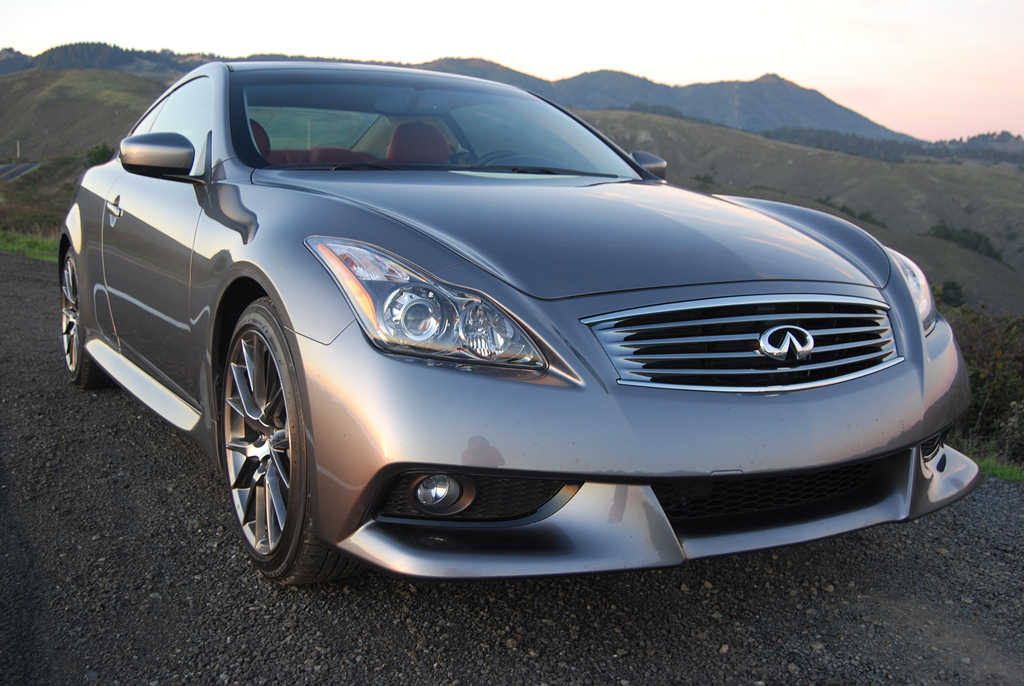 By David Colman
Hypes: Bahnstormer for the Mature
Gripes: Cheesy Belt Retractors, Shift Lever Jiggles At Idle
Let's say you're a born again racer who's outgrown the trappings of the street pose down. You still like to drive hard and fast, but you no longer need to let the world in on your little secret. So you start scanning test reports with an eye for the understated rather than the obvious performance package. You've got some serious cash to spend on your acquisition, but you're not quite ready for a full scale German pocket vacuuming. Well, in that case, I've got the perfect sports coupe for you. At a base price of $50,500, the Infiniti G Coupe undercuts the price of most anything from Bavaria, and better yet, outperforms many BMWs, Audis and Porsches costing up to twice as much.
The reason for this apparent discrepancy in the price/performance ratio? The G is really a revamped Nissan 370Z, devoid of the Z's boy racer proclivity to overstate its case. You won't find any of the Z's rough edges, harsh ride, or buzzy exhaust in the grown up version Infiniti sells. But by the same token, you'll give nothing away to the Z in terms of raw performance. If anything, the G Coupe in IPL trim, is easier to drive hard than the Z because it's smoother, quieter and less demanding on you.
The IPL specification is a must if your G Coupe is going to compete with the best from Europe in handling dexterity and straight line acceleration. IPL tweaks output of the standard G37's 3.7 liter V-6 from 330hp to 348hp. The package also includes a close ratio 6-speed transmission which feeds power to the rear wheels through a standard Viscous Limited Slip Differential (VLSD). The VSLD insures that power is meted to the rear wheel with the best grip, so you never experience power loss through wheelspin. Infiniti beefs up the brakes on IPL cars with sport calibrated 4-piston front and 2-piston rear calipers on oversized discs. Finally, the steering ratio is quicker than that of a stock G37 at 14.7:1. There's never a need to crank the steering wheel from lock to lock in this coupe because the quicker steering ratio requires less lock for directional change.
The G Coupe's planted stance is due to Infiniti's choice of premium rubber at each corner. The standard graphite finished 7-spoke aluminum alloy wheels mount Bridgestone Potenza RE 050A tires measuring 225/45R19 front and 245/40R19 rear. Combined with IPL sports tuned shocks and springs, the G Coupe carves corners like a 370Z on steroids.
Yet none of the borderline cheap looking 370Z interior appointments are evident in this Infiniti. The interior is plush, padded and perfectly inviting. The driver's seat is 12-way adjustable, with lovely under-thigh support that extends and retracts, coupled to fat side bolsters that can be configured as tightly or loosely as needed. The passenger's seat is somewhat less adjustable, but both feature heating and nifty embroidered "IPL" logos in their headrests. The back seat is suitable only for small children, and its accessibility is suspect thanks to small doors openings and seatbelt interference.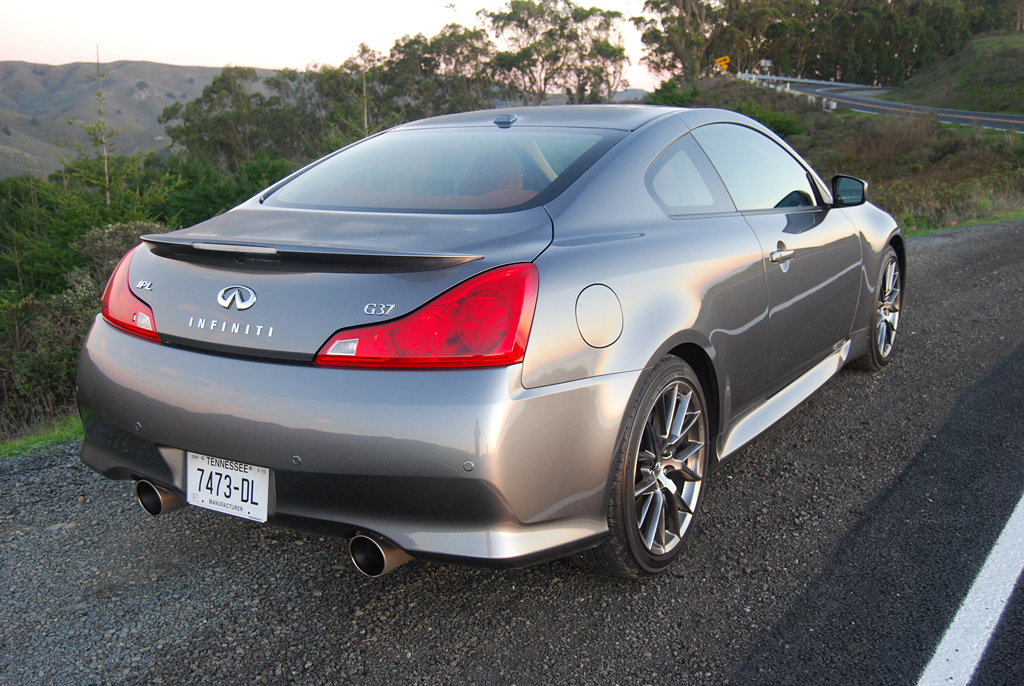 This Infiniti is solidly constructed, with a smattering of real brushed aluminum trim across the dash and center console. There isn't an abundance of room in the cockpit, but you do at least enjoy a usable glove box plus small storage pockets in both doors. The cumbersome front seat belt valets are molded in ivory to match the color of the headliner. But they look cheap and out-of-place in this otherwise simple Zen interior.
For the money, it's hard to match this sports sedan in terms of finish, performance or luxury. In fact, the G Coupe in IPL trim is one of the best driving cars on the market regardless of price.
2013 Infiniti G Coupe IPL
Engine: 3.7 Liter DOHC 24 Valve V-6
Horsepower: 348hp
Torque: 276 lb.-ft.
Fuel Consumption: 17 MPG City/25 MPG Highway
Price as Tested: $51,395
Star Rating: 9 out of 10 Stars
Related posts: