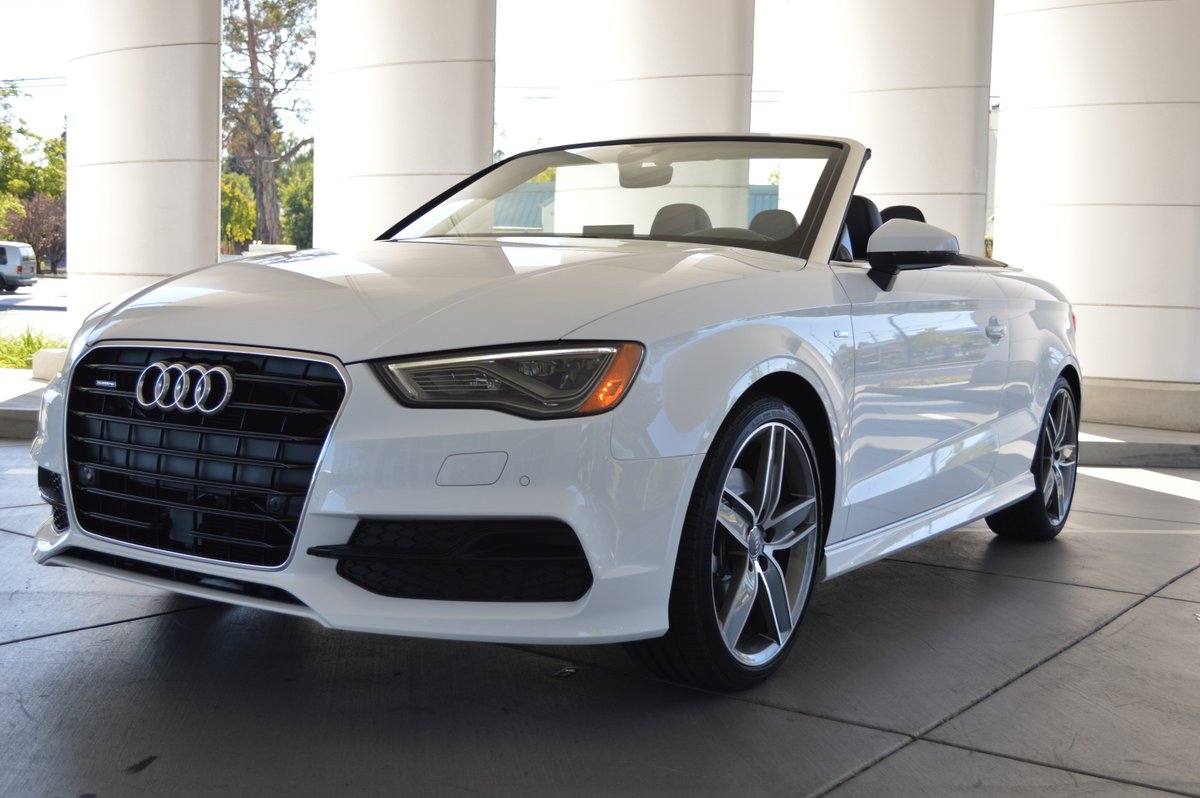 By David Colman
Hypes: Small, Agile, Beautifully Constructed
Gripes: Top Up Vision Nil
As the 2016 model year draws to a close, you may find some enticing deals on this hard to beat compact convertible from Audi. Our test example carried a window sticker of $50,425. This is a lot of German fun for the money, especially if you can finagle a year end discount. Be aware, however, that the 2017 A3 has already been announced. Its frontal styling is a little crisper than our outgoing 2016 model, and it features more dramatically outlined LED lighting front and rear. The 2017 A3 will also offer Audi's sensational Virtual Cockpit, which premiered this year on the TT sports roadster. This bit of digital fantasy superimposes Google Earth and Google Street View on the instrument panel directly in front of you.
Our 2016 A3 made do with a more conventional instrument cluster, featuring a pop-up mid-dash top mounted screen that brings all the prompts together for you to select: Car, Telephone, Audi Connect, Navigation, Media, Radio, Tone. We kept trying to find the Sport Mode under the "Car" umbrella, but failed to do so. After perusing the Owner's Manual, it became apparent that our particular A3, despite being a "Prestige" equipped model for an added $8,850, lacked the "Audi Drive Select" feature which would have provided a choice of "Comfort, Auto or Sport" settings via a dash button that was blanked off on our test vehicle.
What you do get for that extra investment in the Prestige model, however, makes the expense well worthwhile. Front seats come heated, exterior mirrors fold away when parked, driver's side mirror dims automatically, "Mistral" aluminum interior trim decorates dash and doors, S Line trim emboldens exterior surfaces, LED interior lighting shines brightly, and a Bang & Olufsen sound system provides harmonic ecstasy. Although 18 inch alloys are included as part of the Prestige kit, our test Audi sported upgraded 19 inch "5-arm-Wing-design" wheels finished in titanium with edges beveled to shine. These dynamic looking rollers were fitted with 235/35R19 Continental Sport Contact tires with sidewalls so minute that the A3 looked like it was riding on its rims.
To make up for the lack of Audi Drive Select, our A3 was equipped with $250 worth of "Sport Suspension" so you could rightfully consider yourself to be driving in Sport Mode all the time. Also, the A3 permits deletion of Electronic Stabilization Control (ESC) and Anti-Slip Regulation (ASR) by hitting the designated button on the dash. Punching it for one second partially disables ESC and ASR, hitting it for 3 seconds fully disables both traction aids. With Audi's quattro all-wheel drive powering all four wheels, however, you're safe to experiment with the handling of this compact sports sedan, even with ESC and ASR temporarily disabled. It's almost impossible to get the A3 to lose its grip, with or without traction aid engaged. This stubby platform, which measures just 175 inches in length, seems tied to the ground by invisible umbilical cords.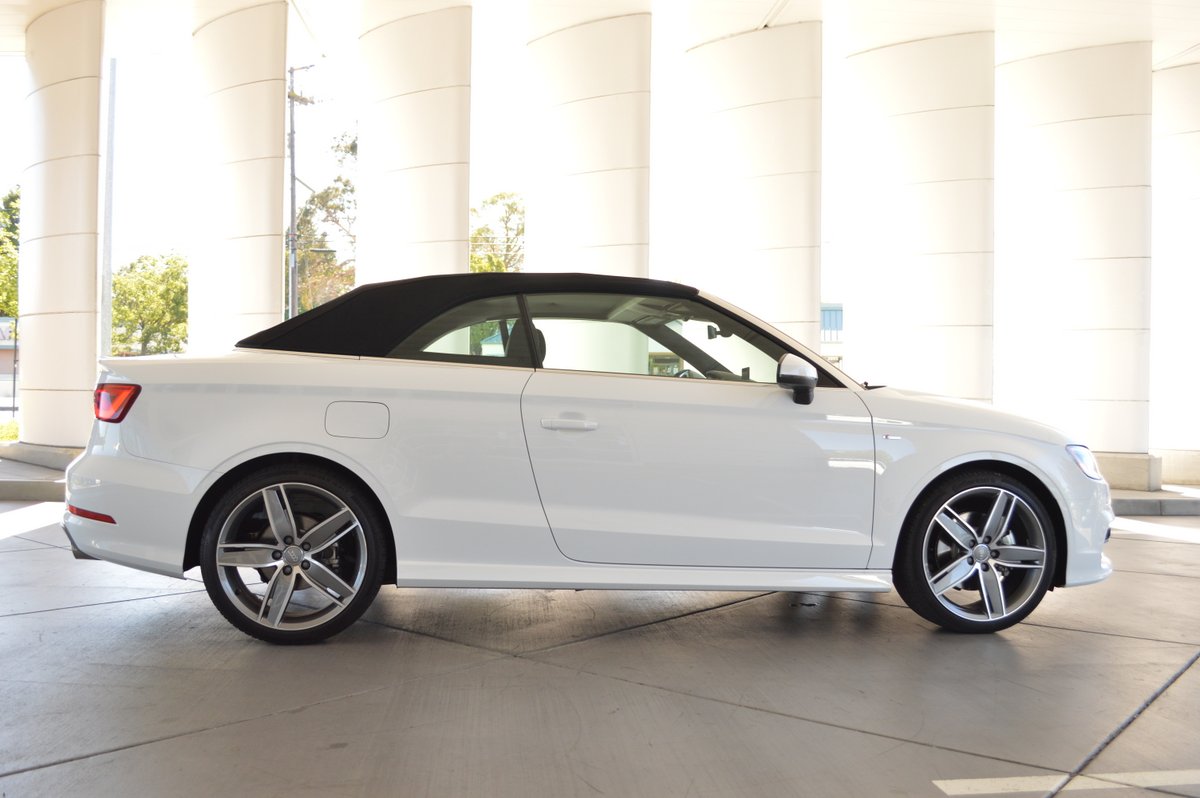 With its high sides and short windows, the A3 makes for a fairly sepulchral cockpit experience when the roof is up. Especially troubling is the view to the back. The rear window pane, while heated glass, is fairly small. The twin rear seat headrests obscure nearly half your view out the back. Large rear sail panels further reduce three-quarters vision to the point where you will find yourself wholly reliant on the new-for-2016 backup camera and screen display. It's almost worth dropping the top whenever you need to reverse out of a parking place. The top is a marvel of engineering which takes but 15 seconds to lift or drop. It can also be run at speeds up to 20mph. Just be sure to have the appropriate trunk divider partition in the proper position, or the system won't work at all. Audi has thoughtfully provided a couple of latches inside the trunk to drop the rear seatbacks. You can then pass bulky objects through from the trunk into the interior. Audi also provides a windblocker for the cockpit which stores flat in the trunk.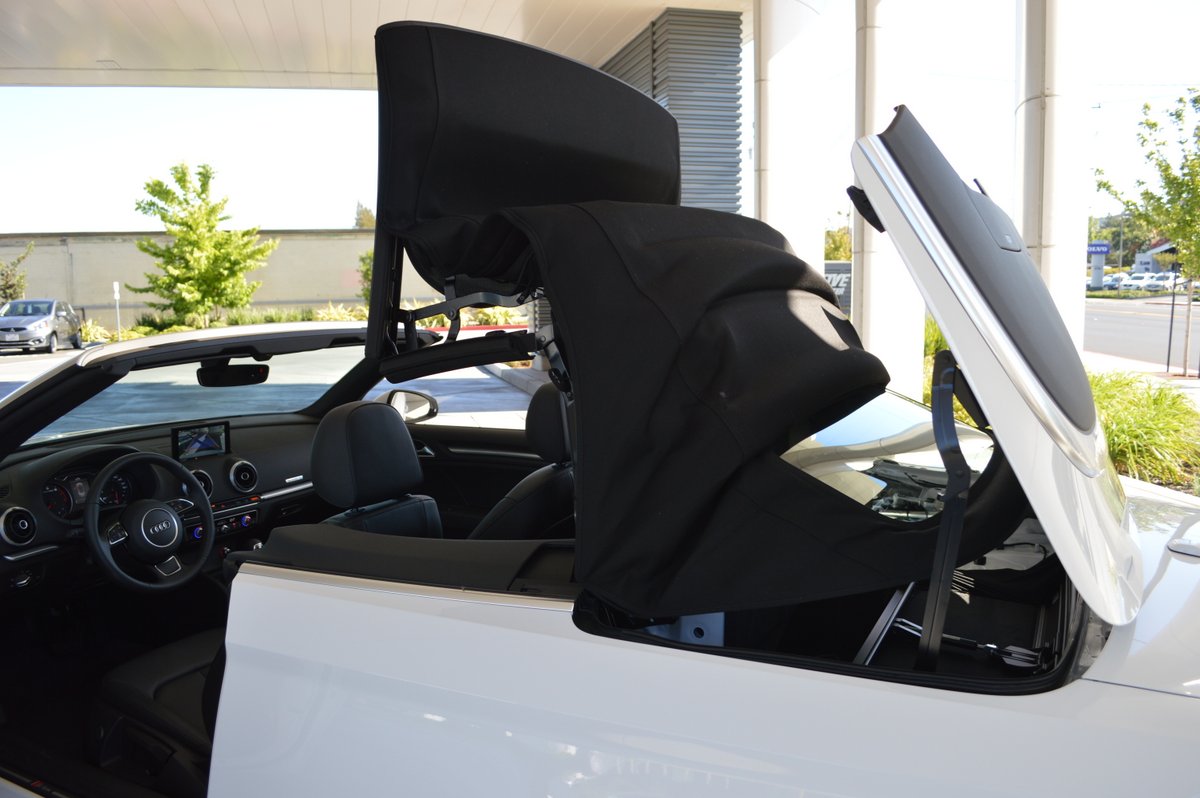 We were never bothered by excessive wind, so the blocker stayed folded in the trunk. You can carry a couple of adults in the tight back seat, but if they stretch more than 5'8", they won't have head room with the top erect. They will, however, discover a pair of heater/AC vents facing them on the central tunnel.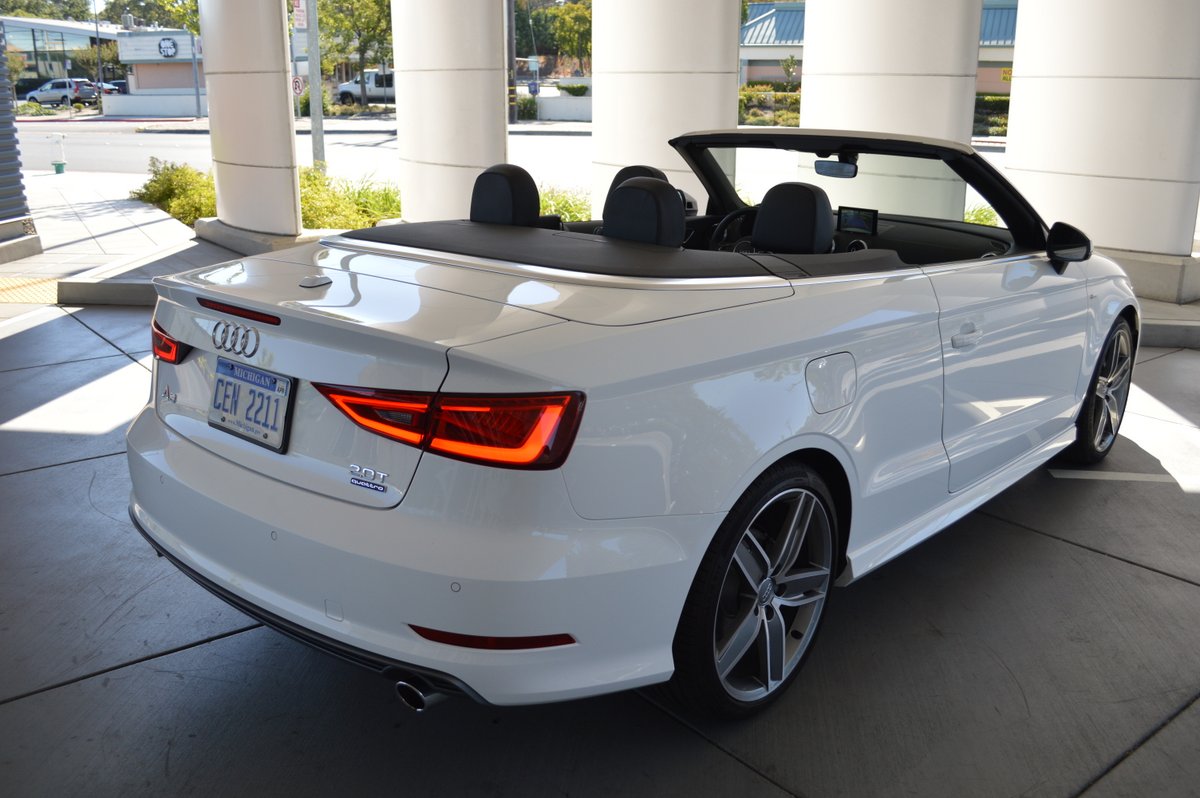 For $50,000 plus, you would expect this Audi to include electric seat and steering wheel adjusters, but the A3 Prestige has neither. Although 170hp and 292hp engines are available for the A3, the 2.0-liter turbo in our test car was more than adequate for cutting through traffic or scorching up back roads. It uses fuel in a miserly fashion, with its 14.2-gallon tank good for a range of nearly 370 miles in combined mode driving. On a sunny day, with the top dropped and the tunes maxed, there isn't a better car in the universe that this A3 Cabriolet.
2016 Audi A3 Cabriolet 2.0T Quattro S tronic
Engine: 2.0 liter TFSI turbo in-line four
Horsepower: 220hp@4500-6200rpm
Torque: 258lb.-ft.@1600-4400rpm
Fuel Consumption: 23MPG City/32MPG Highway
Price as Tested: $50,425
Star Rating: 9 out of 10 Stars
Related posts: