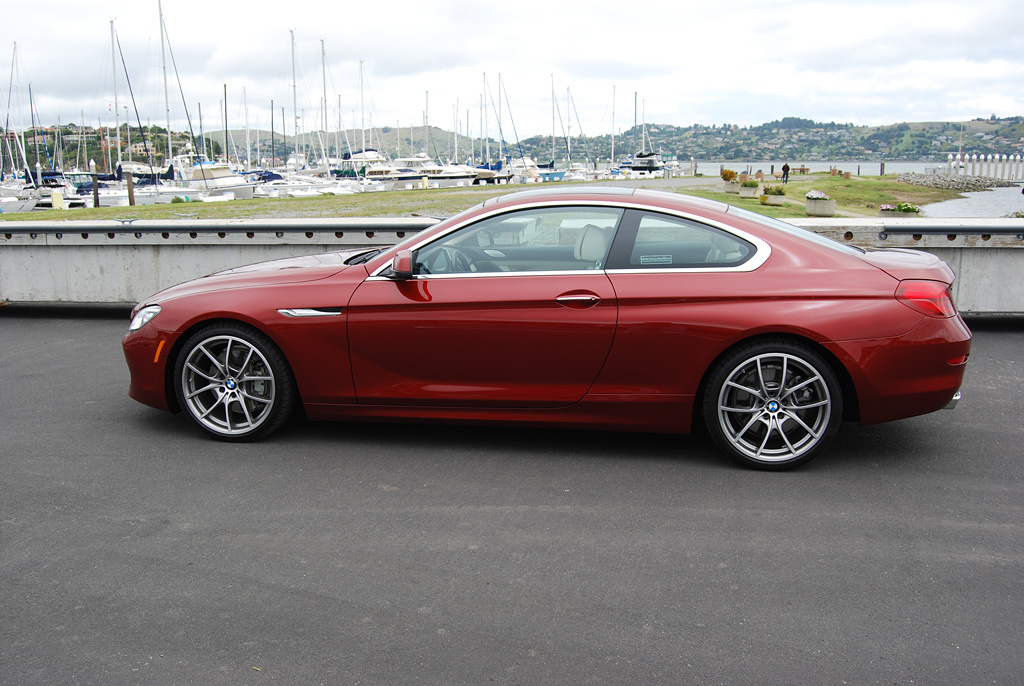 By David Colman
For: Do-It-All Nature, Space, Grace, Pace
Against: Exterior Rear View Mirrors Too Small
If you need a sportscar and a high performance sedan, look no further than Bimmer's 650i. Granted, it's a tad pricey at $101,675. But if you perceive it as 2 cars in 1, you're on the right reasoning track. If you're willing to alot $50,000 for each purpose the 650i fulfills, then you've saved yourself from buying an extra car. Let's examine this genteel beast from the sportscar perspective first. Are 400hp and 450 lb.-ft. of torque enough to slake your thirst for V8 twin turbo power? They should be, considering the 650i will turn 107mph in 13.4 seconds through the quarter mile, and post a 0-60mph time of 5.1 seconds on its way to an electronically limited top speed of 150mph. If that isn't serious sportscar territory, than nothing is.
But what about the handling? In a word, superb. BMW's Driving Dynamics Control (DDC) system, which is standard on this car, allows you to dial up just the right amount of steering feedback, suspension control, throttle response and traction control permissiveness you need when pushing the performance envelope. An easily accessible button on the standard "Fine Line Oak Wood" center console allows you to bump the default DDC setting from Comfort to Performance or Performance+. If you hold the button down for 10 seconds in the Performance+ setting, you disable Dynamic Stability Control (DSC), putting your enthusiasm and talent in control of the situation. You'll want to be exceptionally careful in this DSC-deleted Performance+ mode, because many of the safety net override systems are disabled, making it possible to lose control of this heavy and powerful vehicle if you don't know what you're doing.
Even though it weighs 4,380 pounds, the 650i feels much more agile than its weight would lead you to believe. That's because a number of optional systems work in consort seemingly to defy the limits imposed by mass and gravity. Leading the way is Integral Active Steering ($1,750) which really translates into 4-wheel-steering. As you enter a turn, the rear wheels cock slightly in the direction of the turn to augment the adhesion of the huge 20 inch diameter alloys and Dunlop Sport Maxx run-flat DSST tires (245/35/20 front, 275/30/20 rear) which are standard on this model. At 37mph, rear wheel steering turn entry enhancement ends. Further aiding handling agility is the ingenious Active Roll Stabilization ($2,000), which tailors anti-sway bar tension according to need. The faster you drive, the stiffer the sway bars become.
Now let's examine this coupe's contribution to family harmony. Although access to the rear seats is by definition limited in any 2-door vehicle, this BMW does its best to make back seat usage feasible and comfortable for all concerned. An oversized latch on the top of the front seats allows back seaters to tilt their way into the plush pair of rear lounge chairs. Even better are the exquisitely crafted front 20-way power Multi-contour chairs, complete with Nappa leather covering and optional ($500) 3-stage heaters. The commodious 16.1 cubic foot trunk, unencumbered by the need to house a spare tire thanks to the run=flat Dunlops, will hold enough baggage to take three adults and their suitcases across country. And what a fine trip it promises to be. On the open highway, the twin turbo V8 settles into a relaxed gate that nets you 23 MPG. Slip the Dynamic Driver Control system into Comfort+ mode, and the 650 metamorphoses from a backroad burner to a freeway cruiser extraordinaire. The optional Bang & Olufsen Premium Sound Package ($3,700) provides an endless array of entertainment options, from 1 year of free Sirius Radio to iPod and USB integration. So if you need a concert hall on wheels with the ride comfort of a '60s Cadillac, then give this Bimmer a close look. Because it's the very same car that will run with a Turbo Porsche on any backroad of your choice.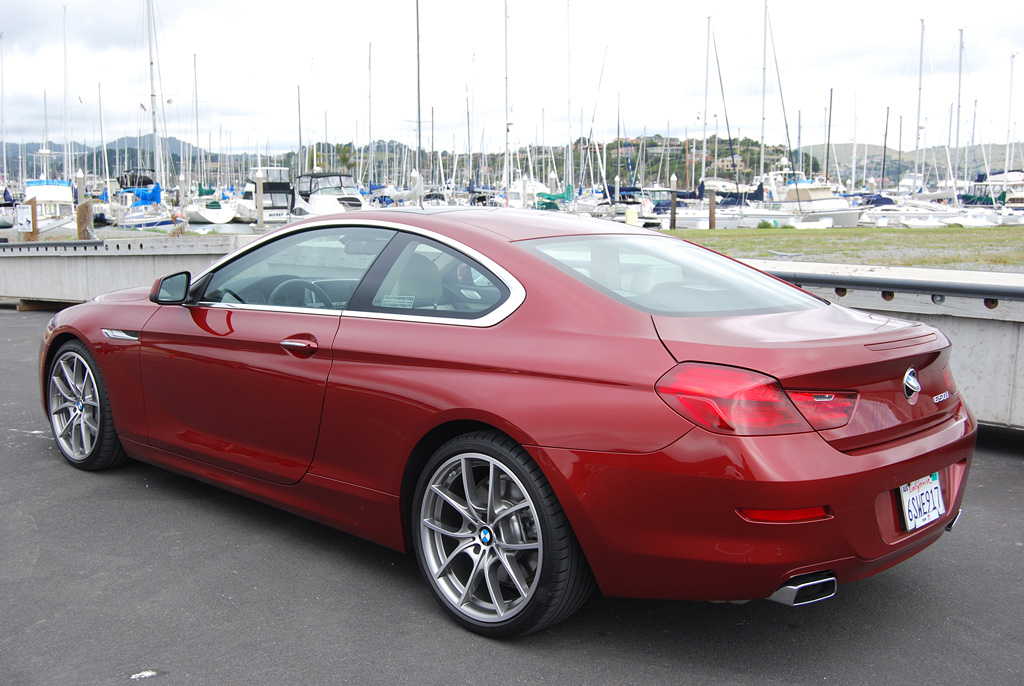 2012 BMW 650i Coupe
Engine: 4.4 liter V8, Direct Injected and Twin Turbocharged
Horsepower: 400hp at 5,500rpm
Torque: 450lb.-ft. at 1,750rpm
Fuel Consumption: 15 MPG City/23 MPG Highway
Price as Tested: $101,675
Star Rating: 9.5 out of 10 Stars
Related posts: