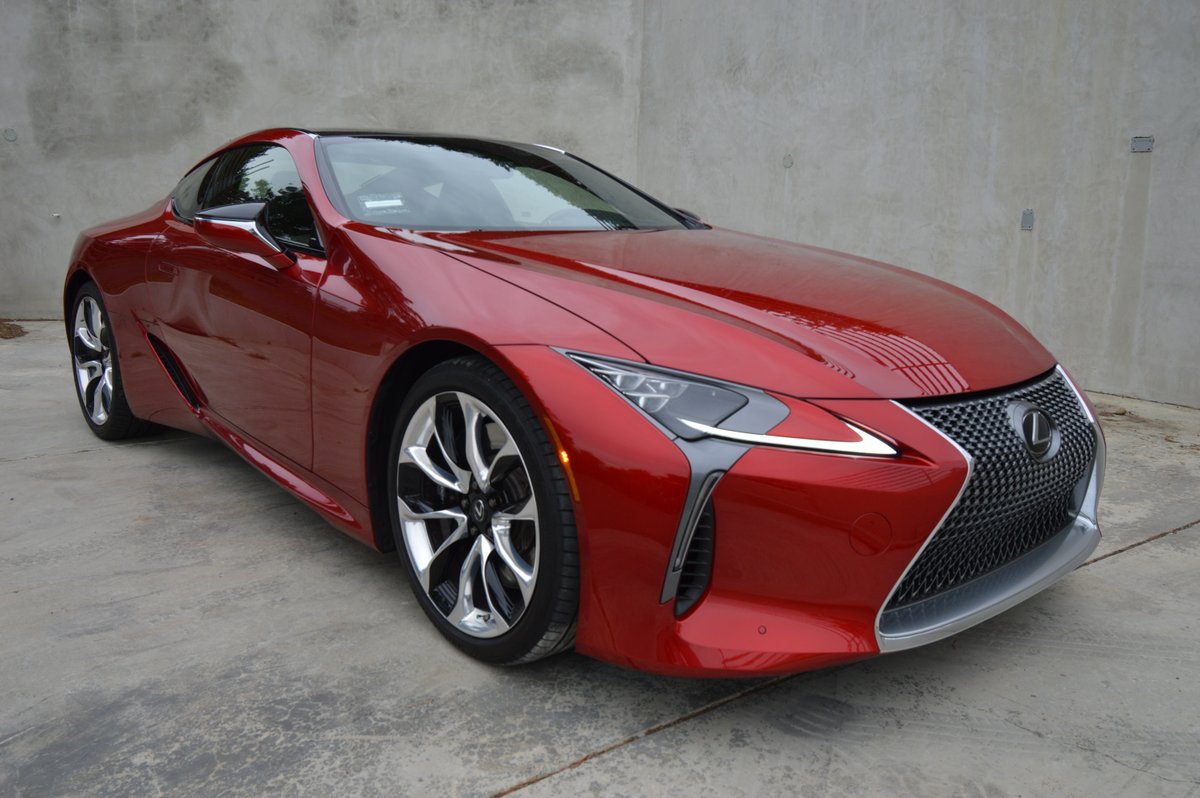 Hypes: Sensational Sheet Metal, Planted Handling, Fighter Jet Cockpit
Gripes: Distracting Graphic User Interface Pad, Excessive VDIM Oversight
Wanna be a Rockstar? Buy a 2018 LC 500 right now. Make sure it's painted "Infrared," then show up at Cars & Coffee. Our local show is getting started so early that there were zero parking slots available in the main lot by 8am. We know because we cruised each row slowly, looking for an opening. We might as well have been trolling for car freaks. The instant we located a parking spot, a crazed delegation circled the coupe, wondering what this full size Hot Wheels was all about. The tagline on the coupe's $102,890 window sticker reads "Experience Amazing." From the gaping looks all around, I would have to say the Lexus motto captured that moment perfectly.
It's been years since any new test car generated such unadulterated enthusiasm from onlookers. And it happened time after time. We repeatedly popped the aluminum hood to afford the curious a view of the V8 gem that produces 471hp and 398lb.-ft. of torque. This 32 valve engine, which benefits from variable valve timing for both intake and exhaust, is beautifully presented, with just enough shrouding to keep the engine clean, but still allow a view of the mechanicals. The tubular shock tower reinforcements, painted to match the body color, look especially impressive. The V8 connects to a 10-speed "Sport Direct Shift" automatic gearbox equipped with the biggest magnesium paddles you'll find in any cockpit today. Once underway, gear selection is conducted solely through use of those paddles. The stubby console-mounted stick only determines 4 basic choices: Park, Reverse, Neutral and Drive. The paddles control the rest.
Our test coupe was fitted with the $2,960 optional "Sport Package with Carbon Roof." In addition to the dazzling woven fiber roof panel, this package adds "8-way power front sport seats with Alcantara inserts." Climbing into these Hawaiian sling style bucket seats is a bit of a chore. Climbing out is even more taxing. But once ensconced in the pocket of Lexus' leather trimmed catcher's mitt, you quickly realize this heated and ventilated chair is the most supportive, comfortable sport seat yet devised. I also bravely ventured into the abbreviated back seat for a quick sit. Both front chairs automatically slide forward to allow access to the back, so ingress is less of a problem than egress. At 5'8," my head was butting the sloped rear window, so consider this area to be off bounds to adults, but perfect for a pair of children.
The standard wheel and tire fitment for the coupe is a 20 inch diameter, 10-spoke cast alloy rim fitted with 245/45R20 front and 275/40R20 rear tires. Our test Lexus, however, was fitted with optional 21 inch forged alloy rims fitted with run-flat Bridgestone S1000L tires (245/40RF21 front; 275/35RF21 rear). These forged rims are quite a bit flashier than the satin spoked cast alloys, but they do offer lots of eye candy in each wheel well. Beyond looks, the Bridgestones provide excellent all weather adhesion, with particularly fine dry handling thanks to a sticky treadwear rating of TW 230. With the simple twist of a knurled knob atop the instrument binnacle, you can convert the coupe's road behavior from its normal driving mode to one of 3 other choices: comfort, sport and sport+. In addition to engine and transmission behavior, the chosen driving mode also controls the "Adaptive Variable Suspension." In practice, it's fun to toggle between the settings depending on road condition and location. The normal setting proved well suited to freeway travel, but if you plan on attacking curvy back roads, the sport and sport+ settings allow you to concentrate on driving your preferred line while the transmission automatically takes care of downshifts to keep the V8 in the prime of its power band. Note, however, that the Lexus VDIM, or Vehicle Dynamic Integrated Management, which oversees all aspects of the coupe's performance, is programmed to cut engine power whenever it senses an incipient slide, no matter which driving mode you have selected. The premature intercession will come as an unwelcome shock to advanced drivers with quick reflexes.
Cutting edge performance shortcomings aside, the LC 500 is stellar on so many levels that it defies comparison with anything else in the coupe marketplace. It not only looks stunning, but sounds ethereal as it constantly beckons you to drive hard and fast. But with its stout V8 and legendary Lexus build quality, there's no need to question its practicality nor its usefulness as a daily driver. This coupe looks so wildly exotic it will gather a crowd every time you park. But unlike other exotics, this Lexus will never spend significant down time parked for repairs at the dealer.
2018 Lexus LC 500 Coupe
Engine: 5.0 Liter V8, DOHC, 32 valves, Dual VVT-i
Horsepower: 471hp
Torque: 398lb.-ft.
Fuel Consumption: 16MPG City/26MPG Highway
Price as Tested: $102,890
Star Rating: 10 out of 10 Stars
Related posts: