By David Colman
Hypes: Well tailored oasis, impervious to traffic
Gripes: Hard to park, harsh ride
We spent a rewarding week touring Northern California in the $50,889 Toyota Tundra Platinum grade truck, the most expensive Tundra you can buy. Toyota offers no fewer than 41 different levels of Tundra, starting with the least expensive SR double cab ($28,410) and ending with the model we tested. Platinum grade brings you really attractive diagonally tufted leather trimmed upholstery on all seating surfaces, as well as tufted dashboard and door panels. These artfully stitched designs conferred a richness to the Tundra's otherwise sober black interior. In addition to the needlework, this top level truck includes a Moonroof, integrated turn signal mirrors with power folding feature, power front seats with adjustable lumbar support, and memory positions for seat and mirror location. The CrewMax configuration, with its four full size doors, allows maximum use of the expansive cabin. Although we never had occasion to transport anything in this truck's spacious 5.5 foot long bed (double walled with rail caps), We did manage to fill the huge rear seat with vacation gear for a 4 night adventure to Monterey and Laguna Seca Raceway.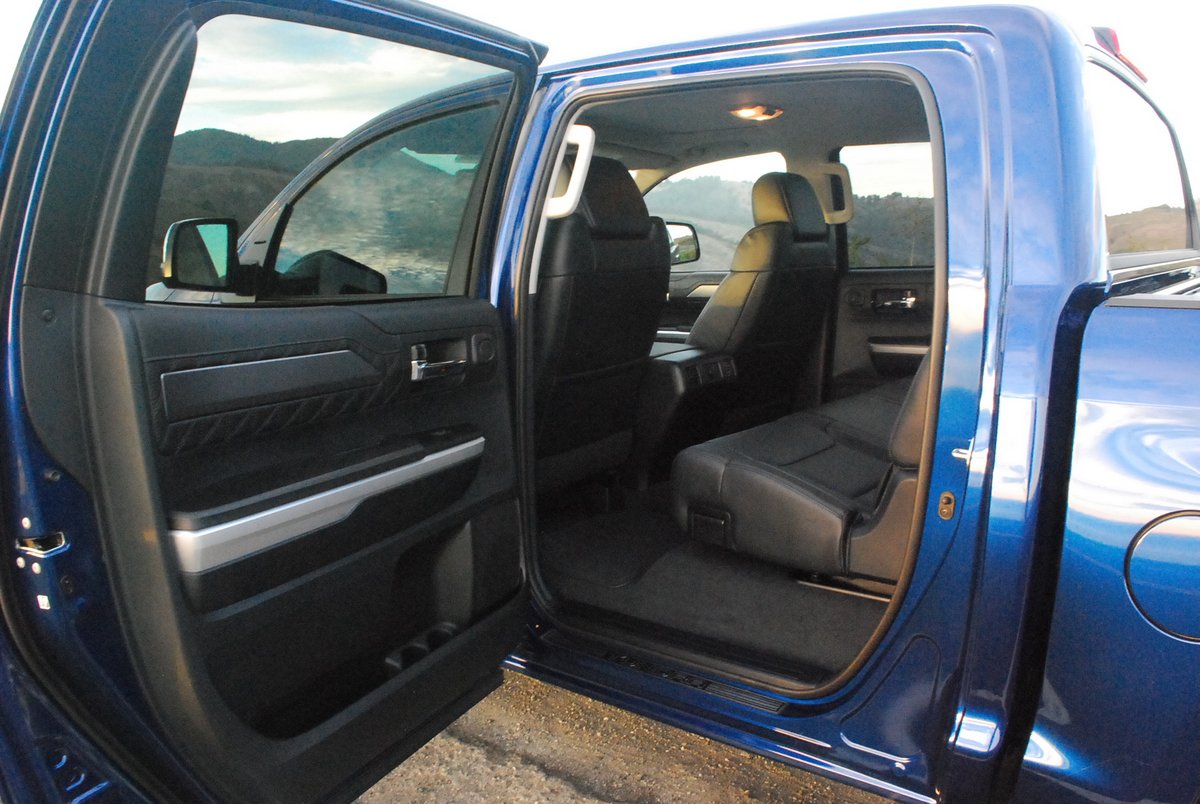 Parking at the track took place on rugged terrain, but the slippery hills never gave the 4×4 Tundra a moment's pause. We positioned this truck effortlessly without even resorting to 4 wheel drive. Off-road traction is excellent thanks to Pirelli Scorpion tires (275/55R20) on Platinum grade alloy wheels that actually look undersized on this behemoth truck. Our test Toyota also carried $500 worth of "Blind Spot Monitor with Rear Cross Traffic Alert." While this option is hardly worth buying on smaller vehicles, it's almost a necessity with the Tundra, which stands so tall that your immediate sightlines to adjacent traffic need all the help they can get from this option.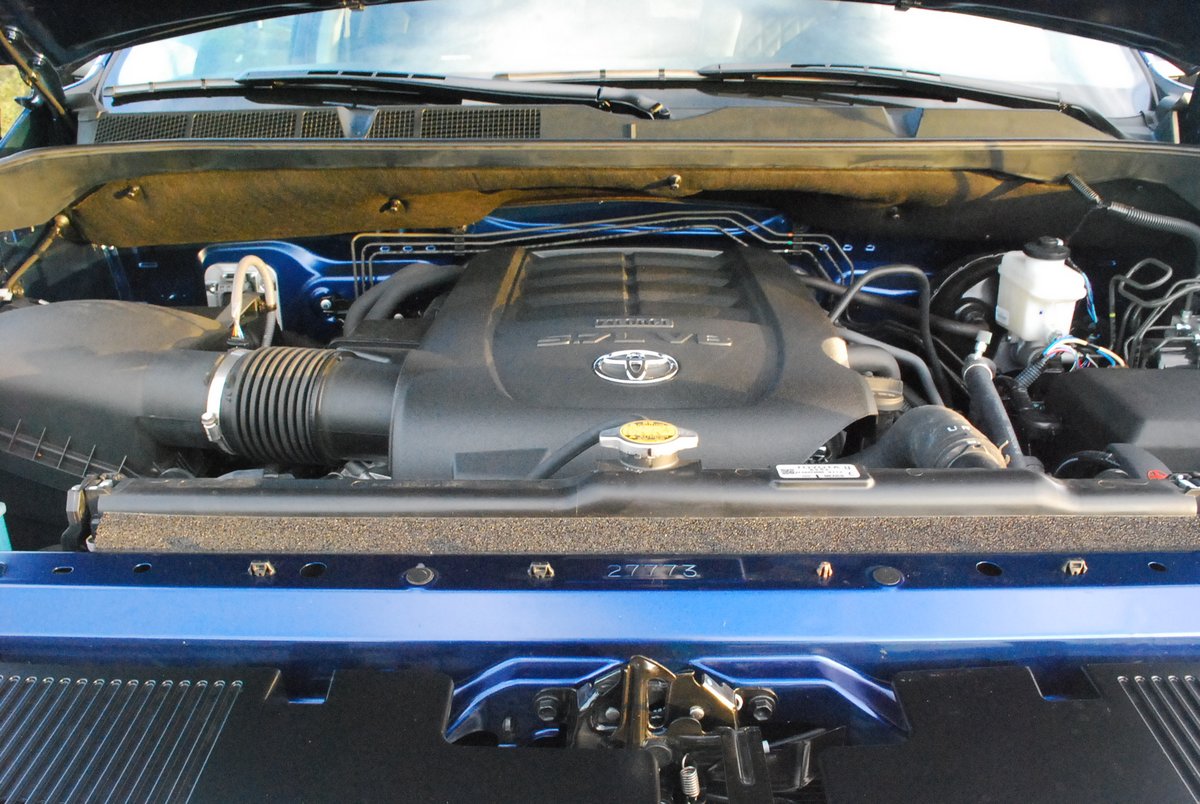 Toyota eliminated the V6 from the Tundra lineup this year. While lesser versions of the truck still use a 4.6 liter V8 making 310hp, that output is hardly adequate for this 5,740 pound pickup. But the 5.7 liter V8 standard on the Platinum rig makes 381hp and 401lb.-ft. of torque, which is more than enough power and twist to propel it at a comfortable freeway pace. We averaged 17mpg on our extended journey. Given the Tundra's 34 gallon tank, good for 578 miles, we only had to refill once during our week of travel. At first, the optional $1,100 TRD dual exhaust system seemed to issue more noise than acceptable, with a throbbing drone that constantly changed tenor. But we quickly got used to the tailpipe music, and soon forgot about it all together. When you need to move fast, a firm prod of the accelerator brings out a hearty roar from the handsome stainless steel system, fitted with special TRD chrome finishers. This Tundra makes no bones about being a hot rod truck.
Luckily, the hotel where we stayed provided valet parking only, and this proved rather fortuitous since the CrewMax Tundra is not a rig you want to park in tight spaces, or park at all for that matter. The upside of its size is to provide lots of real estate on the open road, which is great. But when you are looking to dock it in town, the opportunities for doing so are limited. You park this big rig where you can, so plan on doing a fair amount of walking to your final destination. A Smart Car it is not.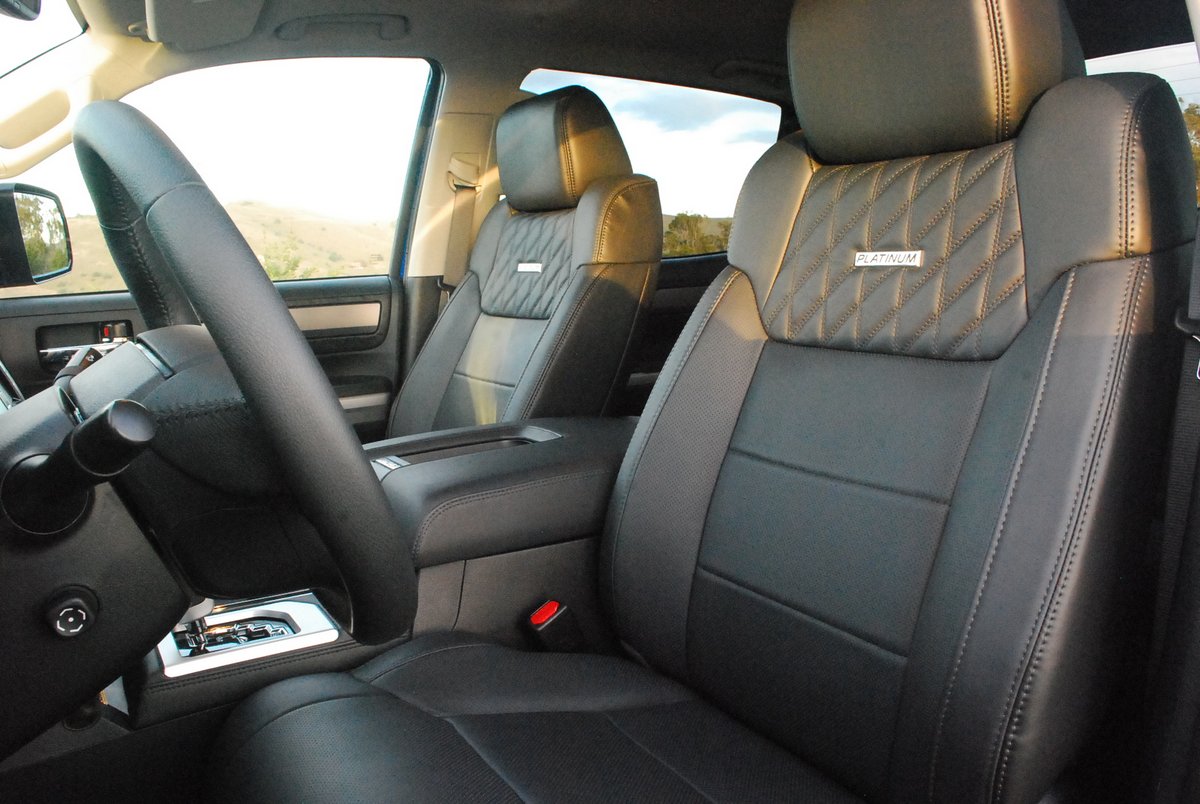 What it is, however, will make you feel invincible. At a commanding height of 76 inches, it stands Texas tall, appropriate to a truck built in that state. And at 80 inches in width, and 229 inches in length, you'll want to watch those mirrors for lane placement on the freeway, because this Toyota takes careful minding. But the literal upside is that it's physically superior to almost all traffic. And for that peace of mind, $$50,889 seems a relatively small price to pay.
The Platinum Tundra proved to be the perfect get-away vehicle for a long weekend. If you use it to tow a boat, trailer, or play car, its 4.3 :1 rear end ratio will sweep your load away effortlessly, with a tow limit of 10,400 pounds. Our test model included everything you need for such a drayage chore: Tow/Haul transmission mode, heavy duty engine and transmission cooler, 4 and 7 pin connectors.
2015 Toyota Tundra CrewMax 4×4
Engine: 5.7 liter DOHC V8 with Dual Independent VVT-i
Horsepower: 381hp
Torque: 401lb.-ft.
Fuel Consumption: 13MPG City/17 MPG Highway
Price as Tested: $50,889
Star Rating: 9.5 out of 10 Stars
Related posts: