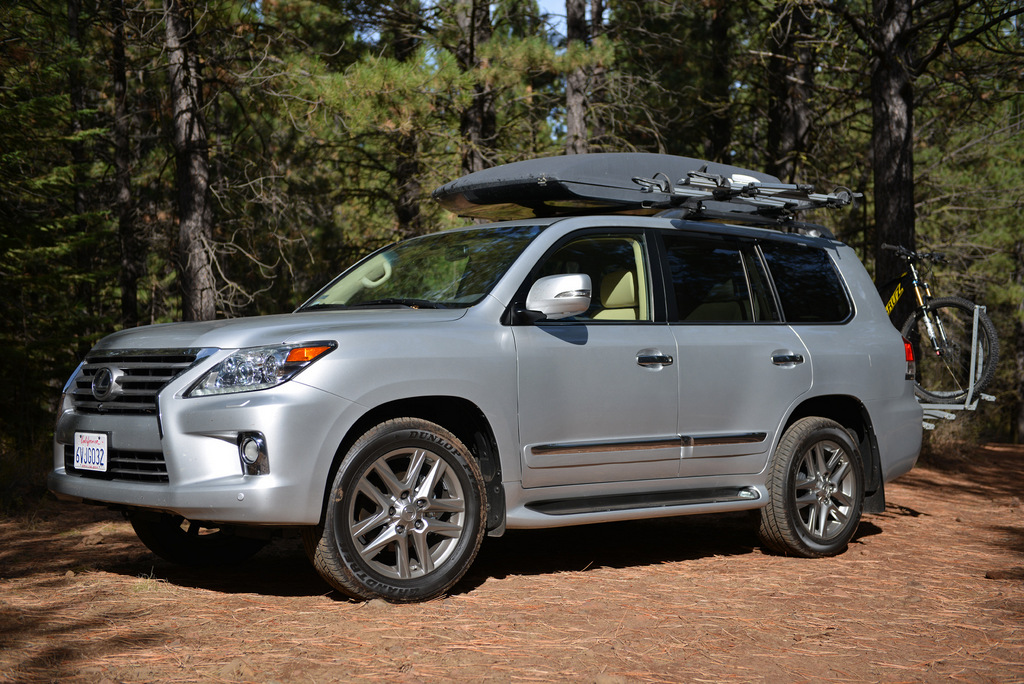 By David Colman
For: All-Terrain Dominance, Lexus Finish, Chilled Center Console Cubby
Against: Paucity of Cockpit Storage, XXXL Proportions
Greenies avert your eyes. Not only will this review not interest you, but it may actually antagonize you. Because the LX570 is like the 300 pound guy who plops down right next to you in the middle seat of a packed Airbus. Just like him, the LX takes up all of its own space, and a good bit of everyone else's. When you park it in one of those "Compact Only" slots at the mall (aren't they all marked that way?), you'll find your running boards obscure the painted pavement stripes on both sides. Though the LX may just fit, getting in and out without dinging your neighbor's door is a contortionist's challenge. The ungainly slop-over continues at the gas station, which the LX visits more frequently than an alky hits Happy Hour. The bottom line here is 12 MPG City, 17 MPG Highway, with a combined average of 14 MPG. That equates to a cruising range of just over 320 miles to a tank. On a long trip, your 24.5 gallon gas supply will give out before your bladder will.
So what, then are the virtues of this $88,670 Lexus sports utility? Quite simply, it installs almost all the ultra luxe furnishings of the LS460 sedan into the classic architecture of the go-anywhere Toyota Land Cruiser. If you plan to trek through Nepal in a wheeled royal palace, the LX570 is just the ticket. It's also about the plushest ride to Squaw Valley you can buy at any price.
Let's start with the commanding driving position. Step onto the ribbed, illuminated running board and propel yourself into the driver's seat with enough oomph to compensate for the fact that the LX stands 74 inches high. That's 7 inches taller than a Porsche Cayenne or VW Touareg, and exactly the same height as Nissan's massive Titan truck. Once ensconced, you have a wonderful view of the road ahead, to the sides, and to the rear. Visibility is so good in fact that the optional ($1,000) Intuitive Park Assist (with "Wide-View Front and Side Monitor") is unnecessary. With its huge standard Moonroof, this cabin has more glass than a Corbusier dwelling.
The rear seats, while just as spacious and comfortable as the fronts, suffer slightly occluded frontal vision when the LX is equipped with the optional ($2,005) Dual Screen Rear DVD Entertainment System. Supplied complete with wireless headphones and a copy of the movie Ratatouille, this nifty option guarantees trance-like backseat obedience from small fry on long trips.
The likelihood that you will confront any terrain that will deter your LX from its destination is nil. For nearly 5 decades, Toyota's Land Cruiser has been the gold standard for SUV dexterity. Its up market sibling, the LX570, continues the dominant tradition, with enough suspension, braking and steering adjustments to compensate for any off- or on-road driving situation. 4-wheel drive is operational full time. A 2-speed transfer case with Torsen limited slip differential virtually insures you will never lose traction. Gigantic 20 inch tall Dunlop Grand Trek PT24 tires (285/50/R20) will paddle you over unpaved hill and dale while still affording good side bite and a decent ride on the highway. To tailor your suspension for normal or irregular terrain, Lexus provides a micromanagement panel on the center console that includes ride height adjustment, 4 WD High or Low ranges, 5-stage Crawl Control, and Sport or Comfort shock valving.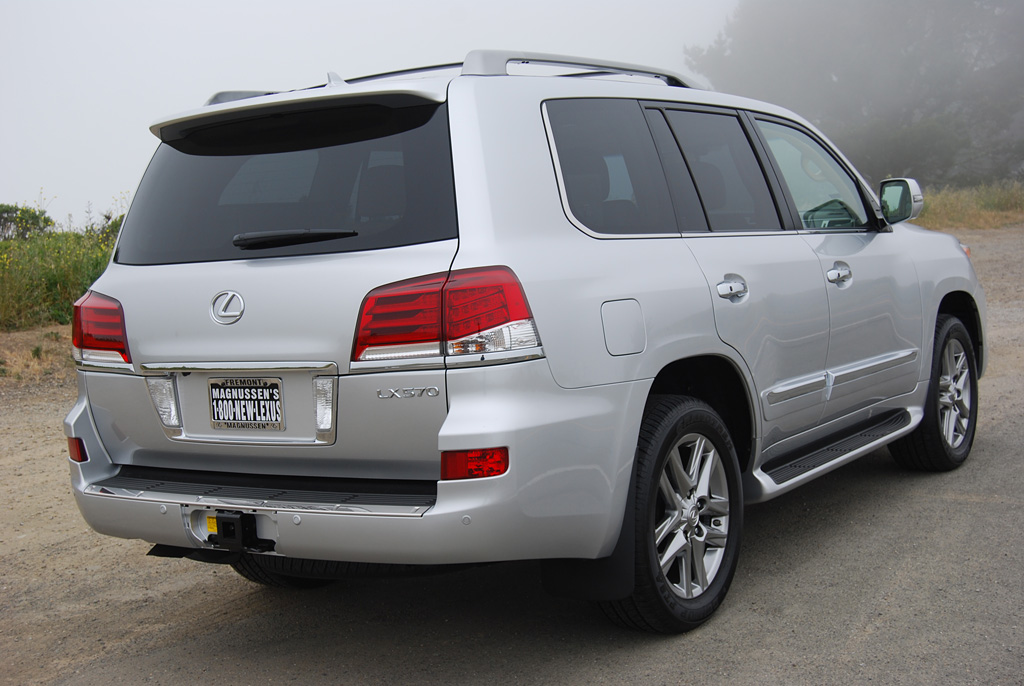 The 8-speed automatic transmission is smoother than maple syrup, and harnesses to perfection the 383hp and 405 lb.-ft. of torque produced by the LX' 5.7 liter 3UR-FE powerplant. On a paved and twisty road, we were able to keep the LX glued to the tail of a briskly driven 997 model Porsche 911S cabriolet. This big, bad Lexus may grab more than its fair share of space and fuel at times, but the end result is inarguably the same. The LX570 always gets the job done, no matter the description of the task.
2012 Lexus LX570
Engine: 5.7 liter V8, DOHC, 32 Valves with VVT-I
Horsepower: 383hp
Torque: 406 lb.-ft.
Fuel Consumption: 12 MPG City/ 17 MPG Highway
Price as Tested: $86,670
Star Rating: 9 out of 10 Stars
Related posts: