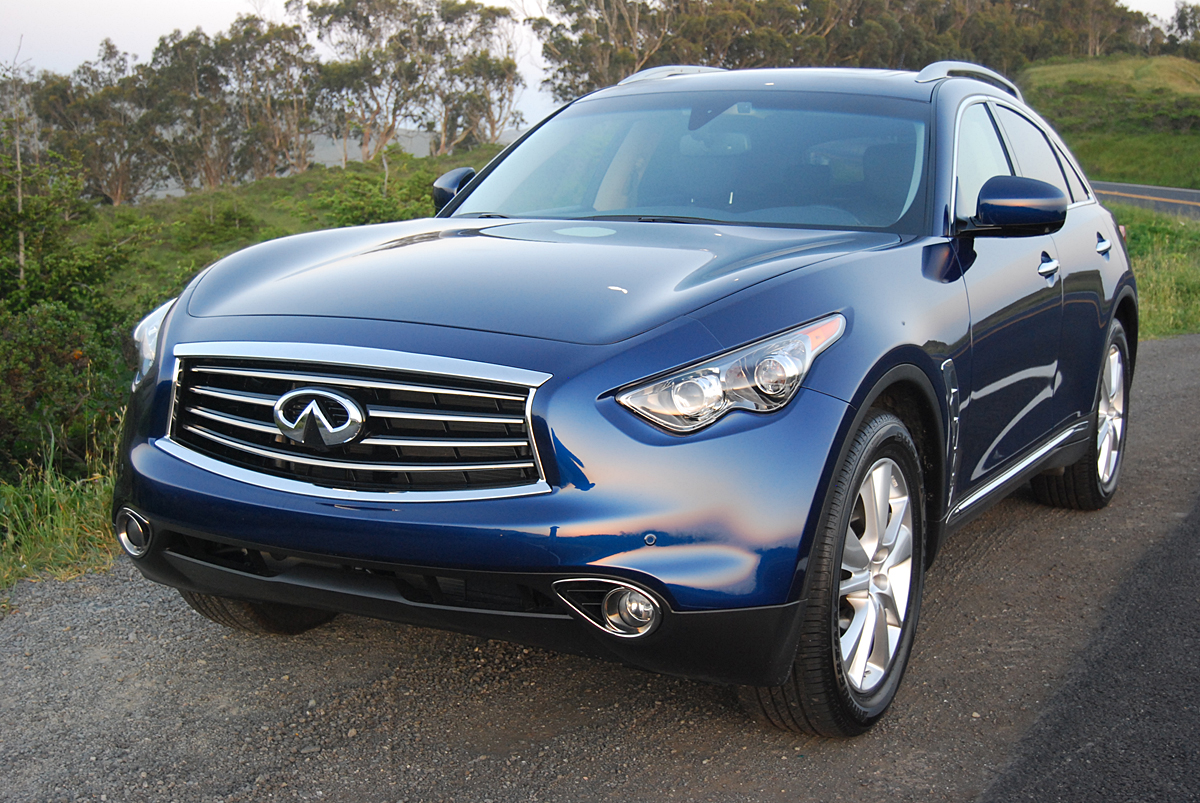 By David Colman
Hypes: Runs and Handles like a 370Z
Gripes: Sharp-Edged Steering Wheel Pad, Poor Rear Vision
You can call the Infiniti G37 the Special Effects model, because of its special engine, gearbox and suspension. Although the FX37 may look like just another SUV, it's really a Nissan 370Z twice removed. Why twice? Because Infiniti's G37 sedan is directly descended from the 370Z, while the FX37 is the SUV version of the G37. The fact that Infiniti has applied the numerical designation "37" to rename what was formerly called the FX35 stresses its 370Z/G37-derived engine displacement of 3.7 liters. Virtually the same V-6 powers all 3 vehicles. In FX37 trim, the engine produces 325hp and 267lb.-ft. of torque driving the rear wheels only through a 7-speed automatic gearbox. This sweet gearbox features automatic engine blipping on downshifts to synch rpm with road speed. Although our test FX37 was not equipped with magnesium paddles for steering wheel shifting, they are included in the $2,866 optional "Sport Package" which also provides adjustable shock damping and sport-styled seats.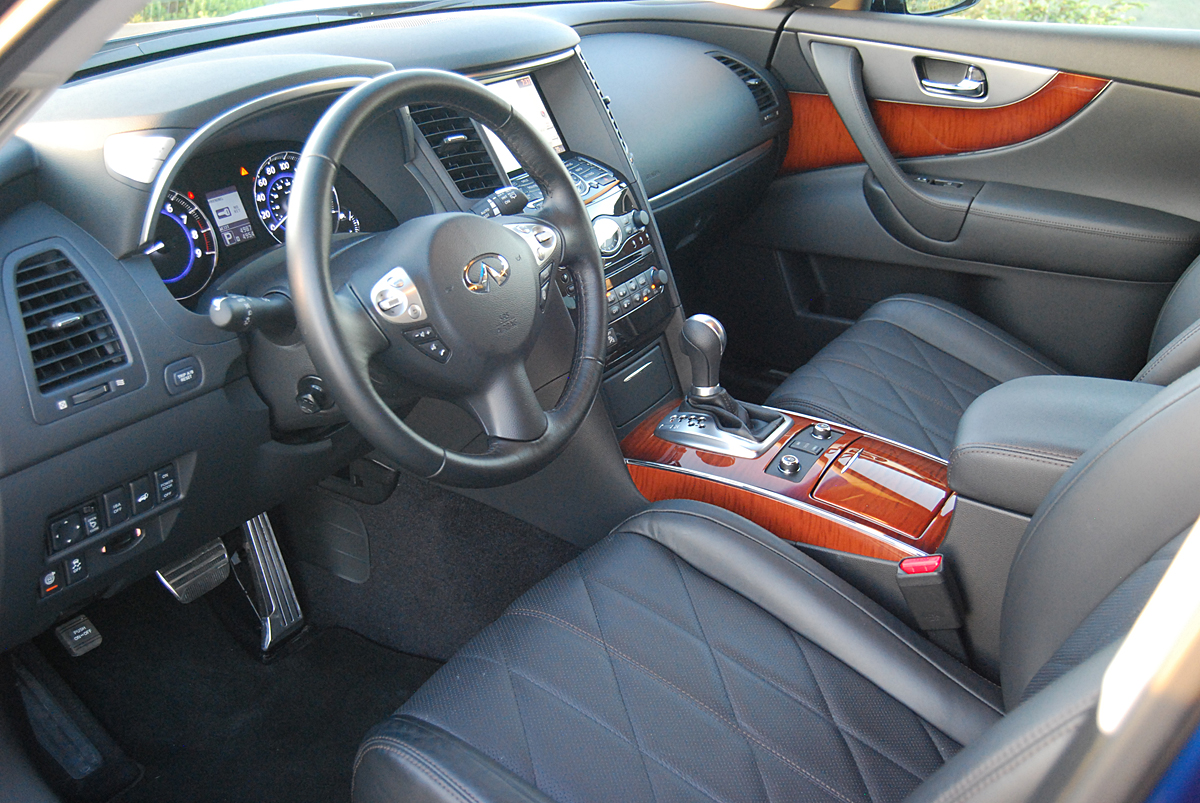 Even without the fingertip convenience of alloy paddles, the FX37 is still a pleasure to operate in sporting style. The engine is extremely responsive. The gearbox ratios are perfectly calibrated to keep the V-6 in its ample powerband. The suspension and steering remain taut and informative. Helping perfect the responsiveness are a set of 20 inch alloys mounting 265/50VR20 Bridgestone Dueler radials calibrated to maximize traction on pavement. This alloy wheel upgrade is part of a $3,300 optional "Touring Package" that also includes nifty looking quilted leather front and rear seats that are heated and ventilated, plus maple interior trim and aluminum pedals.
One addition you can do without is the $2,950 "Technology Package" which burdens the FX with an annoying set of nanny alerts like "Lane Departure Warning and Prevention" and "Forward Collision Warning" that chirp a concerto of beeps that will drive you to distraction. The problem with the FX37 is that rear vision is abysmally poor thanks to its sloping roof, minuscule rear window, and huge rear C-pillars, and no amount of technology will ever overcome that genetic malady. So do yourself a favor, pass on the Technology package, and vow to turn your head and check your mirrors every time you make a lane change. Luckily, a "Rear View Monitor" is standard fitment, so you can always check the dash displayed image when reversing the FX.
The lines of the FX37 aren't so much handsome as bulbous. If SUVs could bench press barbells, the FX would be good for 300 pounds easy. Its mega-chrome grill confronts slower traffic like a schoolyard bully. Every stylistic sweep is calculated to emphasize aggression and road dominance. I was amazed at the number of people who meekly surrendered lane position when they saw the FX looming in their mirror. While this Infiniti isn't quite as intimidating as a police cruiser, its stance renders other motorists submissive.
Once you're ensconced in its finely detailed cabin, however, you're hardly aware of that bully pulpit profile. Rather, your every travel need is catered to by this well mannered concierge of the highway. Those box-quilted front seats fit like a throne, while the button festooned dashboard offers so many comfort and entertainment preferences that you'll spend hours poring over the owner's manual to learn them all. Of course, the addition of the $4,300 optional "Premium Package" to our test FX's window sticker added a lot of extra content to an already well-equipped vehicle. This grouping includes an upsized 8 inch VGA color screen on the dash, Hard-Drive Navigation, Voice Recognition, Streaming Audio via Bluetooth, in-dash single CD/DVD player, and slick looking aluminum roof rails. About the only thing not included in the Premium Package is a graduate level seminar in how to make all this technology work for you.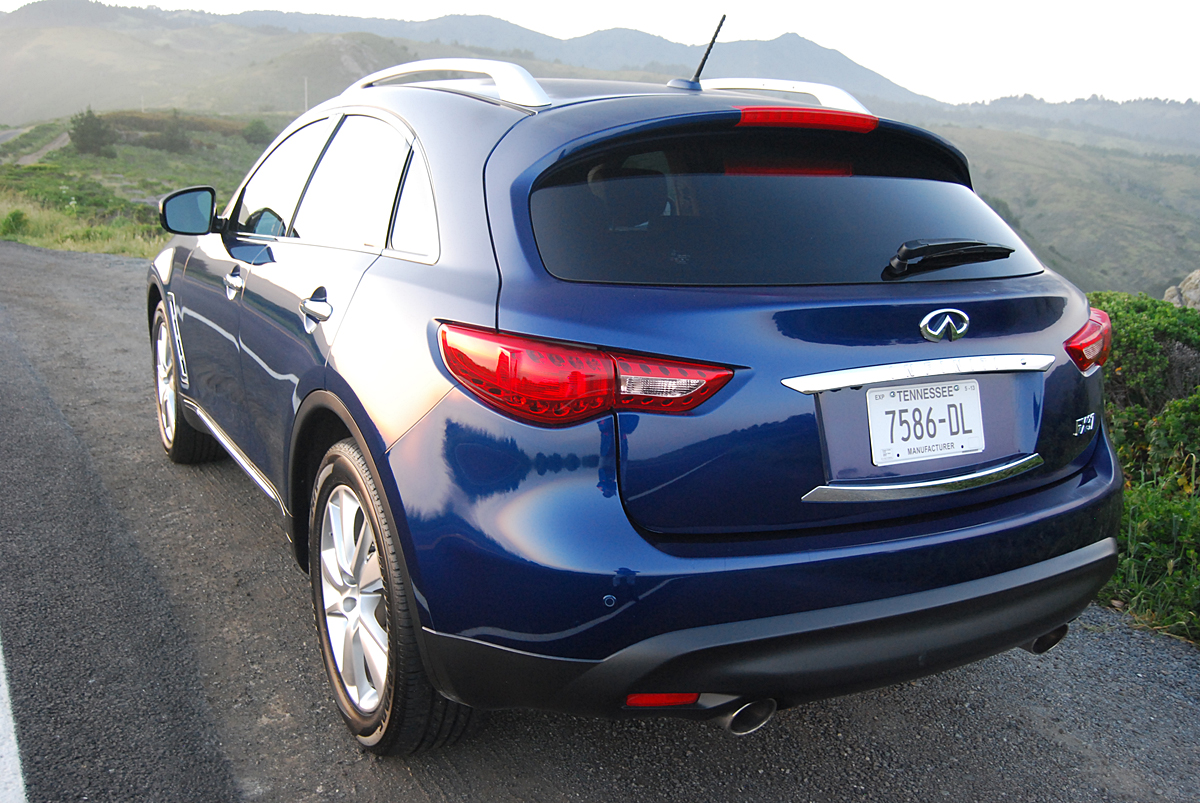 2013 Infiniti FX37
Engine: 3.7 liter DOHC, 24 Valve V-6
Horsepower: 325hp
Torque: 267lb.-ft.
Fuel Consumption: 17 MPG City/24 MPG Highway
Price as Tested: $55,800
Star Rating: 8.5 out of 10 Stars
Related posts: