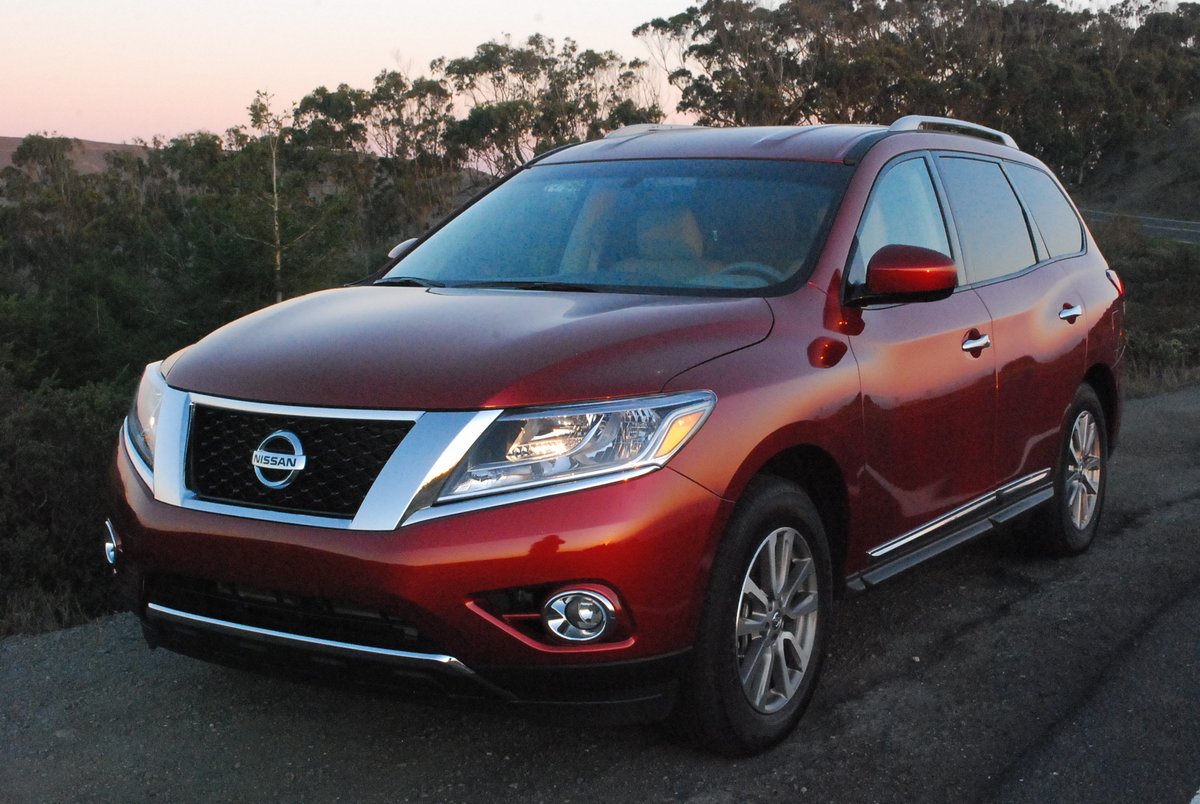 By David Colman
Hypes: Spacious, Airy Interior
Gripes: Doors self lock and don't unlock, Valet settings for seat/mirror inoperative
When I first started reviewing new vehicles back in the late Eighties, the Nissan Pathfinder was one of my favorite primordial SUVs. It offered good looks, taut ride and instant throttle response. Over the intervening years, Nissan has taken the Pathfinder on a course that has strayed far from that original. Its corporate chromed appearance no longer distinguishes it from myriad other SUVs on the road. Its ride quality has shifted from precision to comfort. And the throttle response of its current 3.5 liter V6 is adequate rather than scintillating. But the biggest change of all has come in size and proportioning. Where the original Pathfinder was a squeeze for 5, the current iteration is a squeeze for 7. Our 2015 SL level test model weighed 4,505 pounds, with a length of 192 inches and a wheelbase of 112 inches. With the front seats pulled forward, you can tip the second row seats flat and slide them forward. This allows access to the very cramped third row which will accommodate a couple of pre-teens. To facilitate exit for third row occupants, you need to revisit steps 1 through 3 in reverse order. It's not exactly handy, but if you must carry 7, the Pathfinder will get the job done.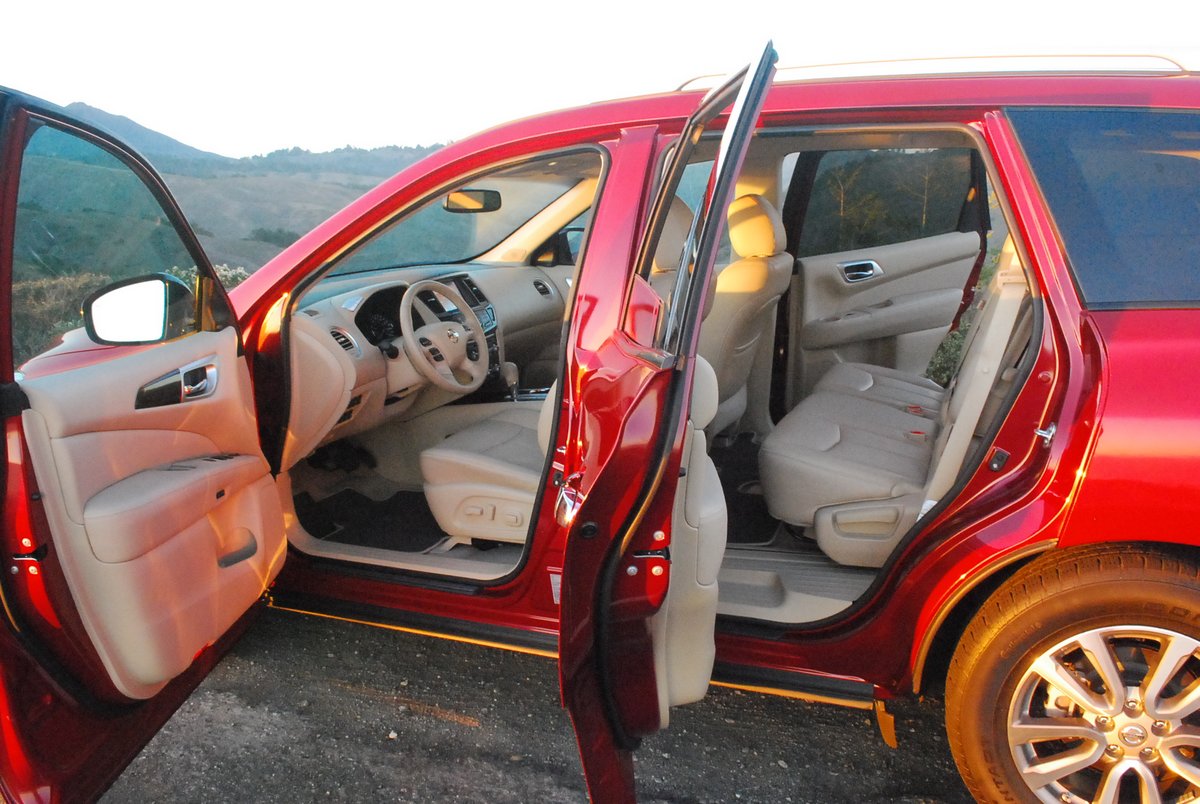 Driving the Pathfinder will make you feel more like a bus driver than a sport utility commander. The enormous cabin offers good sight lines in all directions, but when you look in the rear view mirror you'll see a sea of headrests that scream "minivan." The pitchy handling of the Pathfinder bears out your initial impression. Soft springing allows it to tilt substantially when pressed even slightly on curving freeway exit ramps. On two lane twisting back roads, the mud and snow capable Continental Cross Contact LX Sport tires (235/65R18) offer little resistance to squealing at apex time. You can push the Pathfinder hard, and it will generate a fair amount of headway when doing so. But there's little pleasure to be derived from that operation because the tires wash out early and the steering never imparts much information about grip or position.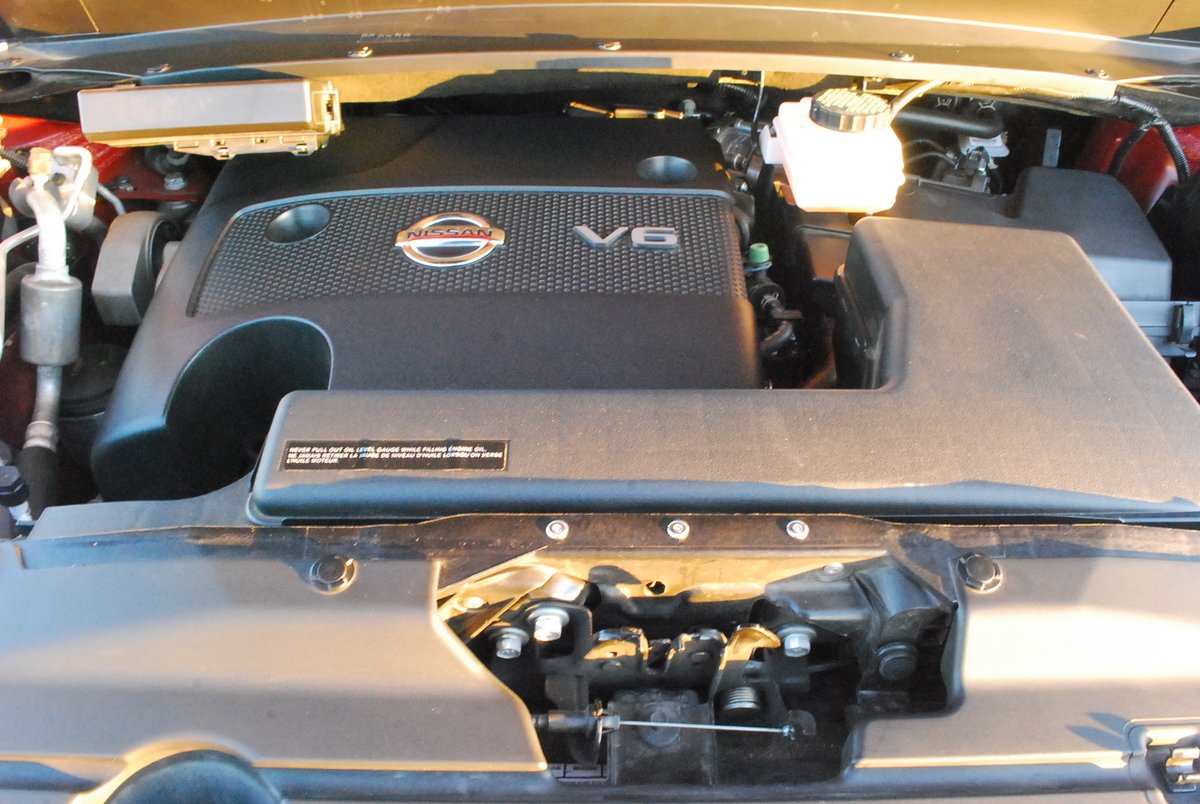 The 3.5 liter V6 couples to a CVT transmission that has but two forward selections: Drive and Low. There's no lateral gate separation for these positions, so it's all too easy to start off in Low when you meant to slot the lever into Drive. Out on the road, your only bet for changing gears is to stomp the accelerator, a gesture which alters the belt equation of the CVT to provide you with a passing spurt. With 240lb.-ft. of torque on tap, the Pathfinder does move out smartly when prodded with full throttle. But you never lose sight of the fact that its power-to-weight ratio of 17.3 pounds per horsepower will not win you any stoplight drag races. Our test Nissan included a $2,030 "SL Tech Package" which added Navigation, Voice Recognition, Bluetooth Streaming Audio, and a nicely integrated Tow Hitch and Trailer Harness. The all-wheel-drive Pathfinder can be set to either 2 or 4 wheel drive with a rotating dial located on the console between the front seats. This dial also includes a button to operate hill descent control. The lower quadrant of the dash to the left of the steering wheel houses a "Tow Mode" button which, when activated, alters shift operation of the CVT to provide additional uphill power and better downhill engine braking. Tow load for the Pathfinder 4×4 is 5,000 pounds.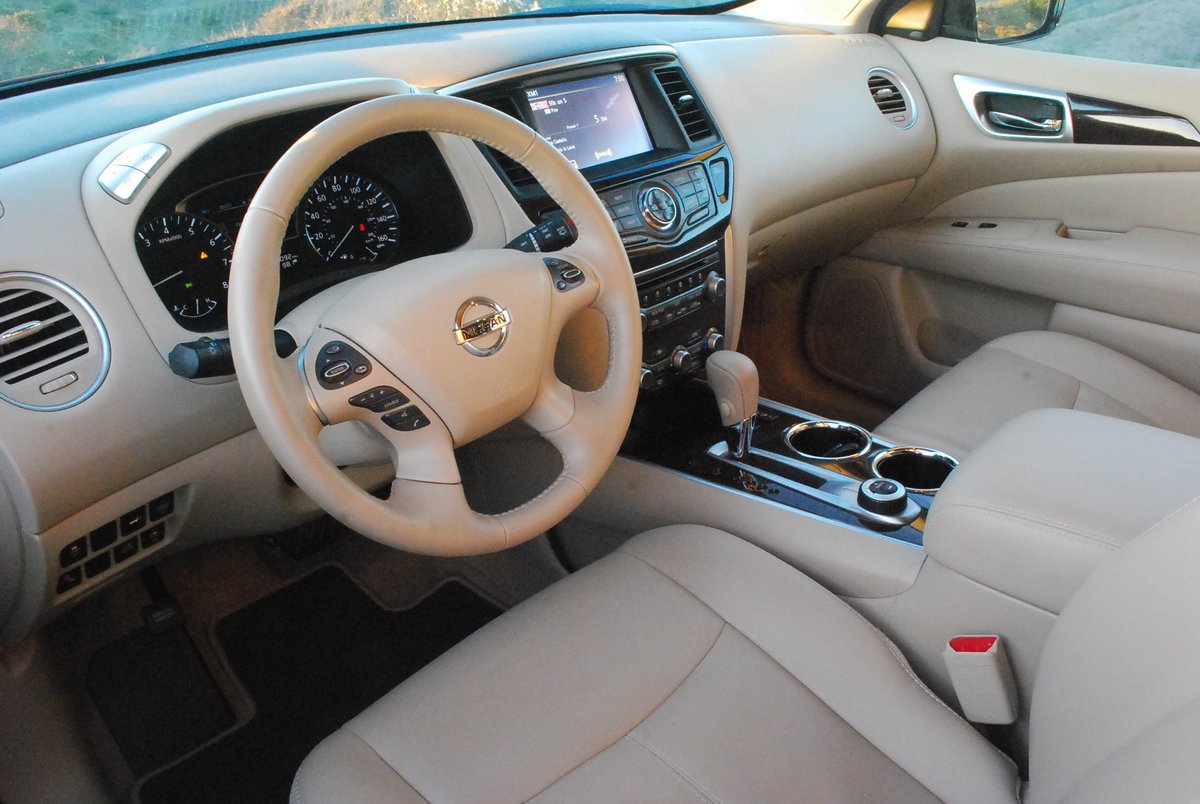 The interior of the Pathfinder is more welcoming than a New England hearth in autumn. The leather trimmed almond colored seats in our test sample were uniformly comfortable and handsome. At least the first 2 rows. That third row is best left for tykes to explore. Nissan has done a nice job of equipping the vaulted roof with an oatmeal headliner that makes the interior look even more spacious than it is. A panoramic moon roof is optionally available, but thanks to all the window light, you don't really need it to counteract claustrophobia. Nissan has done a particularly good job of engineering the multiple seat controls to allow reconfiguration of the interior from people mover to parcel shelf. They call this system "EZ Flex" which uses "Latch and Glide" technology to facilitate the transformation. When you can accomplish such a chore without once consulting the owner's manual, you know the system is intuitive rather than confusing.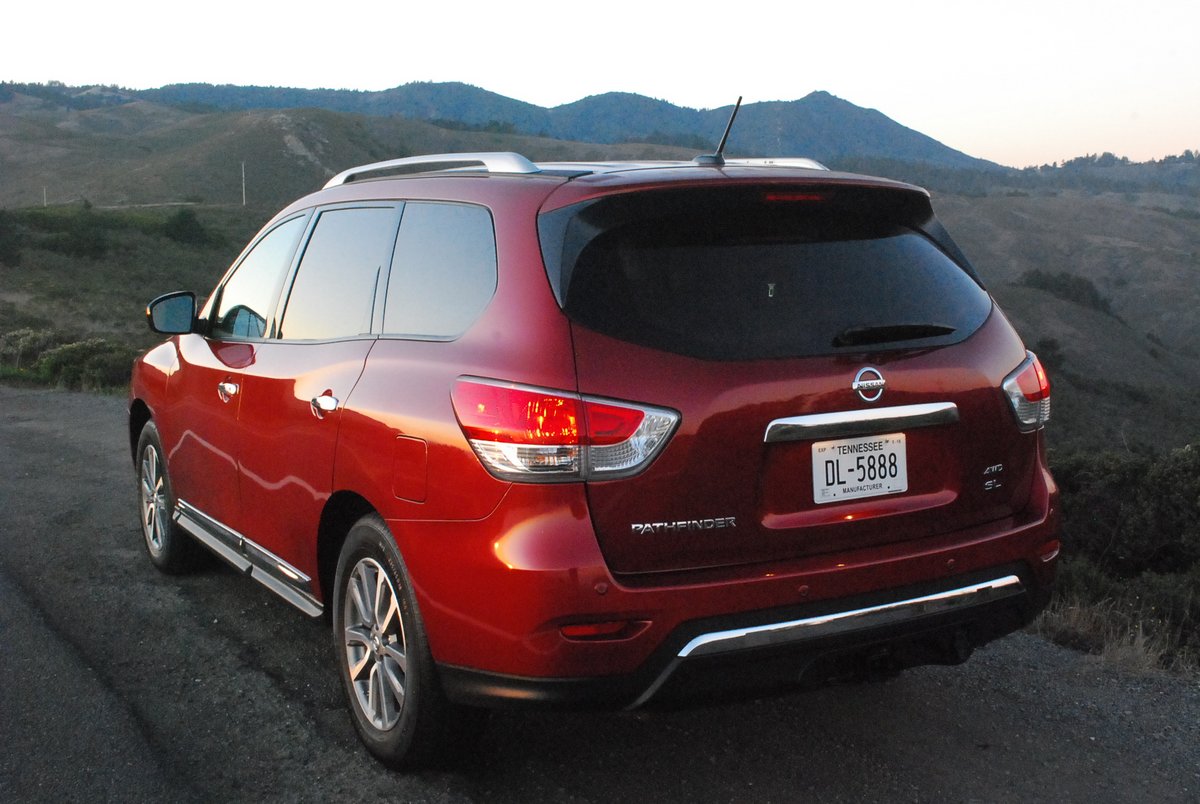 Nissan has selected a very different route for its Pathfinder than the one it set out on many years ago. It has de-emphasized the Sport angle of SUV in favor of the Utility angle. For large families with space consuming needs, the new version of the Pathfinder is more useful than the original ever was.
2015 Nissan Pathfinder SL 4×4
Engine: 3.5 Liter V6
Horsepower: 260hp
Torque: 240lb.-ft.
Fuel Consumption: 19 MPG City/26 MPG Highway
Price as Tested: $40,875
Star Rating: 7.5 out of 10 Stars

Related posts: