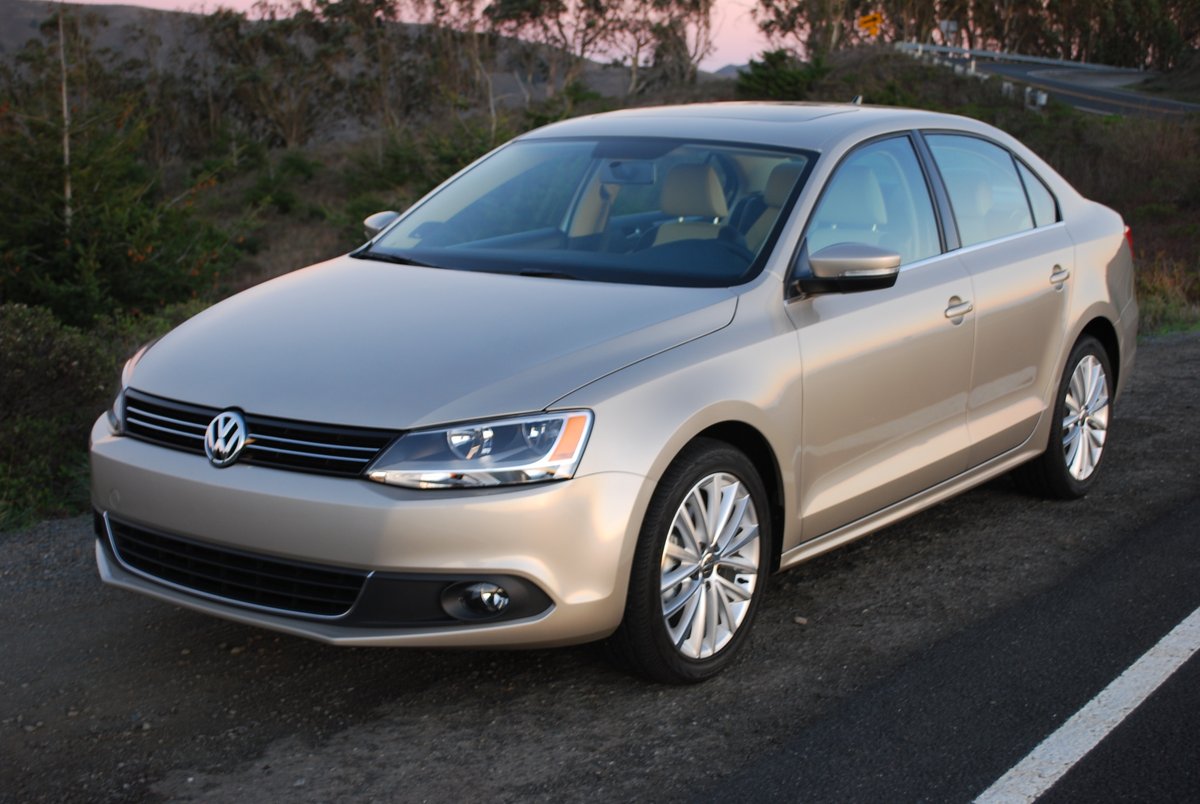 By David Colman
Hypes: Fuel Efficient New Turbo Motor, new IRS rear underpinnings
Gripes: Blind Spot Monitor Unavailable
Though the 2014 Jetta may look identical to last year's model, significant improvements have occurred under the skin that make VW's best selling sedan better than ever. The first upgrade lies under the hood, where a 1.8 liter turbocharged straight four replaces the previous 2.5 liter inline five. Although the new gas fueled engine makes the same 170hp as the straight five, it produces more torque (184 lb.-ft. vs. 177 lb.-ft.), and returns substantially better fuel consumption as well (29 MPG overall). The other major structural change to the Jetta is substitution of an independent rear suspension (IRS) for the torsion beam rear axle that VW has been using in one form or another since the Rabbit was introduced in 1975. By freeing each rear wheel to react to road conditions independently, the new link style suspension improves handling precision and traction. It also dampens oscillation over bumpy terrain resulting in greater creature comfort.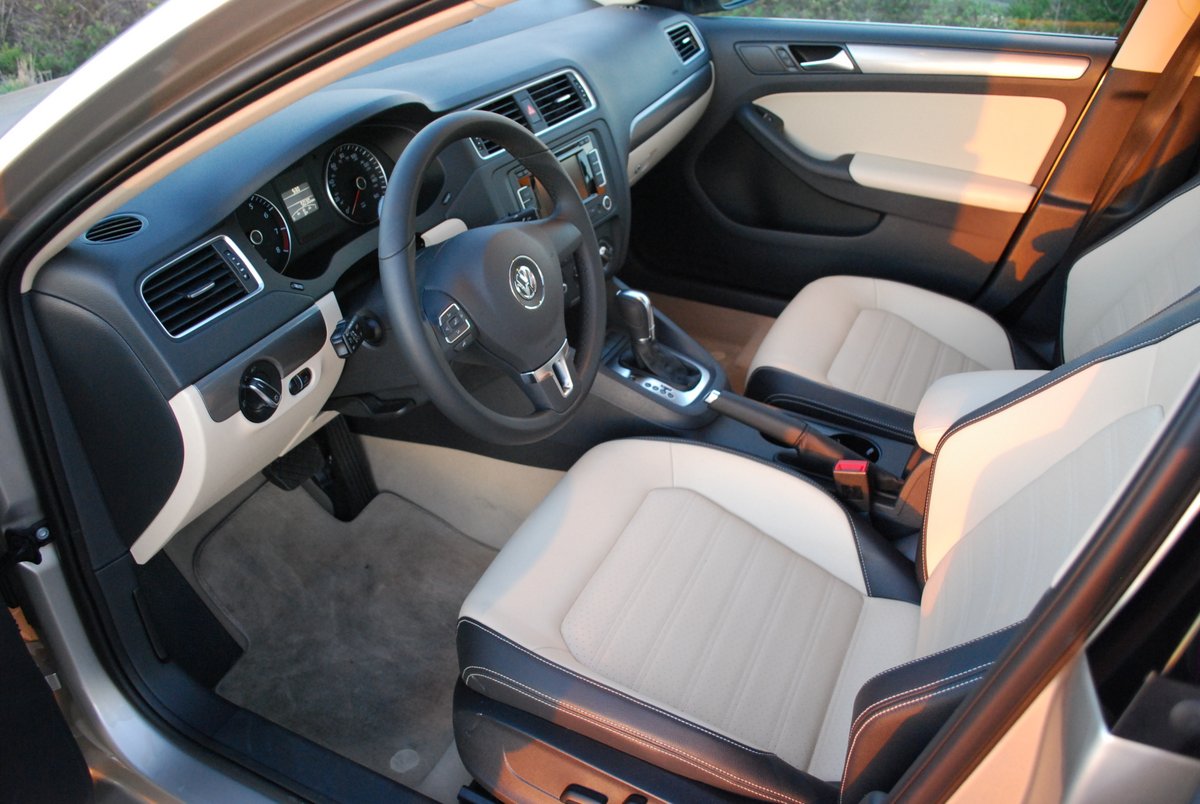 The well finished cabin of the SEL Jetta defies its modest $25,990 price point. Where most German manufacturers inflate the base price of their offerings with more options than you want or need, Volkswagen has taken just the opposite tack: with the exception of an $820 Destination Charge, not a single extra cost item blights this Jetta's window sticker. In today's market, this is indeed a rare turn of events. Surprising standard inclusions are a navigation system with a color touch screen, a Fender brand premium audio with SiriusXM subscription, Bluetooth phone connectivity, and media device interface (MDI) with iPod cable. Additionally, you need not pay extra for remote keyless entry, heated front seats, heated outside mirrors or heated wiper/washer nozzles. Not even the sporting 6-speed double clutch gearbox (with manual override for ratio selection), nor the power sunroof are optional.
The turbo 4 which VW and Audi use in so many cross-branded products, is a delightfully efficient source of power. In freeway driving, you can expect to pinch pennies to the tune of 36MPG. Despite that stellar economy, the turbo spools up maximum power instantaneously on demand. If 170hp is insufficient for your needs, VW also offers a GLI version of the Jetta which raises output of the diminutive four to 210hp and 207lb.-ft of torque. But for real world driving, you'll find that the base 170hp engine is perfectly suited to the newly refined handling of this front wheel drive sedan. At just over 3,200 pounds, the well balanced Jetta makes good use of the sizeable contact patches afforded by standard 17inch alloy wheels shod with Continental ContiProContact 225/45R17 tires.
While I would not go so far as to call the SEL Jetta a sports sedan, it rather earns top plaudits as a sporting family sedan. Appending the word "family" to the formula indicates the Jetta is much more useful and spacious than a tightly configured sports sedan. The back seat is luxuriously spacious, with seat backs that conveniently fold flat in a 60/40 configuration to open a load platform good for 16 cubic feet of goods. The trunk is so vast that I was able to transport three large plastic storage tubs without problem, plus another pair inside the cabin, splayed across the wide back seat. You can even tow a petite trailer weighing up to 1,000 pounds behind your Jetta.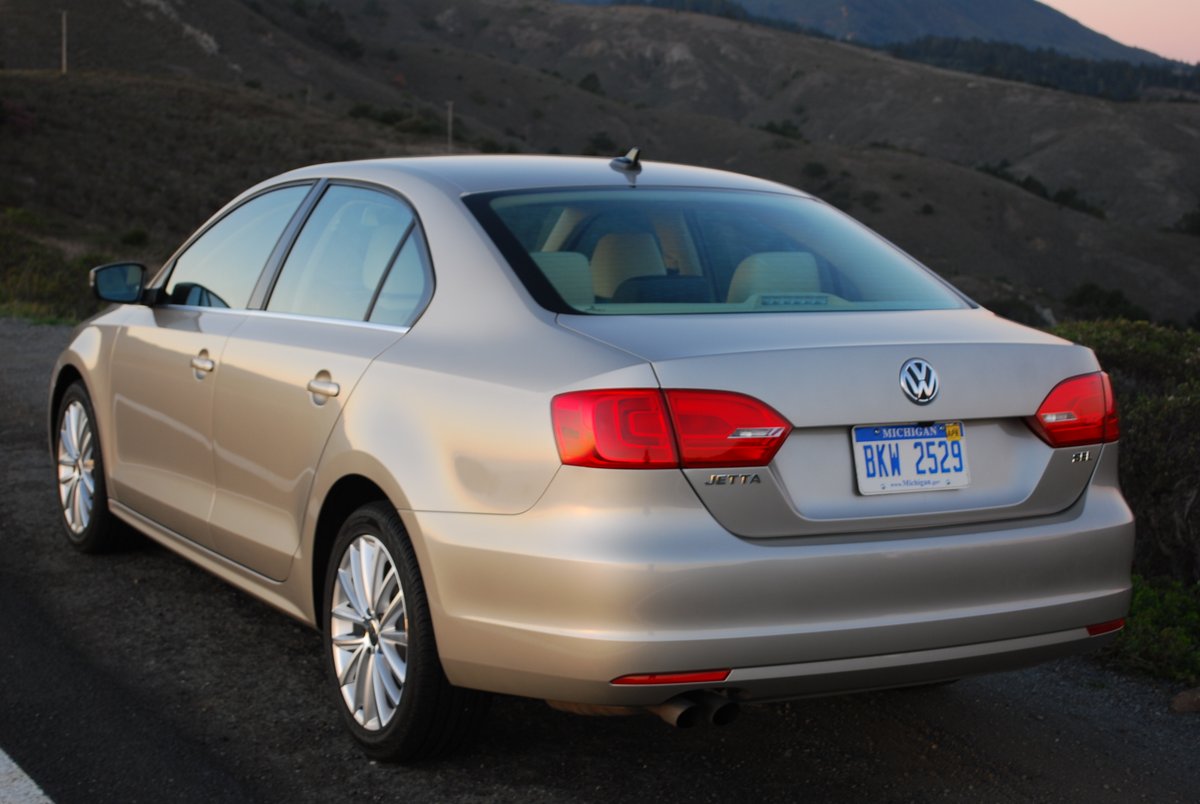 Volkswagen offers a wide array of power trains for Jetta. In addition to the 2 versions of the TSI turbo 4 already mentioned, you can also select a base model Jetta S with 115hp from its 2 liter four cylinder engine, or a 2.0 liter TDI turbo diesel good for 37MPG overall. Jetta cuts such a wind cheating aerodynamic profile that a team from Motor Trend magazine was able to hustle a TDI to a top speed of 185mph at Bonneville's salt flats last year. Now if that isn't a sporting family sedan, I don't know what is.
2014 Volkswagen Jetta SEL
Engine: 1.8 liter inline 4, turbocharged
Horsepower: 170hp
Torque: 184 lb.-ft.
Fuel Consumption: 25MPG City/36MPG Highway
Price as Tested: $26,410
Star Rating: 9 out of 10 Stars
Related posts: