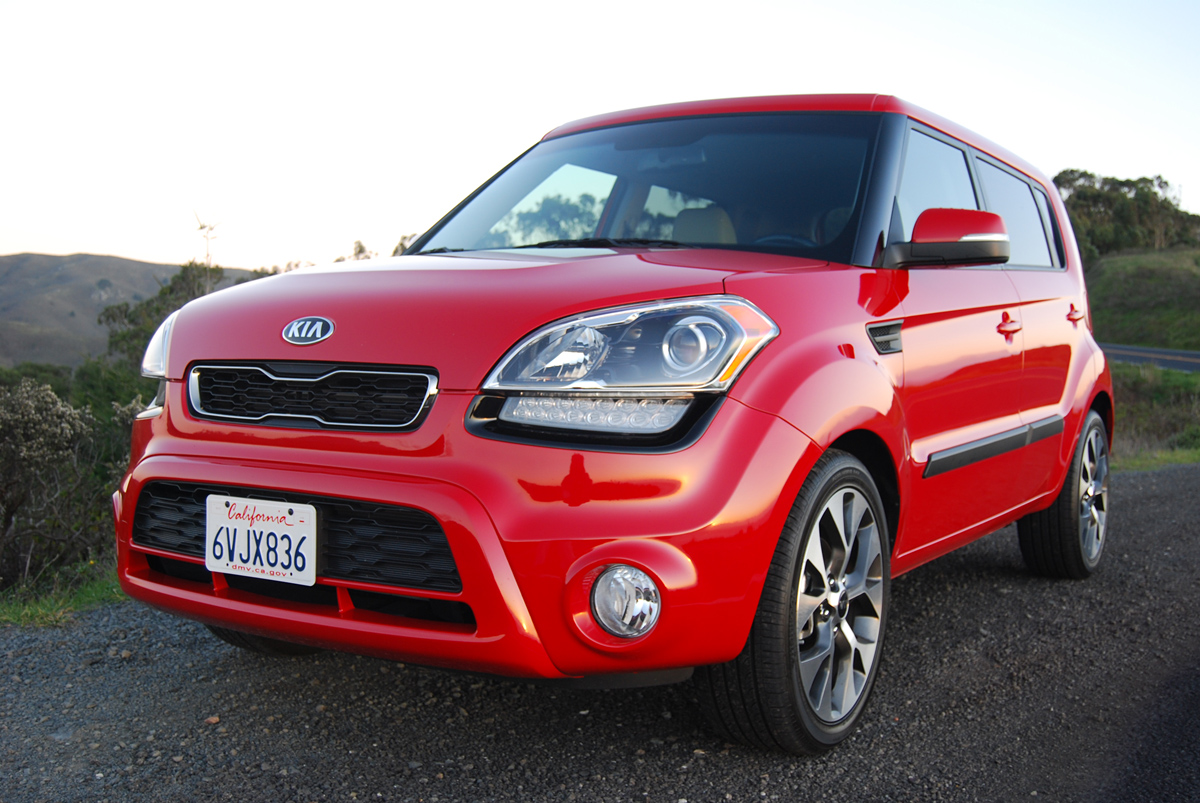 By David Colman
Hypes: Rocks the Cute Scale
Gripes: Bouncy Ride, No Manual Available on !
The happy Soul enters its 4th year of production in mildly revised form. This year, you can opt for the base model Soul, a step-up version designated Plus (+), or the full featured Soul Exclaim (!) which I tested.
In view of the fact that top shelf Souls have escalated in price from $17,190 in 2011 to $23,575 for this year's loaded !, your exclamation might be limited to the steep price creep. But once you've spent a couple of days behind the slightly raked, multi-function steering wheel of this best Soul Kia makes, you'll look at the entry price as a bargain rather than a hurdle.
Unlike the base model, which utilizes a 1.6 liter straight 4 to make 138hp, both the + and ! models bump displacement to 2 liters worth of inline 4 making 164hp. Ironically, the base motor is technologically more sophisticated than the optional version because it boasts direct fuel injection rather than multi-point injection. The base and + versions are available with either 6-speed manual or automatic transmissions, while the ! offers only the automatic. The base Soul weighs just 2,615 lbs. compared to the automatic ! which scales in at 2,778 lbs.
Performance of the 2 liter Exclaim falls short of the scat prmised by its snappy "Molten" (red) paint. There are no paddles affixed to the steering wheel, so if you desire a specific gear you will need to bump the floor-mounted stick into its manual-mode gate, then hunt for the appropriate ratio by tapping the stick fore or aft. Since this process is rather time consuming, you're better off just flooring the throttle to engage passing gear when you need immediate boost. As the revs soar, the engine thrashes to keep up with demand. You'll never confuse a Soul with a hot hatchback.
But in ! trim, Soul has a lot of personality and unique features that tend to minimize the performance shortfall. For example, the huge speakers affixed to the front door panels not only issue faithful sound, but have trim rings that glow continuously in a sequence of stunning and different colors. These speaker lights are standard fitment on the !, along with striking 18 inch alloy rims that firmly plant tiny sidewall Hankook Optimo tires (235/45R18) on the pavement. These tires combine with the Soul's 100.4 inch wheelbase and stiff springing to punish you over speed bumps, dips and potholes. If you're looking for a more comfortable ride, then forego the keen looking 18s in favor of the base model's 15 inch rims or the 16 inchers standard on the +.
By opting for the $2,500 Premium Package, you can turn the Exclaim into a mini luxury ride that will continue to please you from a comfort and appearance standpoint long after the new has worn off. For starters, literally, you get the added convenience of a push button starter, plus keyless entry. The package also includes automatic climate control, and some of the handsomest heated leather seats yet seen in a car at this still modest price point. You can also quickly reconfigure the spacious and airy cabin from sedan duty to cargo carrier by flattening the 60/40 split back seats which zooms capacity from 19.3 cubic feet (seats up) to 53.4 cubic feet (seats down).
Kia offers the Soul with a notably useful powertrain warranty of 10 years/100,000 miles, with 5 years and 50,000 miles of basic warranty coverage and roadside assistance. Since the Soul Exclaim also manages to record 25 MPG in overall driving, you'll find that its 12.7 gallon tank will take you more than 300 miles between refreshments. All in all, the decked out Soul Exclaim is an idiosyncratic looking bargain which will appeal most strongly to Millennium Generation explorers.
2013 Kia Soul Exclaim (!)
Engine: 2.0 liter 16-valve, DOHC inline 4 with CVVT
Horsepower: 164hp @ 6,500rpm
Torque: 148 lb.-ft. @ 4,800rpm
Fuel Consumption: 23 MPG City/28 MPG Highway
Price as Tested: $23,575
Star Rating: 8.5 out of 10 Stars
Related posts: