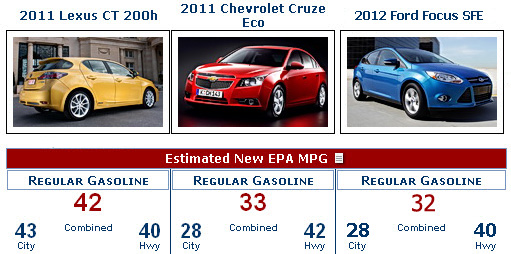 By Alex Kramer
Here we go again. Gas prices are climbing ever higher, but unlike a few years ago, they will probably stay sky high this time around. Luckily, the American car buyer now has an impressive array of choices when it comes to maximizing every gallon. From pint-sized sub-compacts to high-tech hybrids, there are plenty of ways to achieve 40 mpg, and some of them are even quite fun to drive.
We recently had the opportunity to test three of the newest entries into the gas saving game at the WAJ Media Days event held last month: the new Ford Focus SFE, Chevy Cruze Eco, and Lexus CT 200h. After an afternoon of test driving, we can honestly report that these three are the real deal, providing both excellent fuel efficiency and a surprising amount of driving excitement.
Click the image or navigation link below to read more details about each car.
Related posts: