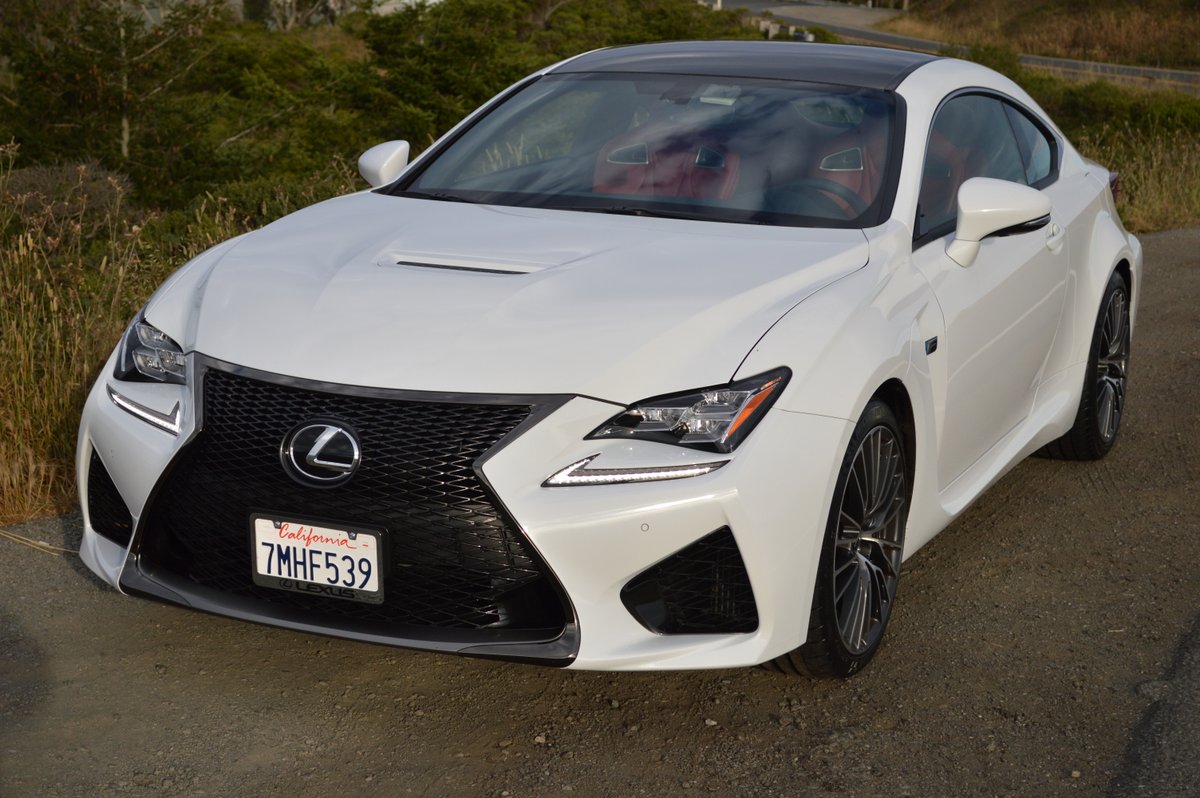 By David Colman
Hypes: Ultra Quick. Immaculately Tailored Missile
Gripes: Lose the Grill, Add a Rear Wiper
The gripe list on this Lexus is real short. The black spindle hourglass grill looks obnoxious rather than attractive. And the rear window pane needs a standard wiper. That's it. This 4 seat, 2 door coupe is otherwise perfect. Its 467hp 5.0 liter V8 will propel it faster than you'll ever want to travel on a public highway. This Lexus makes a strong case for this ultra sophisticated V8 as THE motor of choice in an ultra sporting coupe application. The RC-F's V8 is more responsive and fun to drive than the V6 turbo which powers BMW's M4. It is coupled to an exquisitely smooth 8-speed automatic gearbox with enough ratios to blast you out of trouble in any passing situation. If you're lazy, just access the V8′s 389 lb.-ft. of torque by flooring the accelerator for immediate transmission kick down. Or play the selection routine by slotting the beefy floor stick into the Manual selection gate, and slapping the oversize aluminum shift paddles through their limitless choice of ratios. In Manual mode, the RC-F is an especially gratifying machine to micro manage.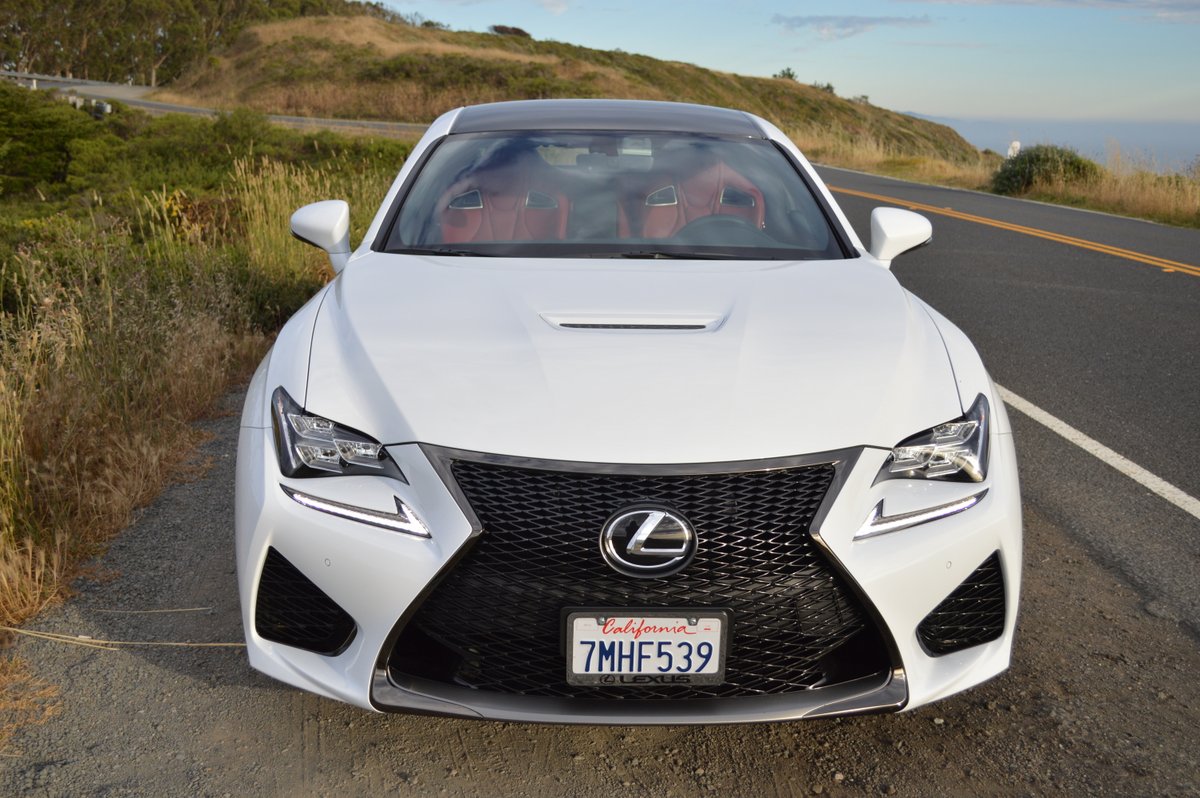 This class of rocket sled requires exceptional attention to suspension behavior. Lexus has done their homework well, providing an exceptionally rigid platform with all the right pieces in place underneath the skin. Huge Brembo-sourced brakes at each corner, measuring 14.9 inches up front and 13.5 inches rear, yield a perfectly progressive pedal feel. The front calipers boast 6 pistons, the rears have 4, and all discs are slotted to promote heat and moisture dispersion. Extra resilient F-specification multi-link suspension members front and rear keep the RC-F's model-specific 19 inch alloys glued to the ground. Michelin takes care of adhesion at the contact patch with their best high performance tires: Pilot Super Sport rubber measuring 255/35 ZR 19 front and 275/35 ZR 19 rear. Note that the unusual "ZR" rating is the top speed rating available in a street legal tire, with a safe track speed of 190mph.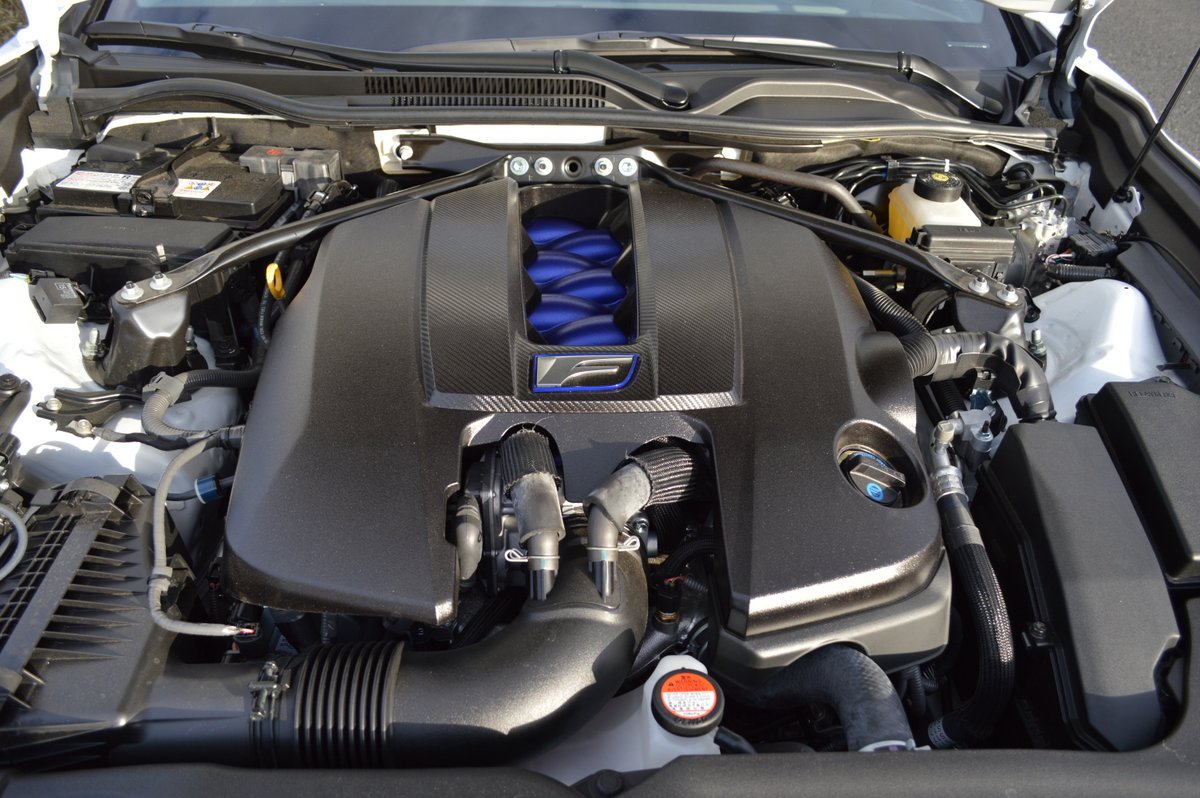 Inside the cockpit, all systems are A-OK. With its marvelous F-Spec "NuLuxe" trimmed sport seats and electroluminescent dash display, the RC-F makes you feel like a fighter pilot even before you light the off the burbling V8 with the handy Start/Stop button. Those racy looking seats feel like they were poured in place around your seated torso. They feature 10 way power adjustability, but manage to look like race legal items, with their gaping shoulder harness slots bracketing F-embossed headrests. Should you decide to task your RC-F with track day outings, all the fixings are already in place. Just load your helmet and your driving gloves. You don't even need to bring a stopwatch because Lexus has installed a sequential lap timer in the coupe's on-board memory system. Lexus has come a long way since the company hesitantly installed stiffer shocks and springs on those first F-Line equipped sedans years ago.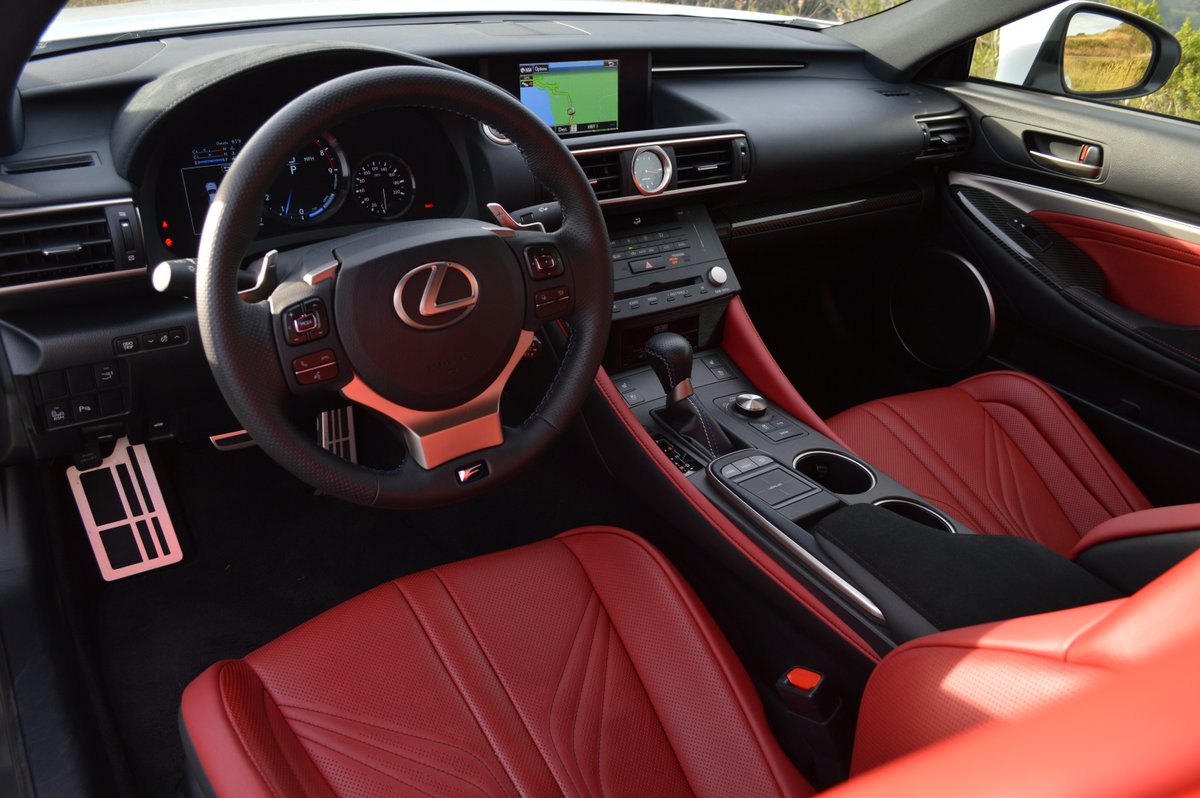 In fact, you can soon expect to see the company compete heads-up with Porsche, BMW, Corvette and all the other heavy hitters in IMSA's extremely competitive GT LM class of racing as veteran driver Scott Pruett is set to debut a stripped race version of the RC-F later this summer. In the meantime, you can get a head start on the fun for just $77,905. This price includes some rather extravagant extra-cost packages such as the Navigation/Mark Levinson Package ($2,610), Premium Package ($3,240) and Performance Package ($5,500). The Navigation combo brings you a 7 inch display screen, a DVD player, a touchpad controller between the seats, and a 17 speaker (10 is standard), 835 Watt , 5.1 Surround sound ear blaster. The Premium pack consists of heated and ventilated front seats with driver seat memory setting, carbon fiber cabin trim, blind spot monitor and auto sensing wipers.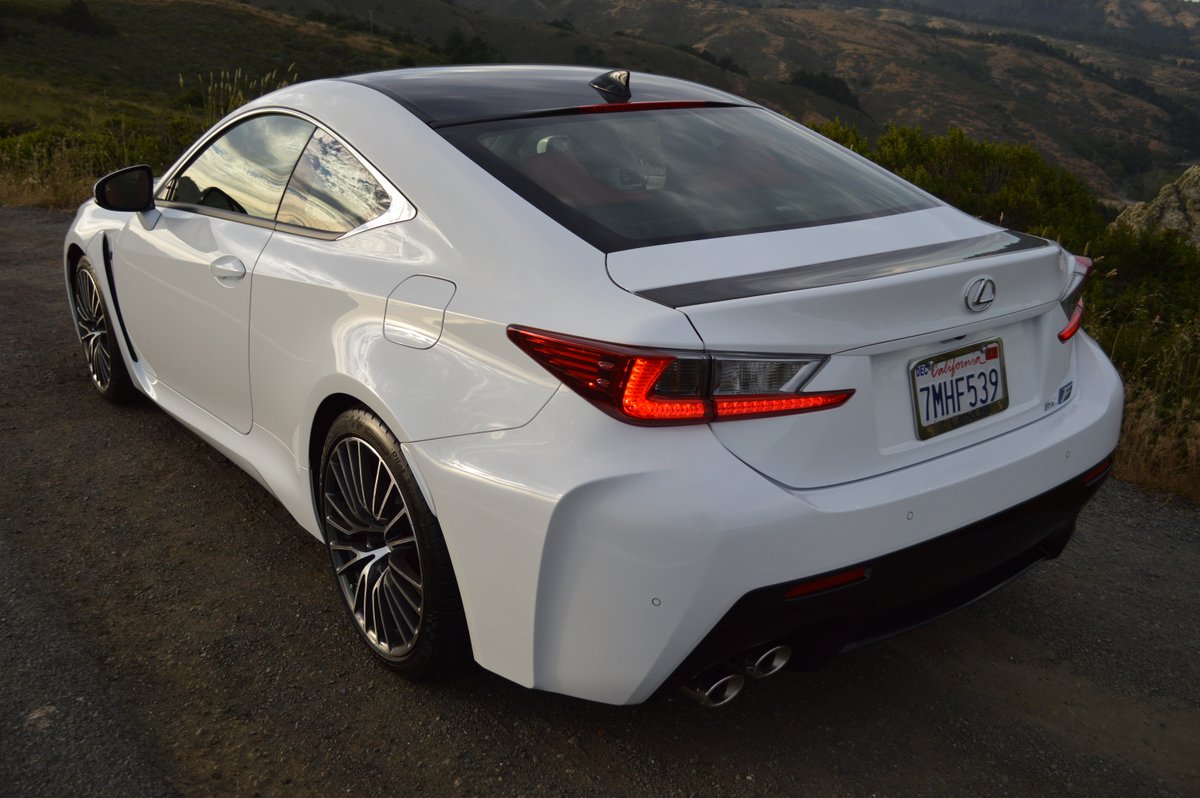 While neither of these packages are essential, you'll definitely want to opt for the Performance Package because it makes an indelible imprimatur on both the looks and the performance of your RC-F, with its carbon fiber roof, carbon fiber spoiler and torque-vectoring rear differential. The standard issue rear end includes a Torsen limited slip differential, but the torque vectoring feature enhances road grip even more. When you slot the multi-mode suspension dial (located atop the transmission tunnel) into "Performance +" you are definitely ready to boogie with this Lexus coupe. The exhaust note morphs into a snarl, steering feedback tightens measurably, and higher rpm shift points rise into the redline range. Best of all you can enjoy this rush right now, before Scott Pruett ever gets his Lexus on track.
2016 Lexus RC-F 2-DR Coupe
Engine: 5.0 Liter V8, DOHC, 32 Valve, Direct and Port Injection, VVT-i Intake and Exhaust
Horsepower: 467hp
Torque: 389lb.-ft.
Fuel Consumption: 16 MPG City/25 MPG Highway
Price as Tested: $77.905
Star Rating: 10 out of 10 Stars
Related posts: